How to Deal with Unexpected Data Loss
Tags:
Data Recovery
Computers
Deal
Software
Hard Drives
By
lycool1991
See all their Tutorials
Nowadays, the competition between computer companies is increasing rapidly. So the quality and average price of computers are declining and the problem of losing stored data has broken out. According to the easier report, as the popularity of computers is being widened, the problem of data security has become one of the hottest issues which consumers mostly consider about.
If you suddenly find your stored data in computer is lost, what will you do to deal with it? I am pretty sure that lots of users do not know the answer. Now I'd like to introduce some effective ways of dealing with unexpected data loss. Then you can solve it easily when you meet similar problems.
Basically, when you find your data losing suddenly, you need follow the steps below:
Step 1
Stop operating the device at once, especially stop writing new files into it, including creating new folders, transferring files, copying and pasting files and other actions.
Step 2
Please turn off the device in the first time if possible. Keep the device power off, so you will not put new data into the device by mistake and the lost data won't be overwritten.
Step3
Use data recovery tools to find your data back as soon as possible. If you want to recover it easily by yourself, you can use Applexsoft data recovery software and follow the tutorial.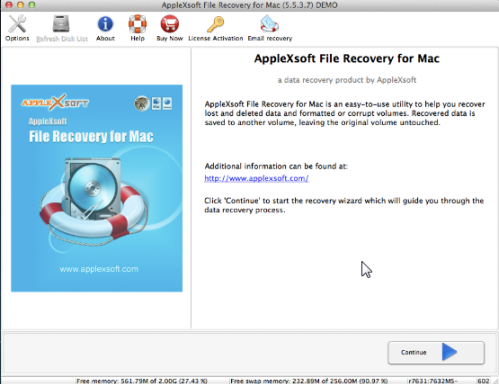 Experts said that the key point of recovering data from devices is to prevent old data being overwritten. But the problem of overwriting always can not be avoided easily. If there are some special software in the system, it may keep writing new data into your computer and lead to overwriting problems. Then you will find that your lost data can never get back.
But everything tends to be easier if you use
Applexsoft File Recovery for Mac
or
Data Recovery Professional.
These two software use advanced recovery technology and can help you find the lost data back easily and quickly from hard disk, SD card or other storage devices. Whether you are Windows user or Mac user, you can choose one of them due to your computer system to recover almost any types of files.According to the feedback from Applexsoft users, the recovery effect is obvious and can recover lost data caused by most of complex situations. So if you need to recover lost data by yourself,you can choose proper data recovery software to try.