How do I reclaim disk space when using Windows 10?
Tags:
Windows
windows 10
Disk Space
By
aquielisunari
See all their Tutorials
If you have had your PC for a year or more you might have had that moment when you noticed you were running low on free space or Windows may have popped up a notice. This tutorial is meant to clear up as much free space as possible.
Please be aware of a few things.
Every single thing that you delete has the possibility of causing major problems. That problem may be yours or it may be a problem that renders Windows useless. I am not looking to cause you to erase the only photos of your great grandma. I don't want to cause you to lose your doctoral thesis or your homework. This guy over at Tom's told me to do it Ms. Hardingwear. I really had my book report done. I don't want to break your copy of Windows. Everything you decide to delete needs to be an informed decision. I recommend cleaning about once a week. For those who deal with sensitive information a daily(or after each session) cleaning with 35 times overwrite may be more appropriate. Don't use the overwrite process with a SSD. The only time I have ever recommended that was prior to a sale of a PC.
__________________________________________________________________________________
The most important thing with Windows and everything it encompasses/supports shouldn't even be connected to your PC right now. It's called a backup.
BACKING UP
and/or
CLONING
your HDD or SSD is a critical part of being a responsible PC user. Jack paid $1000 for a quality M.2 drive but it can still fail within 2 days or last for decades. Do you feel lucky?
These procedures can delete Old Windows Installs better known as Windows.old. If you have recently upgraded Windows and you want to go back to a previous build, deleting the Windows.old file will make that impossible.
These procedures can delete passwords. If you have the unsafe habit of allowing websites to remember your passwords for you these steps will lead to those passwords and auto-fill info being deleted.
Recuva
can be used to recover recently(like 5 seconds ago recent) deleted files. It can most certainly recover deleted data much older than that but it works best sooner rather than later. When a file is deleted in Windows its "address" is considered vacant and any new "tenant" can move into that address. However the previous information is still there. What has just happened is Windows has overwritten the old with new info. Imagine the word Hello. Now it looks like
Hello
in a manner of speaking. It is only a little harder to read. The more overwritten that address becomes the harder it is to recover that information. The simplest recovery method is recovering it from your recycle bin. Changing Windows' deletion method from "to recycle bin" to auto-delete makes the Recycle Bin's Restore feature moot.
_________________________________________________________________________________
System Restore can help restore an unstable system back to working order. Not having any restore points makes that specific fix impossible.
Let's start off with some software that will help clear that junk out of your trunk.
Ccleaner
is a very useful utility. Once you have it installed you can decide what you want Ccleaner to delete and what you want it to leave alone.
in the example above the user has chosen to leave the passwords and autocomplete info alone. The user then clicked on the Applications tab.
That list also has password choices.
There is also a Wipe Free Space option. This is an option that allows the user to securely overwrite free space so that data recovery becomes impossible. Of course law enforcement and the tech criminals may have methods but for the other 99.9% of us the 35 times overwrite makes data recovery impossible. You can visit Ccleaner's site for more info about that. I recommend you UNCHECK that until you understand exactly what it does and which settings you should choose for it.
To recap. You have checked over the Windows and Application tabs after you have analyzed your disc(s). You have made your choices. You KNOW what you are about to delete. You are now ready to delete that info. Click on Run Ccleaner and that junk will be returned to you as free space.
Within Ccleaner there is a TOOL called Duplicate file finder. Maybe you have 4 copies of that 20 GB movie. This is another area where you have to tread oh so carefully. Make sure you know exactly what you are deleting. You may be deleting something in a temporary folder. You might be deleting a critical Windows file.
__________________________________________________________________________________
Next up is Windows Disc Cleanup. Click on Start and type Disk Cleanup. Click on Disk Cleanup.
You can click on the disk you wish to clean. C; is the most "popular" choice. Once again it is time to make some informed choices. Once you have went through that list you can click on OK. Run it again and click on System files the next go-round. Cleanup System files, below those choices. Make some more informed choices and click on OK. Rinse and repeat. This time click on the More Options tab. You will see System Restore and Shadow Copies. Click on cleanup. You will be met with a WARNING. All system Restore point except for the most recent will be deleted. Don't have any restore points?
https://support.microsoft.com/en-in/instantanswers/e6bbddb0-9db4-4d88-9063-42c52c79a96e/create-a-system-restore-point
Another way to clean restore points - You can Click start/ type System Restore and then click on Create a Restore point. You can then see if system restore is on. If it is you can click on Configure and delete all restore points. That can return 5GB or more. Yesterday I was at a little over 7GB worth of SSD space being used for my C drive. Today I was at a little under 9GB. Our workloads are completely different. So too will our SR sizes be different. When you click OK to close that screen make sure you Create a restore point before exiting it completely.
_________________________________________________________________________________
Do you have Hibernation enabled? Do you use it? Do you have to use it? Could you use sleep instead?
https://www.howtogeek.com/howto/15140/what-is-hiberfil....
That can save you several GBs worth of space. It saved me between 7 and 10GB. Been a while since I've disabled that. How much could it save you?
_________________________________________________________________________________
https://windirstat.net/
is a utility which gives a visual indication of disk usage. See those large chunks of data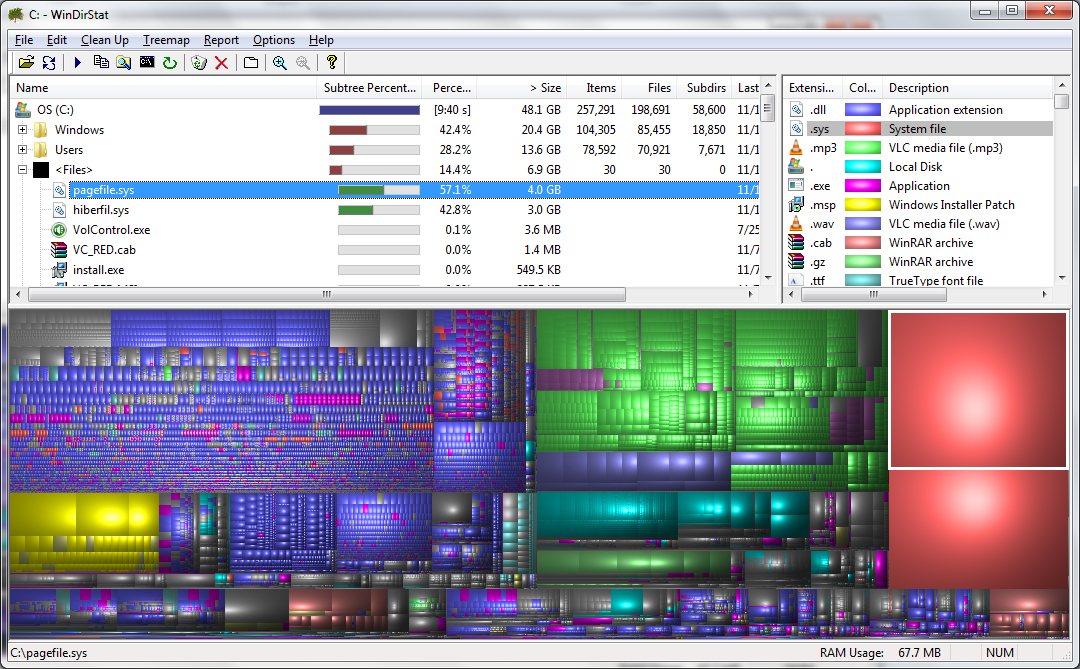 ? They are using the most data on your PC. It shows you a file tree but you can also click on those blocks and then right click on them and finally click Explorer here and go directly to that file. The program can show you where you can possibly save the most space. It allows you to see all of your disks or just one or the ones you select, zoom in and out with the GUI, has file types color coded and has so many features that can help the novice or advanced user see their disk usage in a new way.
http://www.uderzo.it/main_products/space_sniffer/
is a similar product you may want to use instead.
_________________________________________________________________________________
What about your browser? Let's say you don't want to do a full house cleaning. Press and hold CTRL+Shift and then tap delete when you are in that browser. Another option is holding CTRL and tapping H. Once again you can select what you want to delete and what you want to save. Apparently in Google Chrome you can delete everything from the beginning of time. Please be mindful of the rest of us when choosing that option. Seriously speaking that just clears all of Chrome's history. In Microsoft Edge you can press and hold CTRL and tap H. Click on Clear all history and follow prompts.
__________________________________________________________________________________
Have you visited Programs and Features(Windows 10) lately? Maybe you have some programs you no longer use. Uninstalling them(especially if it's a huge game or other app) can return GB's of space to the user.
__________________________________________________________________________________
Finally you can follow
these directions
. That can earn you even more disk space.
__________________________________________________________________________________
If you see something I have missed it was either on purpose or I've not yet heard about it. Please let me know another way to clear up disk space.
Pagefile.sys. Can I delete and disable that? It's taking up a LOT of space. I will grab a little of what I said over
here
Right-click Computer.
Select Properties.
Select Advanced system settings.
Select the Advanced tab and then the Performance radio button.
Select the Change box under Virtual memory.
Un-check Automatically manage paging file size for all drives.
Select No paging file, and click the Set button.
http://www.tomshardware.com/reviews/ssd-performance-twe...
That is one move I would not make. Some programs and many games utilize the pagefile(aka swap file). Be aware that even if you disable the pagefile you will see a pagefile. It gets complicated. In the end I think that disabling the pagefile can cause more problems than it solves. Each person needs to decide for themselves if disabling it will be beneficial to them. Reducing its size is another option. What exactly does the pagefile do? Which of your programs benefit from the pagefile? How do they benefit? If you can't answer those three questions you should leave the pagefile alone.