Mini Gaming PC - BluRay - Runs Games at 1080P - $500 OBO
Up for sale is a new computer I put together. It runs flawlessly and is quite the power house for what it is. The computer case has scratches on the bottom of the case from not applying the rubber feet out of the box. The bluray drive does not have a faceplate but as you can see the case covers the bay (opens via button, so a faceplate is not necessary). The nVidia card is not screwed into the case as they do not manufacture a low profile bracket for the card, even though it is low profile. The card is fine just as it is but if the case is knocked over while in a standing position it may move out of the slot.
Antec Mini Itx Case - ISK300 150W
AMD 4850e 2.5Ghz Dual Core 45W 65nm
Jetway 780G MINIX Motherboard (Has built in graphics, NOT integrated, dedicated!)
Mushkin 2GB 800Mhz 5-5-5-18 SoDimm
Wintec Filemate v2 64GB SSD
Nvidia 240 GT 1GB 1024MB GDDR3
Slot Load (no disc tray, like a ps3) BluRay player BD-Rom DVD/RW
Replaced CPU fan and added a case fan (low noise, decent CFM) so it can be put in a cabinet or set off to the side (should be fine behind a large HDTV without any problems) this thing stays cool even underload.
NOTE: This uses an older Brisbane CPU, i chose this for its low power requirements yet being able to run at 2.5Ghz with ease. AMD put faulty temperature sensors in these chips. Temperature monitoring software will report 50C and up temps because it is always off at least 20C, the motherboard (via Bios) has a much more accurate reading (though this is only possible during IDLE obviously) It's rather obvious it is not running that hot as it pushes cool air out of the case. Making a note of this as it is important to know for anyone whom maybe interested.
This performs astonishing well. The computer case has roughly the same dimensions as a phone book.
3dMark06 = 6000+
Plays WoW @ 1900x1200 at "Good Settings"
Plays CSS @ 1900x1200 at Max settings x8 x8
If you want it just to surf the web and play blu rays I can remove the graphics card (which isn't mounted, they don't make a low profile bracket... weird I know) and i can take off $50 but you will not be able to play games on medium to high settings and will have to use a low resolution to get barely playable frames.
Price is firm. I can swap the SSD for a larger/smaller HDD for a discount and remove the nVidia card. Email me for a quote.
Hard Drive(s) and GPU will be removed and packaged separately for shipment to prevent damage.
$600 Free S/H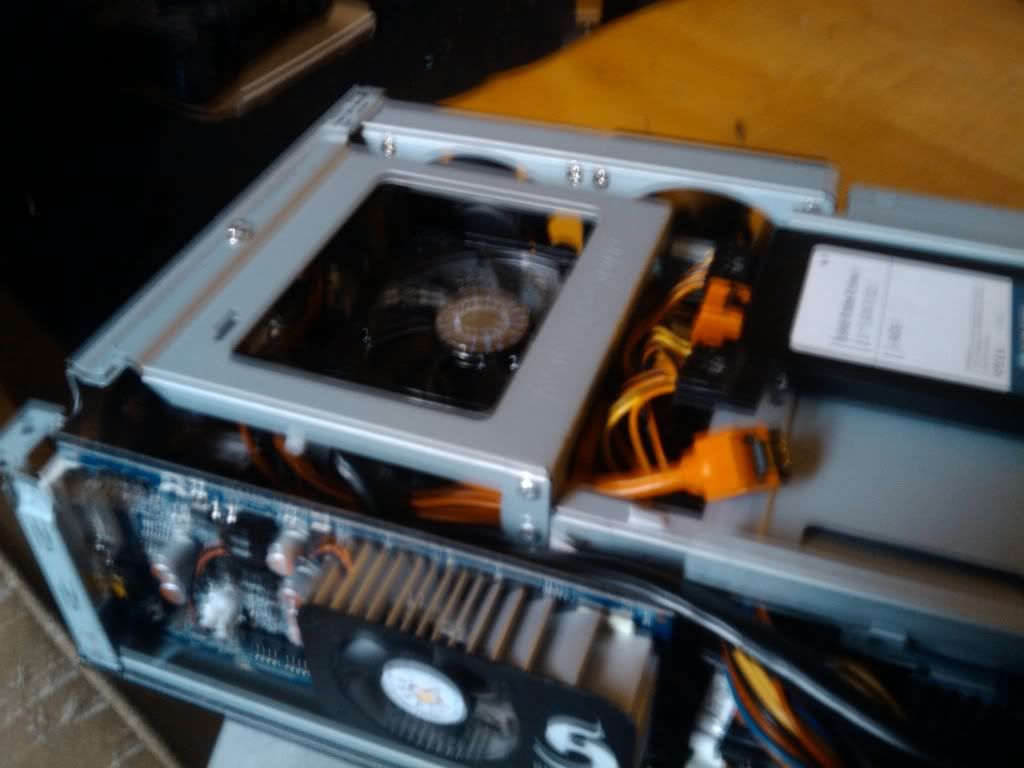 will post pics of it enclosed in the case later. thanks for looking
Update: SSD is no longer available. Price is now $500 or O.B.O I have 2.5" drives available and can ship with OEM Windows 7 for the right price!
More about
mini gaming bluray runs games 1080p
Read More
Classifieds
Cases
Blu-ray
Hot Deals
Product