What is a good Virtual Memory setting for WinXP?
I have a 80gb hard drive and I just installed 2GB of ram in my PC. I wanna know what is a good amount of virtual memory to use. I play Battlefield 2 alot and I don't want the system to get happy with too much Virtual Memory and not touch my RAM. Is this possible? If I set the page file really BIG will the system use it more? or If I set it small, will the system squeeze more into the RAM? Help me on this dudes. Any advice or experiences similar would help. thanks
Quote:
cool. its done. did you do the same to yours? did you notice anything? do you play BF2? Yup, many questions. Now feed me.
. Thanks. But i didn't get the second part so clearly. You mean I should put both the Max/Min somewhere between 10MB-500MB? Like Min=10MB and Max=500MB?
No...ie: min-512MB max-512MB. :wink:
Can't find your answer ? Ask !
Dude,set your pagefile to 1.5 gigs min and max,and leave it at that.anymore and you retard the performance of the system.that is the optimum setting for 2 gigs of ram with a windows os.general rule of thumb is pagefile is double what your ram is.so if you have 512 megs of ram,you set your pagefile to 1 gig min and max.but for 1gig of memory or more,just set it to 1.5 gigs min and max for pagefile.you will find a slight performance boost.oh and 1 gig is 1000 megabytes.so for 1.5 gigs you set the pagefile to 1500megs for minj and max.


evga nforce4 sli mainboard
athlon 4400+dual core
2x1gig samsung ddr400 in dual channel mode
wd 300gig harddrive
520watt psu
evga 7800gt
Quote:
Most of the problem with poor paging file performance is windows constantly changing the size of the swap file, that's what causes most of the lag.
No, most of the problem is due to Windows swapping out programs you're running in order to make the disk cache bigger. Yes, like I really want it to swap out my web browser so it can cache the multi-gigabyte file I'm copying from one disk to another, even though by the time it's finished copying the file all that data it cached near the start of the file will have been replaced.
The best setting for Windows is 'sod off you bastards, I'm not giving you a swap file at all so you can't screw my system up just to cache a few more parts of a 4GB video file when I'm never even going to want to watch them again while they're in the cache', which makes the system run much better. Sadly, it also makes a few programs like Adobe Premiere crash.
MarkG, sorry but are reading more into this than is there. First, if you have 2 gig of memory, you are correct, you probably don't need a page file at all. Unless you use programs like Adobe, (there are a few others but I don't remember all of them, I'd have to check once I get into the office) as they do require a swap file no matter how much memory you have. But, if Windows IS using your swap file, and it requests 400 meg and the current page file size is say 200 meg, then there is going to be a slight hesitation while Windows "adjusts" the page file up to whatever it needs. Setting the swap file to certain size and not letting Windows change it is a very old trick to get the best possible performance, if it has to use the swap file.
I'm sure you could google it, but I remember reading years ago that Windows memory management was optimized with the assumption that you *would* have a pagefile. Getting rid of your page file, according to the article hurt performance. I never had a real need or desire to actually test the difference.

Enjoy,

John
I don't see why not... I have had my pagefile disabled for over a month now. I did it a week after I bought the 2nd gig.

So far, I have had NO PROBLEMS. I play games like FEAR, BF2, and use programs like CS2, Maya... at the same time.

Now if I was doing something like video editing, I definetly use the pagefile. Otherwise... until I see a downside to this, I'm hangin loose. lol
I agree. I did a test on my new rig last week (Opty 170 with 2Gb) and ran BF2 1600x1280 everthing maxed out (x1900xt OC'd) and used 889MB of ram. I had the task manager, web browswer (maxathon) with several pages opened at once and a few minor thigns open (trillian pro) and had no issues. Video or high end RAW photo editing would be the exception though. Im to lazy to turn page off but you can, and you'd run a bit stronger. Personally, I think my 100FPS solid in BF2 is j ust fine with everything set to default on pagefile so I didnt bother. When it is no longer enoguh, I'll get more ram.

hide
Just leave it alone, and stop obsessing over the likely tiny imperceptable gains in frame rate or whatever you might achieve. Its really not worth messing with.

And as for disabling it, thers little point, and it wil cause you problems later if you run any programs that object to the lack of pagefile.
Quote:
I did a test on my new rig last week (Opty 170 with 2Gb) and ran BF2 1600x1280 everthing maxed out (x1900xt OC'd) and used 889MB of ram. I had the task manager, web browswer (maxathon) with several pages opened at once and a few minor thigns open (trillian pro) and had no issues.
I agree that this is the best answer, in reality. That's what i did.I tried to open as many apps, game, browser(26-Firefox of course), and Task Manager. Set your page file according to the peak commit charge. This is why I THINK there is no real "Right" answer for this question. A good setting will vary from machine to machine,and user to user....That's why MS tries to define a standard(1.5xRAM), so supposedly all bases are covered. I've never disabled it entirely, but ran
it at 96/96 for a good six months...about 2 years ago..no problems. And, as Wusy said, i always disable executive paging.
I've had the same experience. With 2GB of RAM I set my pagefile to 2MB min. and max. I should've just turned it off.

The funny thing is that my system is actually faster with the pagefile basically off, like this. I'd been taught that it should be 1.5 x RAM, min and max for best performance.

...not in my experience. Turn it off and see how you run.
Quote:
BAH!!!! If you have 2 gigs of ram... completely disable your pagefile. 8O Seriously. Ever since I put a second gig in mine, BF2 runs a lot smoother, even with Photoshop CS2 still running! :!:
From what I can tell, 2gigs is plenty safe to nix your pagefile :-)
Wow. So much advice is kinda overwhelming. But yeah, I'll try different settings and even try turning it off. But to this quote, do you notice your system accessing the hard drive while playing BF2? Get back to me on this. By disabling your page file, that means the system hard drive's LED should not flicker on and off right? and thats after the map has been loaded and all.
Heh, I never actually checked that before but YES!... My HDD light was not showing activity. Every few seconds I would see a short quick blink or a full blink every greater once in a while (I had a bunch of background programs running including Firefox, but not yet CS2)
Here's a screenshot I took whist BF2, Firefox and CS2 were running (the task manager I used is obviously not M$')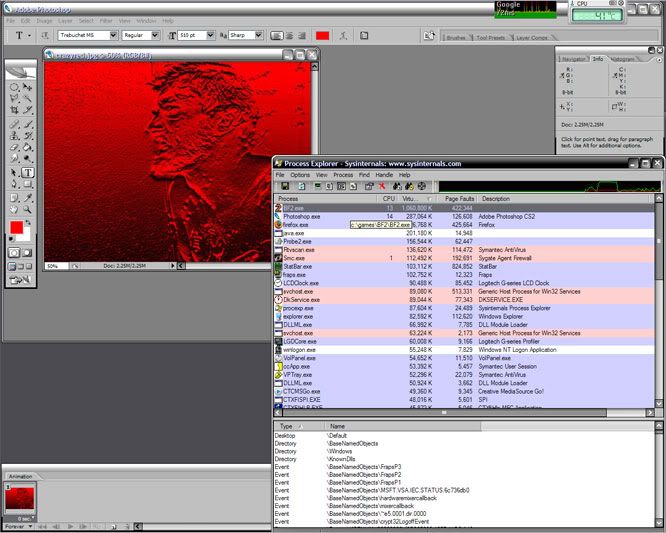 If I were you, if I have enough RAM in my system, then I would just use the virtual memory as a backup solution. Why? Because too much back and forth movement of the operating system from the page file and the RAM will just slow down performance aside from the fact that the speed of the read/write on the hard drive is slower than RAM.
Further, constant adding and removing of info on the page files can cause files to be fragmented, adding up to the slow speed. You can read this guide on adjusting
virtual memory setting
in order to optimize your PC's performance and use RAM and virtual memory in the most efficient way.
Can't find your answer ? Ask !
Read discussions in other Storage categories