New, faster RAM has stopped me overclocking CPU??
Last response: in Overclocking
Hi all,

I used to have 3 sticks of ram...2 x PC5300 and 1 x PC6400. As I found out that the faster stick would only go as fast as the slowest stick, I ordered another stick of PC6400 and now have 2 x PC6400 RAM installed (2 x 1GB)

Now, prior to this change, I was overclocking my AMD X2 4600+ (2.4Ghz stock) by simply increasing the frequency and upping the voltage to the CPU a bit.

I managed to get a stable (so far!) clock of 2832Mhz when setting the CPU frequency to 236 and the voltage to 0.375 (in the BIOS)


I got home today, installed the new RAM (so now I have 2 x 1GB) and I noticed that the overclock had gone and I was back to 2.4Ghz.


I have tried to clock it back up using the same technique but it now does nothing?? I cannot get the CPU to overclcok at all??

Does anyonme know why this would happen...baring in mind that I managed a decent clock before?


My Spec:

Board -
AMD 64 X2 4600+
Windows XP Pro
2 x 1GB PC6400 RAM
Nvidia 9600GT 512Mb



Thanks a lot
Just an update - I removed my CMOS battery and it enabled me to overclock again, BUT not to the same level as before.

I think this might be something to do with my new RAM being the fastest RAM that my mobo can accomodate - so when i increase the cpu clock, the ram speeds up with it, and i'm just guessing that it's reaching some kind of limit that the slower ram didn't reach as it was initially a lot slower.

Am i right in thinking this?


You almost always need to underclock the RAM to overclock the CPU. Once you have your CPU where you want it/can get it, then look at your RAM. Adjust the multiplier to whatever will most benefit the RAM and adjust the timings accordingly.

If your DDR2? RAM is rated to run 800mhz at 5-5-5-15, and you set your FSB to 300, you probably won't be able to get exactly 800. But at 600, you could run the timings at maybe 4-4-4-12. If you run the RAM speed too high at a given latency(timings) then it will not work. The range of speed for any given latency isn't very big.

Alternatively, rather than slow the RAM down, just raise it's timings.

As for why your CPU reset the OC, it's probably because it was unstable (because of the RAM) and the BIOS reset to default. I know when my OC fails, it asks if I want to either reset to default, or go into Setup (BIOS) and adjust it.
Phew ok so i'm still getting my head around the RAM timings 'x-x-x-x' etc
Literally all I have done so far is set the max memory clock to 667 rather than the 800 that it runs at normally.
With this, I can get a good clock on the CPU...kind of...in BIOS, it shows the clock at around 2930 or something like that. Once I boot, CPU-Z shows something like 2710!?!
I'm stumped. I disabled cool n quiet but it didn't change anything.
Is it the RAM getting in the way again? I wouldn't know where to start with the timings...?
I've added a screenshot of CPU-Z if it helps. Does the Bus speed or HT link give any clues?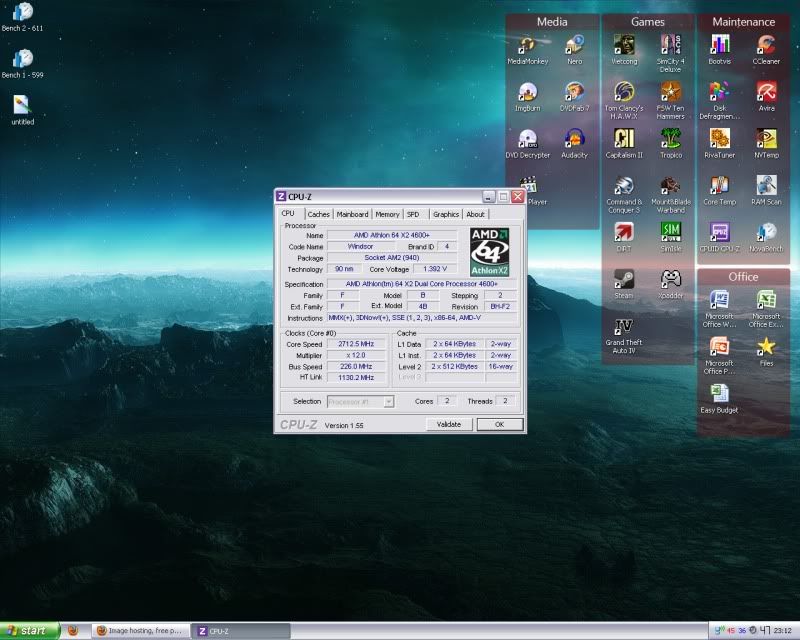 Looks like you must have accidentally dropped the multiplier by 1. At 12x you get 2.7ghz, at 13x you'd have 2.9ghz. Not sure about your processor but if you didn't make a mistake it could be that the 13x multiplier only has limited use... but yeah looks like just a multiplier difference here.

For the RAM, it might pick the right timings if you can set them to auto, but generally you have to find their specs online somewhere, or use a program like Everest. CPUZ has some limited info on them. Anyway, set their voltage manually to what they should be at, and go from there. If they work fine at whatever speed and timings, you can try lowering the timings and see what happens. Let's say it's at 6-6-6-18, you could try 5-6-6-17 and see what happens, or 6-5-6-17 etc.
Yeah I dont have a multiplier setting in my Bios (I dont think - haven't seen one) so the 13x things, I guess it's auto controlled or something? Ifd so, I take it there is no way to get around that?
On auto mode, I couldn't get a decent overclock, so that's when I dropped the max clock on the RAM, which let me raise the clock higher (although this multiplier thing is getting in the way now.
Any tips...or should I just give up?
Thanks for your help so far
mrsav25 said:
Just an update - I removed my CMOS battery and it enabled me to overclock again, BUT not to the same level as before.
I think this might be something to do with my new RAM being the fastest RAM that my mobo can accomodate - so when i increase the cpu clock, the ram speeds up with it, and i'm just guessing that it's reaching some kind of limit that the slower ram didn't reach as it was initially a lot slower.
Am i right in thinking this?
From My Experience when you Overclock your CPU, It works fine for some months at that speed, but when you get issues like that you might have fried some transitors so now it operates at a lower overclocked speed! Do you smell anything funny like a electronics smell that tells you its burnt or overheated? I would buy a softwre compiler like sandrasoft XL trial version or 3dmark and see if your system is stable for a period of 4-5 hours or whatever hours you spend gaming keep that computer at a full load!
Just an udate (if anyone else has similar issues)
I managed to get a decent overclcok again, but I did have to set the maximum memory speed to 667 rather than the stock 800 - but It's getting me better 3DMark05 scores so I reckon it's for the best.
I read that I should keep an eye on my HT link speed, and as a general rule, should try and keep it around the 1000 mark. As you can see in the i age above - I was at 1130, so figured this might have been causing problems.
I went into the BIOS and reduced the HT multiplier from 'x5' to 'x4'.
As mentioned before, I reduced the maximum running speed of my 800 RAM to 667.
I tried increasing RAM voltage to get a little higher overclock, but this made no difference.
I have now achieved an overclock of 2808Mhz (standard was 2400Mhz), with anything higher causing instability (already upped the voltage). The HT speed is now showing as 936 which is actually lower han before, but i'm guessing this is ok.
3DMark05 score is 14137, with a CPU speed of 6522. I'm noticing slightly better gameplayb in GTA4.
Screenshot: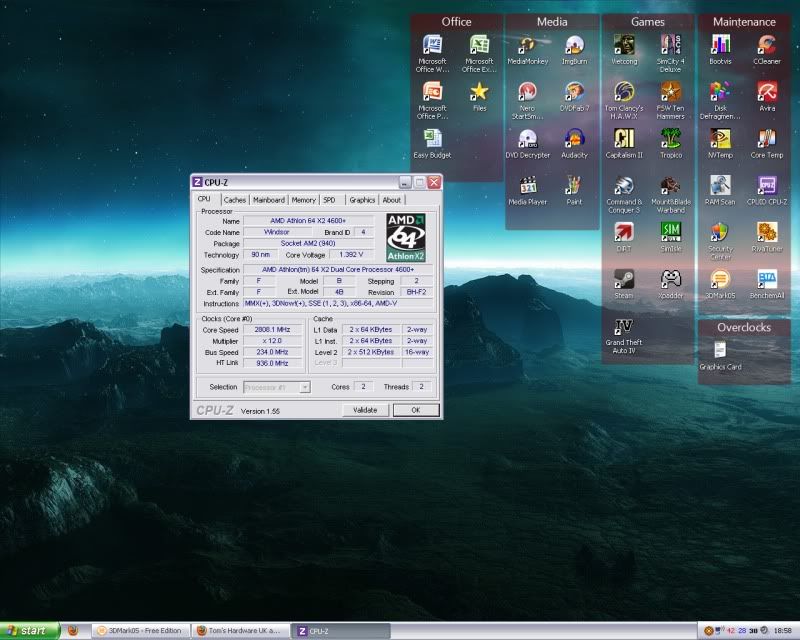 Thanks for your help guys
1) Well after Trial & Error, it seems you could have damaged your mainboard or your RAM. 2) Take a look at the RAM Contacts do they look faded or are they missing some contacts 3) Also smell the Ram Socket that has missing contacts if any or just inspect all of them if everything looks normal on the RAM 4) Its not good that it doesn't run at factory specifications of 800mhz bus that the mainboard is used too regardless of you, overclocking the CPU Multiplier 5) You might be slowing down the memory bandwith by underclocking the Bus speed of the mainboard, with games that are intense cutting edge you might fry your mainboard because the proccessing speed runs to fast and the mainboard can't keep up at 667mhz when its used to run at 800mhz 6) Keep it at fastest multiplier with 800mhz ram speed or you damaged the mainboard or ram and you can try lowering the cas latency from 2 cycles a second to 2.5 or 3.0 which slows down mainboard and Ram but its still better to getting it run at 800mhz or 667mhz 7) sandrasoft XL stress tests mainboard to see if future errors might occur or if component is damaged, another alternative method is check it! AMI diagnostics which is from the old school NT era and A+ certification! 8)American Megatrends Incorporated reminds me of Megaton from Vaultek and Megatron from cybertron! Maybe its time to invent a transformer CPU that repairs it self and does diagonostics like a built in post card Asus mainboard! Comptia ID: 10643544
Wow loads of info there. I'm pretty sure nothing is dasmaged, after all, GTA4 has been running a lot better since I did this recent overclock with the RAM @ 667 rather than 800...probably because I've been able to put the processor up to 2.8Ghz rather than the original 2.4Ghz.

The processor just wont overclock @ 800Mhz...well not a decent overclock anyway, not as good as I have now.

I read somewhere that sacrificing my RAM speed for a better overclock is the way to go?


Also, The RAM I have is single channel. If i run it in dual mode, I think it gives even less of an overclock....


Confused? You bet I am!
mrsav25 said:
I'll try a couple of tests and see what happens...i'll keep an eye on CPU-Z and see what it says and what timings come up.
Thanks so far mate
Most Important Thing CAS Latency the Lower the Better if It Runs at 2.0 Refresh Cycles at 200MHZ than keep it there,than to overclock it to 210MHZ and have it At 2.5 Refresh Cycles
mrsav25 said:
Just so I understand you right:
CAS Latency: the lower the better. BUT...if I want to overclcok my RAM, increase this CAS Latency? Am I right?
Can increasing this have an effect on how far I can overclcok my CPU? Are they linked?
Thanks for your help
Yes Your Right but increasing the cas latency slows down your system! Rather than O/C your ram to increase Speed that raise Cas Latency, buy ram rated at a higher speed than you want and than underclock it to increase Cas Latency to get the best Cas latency at that speed!
Read discussions in other Overclocking categories