Solved
I bought a i7 920 from Micro Center Does anyone know which stepping
Okay heres the deal, I had my aunt by my CPU for me from Micro Center because I don't have a Micro center location near where I live and she happned to live near one. Seeing as they where doing the WALK-IN special and they where selling the Intel core i7 920 for 199.99 USD I figured I'd go ahead and have her buy it for me. But here's the question I have do any of you have any idea of if the CPU she picked up for me is a CO or DO stepping?

I'm just basically wondering if anyone knows which stepping that Micro Center tends to carry.
Or if anyone here has happened to buy their i7 920 from Micro center while they where doing that special because I just want to know what the odds are that I got the newer DO stepping.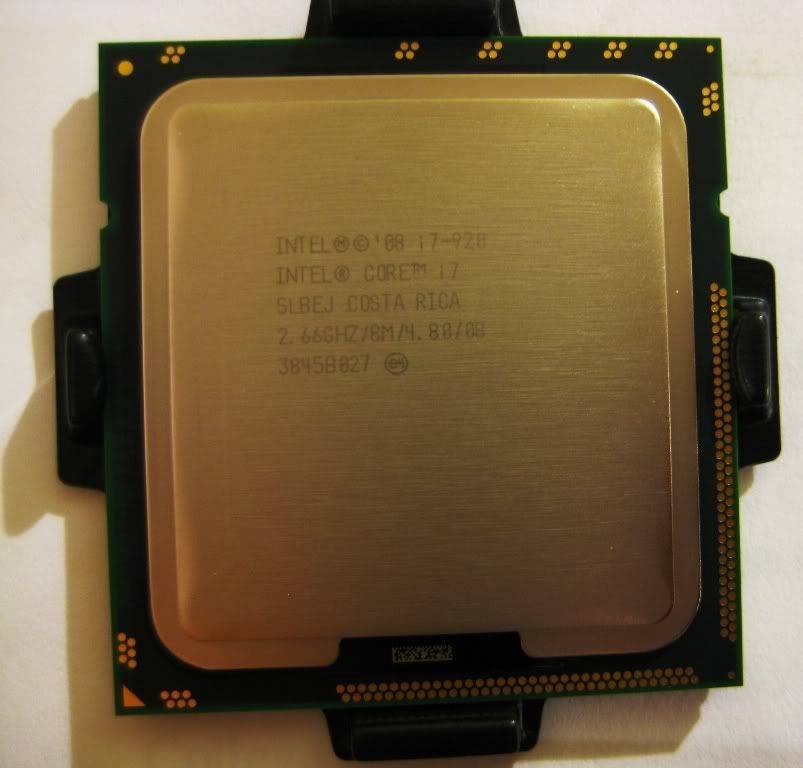 See the "
SLBEJ
" ? that means its
D0
if u see "
SLBCH
" then its
C0
Scroll to the bottom of this intel webpage look up "spec code"
http://ark.intel.com/Product.aspx?id=37147
I don't have the CPU in front of me at the moment because I wont get it until I travel to Michigan next weekend to visit my family up there. So basically I'll have to wait until then but thank you very much for the info bro. Either way though even if I got the CO stepping I'll be happy seeing as I only paid 199.99 for the CPU
Can't find your answer ? Ask !
kdn said:
indeed, the term stepping is being unclear to me
hehe. And you are right, If I overclock I will most likely follow a tutorial and overclock it step by step, i'd start with around 3.2ghz on a thermalright extreme 120
They only real difference is that the D0 stepping are the newer ones and from what I have read they tend to overclock much better than the C0 stepping.
jennyh said:
The most important thing to remember here is, Psycho usually adds 500 mhz to what most people would consider 'average'.
?? I've seen 4.2GHz as the usual oc for the recent i920s.
Besides, look who's talking
.
Psycho's exaggeration:
|.........|
Jennyh's exaggeration:
|.......................................................................................................................................................................................................................|
Hi, I dont think the difference is that much between the C0 and D0, the D0 is reported to require lower voltages thus making it easier to overclock, but I have a C0/C1 and mine is running as smooth as a baby's botttom at 4GHz on air as we speak. The difference is too small and marginal I think to be worried about which stepping you have. The only difference might be in how far you can actualy push the CPU in overclocking, and again I doubt the difference will be more than 100MHz. So just enjoy the product you have bought because whatever the stepping, its a beast of a CPU.
Cheers
Can't find your answer ? Ask !