Solved
Upcoming Water Build
Hi guys!
I have been reading up on water cooling a lot lately, trying to get a feel for it and understand all the intricacies, and I think I have found a solution that I will like. I have an idea of what it would look like in my system and I think I have a solid list of components, but I want your guys' opinions and suggestions.
Everything I have put together so far is from
www.frozencpu.com
and it really is getting expensive, so my first question is where can I find similar quality or better components for cheaper? MountainMods.com didn't seem to have everything and I'm not sure of an all-in-one system (besides the Corsair H100, which looks decent).
I actually have a Corsair H50 already and it works great, but I want to build a full water system myself! That said, here is where I stand:
Theme will be a black case (Obsidian 800D) with an AX850 (single-sleeve braided black) with black fittings, white tubing, and black/white fans(I like the black and white). I am planning on a loop like this - please correct me if this loop could be better:
RADIATOR > CPU > NB/SB > MOSFET > RES > PUMP > RADIATOR
Here is an example from Digital-Storm:
While it will look similar, it won't include a loop for the GPUs or the single 120.1 radiator on the back or a bay-mounted reservoir. This is the color scheme I plan on going with.
Here is the component list:
EK X58 NB/SB/MOSFET Block @ $115.95
EK Supreme HF CPU Block @ $71.95
PrimoChill 3/8 ID 1/2 OD White Tubing x 10 Feet @ $22.95
Koolance 3/8" x 1/2" (10mm x 13mm) G 1/4 Threaded Compression Nozzle x 12 @ $71.88
Black Ice GTX360 Xtreme Radiator @ $119.95
Koolance 45 Degree Rotary Adapter x 6 @ $62.94
Danger Den DD-CPX Pro 12V 3 Pin Powered Pump - 237 GPH @ $56.95
EK-MultiOption RES X2 - 250 Advanced @ $55.95
NZXT 120mmx25mm High Performance Fan x 3 @ $26.97
NZXT 140mmx25mm High Performance Fan x 2 @ $21.98
Scythe Kaze Master Pro 5.25" 6 Channel Fan Controller @ $48.99
Corsair Obsidian 800D @ $250-$300
Corsair AX850 80+ Gold @ $150-200
Total:
Over $1100
- I want to lower this as much as possible while keeping the highest quality.
That cost doesn't even include buying the cable sleeving and heatshrink necessary to achieve an MDPC look: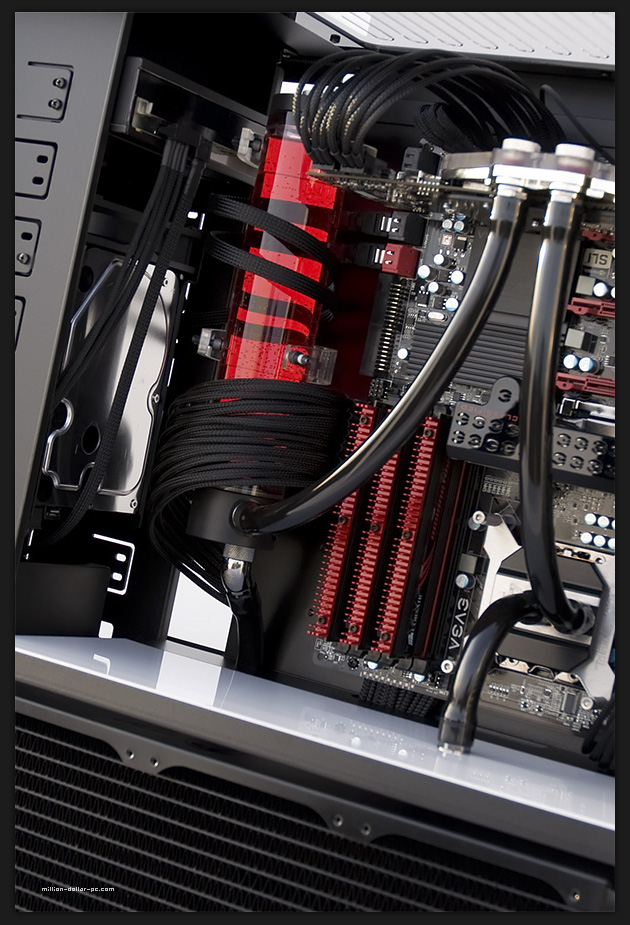 These systems are undoubtedly expensive but they look so good - This is the best example of the sleeving I want to do!
I think I'm getting ambitious but I feel confident that I can do it myself and make it look just as good. I would definitely prefer to pay less than $1100 while being able to achieve everything I want.
So there is the full list. For convenience, everything is linked to FrozenCpu.com - I know I can get some components cheaper elsewhere (Newegg and Amazon) and I certainly will - I just want thoughts / opinions / suggestions on what is listed, and perhaps a less expensive place for some of the items such as the base components for the water loop(blocks, etc).
I currently have a Seventeam ST-850Z 80+ Bronze but it spent a year in storage due to a deployment and I don't know how much longer it will last, and their customer service has proven impossible to contact. I also have a CoolerMaster Cosmos S chassis, and while it works just fine, it's not part of my "dream machine" build and therefore I will sell it. Too bad really, it is a spacious case, just not what I have mind! Besides, I am a Corsair fanboy anyway
Lastly, I want to mount the radiator and fans as shown in the Digital Storm PC, but I'm not sure how long and what type of threaded screws are required - input on this is greatly appreciated. I'd cry if I punctured the radiator.
Full PC components:
EVGA X58 E758-A1
Core i7-290 @ 3.2Ghz
6GB Corsair XMS3 @ 1600Mhz
2x MSI GTX560 Ti Hawk
Asus Xonar D2
1TB Western Digital Caviar Green (took it out of its previous external closure..It's now my main drive due to a failure of previous drives being very old - 5 years - and the fact that HDD prices are incredible right now)
Long post for sure, but I wanted to convey my thoughts and I hope I have shown that I did some research into components and how a system is supposed to work, but maybe not on their prices! Thanks for your time, everyone.
Upon looking, I see the XSPC Rasa 750 RS360 Kit may be an extremely viable (and likely) option. The OCN thread has great information it. I guess all I would need with this is some tubing?
Edit: Before I shoot myself in the foot, the RS360 kit looks very killer and I think I am going to get that, along with the white tubing and fans that I linked before. The fluid will simply be distilled water - no dyes or additives (except maybe a silver killer).
I
figure
that will drastically reduce my cost, and contain everything. All thriller, all killer. Right?
I have the same pump, fan controller and smaller version of that reservoir that you originally listed. Why do you want the chipset blocks? Just because? Looks?
Also, you might want to make sure you get the right sized tubing- the D5 is native 1/2"ID tubing size and you have 3/8"ID tubing and fittings specified. Unless you run a top and use 3/8"ID fittings on the D5 or convert the 1/2"ID to 3/8"ID, 3/8"ID tubing isn't going to fit the pump.
FYI, FrozenCPU has some of the best selection, but higher in prices. Check the watercooling sticky- I have some typical e-tailers listed that might offer better prices.
www.jab-tech.com
http://www.performance-pcs.com
http://www.petrastechshop.com/
http://www.aquatuning.us/
Edit- sounds like you are changing your mind again. I'd also recommend the RX360 kit over the RS360, if you go that route.
Can't find your answer ? Ask !
Rubix,

Thanks for the info - I didn't catch the sizing difference with everything. With the RX360, would you recommend I use the included block or go with the EK Supreme? As far as chipset block goes, I have noticed that they tend to run a little hot (65+) and I don't plan on upgrading my base components anytime soon.

I've used FrozenCPU before, and yeah they do get a big expensive but their service and shipping is very good. I will check out the e-tailers you linked, as well.


Chipset components are designed to run hot, and watercooling may/may not provide you any benefits- especially if you aren't doing any heavy overclocking...otherwise it's mostly for looks. If you are set on including them in your loop, you might consider a better pump than what is in the Rasa kits. Otherwise, you could get a Rasa RX360 kit and the waterblock for your video card and be good. You'll need to consider fittings for the GPU block (I think Rasa runs 7/16"ID tubing) and maybe some additional tubing of your choice. EK Supreme and Rasa blocks are both great performers with maybe 1-2C difference between them (without looking at specific benchmark tests).

I guess it really depends on what you want to do- your original list had some very good components, but as you found out, rather pricey. You could easily trim some costs by using barbs instead of fittings and dropping the chipset block and swap the CPU block with the XSPC Raystorm block which is almost 1/2 the cost of the EK Supreme. Again, it all depends on how big you want to go here.
I had been buying a lot of water cooling parts from Frozencpu.com untill I found Performance-pcs.com and Rubix is right about the prices. The shipping was always great from frozencpu but the prices were high and the selection good. The prices are alittle lower at performance-pcs but the selection is enormous and you will find things there you just won't believe , the shipping is good in that you can choose the shipping method , they are based in Florida so depending on where you live that will determine the shipping time.
It will take you days to go through thier inventory of water cooling parts , I usually end up spending a lot of money there because I want everything and they do have a large selection of other things for computer building as well. I have a picture of my Pc as my sig if you want to see how I aranged things , I have set up a dual loop system , two pumps , two radiators , two resivoirs etc.
Water cooling is the way to go everything is running under 50c no matter what is happining , I have not seen any component go over that 50c and one loop cools the cpu (980x) and ram (24gb) and the other cools the three 580's.
Awesome tips and suggestions, guys! Performance PC has so many things.. I'm going to be here for hours.

As far as my setup goes, my budget is approximately $1200, and with that I'm torn:

Go with original plan but cut costs here and there (Barbs vice Fittings for example) or go with the Rasa RX360 and the white tubing / fans idea. I would like to include the chipset for looks and hopefully some functionality.

I don't really plan on doing my GPUs since they are rather quiet as it is, and generally I am wearing a pair of NC headphones(Sony MDR-NC500D) anyway.

So I am thinking:

XSPC Rasa RX360 w/ a larger pump(suggestions?) and a cheaper chipset block. From reading about it the RX360, I take it the included CPU block is pretty decent?
CPU only, go with a Rasa kit. Space will be the determining factor for what radiator you choose, which correlates to the kit model. If getting the Rasa/Raystorm kits, just use that pump. If you want a higher flowing pump, consider going with a custom loop from the start. You could piece together something fairly similar, so don't let the all-in-one box cause you to become jaded.
Here is what I settled on:
Custom-loop with a highly recommended pump, the EK Supreme HF CPU and Chipset blocks (includes mosfet block), a Bitspower water tank (250ml I believe), a 360 radiator by EK, some extra barbs (some of the items from Performance PC include barbs), hose clamps by Phobya (I hear barbs are safest with clamps and those are rather cheap but look strong), the NZXT fans that I want so bad, and a Scythe Kaze Master Pro.
Scythe KM03-BK "KAZE MASTER PRO" 5.25" Bay Mountable 6 Channel Fan Controller - Black
Swiftech MCP355™ 12 VDC Pump Swiftech MCP355™ 12 VDC Pump
EK-FB KIT EVGA X58 Full Board Northbridge/Southbridge WaterBlock- EVGA X58 3SLI
EK-Supreme HF High Flow CPU Water Block - Acetal+EN (Nickel)
EK-CoolStream RAD XT (360) *** NEW *** EK-CoolStream RAD XT (360)
NZXT FN-120 Premium High Performance Low Noise 120x25mm Case Fan
NZXT FN-140 Premium High Performance Low Noise 120x25mm Case Fan
PrimoFlex Pro LRT White Tubing -3/8in. ID X 5/8in. OD
Bitspower Water Tank Z-Multi 250
EK High Flow Fitting G 1/4 Thread - 3/8" Barb EK High Flow Fitting G 1/4 Thread - 3/8" Barb
Phobya Hose Clamp Spring 16 - 17mm Black Hex
Logisys True-Color CCFL Light Bar - 12" - Blue
Several extra barbs, hose clamps, a couple extra feet of tubing, and I will go to the grocery store and get a gallon of distilled water. Also, I have a blue cold cathode to install!
It will go into a Corsair Obsidian 800D with an AX850 (fully sleeved) PSU. All said and done, I think I may have a pretty good setup going here. Everthing appears to be compatible and high quality, and a bit less expensive than before, which in turn is allowing me to get a few extra things.
Total before chassis and psu: $623.25 w/ Shipping
Chassis and psu, and a heat gun: $476.96 from NewEgg w/ Shipping (heat gun is for other projects too!)
MDPC Sleeve Kit
from MDPC - 42 Euros or just about $54 - not sure about shipping since it is coming from overseas. I can't really find a full sleeving kit that appears to match the quality of this one.
Sleeving Tool/Pin Remover
- Price also included in cost from Performance PC - I don't know of any other tool that can apparently handle all my pin removal needs and cost less. Sunbeam has one but reviews say its flimsy and it also costs almost twice as much. $11ish from Performance PC
All of it: $1,150 - $1,175 ... Prices change. That's within budget, and since the rest of my rig is good to go, all of the above will help me build an awesome chassis and cooling setup that will hardly ever need an upgrade.
I've pretty much settled on that, but if someone has some suggestions again (cheaper blocks that work just as well?), let me know. I'm still going to read up on a few guides and maybe make some changes, but this is the direction I am looking at going!
You'll want a killcoil (.9999 silver coil) for the reservoir, and perhaps some biocide.
Otherwise, you've got yourself a lot of really good WC components there. The only thing I can add- do you want to run a top/res for that pump? This would potentially allow you to not use the Bitspower z-Multi (although, I have a smaller one, and it's very handsome and well built) you would have a top to improve the pump's performance a bit and have an included mini-reservoir. Or, you could simply get a top and allow you to use any size fittings and tubing ID in your loop you wanted (since the DDC pumps run native 3/8"ID, a top would allow you to include the fitting sizes you wanted).
XSPC DDC top
Bitspower top/res tank
There are several brands and styles out there similar to these...just trying to give you some examples of each. Either could still be used with your nice, stylish z-multi res if you wanted, however, you can get pretty big Bitspower tank res tops listed with that one I have pictured above...
Bitspower z-multi 80 + top for DDC
Sorry- not trying to confuse you any more...just trying to help.
Ah a killcoil and biocide. I knew I was forgetting to get something. I still plan on using the 3/8"ID 5/8"OD tubing since that is what is native to the pump and it makes everything easier. Also, I'm not quite sure what a top does or how I would use it:
-Does it allow me to connect a res directly to it?
-Is the Bitspower Z-Multi 80 + top a good match with the MPC355? If that's the case, then I can use that and not need the larger reservoir at all, correct?
So let's say I get the Z-Multi 80 + Top, what else would I need? The Performance PC page says I need to add an acrylic top... This is where I am confused. I do appreciate the suggestions though, I just wish I knew a bit more about it.
-Is it something you would consider necessary for a novice like me or is it just an increase to pump efficiency / power or will I be fine with what I have already chosen?
Damn, you know a lot about this
Finally, the actual loop:
Res > Pump > Radiator > CPU > chipset > mosfet > res
This I think is correct. Let me know! I truly appreciate all the input you guys are giving me! I will have myself a flawless build soon!
Yeah, good eye...I see that too. Odd, I thought this was a top/res, but apparently its an add-on res. Anyway, here is a suitable replacement that looks almost identical, and doesn't require an extra 'top'.
EK DDC top/res
Or another tank/top:
XSPC tank/top
Quote:
-Does it allow me to connect a res directly to it?
-Is the Bitspower Z-Multi 80 + top a good match with the MPC355? If that's the case, then I can use that and not need the larger reservoir at all, correct?
So, to answer your question- if you got a top/res similar to this, you wouldn't really need that other reservoir you had listed. You remove the stop top (where the 2 molded barbs are located on the MCP355) and then install the res/top you purchase. It will mount up using the same screws. One note- removing the top voids the warranty on the pump. However- you can get around this if you buy Koolance PMP-400 versions of this pump...it is the exact same pump, but branded by Koolance. Just a tip when considering pump tops.
Koolance PMP-400 DDC pump
You'll notice its exactly the same as the Swiftech version.
Pump tops often increase the flow and head pressure...even if it is minimal over the stock top. Even at very worst, it would be the same, but you'd have the res built in and you'd have the ability to choose your own fittings for the tubing you wanted to use.
But, you could just go the route you had initially and be fine. Have you considered 5.25 bay reservoirs with an integrated DDC pump?
XSPC DDC dual bay reservoir
Edit: found a YouTube video on installing a pump top to a DDC pump. This applies to MCP350, MCP355 and MCP35x.
http://www.youtube.com/watch?v=WUg05_LqIkc
Can't find your answer ? Ask !
Read discussions in other Overclocking categories