890fxa, 5980 Code 35 Stuck in 640x460 16 color
Last response: in
Motherboards
MB MSI 890FXA-GD70 AM3 R
VGA SAPPHIRE| 100280SR HD5970 RT
CPU AMD|PH II X6 1055T 2.8 G AM3 RT
HD 1T|WD 7K 64M SATAIII WD1002FAEX
CPU COOL CORSAIR| CWCH50-1 RT
MEM 2Gx2|CORSAIR CMX4GX3M2A1600C9 R
This is my first build. I have used driver sweeper and followed the driver installation instructions.
I have all the latest drivers, even for the 5970, and in the device manager it says that they are using the drivers, but it says code 35, your board does not have enough information, please update bios. I have the latest bios (1.4), I even tried reinstalling windows 7 several times. When I go to change the resolution the box is grayed out and I am stuck in 640x480 16 color. If I go into the advanced options it says I am using the driver VGAsave.
Also, when I put the second stick of ram it, it gets stuck on the welcome to windows screen with the little windows emblem on boot up. I should mention that, as well as the first boot image both are far higher resolution than when windows does start.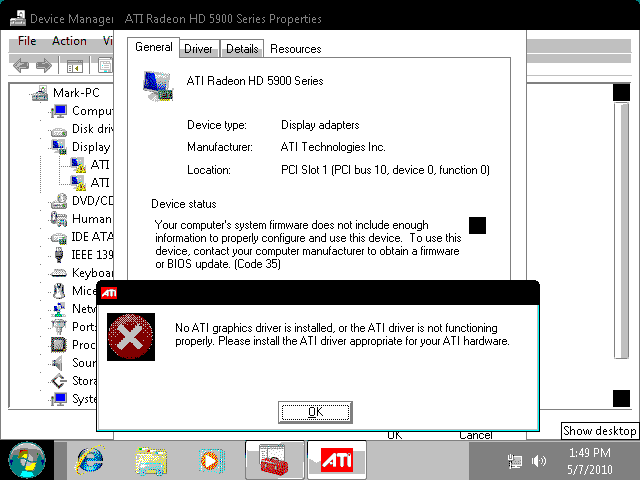 I am also getting that even though I have the latest RAID, Chipset, and bios.
More about : 890fxa 5980 code stuck 640x460 color
Can't find your answer ? Ask !
See
this
looks more a problem of the mobo. Contact with MSI Tech support and tell they the problem that u have. Maybe can give to u a solution or RMA that mobo and get an ASUS M4A89TD or Gigabyte 890FXA-UD5.
I did a few days ago, they are kinda slow. After swapping the cards I think it may be the card. Is there any way to be sure which is which without using the card in another system? I could test it in the low res because everything functions properly besides that. How can I test the board and the card?
Can't find your answer ? Ask !
Read discussions in other Motherboards categories