Solved
Gforce 6800 to hd 5770
thats what im probably going to.
and i am wondering
aside from faster fps in games, and better resolutions in newer games
are there any other binnifits outside of games?

i know cuda makes things go significantly faster if things are programed with that in them, and ati has opencl, how does that compare as of now?

and is there anything else i could expect to see with the upgrade?
Can't find your answer ? Ask !
What are the rest of the system specs?
What are you doing with the system?
For gaming you have it dead right, the 5770 is a good deal faster and probably uses less juice if you have the GTX or Ultra versions of the 6800.
The newer card also has better HD/DVD playback, a plus if you are into movies.
As for Cuda/Opencl/Stream it will depend on applications so if you use apps that benefit from these features your choice of upgrade might depend on what software you use which means that for Cuda enabled apps an Nvidia card like the GTX260 would be a better choice.
phenom 955
3gb memory
i think thats it for significant things

light gaming, that will change with a better card
video rendering, i have a quad, and non hd video takes 50 seconds for 60 seconds to render most of the time.
photoshop
really anything you can do with a computer, i do it, besides compiling code never learned c+ good enough to do that. the thing i keep comeing back to at least once a year, is 3d modeling, i suck, but its fun to screw around with new more ui friendly programs every so often

have the ultra, but doesn't a psu draw as much power from the wall regardless if it used it all?

i can already play blu ray video, 1gb for 22 minutes of video close to flawlessly if not, how would the graphics card help that more? im curious about that because i always see that accelerated video playback, but my 955 and a 6800 are more than capable of 1080p what would a newer video card do better?

i said cuda because its an easier example, im going with the 5770 because of future 11 support (i will swich to 7 the moment a good thing is made to give it a compleatly xp feel to it) and lower power requirements if i remember correctly and it also doesnt hurt that there is a woman on the saphire 5770.
Check into the software, later versions support more features but older releases do not support Cuda etc and are heavily dependant on CPU power.
A graphics card power draw can change wildly according to how much of its performance is used but the older cards are far less efficient than the current new ATI cards-drawing more power for less performance.
The new card should play better than 'close to flawlessly' with improved image quality and no dropped frames at all. For example my 'B' system with a 8800GT has noticeably poorer playback than the same system with a HD5770 installed.
It may be better to hold fire for a little while, though. Nvidia should be launching their own 'new gen' cards at the end of this month and, given the high resolution of the monitor you would be better off with the HD5850 anyway, my own 5770 can struggle at 1920x1200 despite the i5 750 that feeds it.
i got a 1920x1200 too. and when i say close to, i mean i cant see it playing any better, there are no real dips in frame rates, unless something i have pops up, like firefox and download complete, that can make it skip a frame or two.

i will however assume that it has better upscale.

and if money and my psu weren't a concern, i would go with the 5850, hell i would probably get the 59xx one, and sell it off when the 6xxx one comes out.

and in all honesty, nvidia has been pissing me off for years.

look at 3d vision, i got my hopes up, hell i was willing to drop the money for a 120 hrtz monitor, and a new graphics card, because if you ever seen a 3d movie without those god forsaken red and blue glasses, you would understand. i have wanted that for SO long. than i read it. i would have to use vista. back than that was the only choice, but vista was so much worse than xp and still is that i never even considered it. that dissapointment alone, i mean TELL ME THERE WAS NO WAY TO DO THAT FOR XP, made me never want to support them again.

but the most annoying of things they did was go and make a 5 second ad in games telling you to play it with nvidia that i cant skip allot of the time. i want to not support them just for that alone too.

in all honesty the only way nvidia could get my money right now is if there new card preformed better than the 5770 with less power use, but with a chip that is 2-4 times the size, i highly doubt that is achievable
Is the rant over?
If money/PSU forbid the HD5850 then that is the case, we all have to eat and keep a roof over our heads.
Although I said it can struggle, the HD5770 is still no slouch, in fact it is far ahead of even the 6800 Ultra:
http://www.tomshardware.co.uk/best-gaming-graphics-card...
Yet burns only 40Watts more, even at peak load:
http://forums.atomicmpc.com.au/index.php?showtopic=264
I think it would be a very useful upgrade for gaming, but its benefits for other tasks will entirely depend on the software used and for such specific information you should really post on the publisher/vendor forums.
game wise it will be night and day, i know that, but i don't know about anything else.

lets take cuda and opencl out of the equation.

in video rendering, will i notice a difference? because for a quad core, haveing a non hd video render a close to 1:1 seams a little, slow? i went from a p4 hyperthreaded, that rendered the video at 5 minuets could take 20-30 minuets to render, now its down to maybe 5 minutes takes 4:40 to render.
There is plenty of software to read the sensors I like GPU-Z and Rivatuner.

Most rendering software still relies on the CPU, for example I've not seen a huge improvement in Poser 6 by switching from a E6600 dual to a I5 750 quad in render times. It all depends on the software, some can use multiple core, some cannot. Again, you need to post in software specific forums for detailed information depending on your software and release version.
Having one my self you need to max out the fan through riva tuner but before that you need to blow out the dust since 86c will kill just about any card after a few months use. Get a small screw driver and remove the face plat and fan which takes about 5 min at the most. Clean the dust out and put it the fan and face plate back on. The temps should be down into the 70s. Mine is spotless and with fresh compound and it loads in the mid to high 70s.
alidan said:
can you explain a bit what i need to do? im a bit lost
Turn the box off, take the card out. Place the card down on a flat surface and remove the screws that mount the fan on the back side of the card. Then flip it around and remove the very little screws that screw into the cooler through the face plate. Get a brush or canned air and clean out the dust.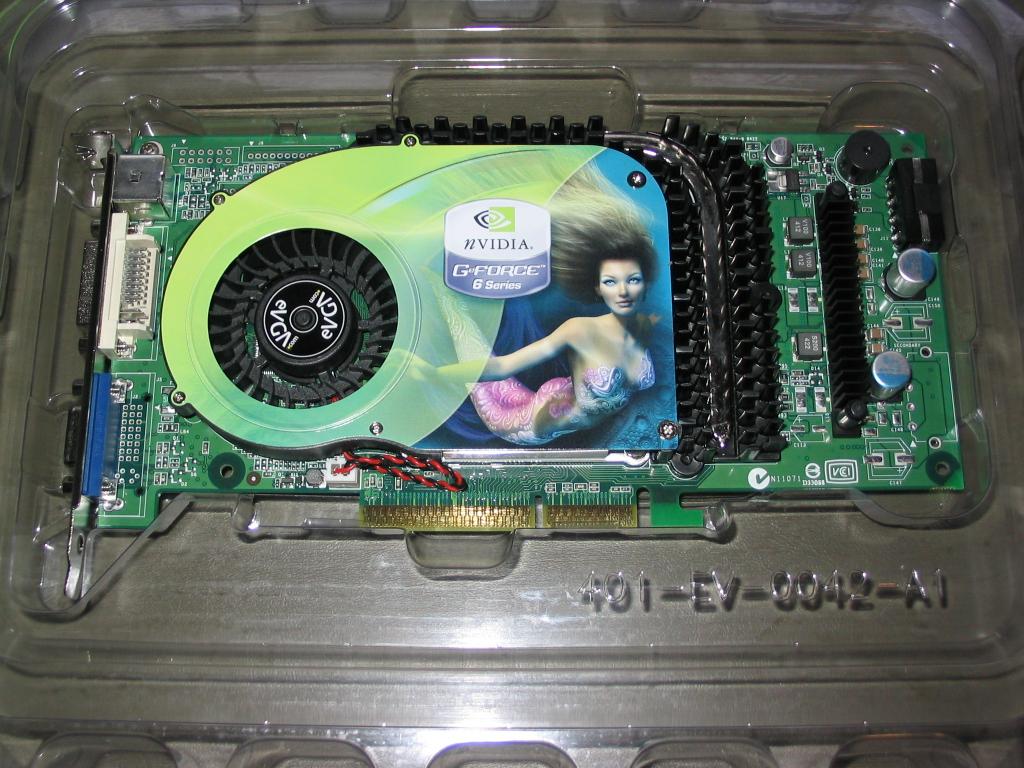 Remove the 3 screws that mount into the cooler.
http://www.ozone3d.net/gpu/images/point_of_view_6800gt/...
remove the screws that mount the fan towards the bracket end (silver colored not the black ones.
Total screws needed to be removed is 6.
Can't find your answer ? Ask !
Read discussions in other Graphics & Displays categories