Project: Helios - concept, design and planning
Hello everyone, Langer here.
I've been and active posting member in the computer modding community since about 2004. Some of you may have seen my last large project - a case mod called project: PrometheusCU. That project is soon coming to an end and I an beginning the planning phase of my next massive case-mod project.
I'm calling my next mod project: Helios
Note that this is the third and final (for now) revision before this plan hits 3D mock-ups.
A quick overview of the features and design details of the design:
- Room enough for and easy access to
2x420mm Radiators
- Integrated reservoirs and
4xPumps
- Constructed from
0.25" Grade 38 Titanium plate
-
Motherboard can be removed without disconnect
from tubing or wire harness
- All
wires are run out the top
and back of the chassis, which also creates a storage cavity
- Absolutely
no visible fasteners
on the chassis
- The case will be
held together without the use of screws
, fasteners, bolts, or adhesives
- Will features 2
independent cooling loops
- Blacked-out and
filtered air intakes
in the chassis
- Side panels will be
removable in seconds without any latch
, fastener, or tool
- All bolts, fittings, and h
ardware will made from be stainless steel
- All bushed and
nickel plated cooling gear
- All tubes and wires will be sleeved in
milspec quality nylon multifilament sleeving
- There will be
no side windows
, instead the components will be exposed to the elements
- The entire chassis will feature some type of
exotic coating, such as a rubberizing
perhaps
======
Here's change-log for revision3.0:
1) Pumps have been flipped and are now side mounted - pumping upwards
2) Custom reservoirs replaced with EK (possible IandH) options mounted directly to pump-top
3) Tubing layout redesigned to consider a more efficient routing
4) Much more finite consideration of power and data wire routing
5) Altered position and orientation of modified PSU, fan now blows up and wires run out the front/back of the PSU
6) Moved location of chassis USB ports and power switch to the motherboard tray backplane
======
Revision 3.0 Side and Top views with cooling loops:
*click for huge*
Side and Top views with parts only:
*click for huge*
Side and Top views of empty chassis:
*click for huge*
Side view detailing roughly how the wires will be routed, note how the wires are fed out both the front and back of the PSU:
*click for huge*
Here's a very rough perspective view of the bottom most cavity, showing how the pumps, PSU, and reservoirs are oriented:
*click for huge*
Here's a perspective side view to add a bit of depth, this just details some of the design features:
*click for huge*
Taking into the account the vast array of suggestions on the latching/fastener method I made a revision. This particular design was suggested by Oldnewby - thanks mate:
======
Don't forget to follow me over on Facebook:
Tune in on the JLI Facebook page for exclusive info, and prize opportunities.
BECOME A FAN OF JLI
======
If you have any comments, suggestions of opinions on the design please share them.
I'm looking for some critical feedback on my design before it hits the fabrication stage, and any issue no matter how small can be overlooked.
Thanks for the suggestions and help everyone - watch this space in the coming weeks as this design unfolds to become a reality.
*j
There has been quite a number of comments on my illustrations, so I'd like to take a moment to explain how they are created.
All the drawings are done in Adobe Illustrator (version CS2 drawn entirely on my teeny-tiny eeePC 1008HA)
The perspective technique used is called projection mapping and has been around since the renaissance. The process involves using top and side views projected in a 3D space to create accurate perspective.
*click for huge*
I didn't include any of the illustrations from revision's 1 and 2, however I'll include them here below.
PLEASE NOTE THAT THE FOLLOWING DESIGNS ARE EARLY REVISIONS AND HAVE BEEN UPDATED WITH THE ABOVE CONCEPT
======
REVISION 1.O
ISO View:
Exploded View:
Open side view with cooling loops and airflow:
Open side view with cooling loops:
Open side view:
Open top view:
Bottom view:
Parts schematic PDF:
*click for PDF download*
Measurements ~24"x24"x8"
Can't find your answer ? Ask !
PLEASE NOTE THAT THE FOLLOWING DESIGNS ARE EARLY REVISIONS AND HAVE BEEN UPDATED WITH THE ABOVE CONCEPT
======
REVISION 2.0
This revision see's the following changes:
- new, smaller, custom reservoirs made from 0.25" acrylic
- revised construction material from 6mm aluminum to 0.25" titanium
- altered dimensions to accommodate 420mm radiators
- completed the PSU installation and wiring configuration (not shown below)
- adjusted loop orientation for cleanliness
- altered air-flow direction
- augmented fastener design (not sown below)
- new space for SSDs, eight in total
- the motherboard try no-longer 'slots' into the bottom as it did in the first revision, instead it there is a space accentuating how it hangs from the top
- more are was taken into removing the motherboard tray, it will now easily slide out the top
- whereas before only the left side panel was removable, now they will both be totally removable (in seconds without any fasteners or latches)
*click for huge*
Here you can note the new size to allow for the 2x 420mm Rads (Hardware Labs GTX420)
The fans will be Noiseblocker PK3's (7 of them)
The new reservoirs will need to be custom made, I'm leaning towards having them mill from solid acrylic
I've also added 4x SSD racks, to-be mounted directly to the radiators, this will allow for a total of 8xSSDs to be installed.
There is exactly enough room in the bottom section to mount a stripped down and modified Corsair HX1000
*click for huge*
Apart from the rads, and the reservoirs the design is pretty much the same as it was.
All the dimensions are completely different however
The airflow is now pulled from both the front ad the back.
Since
there is no side window, and the components are totally exposed
the air will simply vent out the bottom and the sides.
A couple of really quick mock-ups to make some of the details and the airflow more apparent.
*click for PDF download*
Take a closer look, download the PDF and give the parts a once, over.
======
Don't forget to become a participating fan of JLI on Facebook for all kinds of insider information, prize opportunities, and special treats. JLI Facebook Page
Thanks again, and tune in soon.
*j
A user by the name of NFC over on the XS forums presented a very interesting point to me this afternoon. I think it would be a good opportunity to share the concern, and express
my
beliefs and intentions.
======
NFC put this concern before me:
[quote=NFC]It's beautiful. I'm also concerned that case manufacturers might try to glean potential IP from it.
Like, I would hope you would want to share the ideas with the community for their own personal projects, but you give an awful amount of insight to people who could lock others out from doing it.[/quote]
======
Here's my response:
You present an interesting point, however the mass publication of this project across about 35forums, the 6000+ image views per day, and the collaboration with sponsors (coming soon) is a pretty big deterrent. It would be very easy to defend this in an IP battle, considering that there is clear evidence that I published it first technically I'd have rights.
Regardless of all that, absolute worst case scenario (pun intended): I have dozens of other designs floating around up in the old noggin, I'll just move onto a new one. I plan on releasing my own line of cases in the coming future - this project is merely a bloated prequel.
I do this because I absolutely love doing it. Moreover I love to share, get feedback and work collaboratively with the community - if I get shafted by some manufacturer of cases then sobeit. In the long-run it would better benefit everyone if the idea was ripped off - it's about time we saw someone rethinking this sh*t on mass scale (key word being think... there's alot of useless plastic bullsh*t cases out there that put 0 thought into enthusiast usage)
Truth be told - I conceived the entire concept in an afternoon, with the exception of maintaining the threads that go along with it I have only about 30 or so hours invested so-far.
The following is quoted from my website's
about-me page
:
[quote=me]
Question: Why do you share your UX resources so openly?
(this mantra applies to all my design, not just UX)
Too long has the high-tech industry been protecting it's interests through, what I have titled, the acquire and archive model. Which entails buying out conflicting ideas, or merging with competitors in the interest of shelving perfectly viable and beneficial technologies. I believee in the spirit of open co-opatition, abelieff which stresses the idea of sharing knowledge with everyone -especiallyy competitors. Because it's only when we embrace new-age movements like open-source development, and the digitization of the worlds libraries that we will really be able to take the next step.[/quote]
If I were to fully consider the issue you have presented I would be breaking my core principal.
If I stop sharing, then I stop getting critical feedback, and I don't get to potentially inspire others (a deep honor in my opinion)
If I patent the design I become the very evil I try to contradict.
On an up-note: I'll continue to share me ideas on a finite level - with the intention to have the community guide my decisions.
There will be mock-ups and 3D visualizations to come soon.
I love little mental paradoxes, and I tend to over think things. As I sit here contemplating this situation I keep thinking about the barber paradox:
[quote=Wiki]Suppose there is a town with just one male barber; and that every man in the town keeps himself clean-shaven: some by shaving themselves, some by attending the barber. It seems reasonable to imagine that the barber obeys the following rule: He shaves all and only those men in town who do not shave themselves.
Under this scenario, we can ask the following question: Does the barber shave himself?
Asking this, however, we discover that the situation presented is in fact impossible:
If the barber does not shave himself, he must abide by the rule and shave himself.
If he does shave himself, according to the rule he will not shave himself.[/quote]
I've scratched my head at this patenting dilemma all day now... and here's what I've done for the modder's everywhere:
<--click for details
I've put a creative commons licence on the design
You are free:
to Share
— to copy, distribute and transmit the work
to Remix
— to adapt the work
Under the following conditions:
Attribution
— You must attribute the work in the manner specified by the author or licensor (but not in any way that suggests that they endorse you or your use of the work).
Noncommercial
— You may not use this work for commercial purposes.
Share Alike
— If you alter, transform, or build upon this work, you may distribute the resulting work only under the same or similar license to this one.
With the understanding that:
Waiver
— Any of the above conditions can be waived if you get permission from the copyright holder.
Other Rights
— In no way are any of the following rights affected by the license:
Your fair dealing or fair use rights;
Apart from the remix rights granted under this license, the author's moral rights;
Rights other persons may have either in the work itself or in how the work is used, such as publicity or privacy rights.
Greetings,
There's been a small change of plans... I'm having some custom super high-tech 0.25"thick carbon fiber panels made for this project, as opposed to the titanium as planned. I may still make one from Ti because the idea excites me, but the short term will not see that happening.
When the carbon arrives in a couple weeks, I'll begin cutting.
For fun today I decided to throw together a prototype... at least that was the plans before it took me near 6hrs to make.
It ended up taking a long time because the art framing board was really REALLY tricky to cut with a little type-A x-acto. this unfortunately also affected the bud quality as well... but im still fairly pleased.
I'll let the pics do the rest. I present the latest iteration made from Art Framing Board and Silicone Tape.
What do you think? Leave a comment, let me know while there's still time to change plans before I begin cutting.
*j
@Shovenose - Thanks man, unfortunately... 8-16fans blowing inwards means the middle would need that many venting outwards.
@Timop - Thank you very much sir, PrometheusCU (still ongoing) is my baby. I've been working on it diligently and am going to share its in it's completeness soon enough.
------
The above wasn't my first attempt at fabricating this design in this method.
First I made a smaller iteration - 30%, whereas the above prototype is 40% scale - however lack of experience in working with the Framing board and attempts to glue the thing together lead to a failure.
As you'll see in the images below, at first I tried to make it in a printer friendly card-stock... but it was too flimsy and I didn't feel like laminating several sheets together. This would prove to me a mistake later on, lol.
I glued the cardtock pieces that I had printed and cut earlier to a sheet of Framing board. My intention was to use the printed pieces as guides, without realizing just how hard it is to cut Framing board... let along Framing board with an extra layer of cardstock and some hardened white-glue.
I'll share with you my first attempt nonetheless, it will still give some insight into my method and tools.
Again, pictures talk:
Take care,
*j
The high-grade composite panels required for construction of this project are being manufactured this week!
The panels in question are 16mm thick and composed of an astonishing 52layers. (The details of manufacturing will be released with the update... there's some CRAZY science and pressure involved to achieve the desired effect).
The panels are being made from an incredibly high grade of carbon usually reserved for military aerospace applications. In addition there are some other composite materials intermixed in the lay-up which will add some unique properties - but I don't want to say more and ruin the surprise.
I will have the panels in my hand in 2-3weeks, then I'll be sending them out for cutting straight away!
I'm elated that this is coming together as planned. I hope you will all enjoy the show, and if that's not reason enough for you, I plan on accompanying the commencement of Helios with an update on my
PrometheusCU
project as well.
Tune in soon for more...
A 'small' order today from McMaster (physically speaking) - the necessary stainless steel hardware, fasteners, and misc. bits needed to assemble this project: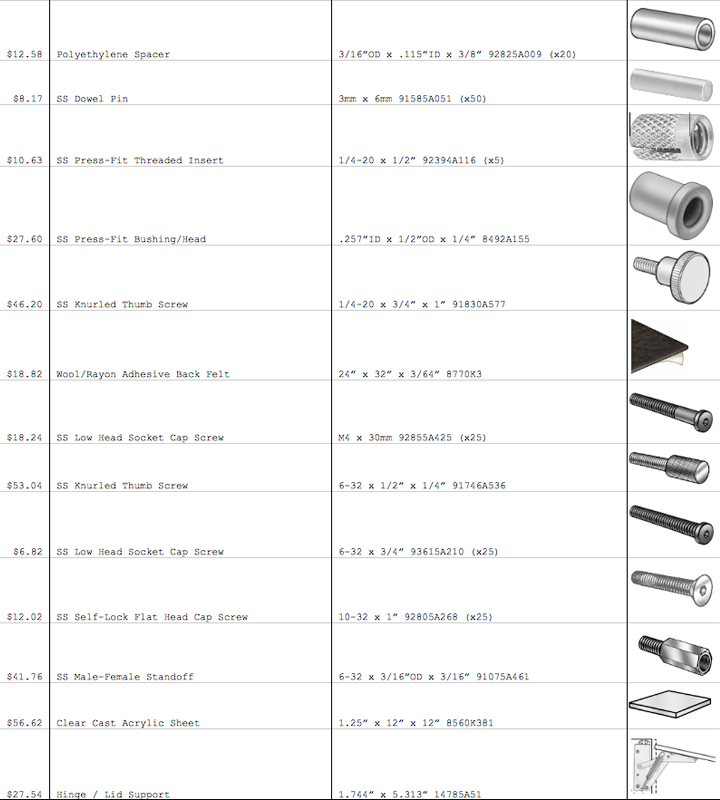 I can feel the enormity of the cost of this project already...
the parts to hold it together cost
$1,180.03USD+tax and shipping
.
The choice for stainless bumped up the cost considerably... but it's just too sexy to resist.
Now I'm just waiting on the composite panels that will compose the chassis to come in from California... I'm not even going to hint at how much the panels cost, and they need to be machined to spec still.
I still havent yet decided on the final hardware configuration, but I am sure it too will put a good dent in the old wallet.
*j
It's already there mate but thanks for the advice.
http://www.overclock.net/case-mods-general-discussion/7...
I've been diligently plugging away.
I decided to trade in the project log for a big bang at the end.
Many issues arose when fabricating the 8mm thick panels - there was a great numbers of unsuccessful trials before arriving at the solution seen in the images below. A total of 64 layers were required to achieve the thickness and rigidity of my specifications.
As planned:
There are three small 1/8" pins sticking out 2.5mm from each mated edge. These more than hold it together, there are no visible fasteners. (I've not yet inserted the pins holding the side panels in place - this will be the last step.
All that remains now is to give the panels a final surface finish.
A final clean of the edges.
Dilling of a few remaining holes for mounting things like the motherboard.
Then a light hammering to seat all the pins into their final positions.
That's all I have to say for now, I'll let the images do the rest.
Presenting HELIOS:
Side-View w/ Side Panel
Side-View
Opened Top
Front
Reverse Side and back of Motherboard
Detail Shot
Tune in soon for final pics, the fabrication story, technical specifics, hardware selection and some pretty badass motion graphics.
*j
Whats next?
1) Resurfacing the panels
- this will be done by squeezing each piece for a few seconds at ~200,000lbs in a press heated to ~400degress. The pieces will be pressed between a textured sheet of teflon, the texture will be transferred to the surface of the composite panels. The result will be a flat, even surface with a slight texture to it; just to add a bit of character.
2) Final assembly
- this will be where the panels are fixed together using small press-fit steel pins. You wont be able to see these pins once assembly is complete and they will offer more than enough structural stability to hold the chassis together.
3) Aerogel (Frozen Smoke) pieces
- I've decided to manufacture the remaining parts of this case from a material known as Aerogel. This material is just... remarkable... it looks just like frozen smoke, it weighs almost nothing, it's the least dense solid on the planet... and it can withstand ~4000 times its weight in compression. I'll leave you with a video discussing it's properties:
[youtube]kHnen2nSmDY[/youtube]
4) Install the hardware
- I still haven't settled on the hardware for this build... but I think something over-the-top and epically powerful is in order. I'll start gathering the remaining pieces over the next month or so.
Panel Fabrication:
I've been asked some questions regarding the struggles in creating the panels used to construct Helios... so here is goes.
I will elaborate with a photo walkthrough when I can find the opportunity in the next few weeks.
Material Composition:
Base Materials:
- Carbon
- Nickel
- Lithium
- Teflon
- Aramid (Kevlar)
- Polypropylene
- Glass
Resin:
The resin used is the highest performance material currently available on earth:
"PEEK™ polymer is regarded as one of the highest performing materials in the world. Its product portfolio is the broadest range of polyaryletherketones on the market today and helps customers improve application performance, realize greater design freedom and achieve systems cost savings."
As a small qualifier to the performance of this material; combining PEEK with a something like Fiberglass will result in a material stronger than carbon fiber (albeit not as light).
The process of manufacturing is as such:
1 -
Fibers are grouped 25,000 at a time, in this case, and wound onto rovings.
2 -
The rovings, like big spools of thread, contain about 2.5KM of fiber and weigh only about 1KG (depending on the material).
3 -
The rovings are fed into a machine, 64 at a time, and impregnated with plastic resin
4 -
The result is called "tape" and it's 6inches wide, it's cross section would reveal 1.6million individual fibers held together with resin.
5 -
The tape is then fed into a machine which melts as many as 7 spools together.
6 -
The result is a continuous sheet 42" wide and composed of 11.2million individual fibers across.
7 -
This 42" wide sheet is then sliced into 42"x42" squares called "unidirectional sheets".
8 -
These "unidirectional sheets" are then stacked one atop another, following a strict pattern called a lay-up. For the panels used in Helios the lay-up called for 64 specific layers of materials in the form of unidirectional sheets and woven fabric.
9 -
The sheets are then stacked 0degrees -> 90degrees -> 0degrees -> 90degrees -> etc. This is to alternate the direction of the fibers and ensure rigidity in both directions
10 -
Every few layers the lay-up calls for a sheet of resin film to be added, this film will melt and help further adhere the layers.
11 -
This stack of sheets, fabrics, and resins is now sandwiched between some sheets of teflon fabric and topped off with 1/8" aluminum panels. The aluminum keeps the panel surface straight and the teflon stops everything from sticking to the aluminum (sometimes textured teflon is used for effect).
12 -
This 'sandwich', now over 6" tall, goes into a GIANT press heated upwards of 500degrees and capable of exerting several million pounds of force under tens of thousands of PSI.
12 -
The Helios panels went into the press for 11mins 400,000lbs @ 420degrees, then another 6mins in a cooled press at 120,000lbs. These unimaginable forces turned the 6" tall lay-up unto an incredibly rigid panel 8mm thick.
13 -
In the case of Helios, I've added another step: a second pressing using textured teflon to add a surface texture to the panels. This is because when the panels were made using smooth teflon and I want a more unique look than just plain "shiny".
RESULT - Each of the 6panels used to construct Helios contains 718,800,000 individual 42" long fibers - each approximately 1/50,000th the width of a human hair and each with a strength of about 48,000 kN·m·kg−1 (High carbon steel is rated about 154 kN·m·kg−1)
The panels are as close to the physical embodiment of indestructible that any man could ever hope to see.
In Short:
Fiber is wound, injected with plastic, grouped into tape, melted together into sheets, which are stacked together with resin film, which is pressed and cooled... this is how you get thermoplastic panels.
As you can imagine (even moreso once I get some photos up) there are about a million things which can go wrong during this process... and I think every possible problem showed it's face during this project.
I hope that illuminates things a bit.
I look forward to sharing my current progress with you soon.
*j
Can't find your answer ? Ask !
Read discussions in other Components categories