$850 Bang-for-my-buck Gaming PC
APPROXIMATE PURCHASE DATE:
3 Weeks
BUDGET:
$850-900, primary concern is getting the best price-performance ratio.
Avoid rebates if possible
SYSTEM USAGE BY IMPORTANCE:
Gaming Gaming Gaming. I will also be using it for some photo editing stuff but not in any super CPU crunchy capacity.
PARTS NOT REQUIRED:
Optical drive, monitor, mouse & keyboard
PREFERRED WEBSITE(S) FOR PARTS:
I am partial to newegg but I will shop wherever the best deal is.
PARTS PREFERENCE
: Open to suggestions. In this price range probably going to be an AMD build. Reliable brands with good warranties.
OVERCLOCKING
: Very little if any. Not experienced so it would be very conservative.
SLI/Xfire:
On the fence. Budgeting in the necessarily more powerful PSU and dual PCIE motherboard is proving to be a challenge.
ADDITIONAL COMMENTS
: Here are some parts that I have selected. Totally open to better ideas, checking for dumb mistakes in my parts choices, etc. I am really shaky on what makes good RAM, and good PSUs.
CPU:
Phenom II X3 720 BE
- $105
HSF:
Coolermaster Hyper 212+
-$28
GPU:
XFX HD5770 1GB
- $160
CASE/PSU:
Antec 300 // Antec 550W PSU
- $110 (Combo)
RAM/MOBO:
G.SKILL Ripjaws Series 4GB (2 x 2GB) 240-Pin DDR3 SDRAM DDR3 1600 // ASUS M4A77TD AM3 AMD 770
- (Combo) $189
HDD:
Seagate 7200.12 500GB
- $55
OS: Windows 7- $99
TOTAL: $746
So you can see I am currently coming in a little under budget, which might end up being okay. I have been looking at maybe moving up to an X4 955 BE to give the CPU a little more longevity. Moving up to a 5850 seems obvious but they are so inflated right now, GPUs are among the worst offenders for technology churn, and I think a 5770 will (shouldn't it?) cover my needs for right now, I feel like saving that extra money and spending it on a new GPU in a couple years would be a better choice. I'd like to hear what you guys think.
Can't find your answer ? Ask !
I see the F3 and Seagate 7200.12 recommended almost interchangeably. At the exact same price range is one any better than the other?
USB3.0 is mostly a concern for external drive data transfer speed right? And Sata 6GB/s is mostly for SSDs? Neither of those are important to me.
I'd say the 5770 is a great choice, but if your gonna stay back with DirectX 10(I don't see why you would), I'd go with the Radeon HD 4890
http://www.tigerdirect.com/applications/searchtools/ite...
Personally I'd stick with the 5770, it's a great card, plus it's cheap, has DirectX11, and has great performance in crossfire if you ever decide to get another one.
I just built a new system for a little over a grand, and if you're willing to actually get closer to your 900$ budget you can get some parts that are far better than what you have listed. Check this out:
Mushkin Enhanced Silverline 4GB (2 x 2GB) 240-Pin DDR3 SDRAM DDR3 1333 (PC3 10666) Dual Channel Kit Desktop
AMD Phenom II X4 965 Black Edition Deneb 3.4GHz Socket AM3 140W Quad-Core Processor Model HDZ965FBGIBOX
Thermaltake Toughpower W0223RU 750W ATX 12V 2.3 80 PLUS BRONZE Certified Active PFC Power Supply
ASUS Crosshair III Formula AM3 AMD 790FX ATX AMD Motherboard
Thermaltake Tsunami VA3000BNA Black Aluminum ATX Mid Tower Computer Case
These parts will run you around $720, plus a HDD (which I would get the 7200.11 seagate barracuda). The sound that comes with the Crosshair 3's isn't bad, I didn't like it in the past two mobo editions but I used it for a little while before I installed my x-fi fatality platinum champion from my last PC.
Part of what makes a good PSU is whether or not it will actually run at what it is advertised at, at how long it is guaranteed to run while under full load. I know this isn't feasible, since you're not going to run your PSU on full load for 5 or 10 straight years, but it's nice to know it's made well. Also, it's important that all your 12 volt rails are passing along the proper amount of juice. Check tomshardware articles for information on PSU's and they'll tell you better than I can. Also, a lot of people swear by Gskill, but I've always been a fan of Mushkin. The only time I've been able to run 8GB of DDR2 1066 AT 1066 was Mushkin memory. Everything else auto drops to 800.
I've got this system running with a BFG Tech GTX 260 Maxcore. It's pretty sweet.
I'm thinking that I should strike the X4 955 from my list of possibilities. When the hexacore AMD chips come out all the current CPU prices shoud go down a lot, right? I would hate to spring for a more expensive CPU only to have the price plummet, and If I get one closer to the $100 mark I'll be more willing to upgrade in the future.
I have been rethinking a bit my position on crossfire. A dual 5770 setup should be extremely powerful right? Able to beat a lone 5870?
The Athlon II chip opens up some combos so I can squeeze in a nicer(I think?) PSU and slightly better motherboard with crossfire support for about $50 more.
Will the Athlon II handle a crossfire setup? Is it better than the X3 720 (keeping in mind I am not really an overclocker)? Any other ways I can shave a few bucks off here if I want to try to pocket some cash for the eventual second 5770?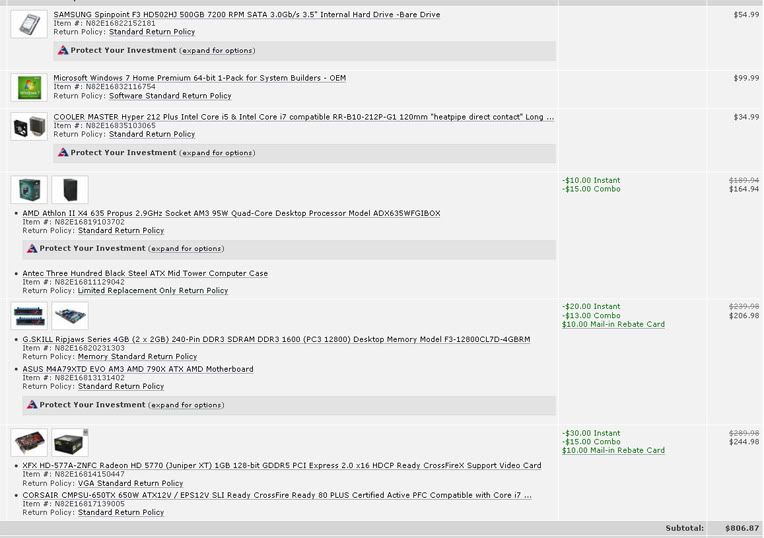 This combo is a bit cheaper (and no rebate!) than the XFX/Corsair in the Xfire ready build. Is the Earthwatts 650EA still enough to handle two 5770's?
http://www.newegg.com/Product/ComboDealDetails.aspx?Ite...
- $215
I can drop down to an Athlon II X3 435 -$75 and my budget comes back in line with my initial build.
Yes, if the numbers don't lie...
http://www.tomshardware.com/charts/gaming-graphics-card...
...then two 5770's in crossfire should rival the 5870, for a much better price.
Just be sure to get a motherboard that will handle two in at least x8 - x8 mode as x16 - x16 mode isn't really necessary with these cards for the small performance increase.
Also, 650w will be more than enough to power these cards in crossfire even with the power hungry Phenom II x4 965, just be careful when picking your psu, you should probably play it safe and get one that's 80 plus certified.
Friend is giving me his Antec 900 case, so I can strike a nice chunk off my total. This gives me some wiggle room to bump the proc back up and consider a 58xx.
5830 needs to be about $40 cheaper, 5850 is doable within my budget now but it burns me up to pay so much above MSRP while they're at the peak of their inflation, and when a 5770 will meet my immediate needs.
X3 720 is back on the table tentatively (OEM, $105)
Switched over to the Cas9 RAM combo gkay suggested.
With the changes and the freebie case I'm now sitting around $700
The best 5850 combo deal on newegg is this one, for about $140 more to move up from a 5770
http://www.newegg.com/Product/ComboDealDetails.aspx?Ite...
So, I have some choices. I can move up to a X4 955 and stick with the 5770 crossfire plan.
I can stick with the X3 720 and switch to the 5850 combo (would probably wait ~2 years to xfire) putting me right at about my original budget limit of $850
Or I can drop back down to one of the Athlon II processors to let the 5850 sit a bit more comfortably in my budget if the processor really isn't that important.
Can't find your answer ? Ask !
Read discussions in other Systems categories