Solved
E7600 processor and...?
Hi,

I've got an old desktop that i built which im gonna sell. I think im gonna be able to sell it for around 600bucks USD, so im looking to build something $650 or under.
I've looked into it a bit and ive decided to get an Intel Core 2 Duo E7600 processor and an ASUS P5Q Pro Turbo LGA 775 Intel P45 ATX Intel Motherboard...ive got an ENGT220 graphics card by ASUS to but im lookin to replace it with a full-profile the ENGT220 is a low-profile.
Either than a case, what suggestions for all the other components??
I usually use my computer for gaming and just normal work...games like CoD MM2 and PES2010 etc....nothing very graphically challenging

Thanks in advance =]]
The LGA775 socket is a dead-end path, 1156 and 1366 are the new generation of Intel CPUs. For your budget, I would recommend going AMD. You can get an Athlon II X3 for less than that Intel, and it will perform better. The money you save can be put towards a better GPU. If you like nVidia, the GTS250 is a good option at your price point, and for ATI, you could probably squeeze a HD5770 in there.
Can't find your answer ? Ask !
It might certainly be better for the budget - depending on how much you'd have to pay for a 5770?
5770 also runs cooler, uses less power, has DX11 and the possibility of using 3screen Eyefinity. It's also shorter for an easy fit in a budget case.
For a 4870 you'll want to bump up the PSU 1 notch to a good 450W model, or an average 500W model. And a case with at least 2 fans.
Better performing in games? The 4870 is a great gaming card but 5770 is surprisingly close and even out in front in some games.
Here are
some gaming benchmarks
to look over.
hmmmm
re: jsc
i never mentioned selling an old LGA775 system....i want to get a new one==

re: WR2
thanks a lot! ill check out the prices over here in HK but heres a rundown of what im gonna get...
$83 AMD Athlon II x3 440
$164 Sapphire Radeon HD 4870 Vapor-X 1GB
$106 GIGABYTE GA-770TA-UD3
$66 OCZ DDR2 PC2-8500 Blade Series 4GB Kits
$63 Hitachi HDS721010CLA332 1TB
$28 Pioneer DCR-S1 8FXV
$46 Corsair CX400W (CMPSU-400CXUK)
=
$556

if i get the SAPPhiRE VAPOR-X HD5770, which costs 169 in HK ill come out with a total of 560...so it doesnt make much of a difference....do u really think i should get the 5770??

p.s. the prices were prices i found online in HK, converted back to US. thats y they're a bit weird XP
OK......after going back and looking at the actual power consumption for a few 4870 reviews I think the Corsair 400W is going to be OK.
That chart is showing AC power draw at the wall socket so the DC draw from the PSU to the whole system is usually 10-15% less. Under 300W in this case. Just notice how much lower the 5770.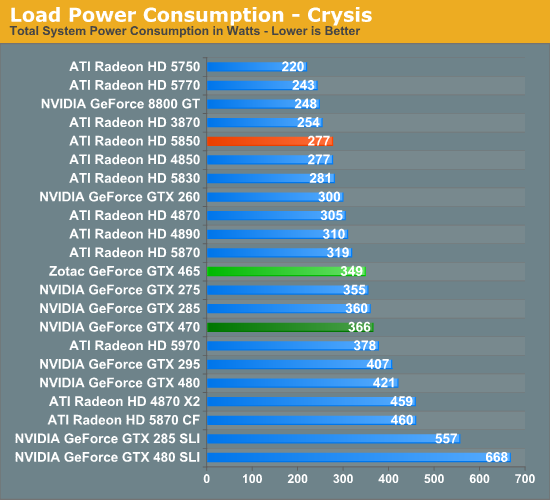 Sapphire has a better reputation than Asus. But when you get to the parts under the label they're mostly the same.
Its definitely a better chip. But the 440 is a great chip for gaming, you can unlock the fourth core and overclock it well. I would say if you want to step up, then you should go with the AMD Phenom II X4 955. Its the flagship quad core chip and at $159.00 is pretty affordable. I see it this way, your current 440 would be great for gaming, and has a lot of potential, the only way to really make a considerable improvement:cost is to get the 955.
Hey guys, i've found all the necessary parts for my computer....heres the list of parts:

AMD PHENOM X4 955 BLACK EDITION
HIS HD 5770 IceQ 5 Turbo 1GB (128bit) GDDR5 PCIe
MSI KA780GM2
Patriot PVS34G1333LLK
Hitachi HDS721010CLA332 1TB
Pioneer DVR-S18FXV
Corsair CX400W (CMPSU-400CXUK)
=
$584 USD

also, could you confirm the compatibility between all the parts for me??
thanks =]
Ah good catch, I assumed the 780 chipset would be DDR3... apparently that motherboard is not available on newegg, your better off sticking with an AM3 mobo and not messing with BIOS updates to get a AM3 chip in there...
This is a great choice,
http://www.newegg.com/Product/Product.aspx?Item=N82E168...
Can't find your answer ? Ask !
Read discussions in other Systems categories