4850's or GTX 460? (and a PSU question)
Hullo, I'm new here. I'm definitely going to upgrade my CPU in a couple of weeks to a Phenom II 955, and would like some advice on a new video card
I currently have 2 1GB XFX 4850's in x16/x4 CF (budget
) and am thinking of going for a 1GB GTX 460.
I've had a few problems with crossfire but on the whole, it's been good. What I would like to know is, would going to a 460 give me a performance boost at all, and would my 500W OCZ ModXStream be able to handle a 955 and a 460? It sometimes cuts my PC out with CF but I really can't afford a new one. Do you reckon DX11 will be worth it?
PS. I already tried the Antec PSU calculator (GTX 465 is closest as the 460 isn't on there yet), and it says I would be using more power than my two current 4850's (But all power consumption benchmarks I've seen say otherwise, using up to 100W less).
Can anyone speak from experience and tell me if a decent quality 500W PSU like mine can survive a 955 and a 460?
And FINALLY (sorry
) what is the 460 1GB to equivalent to last gen cards, kind of a 285 or 4890? Just so I can have some sort of general idea.
Cheers for any help, and really sorry for the essay post!
/Hard.
Here is an article that compares the GTX460 to various other cards. It includes the 4870 in Crossfire and single 4890, 4870, and 4850 in some of the tests. The GTX460 is closest in performance to the 4870 x 2, and is a little better than the 4890, so it would definitely beat your 4850 x 2.
http://www.guru3d.com/article/geforce-gtx-460-review/1
The article recommends a 450-500 watt power supply, so you should be fine.
If you are wondering if DirectX 11 will be worth it, here is a list of games that support DX11 (only 6 do currently):
http://en.wikipedia.org/wiki/List_of_games_with_DirectX...
Can't find your answer ? Ask !
I must have too much time on my hands to do all this research, but according to Hardocp.com, the x16/x4 lane splitting issue surprisingly has minimal effect on performance:
http://www.hardocp.com/article/2010/08/25/gtx_480_sli_p...
Quote: "Therefore, if you are on an aging PCIe 1.X system at x8/x8 mode (equivalent to PCIe 2.0 x4/x4) on a single display fear not, you are not holding back the performance of GTX 480 SLI or we guess with any CrossFireX or SLI configuration."
SLI =/= CF. SLI runs well on x16 x4, CF does not. I have no idea why they suggest it.
I don't blame you, Maziar showed me up on that about a month ago, I thought the same as you.
If I could be bothered, I'd try to find the proof, I'm sure when he's around he can post it.
http://hardforum.com/showthread.php?t=1473990
Not really proof, but more general consensus.
Hey and thanks for all the replies
Sounds like a 460 is the way to go then, and @Decode, nah I've got an AM3 board, and unless I can afford an i5 for 100 and whatever I'd get for the cards (that's actually doable come to think of it)... Is an i5 significantly better than a 955, and around the same price? I've never really considered Intel because I've never had the money (17 and living at home sucks)
Thanks again
But would I seriously be able to afford a decent HD6series card? And I would like to do the upgrade in a week or two, as i'm fed up of my system turning out crappy FPS on games like AC2 and GTA IV and want a stable fast system for the new Codemasters F1 game (my old one has regular cutouts, sometimes runs for 3 or 4 hours fine, other times it's just 20 mins)
Well that's what i said, if you are not getting decent FPS, then upgrade. There is talk of a direct competitor of the GTX460 coming in the HD6xxx cards. That's why is suggested to wait.
P.S. - On a personal note, enjoy living at home while you can, i have been through those days and still consider them more enjoyable than the stage of life i am now! They are the best time in a man's life!
Tom dida good article about SLI/X-fire scaling and here it is.
PCI Express And SLI Scaling: How Many Lanes Do You Need?
There isn't probably that much of a boost going to the 460 unless your playing games that support PhysX or DXII games. I'd hold off like everyone is saying till the 6000 series comes out. They will either be better or they will bring the prices down to the GTX 460 when they do so it's a win win situation.
Upgrade your CPU and hold the rest of the money for when the 6000 cards appear. You could get a better deal. If you really want a card now get the gtx460
(1Gb version, not the 768mb)
, but i would wait.
To answer your question at that resolution with the 768 model you would get fewer fps. The lack of memory will be a bottleneck.
The gtx 460 rocks, I don't see AMD matching the performance at the price. When you overclock them to 900mhz , the results are AWESOME.
They are making the 768's tempting at 169.00 dollars now, FYI, I just did some Crysis timedemos with gpuz running in the background, I then checked the sensors and looked at gpu memory, max used was 900mb. Thats at 2xAA 1920x1080.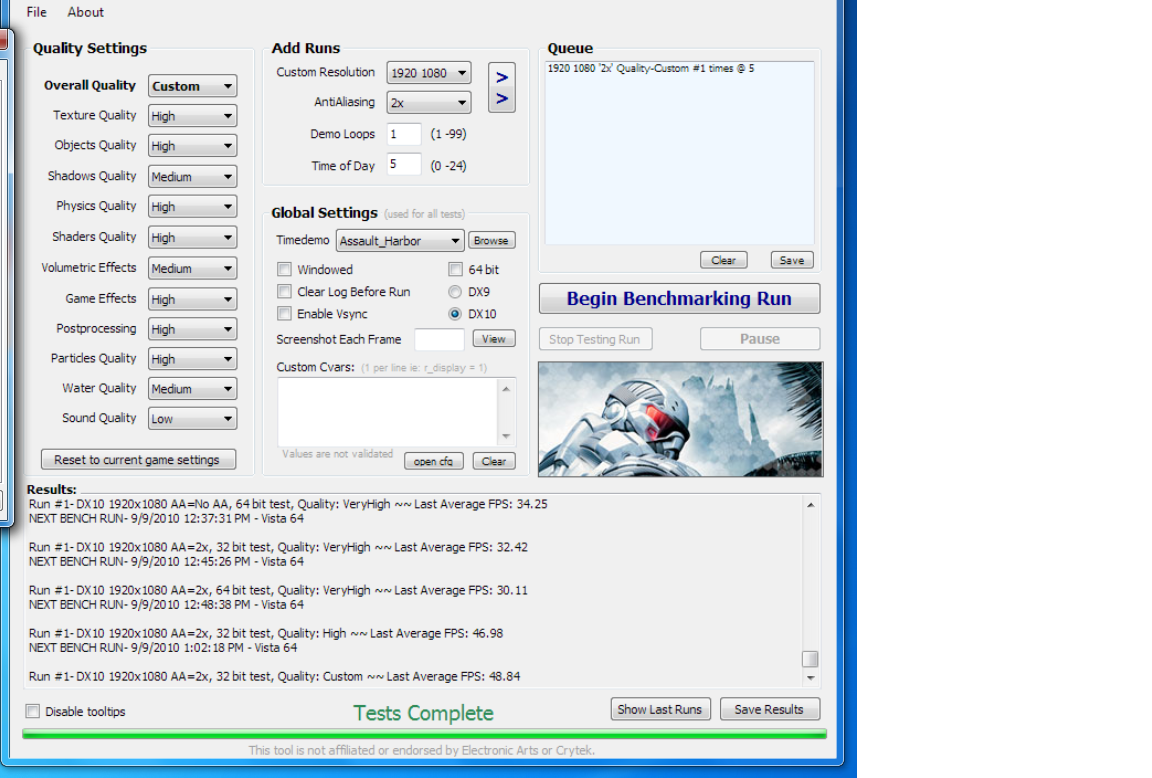 Yes, I had the higher AA setting on as well, I lowered the settings, and the memory usage went down, to 800. I think most games at 1080, you would be ok from the reviews I've seen on the web , with the 768 card. If the 768 is what the wallet can afford, I'd go for it. I had a 512 meg card before this, and it played my games 'ok'. You learn to play with the settings.
Ok well if there's very little difference, the 768 version is about £40 cheaper, and whenever I've had cards in the past, even 512Mb Cards, it's available GPU memory in dxdiag and Vista/7 (and GTA IV as well come to think of it) has shown as 1700ish MB and for my current Crossfire setup as 3824 MB >.< If it's borrowing memory then I might not notice and difference between the 2?
More power and heat that's why.
Helltech said:
I don't think Matt noticed the x16 and x4 CF setup you have.
I'd get the GTX460 1GB, and sell the two cards you have to help pay for the GTX460.
Your PSU will be fine.
The GTX460 1GB version performs around the performance of a 4850x2, and GTX285.
Yes you can do that. Good one helltech. hellow flee-bay!
Can't find your answer ? Ask !
Read discussions in other Graphics & Displays categories