Gaming pc for about 900 us dollars
Hi,
I am new to TH.I will build a gaming pc for about 1000 dollars max..not a very stringent budget..
so far I have rounded to:
PROCESSOR:
AMD Phenom II x4 955BE
MONITOR:
Benq G2220HD
RAM:
4gig ddr3
HARD DISK:
Western Digital 500GB SATA 3.5" CAVIAR GREEN
OPTICAL DRIVE:
I have one
VIDEO CARD(GRAPHICS CARD):
1GB ATI Sapphire Radeon HD 6850 -
MOTHERBOARD:
Asus M4A78T-E
CASE:
Cooler Master Elite 430
PSU:
Seasonic S12-II 520W
is this good enough?
I plan to game at max or near max settings in current and upcoming games..
I will crossfire in future
Thanks in advance
Can't find your answer ? Ask !
omnisome said:
If you're planning to CrossFireX in the future then I strongly suggest a bigger PSU than 520w.
yeah I know but see this
http://www.youtube.com/watch?v=t2sN-tRLPXM
He has a 4870 which requires 2 6pin power connectors and has only a 380w psu...so thepower requirement for 4870=
75x2+75(from pcie x16 slot)=about 225 watts....
WHEREAS
6850:
75x1+75=150W
for crossfire:
75x2+75x2(from pcie x16 slot)=about 300W
There is only a 75W difference so I require only (380+75)=455w
and my psu can be stretched to 585w....
i know it will run loud but I have headphones so it is okay...
Thanks for the advise though..
Any more suggestions???
boiler1990 said:
For $1000, you can easily get a great Intel i5 build that will outperform an AMD Phenom II X4 system.
yeah I thought about it but the AMD one keeps up a very gud fight against the i5 760..
also I have heard that the i5 has two real cores and two virtual cores..
radeon graphics and amd cpu work together like bread and butter but intel is less optimized for amd gpu..
the price point is also too good to beat....
the 955 also beats,equals or a bit lesser in gaming and multitasking....
I dont see synthetic benchmarks as no one benchmarks except games...
the amd stock heatsink keeps good even at 3.5ghz so my choice is obviously amd..
also with the left over money I will buy games,razer lycosa mirror and razer abyssus kb and mouse and xbox 360 controller.
the 6850 canalso beat the 6870 when oc'ed.
Thanx for the suggestion
Can u suggst on any other things like gpu,mobo,etc????
My PSU is a 650W continuous power supply, and my system consumes just under that.
I would also recommend at least something comparable to mine. You don't want the PSU to be under heavy load all the time, so "stretching" the power is an awful idea.

You mentioned OCing the GPUs. Any overclock is going to draw more power. The 520 is not going to handle that.

The AMD GPUs will work fine with Intel, it's the other way around for GPUs. Nvidia SLI doesn't work well/at all on the new chipsets.

The i5-760 has 4 physical cores. I don't know where you're hearing about the 2 virtual...

You didn't mention the need for accessories, so on that budget I would recommend the AMD.

rohangupta said:
hey man I just saw the guy below(omnisome1990) has gtx 470s(SLI) on 650W..
So 520W(extendable to 585W) can be good with two hd 6850s
No, if you read carefully I'm running a single GTS450, not SLi GTX470. The 520w power supply won't last long loading two overclocked crossfire cards onto it and playing games,
really bad idea
.
OK,so I am going for a 700W.
Also I will be oc'ing only one 6850 but not when it is cf'ed as it will generate a lot of heat..the psu from FSP--->decent brand and the PSU is 80+ bronze and Nvidia Sli ready certified......so this should be good enough..as far as the Intel build goes the Sandy Bridge isnt available in India(where I live) and is costly for now too..........my next pc build would be surely sandy bridge but the AMD heatsinks are much better....

the phenom 955be gives better fps in games than i5 760 even i5 @4ghz and amd counterpart stock.

so I think my build should be quite balanced now with psu headroom(a lot) to OC and future gfx cards upgrades and other things....

Thanks for the rectification..;)

any more suggestions?????
This is $1065AR but just swap out one of the 2GB HD 6950s for that LCD hehe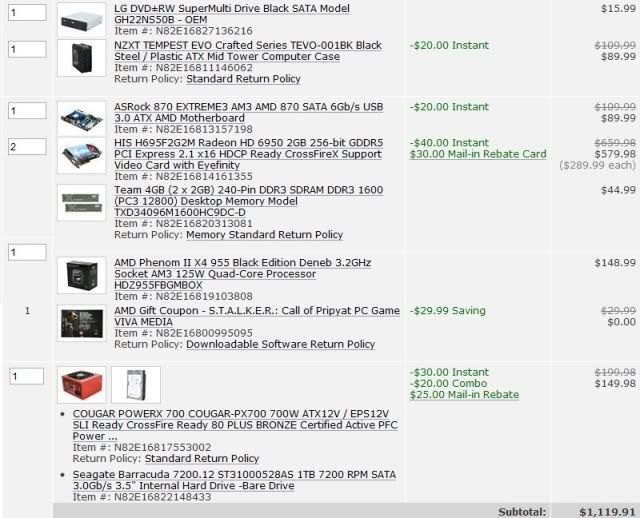 HD 6K: Cayman Crossfire in Eyefinity scaling
http://www.widescreengamingforum.com/wiki/AMD_Radeon_69...
its not a CM psu,its a FSP psu..cm psu's rated at 750w (gx750) is only safe upto 500W
lol!!!!
fsp is nice on par with seasonic and ahead of coolermaster(cm)...
I live in india where Sandy bridge isnt available for now..if it does,then my next build would surely be an SB build...
lol
i will xire somewher in future for maybe..eyefinity and more demanding games(obviously with a CPU upgrade to bulldozer or 1100t or higher....
i5 760 and 955be are about the same..this case also with the hd6870 and gtx 560ti....
I live in India and the 560 isn't available here..
UPDATE:I am going to buy the msi 890gxm-g65 mobo for sata6gbps and usb3...it is about the same price as the m4a78t-e..
Also, the 955be is better at stock speeds in gaming and multitasking..the temps are also nice and the stock heatsink kepps it below 60 degrees even at 3.5ghz..

the price is too gud to beat..so the choice is obvious..also there is a rumour that bulldozer APU will be of 930 pins...is that true????


Please reply with suggestions

Thanks
Can't find your answer ? Ask !
Read discussions in other Systems categories