Closed
Best Motherboard combination for $400-$500
Hey guys.
After recently getting my first PC set up after so many years, I am looking at upgrading my motherboard, ram, and CPU as the ones that I have at the moment, are very, very standard. I am wanting to run the PC purely for games, and minimal Internet browsing.
I'm not sure what details you will need since I will have to upgrade all 3 due to the current model of my motherboard, but I can tell you that I have a HD7850 graphics unit in it, and a 550W power supply.
I am preferably wanting to spend around $400, but if there is a significant upgrade, I am willing to spend a bit more. Any help will be greatly appreciated
Thanks in advance.
Matt
Can't find your answer ? Ask !
Intel Core i5-3570K Ivy Bridge 3.4GHz (3.8GHz Turbo) LGA 1155 77W Quad-Core Desktop Processor Intel HD Graphics 4000 BX80637I53570K
22 nm Ivy Bridge 77W
6MB L3 Cache
4 x 256KB L2 Cache
Intel HD Graphics 4000
Once again Intel sets the pace in competition for performance and power efficiency with the 3rd Generation Intel Core processors, codenamed Ivy Bridge. Built on the market-leading previous generation Sandy Bridge architecture, the state-of-the-art Ivy Bridge not only continues the excellence in all aspects with Intel Hyper-Threading technology, Turbo Boost Technology 2.0 and Smart Cache, but pushes the pace a step farther with groundbreaking 22nm 3D transistor technology, which delivers an unprecedented combination of performance and power efficiency, and a couple of key refinement. The built-in visual is another leap offering you enhanced media and graphics. The Ivy Bridge IGP also supports DirectX 11 and OpenCL 1.1 to deliver incredibly detailed gaming and better heterogeneous computing performance.
The Intel Core i5-3570K packs four cores with Turbo Boost 2.0 technology to deliver incredible PC and visual experiences for all of your favorite activities—whether you're creating, sharing, exploring, or gaming. Its unlocked multiplier allows you to freely adjust the frequency when used with compatible motherboard, pushing the performance to a new level and pumping the max out of your investment.
INTEL 22NM 3-D TRANSISTOR
The 3rd Generation Intel Core processors employ the world's first 3-D transistor manufactured at 22nm. Intel's 3-D Tri-Gate transistor uses three gates wrapped around the silicon channel in a 3-D structure, enabling an unprecedented combination of performance and energy efficiency, and ensuring that the pace of technology advancement consumers expect can continue for years to come.
EVOLVED GRAPHICS
Built-in visual features such as the Intel Quick Sync Video 2.0 and Intel Clear Video HD Technology enable compelling user experiences across a wide range of intelligent systems. Whether your application involves medical imaging, video surveillance, or HD media playback, the 3rd generation Intel Core processors support smooth visuals, quick digital image downloads, high-density media processing, and synchronous video streams. The support for DirectX 11, OpenCL 1.1 and OpenGL 3.1 takes your gaming and computing experience to a brand new level.
INTEL TURBO BOOST TECHNOLOGY 2.0
Designed to increase performance of both multi-threaded and single-threaded workloads, Intel Turbo Boost Technology 2.0 allows the processor core to opportunistically and automatically run faster than its rated operating frequency/render clock if it is operating below power, temperature, and current limits. Furthermore, the processor can optimize both processor and Processor Graphics performance by managing power for the overall package, allowing an increase in the render core frequency and increased graphics performance for graphics intensive workloads.
INTEL SMART CACHE
This large last-level cache enables dynamic and efficient allocation of shared cache to all cores to match the needs of various applications for ultra-efficient data storage and manipulation.
INTEL ADVANCED VECTOR EXTENSIONS (INTEL AVX)
Intel AVX is a new 256 bit instruction set extension to SSE and is designed for applications that are Floating Point (FP) intensive. Intel AVX improves performance due to wider vectors, new extensible syntax, and rich functionality. This results in better management of data and general purpose applications like image, audio/video processing, scientific simulations, financial analytics and 3D modeling and analysis.
INTEL VIRTUALIZATION TECHNOLOGY (VT-X)
Increasing manageability, security, and flexibility in IT environments, virtualization technologies like hardware-assisted Intel Virtualization Technology (Intel VT) combined with software-based virtualization solutions provide maximum system utilization by consolidating multiple environments into a single server or PC. By abstracting the software away from the underlying hardware, a world of new usage models opens up that reduce costs, increase management efficiency, strengthen security, while making your computing infrastructure more resilient in the event of a disaster.
FREE SHIPPING
$229.99
http://www.newegg.com/Product/Product.aspx?Item=N82E168...
U can definitely use this one -> ASRock Z77 Extreme 4 -> ... Latest Z77...
I just build PC with this mobo and I like the BIOS, its looks like this.
Works as expected @ 4.4GHz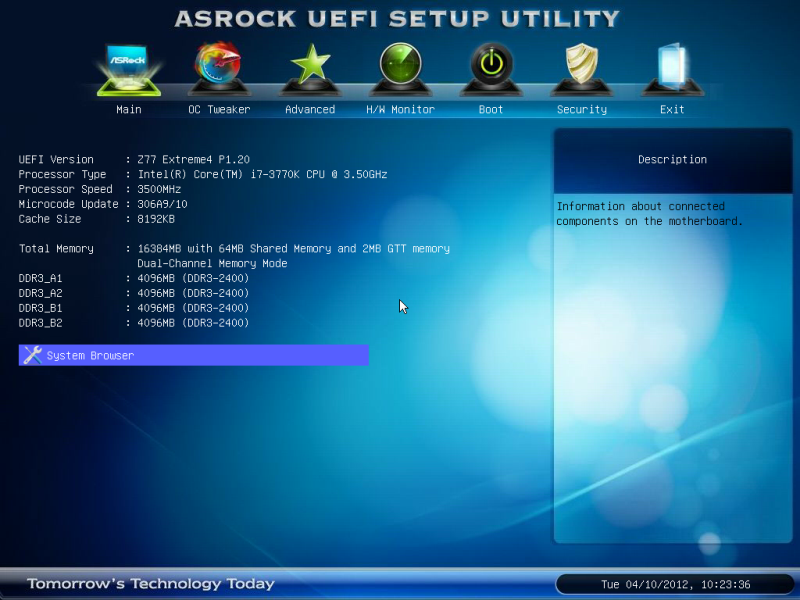 That is a great mobo choice for the CPU. It has good power design for OC.
Read the Toms review Seven Sub-$160 Z77 Express Motherboards, Reviewed
@
http://www.tomshardware.com/reviews/z77-express-ivy-bri...
ASRock Z77 Extreme4 LGA 1155 Intel Z77 HDMI SATA 6Gb/s USB 3.0 ATX
http://www.scan.co.uk/products/asrock-z77-extreme-4-int...
(x16)-d-sub-dvi-d-hdmi-a
http://www.newegg.com/Product/Product.aspx?Item=N82E168...
http://www.microcenter.com/single_product_results.phtml...
I recommend CORSAIR Vengeance 99% of the time,
quality RAM
and
low profile
with
XMP profile
. And if u will get an aftermarket CPU cooler, low profile is the worry free remedy with perfect fit with any large cooler.
CORSAIR Vengeance 8GB (2 x 4GB) 240-Pin DDR3 SDRAM DDR3 1600
http://www.newegg.com/Product/Product.aspx?Item=N82E168...
Vengeance Low Profile heat spreaders have a reduced height of 1.03" (26.25mm). They're designed for high-performance systems with extra-large CPU coolers, small form factor system builds, or any other space-constrained application where standard Vengeance memory might not fit.
If u want SSD performance,
Mushkin Enhanced Chronos MKNSSDCR60GB 2.5" 60GB SATA III Asynchronous MLC Internal Solid State Drive
3.5" adapter bracket included
$59.99 + FREE SHIPPING
http://www.newegg.com/Product/Product.aspx?Item=N82E168...
If u get an after market CPU cooler, u can OC to 4.4GHz with ease : )
COOLER MASTER Hyper 212 Plus120mm CPU Cooler
http://www.newegg.com/Product/Product.aspx?Item=N82E168...
Okay, so I have looked into it a little.
I'm looking at these for CPU, motherboard, and ram.
http://www.umart.com.au/newindex2.phtml?bid=5
- ram
http://www.umart.com.au/pro/products_listnew.phtml?id=1...
- motherboard
http://www.umart.com.au/pro/products_listnew.phtml?id=1...
- CPU
I will probably get SSD down the road in a couple of weeks when I get a bit more cash again, and I am looking at the CPU cooler that your recommended
Are these the things that you suggested? Sorry, I am very new to computers. Thanks heaps again for your help though
Hmm I cannot find a working link for the ram.
This is a google link though.
https://www.google.com.au/search?q=Corsair+Vengeance+CM...
(4x4GB)+1600MHz+DDR3+CL9+Perf&rlz=1C1CHHJ_enAU411AU411&sugexp=chrome,mod=19&sourceid=chrome&ie=UTF-8
And is there much difference in performance with those to motherboards?
http://www.umart.com.au/pro/products_listnew.phtml?id=1...
there we go. Is there much difference between these 2? Because the price is getting a bit high
Can't find your answer ? Ask !
Read discussions in other Motherboards categories