Mini-ITX Gaming Build Log
Hey all,
I'm assembling an ITX gaming rig for my brother's birthday, and I figured it would be helpful to individuals within and outside of the community to post the progress (AKA troubles and hardships) of assembling a powerful PC in such a small form factor. I will also post some benchmarks at the end (specifically Furmark's Burn Test and a CPU burn test) to get some temperature numbers, which are probably the most important.
Usage
Since usage determines many build requirements, I feel that it is important to know the usage of this one.
This build will be primarily gaming, with little other use. My brother has a school-supplied laptop as well as a MacBook, which he uses for all of his school work. He can't play any of his favorite games since they require a GPU (namely ArmA II and some expansions).
He already has a 1080p display, mouse, and keyboard, so those were not included in the build.
Hardware
After much deliberation, here is what I have chosen and purchased:
CPU
- Intel i3-2120 ($100 - used, from HardForum)
Motherboard
- ASRock B75M-ITX ($89.99 - Newegg)
GPU
- MSI Hawk GTX 560Ti (owned) + Accelero Twin Turbo II cooler ($40 - new, HardForum)
PSU
- Seasonic M2II 520W ($59.99 - Newegg)
RAM
- 2x4GB G.Skill Ripjaws X DDR3-1600 9-9-9-24 (owned)
Storage
- Intel 330 180GB SSD ($150 - new, HardForum)
Case
- Lian Li PC-Q08R ($119.99 - Newegg)
Also throwing in an Asus BD-ROM drive, and legitimate copies of CyberLink PowerDVD 11 Ultra ($30) and OEM W7 Home Premium SP1 x64 ($80).
Total
: $669.95 + S&H + price of parts not purchased. So this build wasn't necessarily the cheapest, but it'll be one of the smallest
Notes
It took me about a week and a half to pick a case. Here's my thread where many great suggestions were deliberated:
http://www.tomshardware.com/forum/336972-28-mitx-gaming...
The GPU/cooler will be the trickiest challenge; the GPU was in my signature build and watercooled. I don't have the original cooler, so I went to look for a good aircooler online. The only problem is that the coolers are almost all triple slot coolers, even smaller models like the Accelero Mono Plus. I found the Twin Turbo II for cheap and went for it. We'll see how that pans out.
The i3 + 560Ti combo is what I had for about 4 months and it games very well, contrary to popular opinion.
The PSU was a great deal. The Seasonic M2II is a modular PSU, which is going to reduce clutter significantly. It was also cheaper than many other 500W PSUs I could find, yet it is THE name brand.
Since this is going to be almost entirely gaming-only, I figured a dedicated SSD was the way to go. I was going to go with the $200 Crucial M4 256GB, but I saw the 180GB Intel drive on the forums and thought it would be a good savings.
I had a BD-ROM drive laying around from a previous build, so I'm going to throw that in with the Cyberlink software so my brother can watch movies. For anyone who is curious, Cyberlink is one of the
best
playback softwares I have used to watch movies on my PC. I had the PowerDVD 10 Ultra 3D for my previous 3D setup, and it worked amazingly well, and (most importantly) was very intuitive and simple to use.
Can't find your answer ? Ask !
I have to say, the Twin Turbo II is one of the easiest coolers I have ever attached. Just mount 4 spacers and attach 4 screws.
They always tell you it's big, but you never really believe it until you see it. It looks like quite the suitable replacement for the Twin Frozr, no?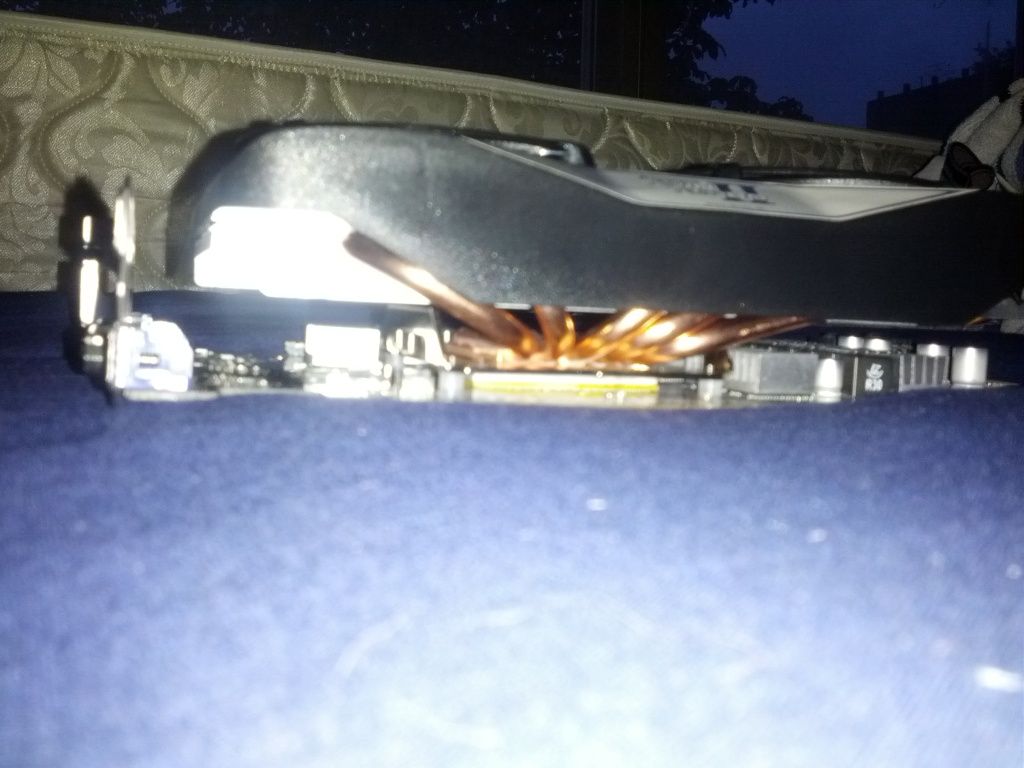 Definitely using all 3 slots...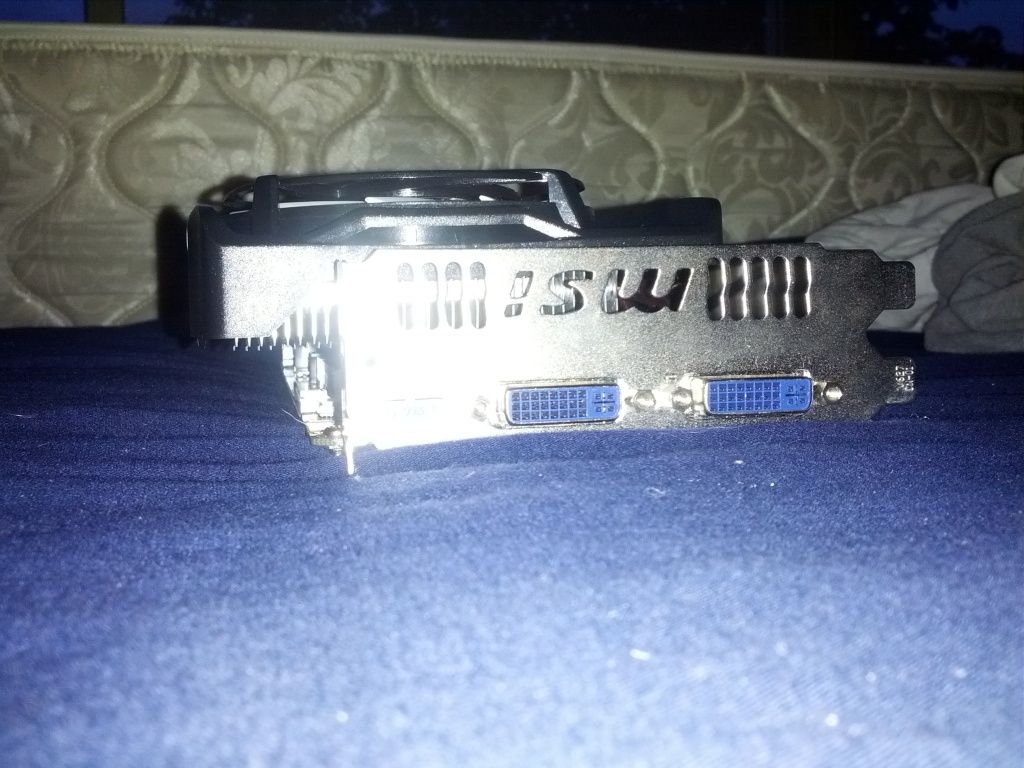 Yeah it is pretty huge. I may have to consider buying a new GPU and selling this one (any news on the GTX 660s?). The case should arriving tomorrow or the day after, so we will just have to wait and see.

I don't have the original Twin Frozr cooler that was attached to it - I am moving to AZ for grad school next fall, and it's lost somewhere in a myriad of boxes there in AZ. That's why I had to go with an aftermarket model.

The Accelero Mono Plus only extends to about 2.5 slots, whereas this clearly takes up 3 whole slots. Maybe I would have been better off with that...
So if you undo those screws I have in the third pic in the previous post, you can take out the front and you can fit a full 5.25" drive. There's a little gap below it, and that makes mounting the drive weird. I don't know why they put it since no drive will be thicker than what I have in there, so why not make it higher and give the drive some support?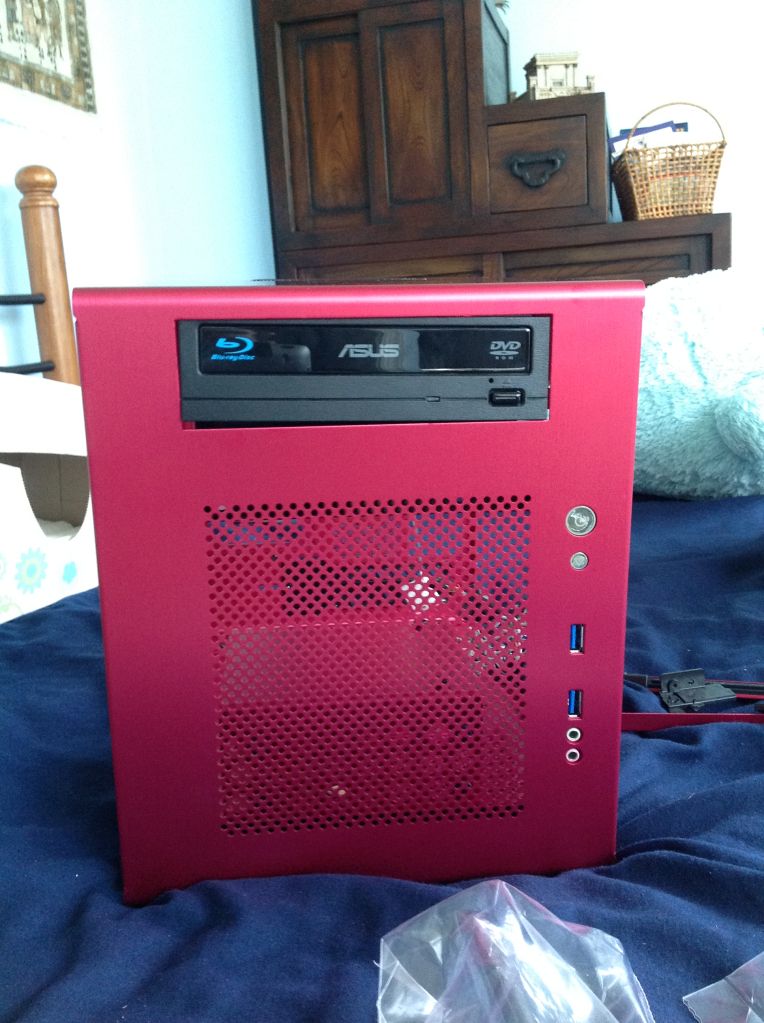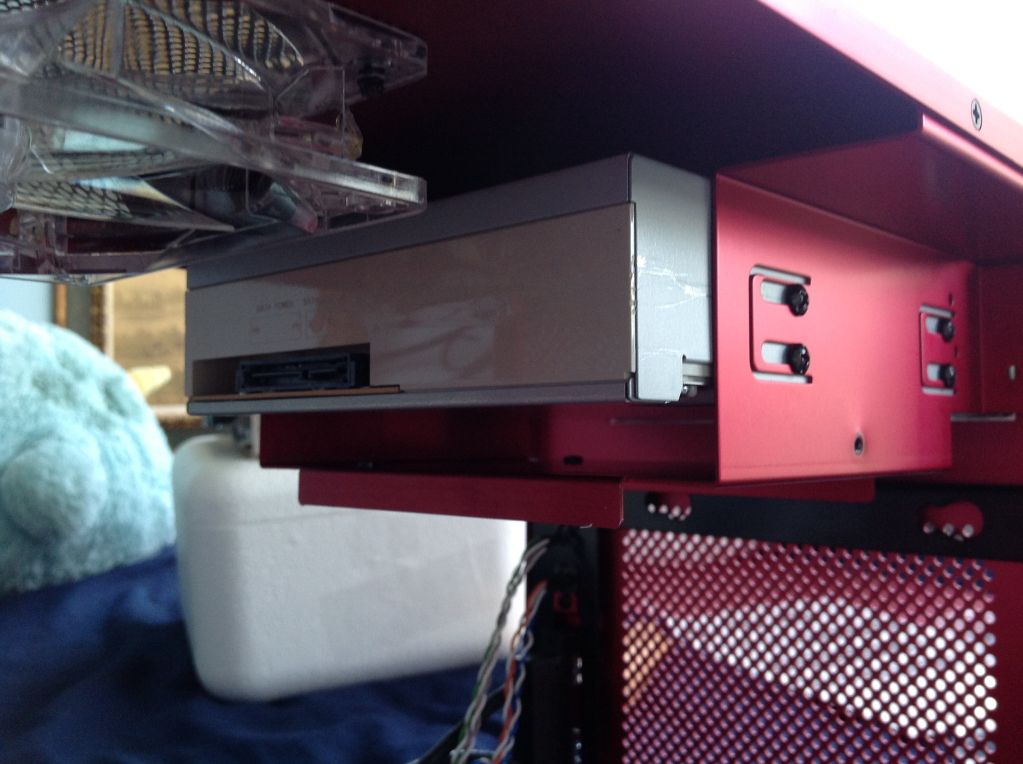 Alright, may have issues with getting the SSD in the case since I had to remove the bottom drive bay as well. The top bay will fit just barely with the PSU in there (will become clearer for you guys later). Got the mobo set up and ready to go - now to get the wires all figured out so I can mount this properly.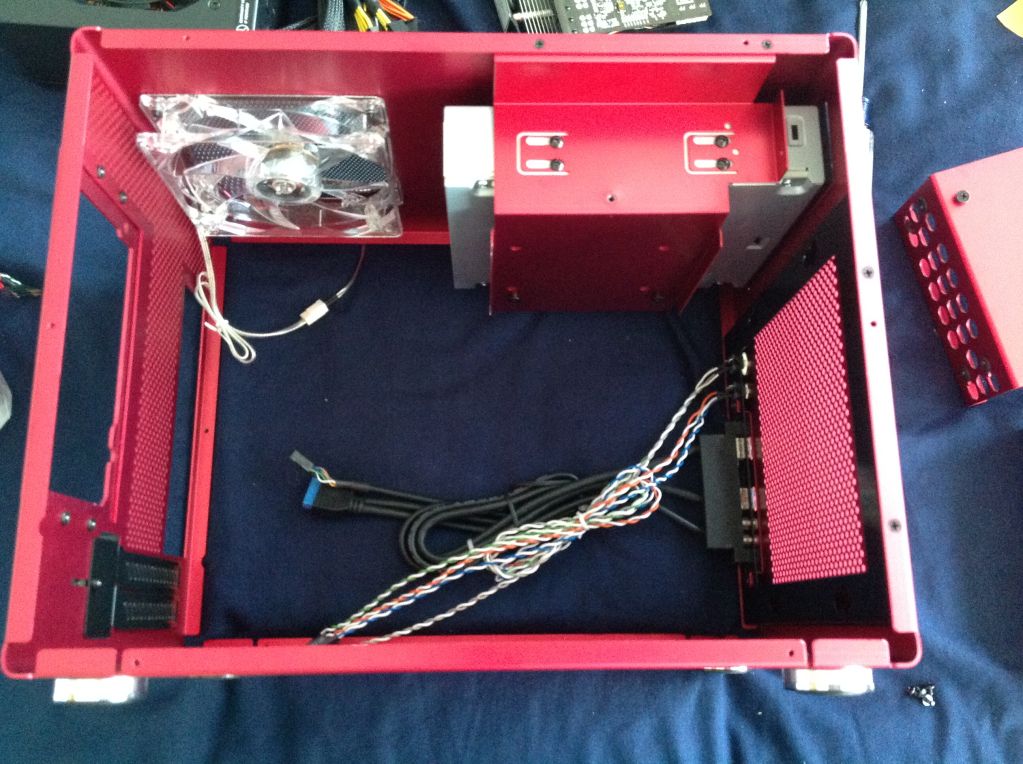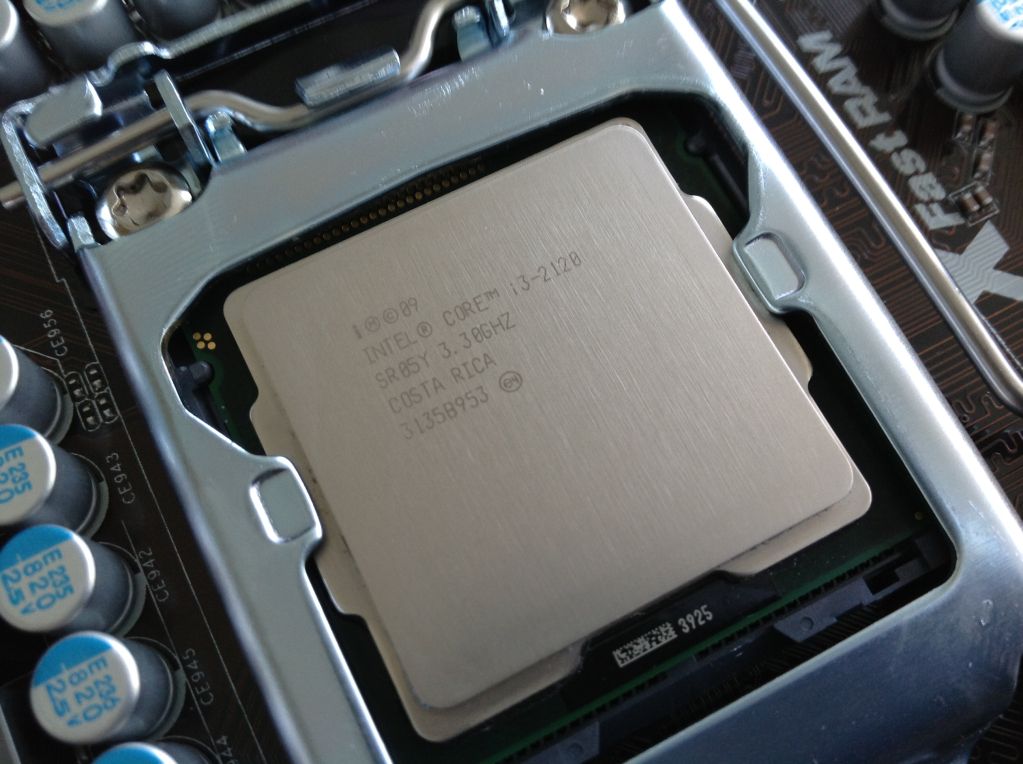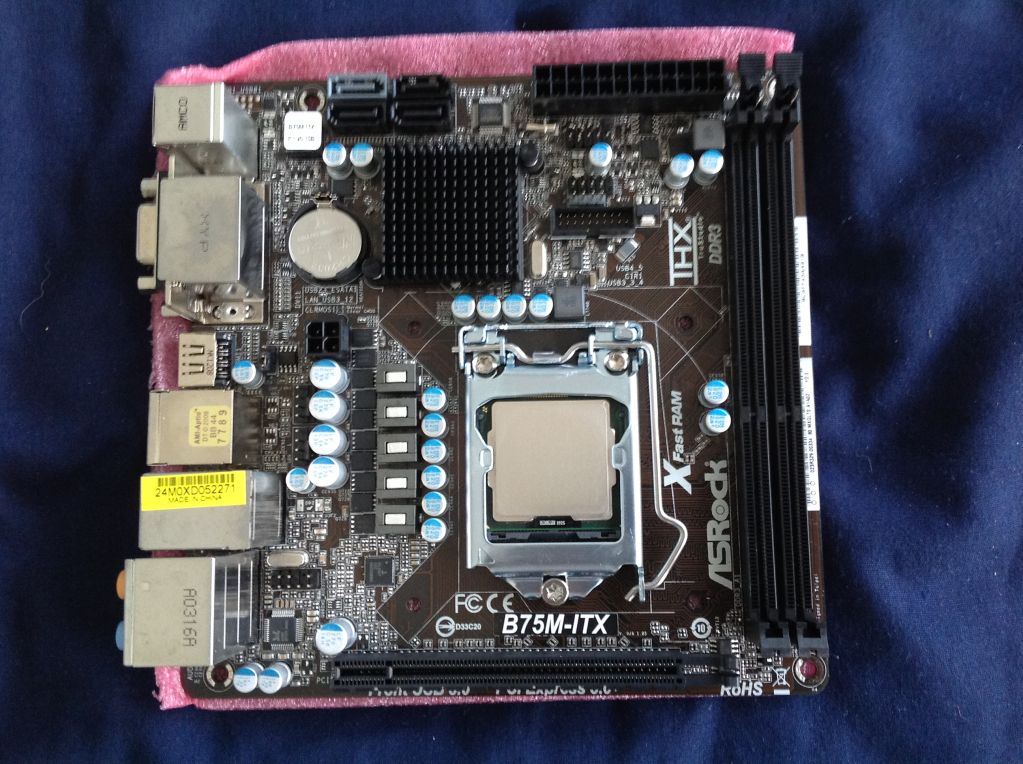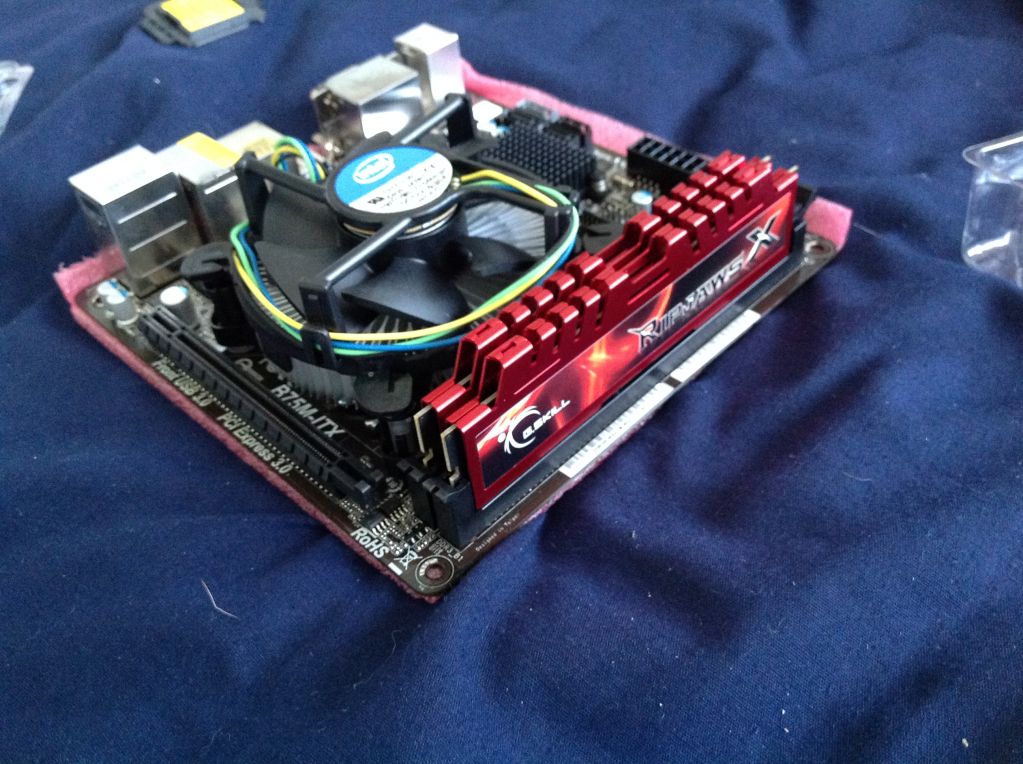 The 4 holes on the bottom of the dvd drive cage are for the ssd.
You put a screw in from the bottom to secure the ssd.
It works out well because you have two places close together for the two sata power psu leads, and the two sata data cables are close to.
Makes for a tidy installation if you orient the ssd so the attachments are towards the interior of the case.
Progress was going smoothly. Got the mobo mounted (didn't know which screws to use, so I ended up using the 5.25" drive screws since those were the only ones I could get to fit out of the ones included).
Then, the semi-expected happened - couldn't fit the GPU in by about half a slot. No worries though; just gonna go online and pick one up. Don't know if I should wait for the GTX 660, go with a GTX 570/580, or try an AMD 78XX (had bad experiences with their drivers in the past, and my friend is currently trying to fix them right now - not a good streak).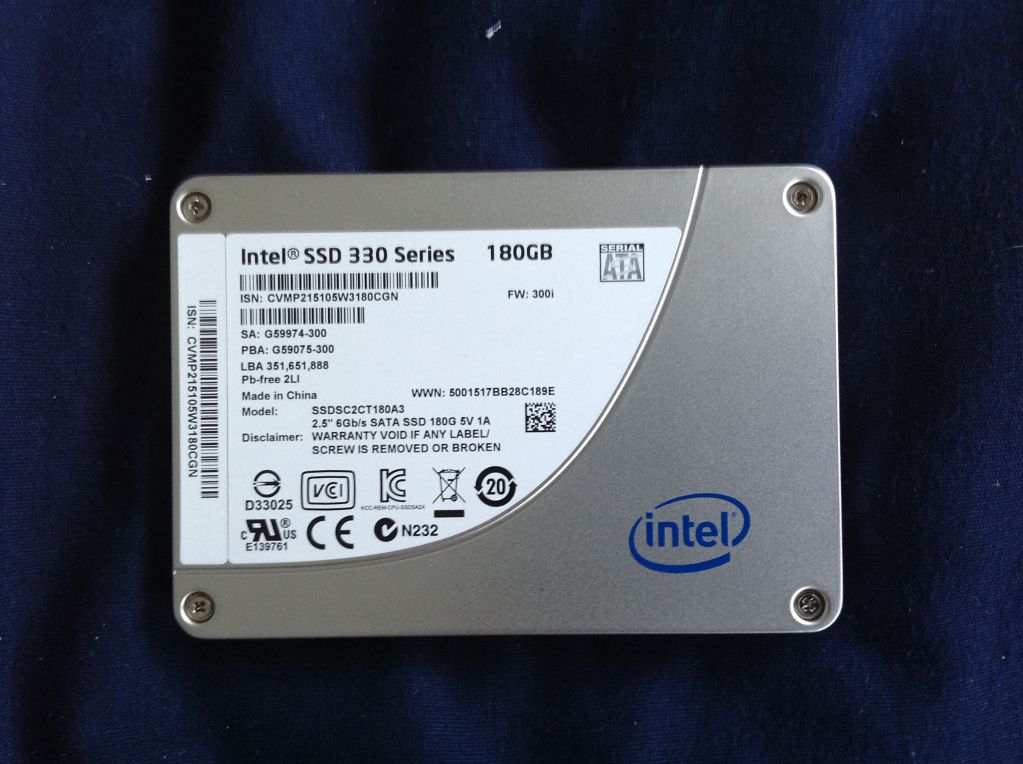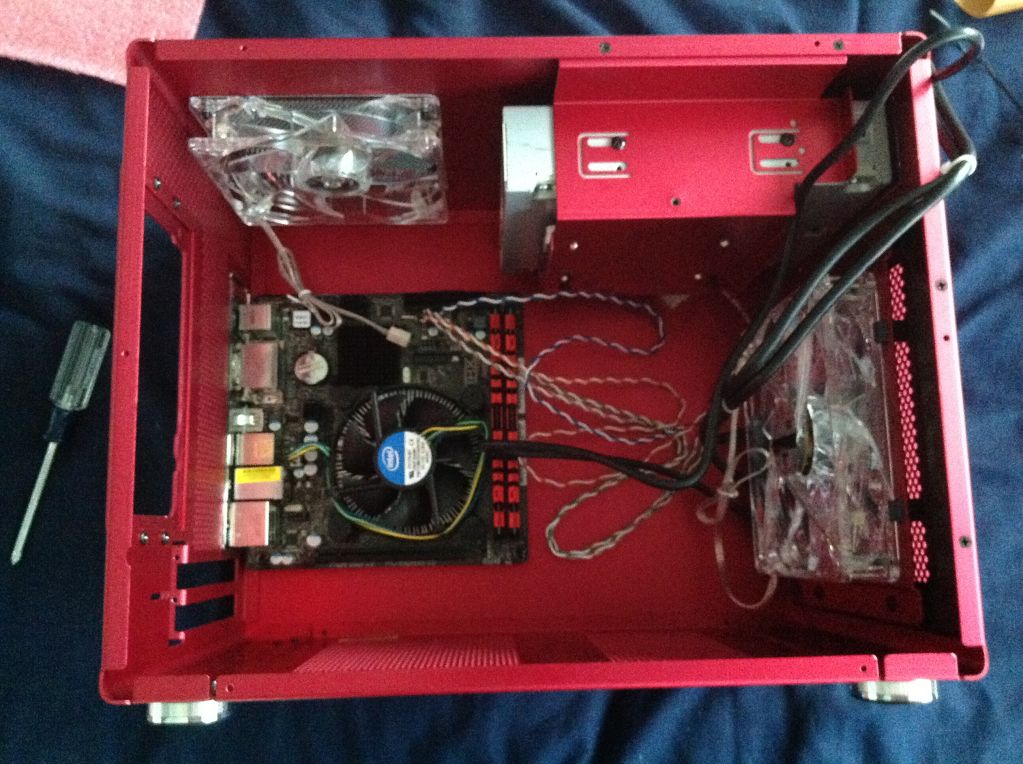 After a good 20 minutes of wrangling cables, I got most of cleaned up so I can just drop in the GPU and the PC will be ready to go. I think I'll wait for the GTX 660 since my brother's B-day isn't until June 24, and he's going to be gone for a month starting in July. It won't matter if I wait since he won't have a chance to use it.
Also found out my parents will chip in (which is great, since I need the money to fund the new GPU!).
The PSU is a VERY tight fit: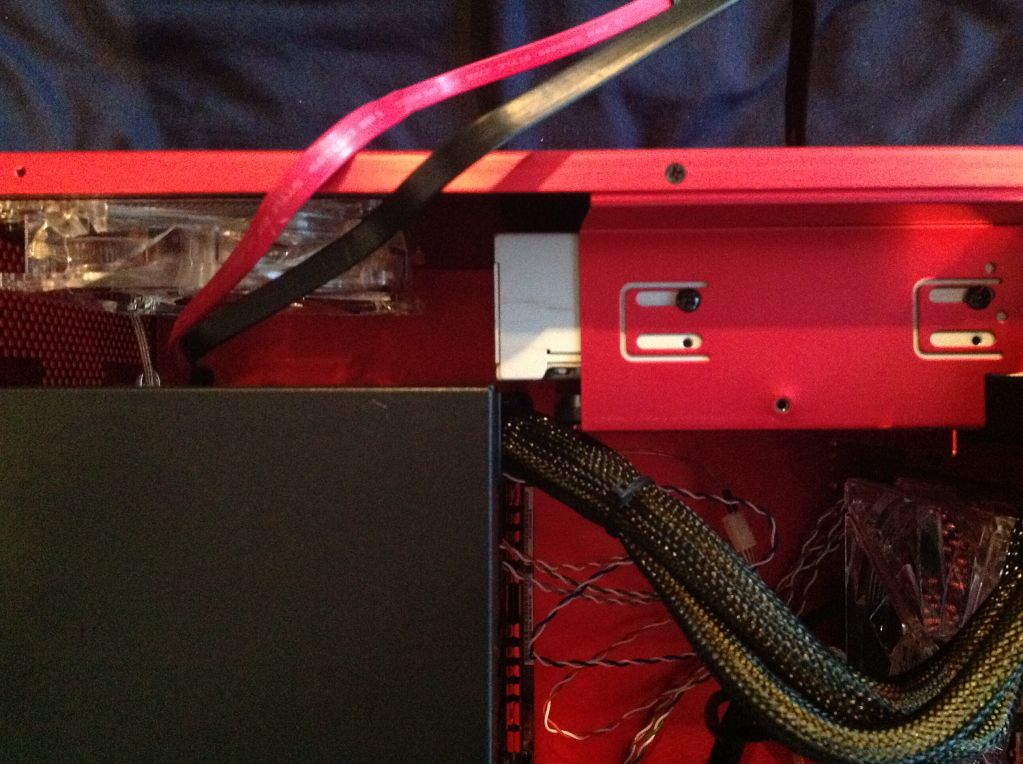 Here's everything installed:
In case anyone was wondering about the PSU, here's a rough idea of what is modular. The 24-pin mobo, 4+4 pin ATX and 8 pin EPS cables are fixed, while the rest of the PCIe, SATA, and Molex cables are modular. Not something I would expect on a 520W PSU that's under $90.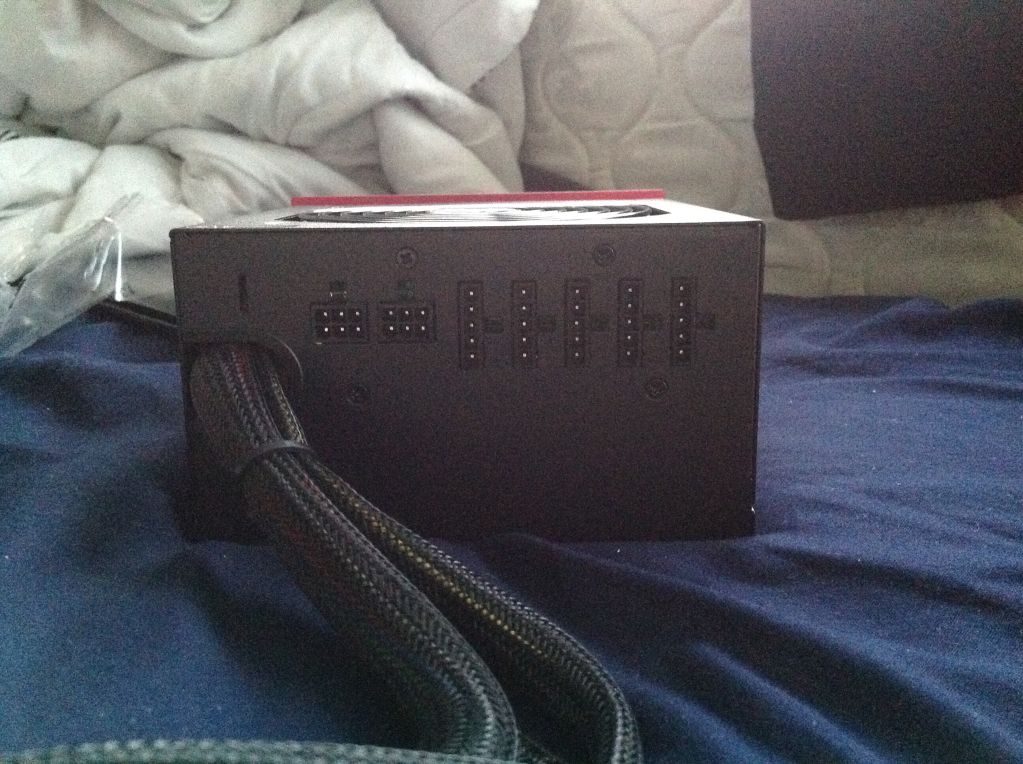 You might try mounting the psu so that the intake is near the side of the case, and not over the cpu cooler.
The cpu cooler will be trying to blow air down thru the cooler towards the motherboard, The psu, sucking in air will conflict with that. There is plenty of space near the side, and the front fan will provide plenty of air to the psu.

A second benefit is that the fixed psu cables will be at the bottom, and out of the way.

In the mean time, load and update the os using the integrated graphics adapter.
geofelt said:
You might try mounting the psu so that the intake is near the side of the case, and not over the cpu cooler.
The cpu cooler will be trying to blow air down thru the cooler towards the motherboard, The psu, sucking in air will conflict with that. There is plenty of space near the side, and the front fan will provide plenty of air to the psu.
A second benefit is that the fixed psu cables will be at the bottom, and out of the way.
I tried to mount it that way first but the thumbscrews didn't want to mount (they just wouldn't line up)? I'll mess with it a bit more once I get the GPU decided - got it boxed up to keep my room clean.
FINALLY, I get to update this thread (been 2 months to the day!).

The GTX 660Ti finally released today, and I purchased the Asus DC II model. I was going to go EVGA originally, but I wanted a non-reference cooler simply for noise as it will get a little hotter in the smaller case. Also, my brother and I are going off to school next week, so I wanted to get something I could have delivered by then.

Thank goodness for Amazon Prime 1-day shipping; should have this card installed tomorrow and will be posting some benchmarks.
Finally got to start testing today, which is good since I'm leaving tomorrow.
Oh, don't forget you get a Borderlands 2 copy when you get a 660Ti. The 7870 might be a little better due to it's memory bus, but I've always had much more success with NVIDIA's drivers; AMD's software is very chunky, and new games rarely work well until the drivers are patched with those CAP things.
First off, the Intel 330 is
insanely fast
. It feels like you don't have time to respond to what the computer is doing. I've used several SSDs, and this is the most responsive out of all of them, and would definitely be worth the extra few $$ Intel's drives cost.
Secondly, the Asus GTX 660Ti is incredibly quiet. Both case fans and the GPU fans @ idle are inaudible unless you take off the side panel and stick your head near it. Here's the idle stats; will updated soon with the load stats:
Other photos of the completed build:
There was no way to get rid of that bundle of wires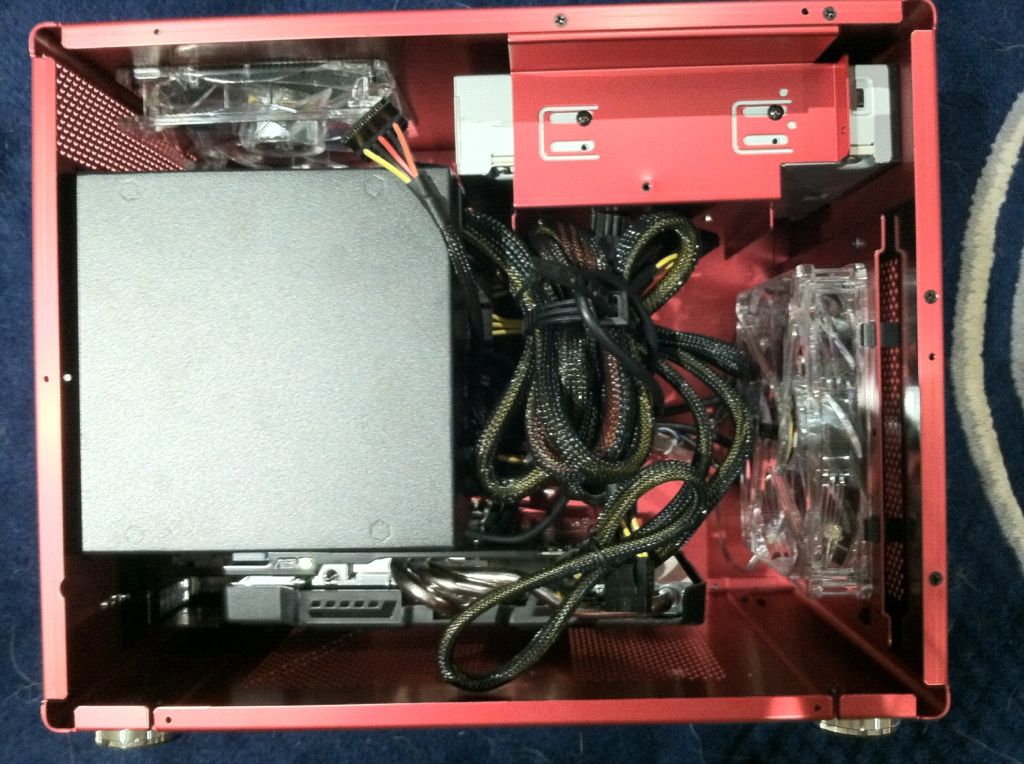 How much space the card takes up. If there's no HDD cage, you can fit full size GPUs in here easily. There's about 2 inches beyond the end of the cooler.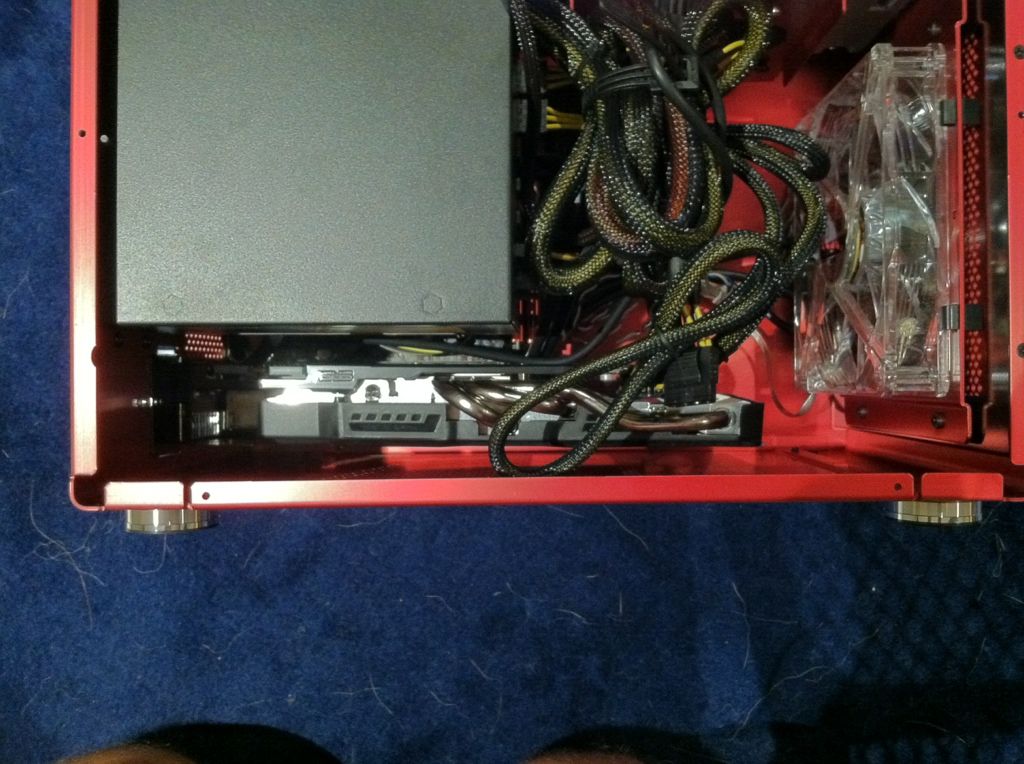 Big brother and little brother...and they'll perform roughly the same on all games (my CPU will take the edge in Skyrim, BF3 and ArmA II). I'll give my brother this CPU if I can ever upgrade to Haswell, etc.
Ran the Furmark 15 minute burn test, and the result was surprisingly good. After about 5-7 minutes, the GPU temp leveled off at 70C and just sat there the whole time. A little hotter than would be desired, but this was Furmark
Games should run in the 60C range, which was as good as my Antec 300 could do with SLI 460s and 5 fans. However, the sound in this PC is significantly low even at load. You get a nice soft hum due to the echo effect in the case, but other than that you could easily sleep with this PC in your room.
Although it totaled a little more than I was intending originally, this should be completely worth it. Now to figure out how to watercool it...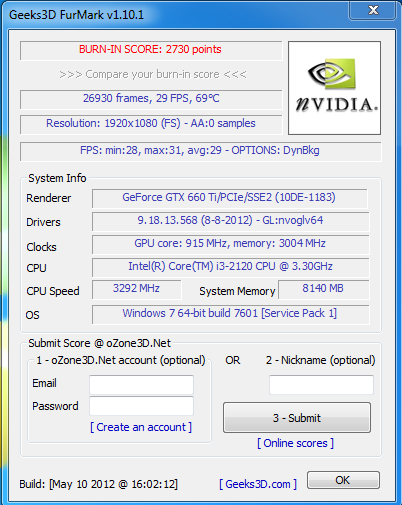 Can't find your answer ? Ask !
Read discussions in other Systems categories