Hi, so I recently purchased a new EVGA GTX 670 2gb and have not been noticing the FPS that I was expecting from a 400 dollar card. Normally, on BF3 I get 55+ FPS on the older maps and around 50+ FPS on the newer ones on multiplayer, and in Borderlands 2 I have *** performance with 25+ framrates with Physx turned to high (which is why I switched to Nividia for the Physx). I am having other problems with FPS in games such as WoW, Saints Row the Third and etc. Where I am getting much less fps than many of the benchmarks and even user testimonies I have seen.

Now my question really is, if my computer is bottlenecking the card itself, as I was told that my CPU and PSU shouldnt bottleneck my GPU that much.

I have an:

i5 3450 3.1ghz

B75 AsrockPro Motherboard

650 Watt PSU

8Gb Kingston Ram

1.5 Tb HDD Hard Drive.

I was told that it could also be my Hard Drive holding me back, however I doubt that it would cause severe bottlenecking in the case of the fps.

Anyway it would be greatly appreciated if anyone could help me with this, as I have been struggling to resolve this problem for days now. I can provide more detailed info on my build if necessary.
Can't find your answer ? Ask !
What speed is your ram moving at? I have a Gigabyte GTX670OC and a i5 2500k. In borderlands 2 I get around 120 frames just moving around and it dips at its lowest to around 80 frames. It's possible that you are running vsync if you are I would turn that off. In some cases a game is more heavily writing intensive I know that crysis 2 is like that where it does a lot of writing while you are playing so that is a place where a SSD would come in handy. In wow I was getting similar frames when I played. I have heard though that with mop that until you've been in a area for very long that the phasing can really push your frames down there was a thread not to long ago that went into it.
I have thought about grabbing an SSD and am thinking that it would help ALOT. However I am not sure how I can tell my RAM speed. As well I never thought Vsync would hurt the fps like that, seeing as how my screen tears alot if I dont have it on.

I am also wondering if it might be the i5 that I have, seeing as how it is pretty low end compared to many others.
I would go into your nvidia control panel go to 3D Settings>Manage 3D settings>Vertical Sync>Change to adaptive and then while you are in a game turn off Vsync let nvidia handle it. Essentially what it will do is when your frames reach beyond your screens refresh rate which I'm going to take a guess and say its 60 hz when you would get over 60 frames it will turn on vsync and when it goes below 60 frames it will turn it off. Vsync can really hurt your settings and with adaptive you kind of solve things on two sides. A SSD would help out in a game like world of warcraft I can tell you that loading screens are a pain and they are non existent with a SSD I'll find a cata loading video to show you what mine looked like.

Alright I tweaked some settings in my Nivida Control panel based on the info you gave me and etc. I am going to try BF3 out atm to see if I see any improvements.

Also I turned off Intel Speedstep or whatever the thing is called that supposedly fluctuates a CPUs clock speed and it still fluctuates like made between 3.1 ghz and 3.5ghz.
Its not that bad as compared to alot of issues people have with it but I notice it quite a bit. And I am not sure, seeing as how my GPU usage usually never goes to 100% in any game except FarCry 3 on max settings, and when I do that, my GPU runs around 78 degrees Celsius .

I will invest in an SSD seeing as how many people have recommended it, however I am just wondering if upgradin the CPU or PSU would help with the FPS issue.
Im upgrading the powersupply either way, seeing as how I am going to be upgrading some other components sooner or later, so even if it doesnt show a performance increase its still okay.

But yeah my main issue is how my GPU doesnt run at full 100%, and how overheated it can get. I have my fans tweaked so that they run at a higher rate the hotter the card gets but I hear that can damage the card, so I am also thinking about investing in a cooling system, or atleast a better one.
So yeah just a quick update, I upgraded both my case, power supply and ram and still nothing ******* changed, I am so ******* agitated it is beyond belief.

I got a phantom 410 NZXT case and my card still runs fairly hot.
I got a new 650 Watt NZXT power supply and again, it allowed for better performance, however it still shits the bed in games like BF3 and wow.

And finally I added another stick of RAM and that did *** all. I am at 16 gb of ram and noticed little to no difference.

Seriously guys I am at my wits end, is my card faulty or is my processor and mobo holding it back, which I know you guys said it shouldnt but it really is becoming a distinct possibility.

I am going to upgrade to a better harddrive and solid state so I will see if that affects it at all but other than that I am getting very frustrated.
It very well can be the card honestly. EVGA provides amazing support and I would talk to them but I would say if your card isn't holding up I would get a different card. I'm not sure what your ballpark money wise is but if you want to stick with the EVGA cards maybe the signature 2 cards would provide a better reference design.
http://www.newegg.com/Product/Product.aspx?Item=N82E168...
however at that price point you can get the asus directcuiII cooler which will beat the EVGA cards to smithereens cooling wise and noise wise.
http://www.newegg.com/Product/Product.aspx?Item=N82E168...
Yeah Im going to be returning the card back to the store I purchased it. Hopefully I can get a return on it sooner and not have to RMA my card (which frankly would suck).

And yeah I the case and the powersupply are amazing. When I am not doing anything I generally sit at about 29 degrees celsius in idle mode which, I have never been able to pull off.

Anyway I am going to try my luck at getting another card at the place I purchased. However this has been the 2nd time that I got a faulty card and that this has happened to me.

Also, I ran battlefield 3 again, and with everything on Max I was pulling about 55+ FPS on Multiplayer, dropping down to 45+ with large amounts of people and things going on.

anyway ill just try my luck at getting another card and seeing where that takes me. If its the same results than I guess I am grabbing another brand, or upgrading my CPU and MOBO.
You shouldn't have to with your CPU I can see you perhaps getting a different motherboard though with the option of upgrading to a unlocked CPU later. Also on a 64 player map I don't think that is bad I'll go through a run through again and report back. I'm not sure I mean it could be the clock speed of the CPU I don't know though I doubt it. I just finished a 64 man map and took some screenshots with my frames. I'm using a i5 2500k and a gigabyte gtx670oc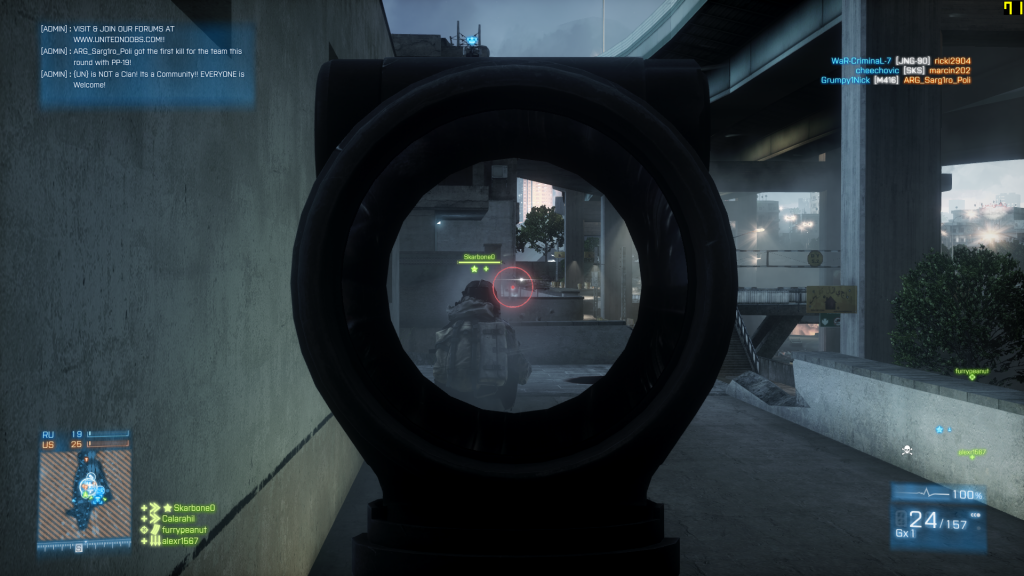 I am starting to think that this may not be my GPU after all. Although I am experiencing some issues in games such as BF3, Borderlands 2 and Wow. In games like Farcry 3 and etc. I am getting the average fps expected.

For instance, on Farcry 3, everything on HIGH, I get 60+ FPS solid, never dropping, when I go to Ultra, it stays around the 50s and occasionally during heated moments goes down to 45, but never as much as youd think.

Hopefully, when I call up EVGA they can tell me if I have a faulty card or not, but really I am starting to think that my CPU is the problem. Alot of the games I play are fairly CPU intensive, and I am starting to think my CPU cant handle the pressure that these games bring to the table, it being a low-mid range i5 after all.

If any of you guys could also send me a picture of your Nividia Control panel for the 3d settings that would be great, cause I am getting frustrated on what to turn on and what to turn off, to get the best performance out of my card.
So yeah alot of my issues are back again, although I can maintain over 60 fps in bf3 with some settings turned down, I still get screen tearing with vsync turned off and with everything maxed I get about 40-55 fps on large maps with lots of people.

Idk if this is normal, however I am just disappointed with spending 400 dollars on a card that should be able to destroy games no problem.

My resolution is 1900x1080.

This issue was fixed for a bit but then returned for some reason. I really want to know why.
Can't find your answer ? Ask !
Read discussions in other Graphics & Displays categories