Introducing my 1st HTPC ML03b Case ASRock Pro4-m
Just a short week ago I posted my first thread here. Asking about build advice, I've built several computers but never an HTPC.
My main goal was to "cut the cord" as they say getting rid of DirecTV saving $80 a month. The advice I got from here and everything I read resulted in my build sheet and then my build! So here it is:
PCPartPicker part list
/
Price breakdown by merchant
/
Benchmarks
CPU:
AMD A8-5600K 3.6GHz Quad-Core Processor
($103.79 @ Amazon)
Motherboard:
ASRock FM2A75 Pro4-M Micro ATX FM2 Motherboard
($66.99 @ Newegg)
Memory:
Kingston Black Series 8GB (2 x 4GB) DDR3-1600 Memory
($42.99 @ Newegg)
Storage:
OCZ Vertex 3 120GB 2.5" Solid State Disk
($99.99 @ Microcenter)
Storage:
Western Digital Caviar Green 1.5TB 3.5" 5400RPM Internal Hard Drive
($79.98 @ Outlet PC)
Case:
Silverstone ML03B HTPC Case
($59.99 @ Amazon)
Case Fan:
Masscool FD08025S1M4 31.7 CFM 80mm Fan
($3.99 @ Newegg)
Case Fan:
Masscool FD08025S1M4 31.7 CFM 80mm Fan
($3.99 @ Newegg)
Power Supply:
Corsair Builder 430W 80 PLUS Bronze Certified ATX12V Power Supply
($34.99 @ Newegg)
Optical Drive:
Pioneer BDC-207DBK Blu-Ray Reader, DVD/CD Writer
($55.97 @ Newegg)
Keyboard:
Logitech K400 Wireless Slim Keyboard w/Touchpad
($29.99 @ Amazon)
Other:
LOGISYS Computer AC612 (CPU Cooler) ($18.98)
Total:
$601.64
(Prices include shipping, taxes, and discounts when available.)(Generated by PCPartPicker 2013-03-09 03:07 EST-0500)
My total cost was $520 not including the keyboard....Which as of now I'm really not using I'm typing this via RemoteDroid using my Nexus 7, I have an old Samsung Galaxy Tab which will be replacing the Nexus as a permanent remote and keyboard/mouse.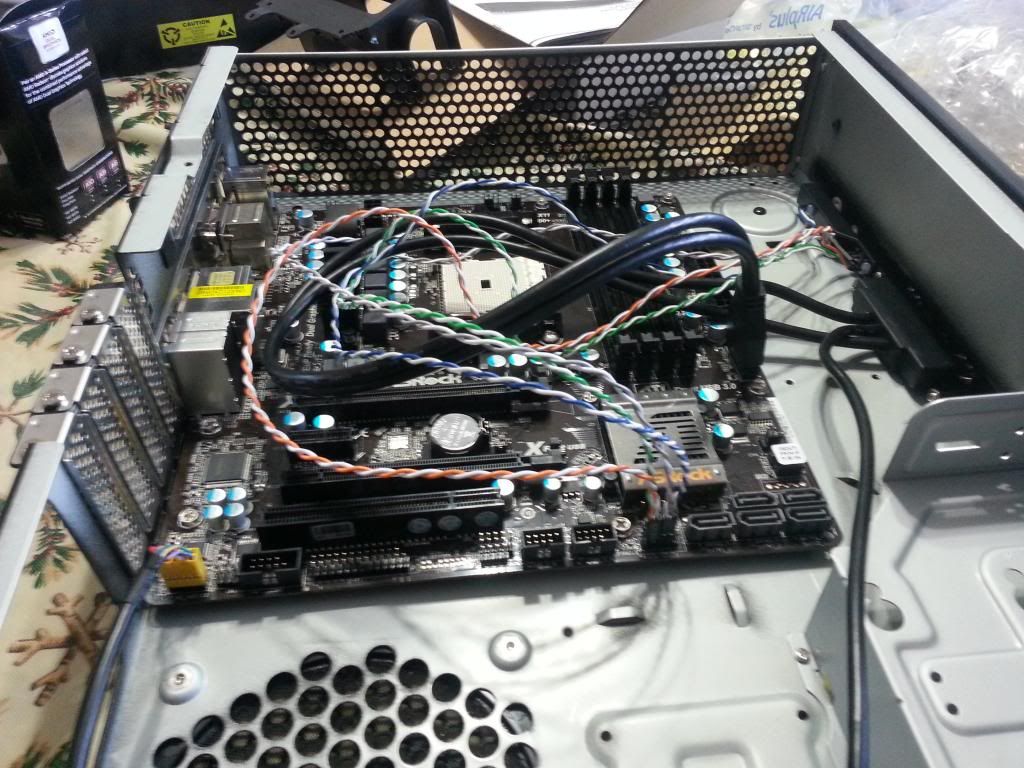 Case open, Motherboard in, Those wires you see here are from the front panel on the case... They give you Full Tower ATX length wires for a tiny case making it hard to make anything look good. Note: 2.5" drive bay removed for modification.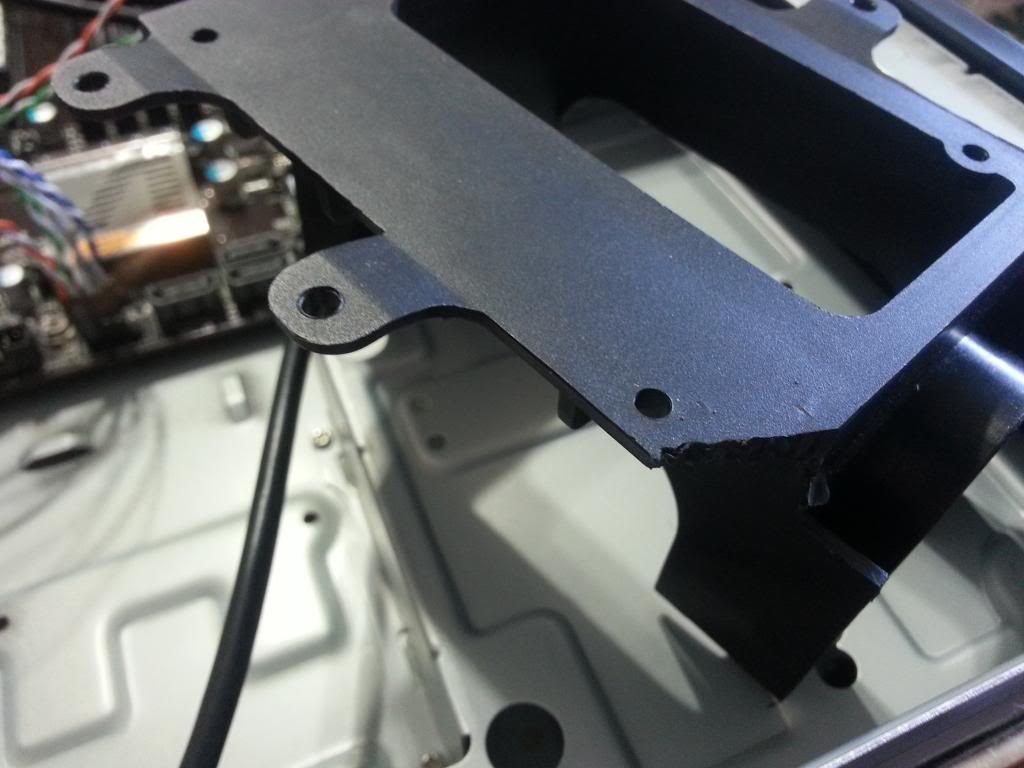 Had to modify the corner a little bit to allow the super long usb 3.0 plug to fit on the header.
Showing how the 3.0 cable fits in.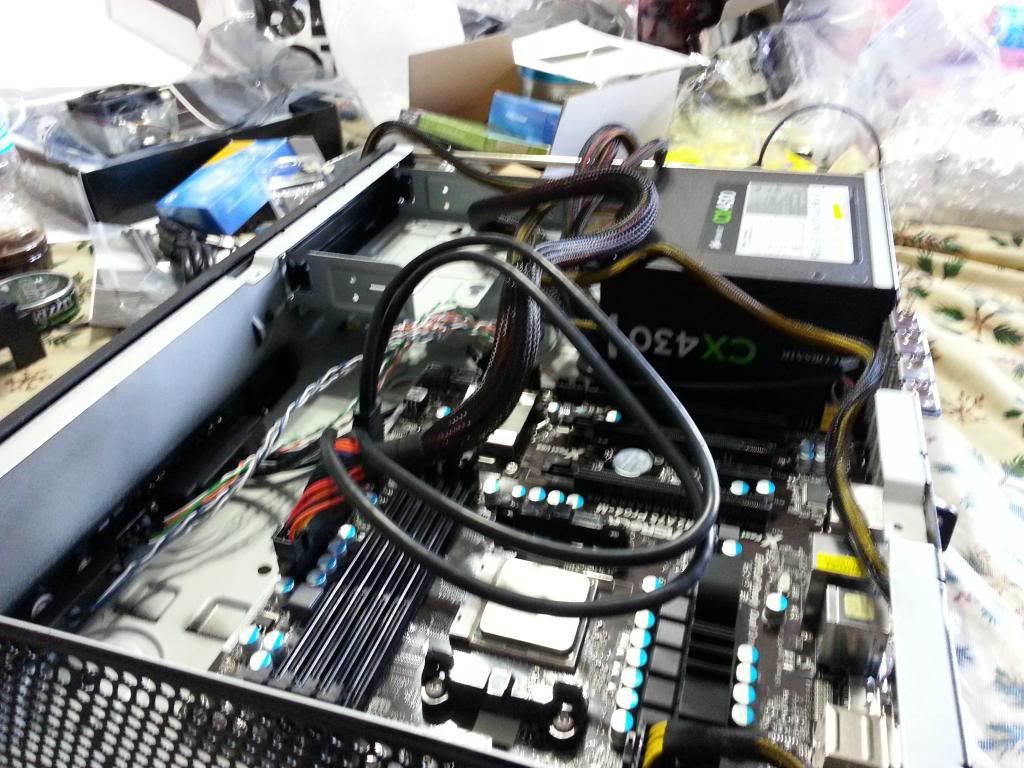 PSU In wires everywhere!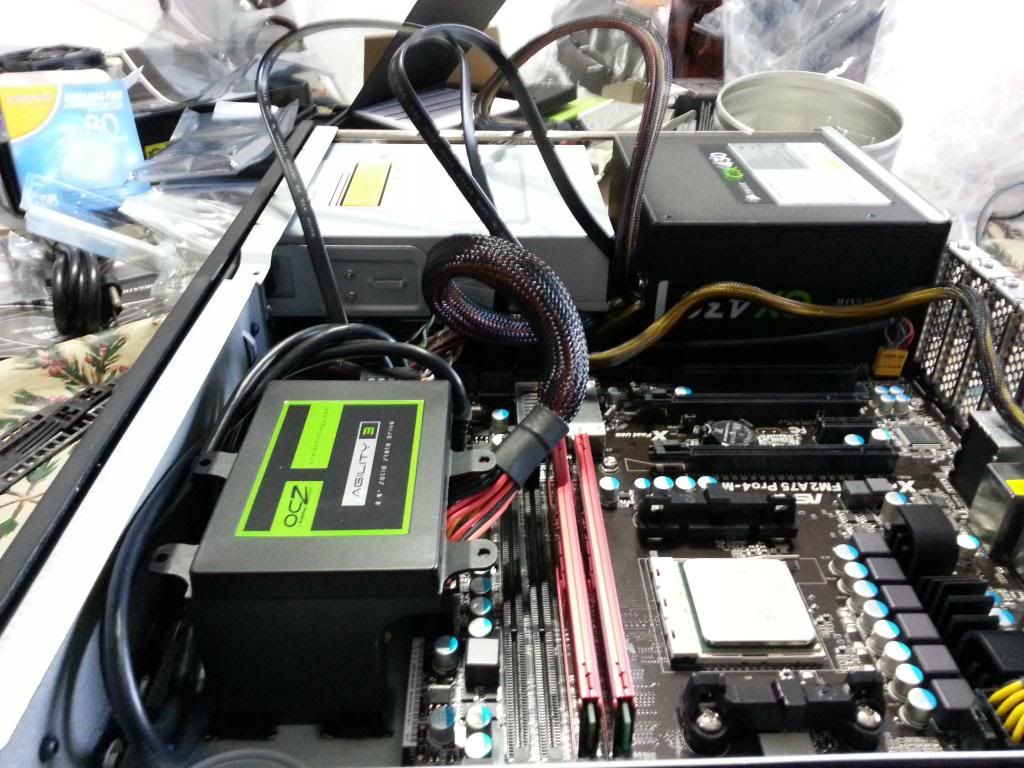 Everything in including CPU and RAM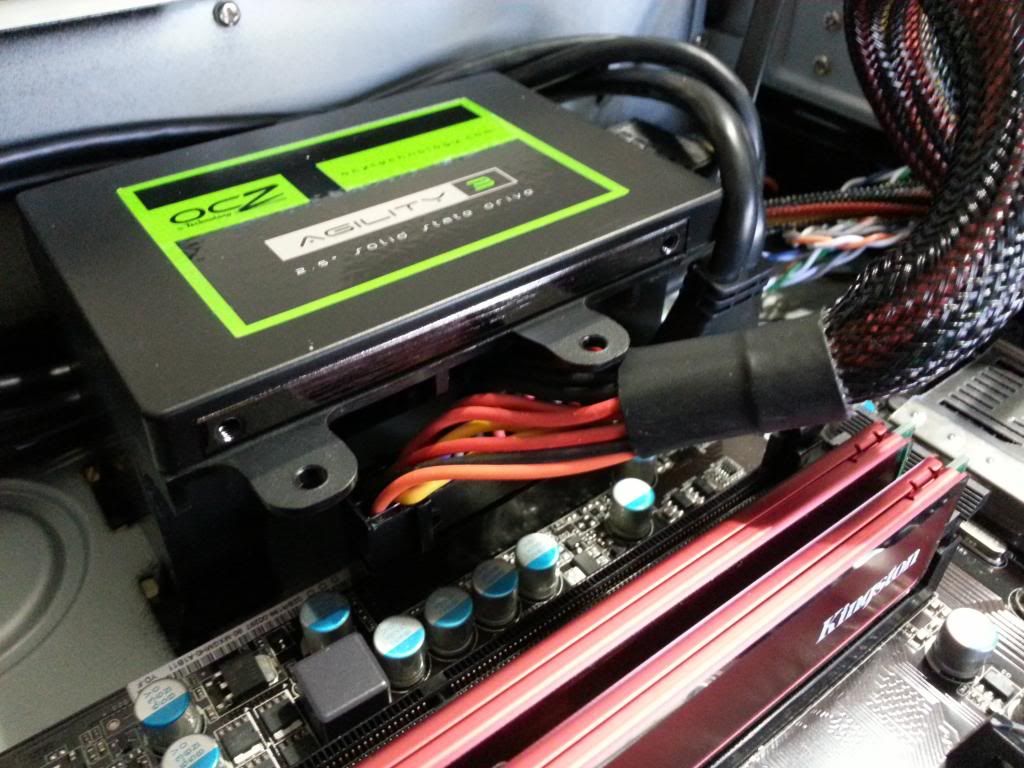 Close up on 24 pin power connector, also that cut I made in the 2.5" bay was just enough to get the 3.0 cable to slip over the ssd.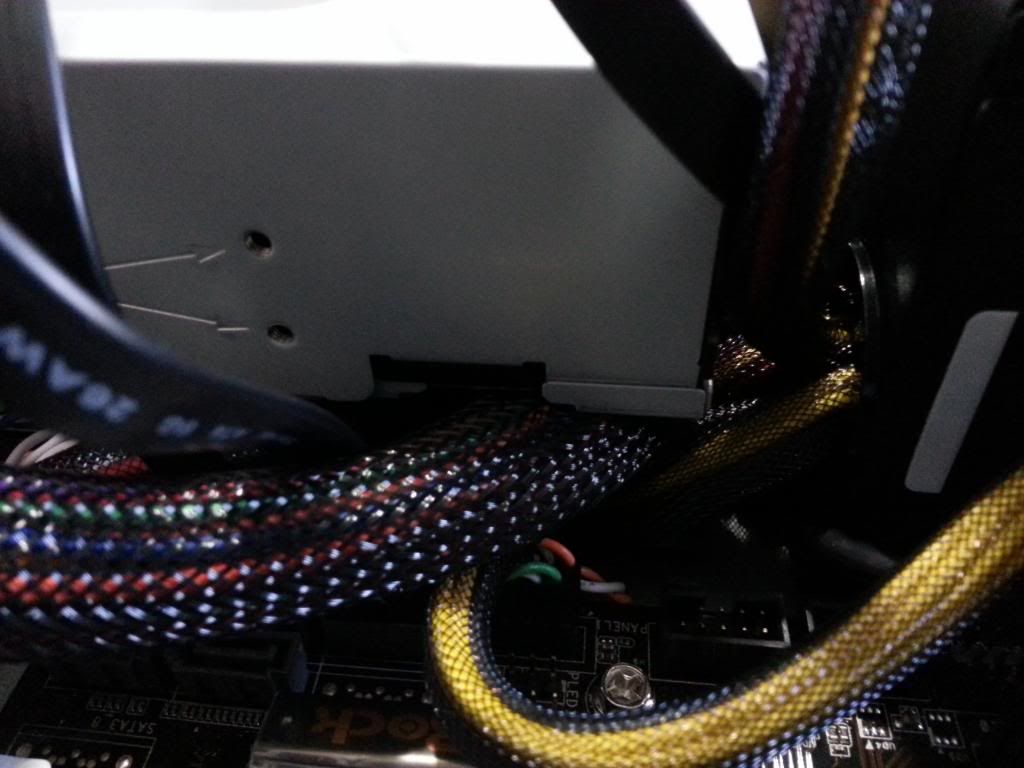 The 3.5" drive "tray" is down in there... directly under the optical drive.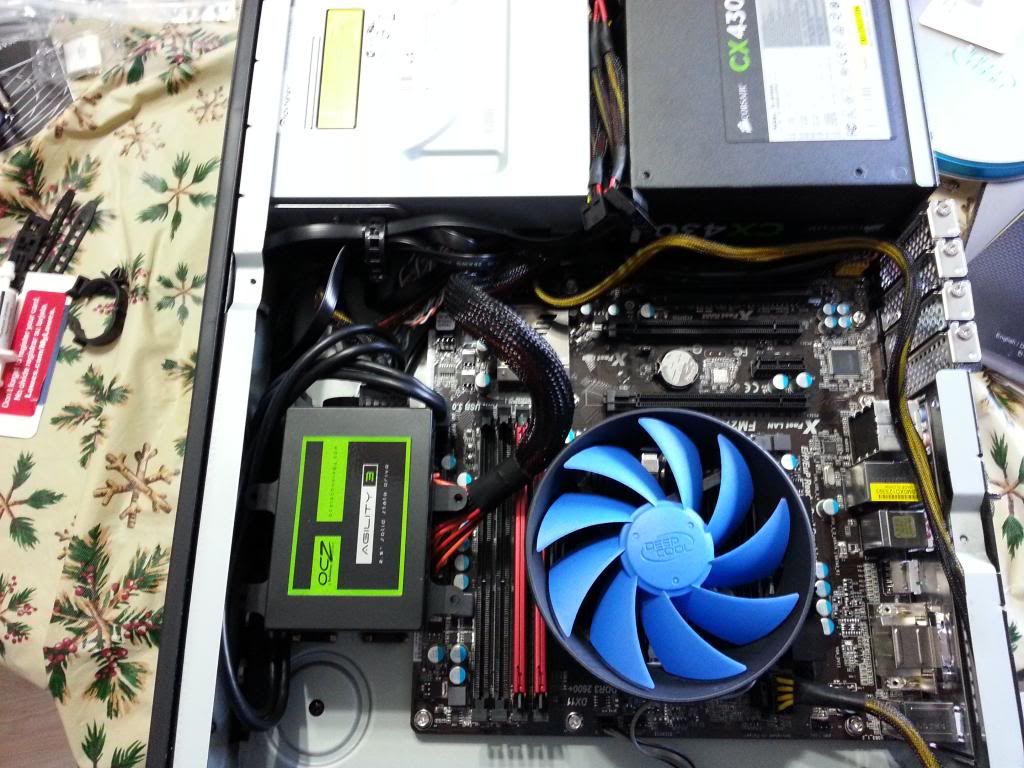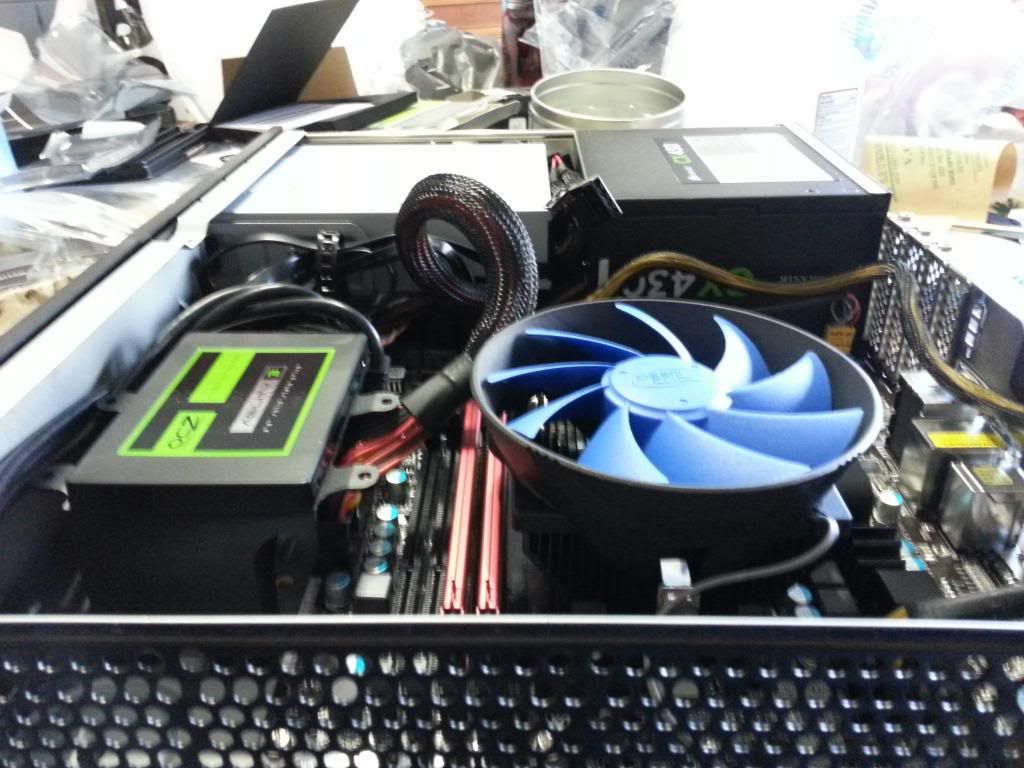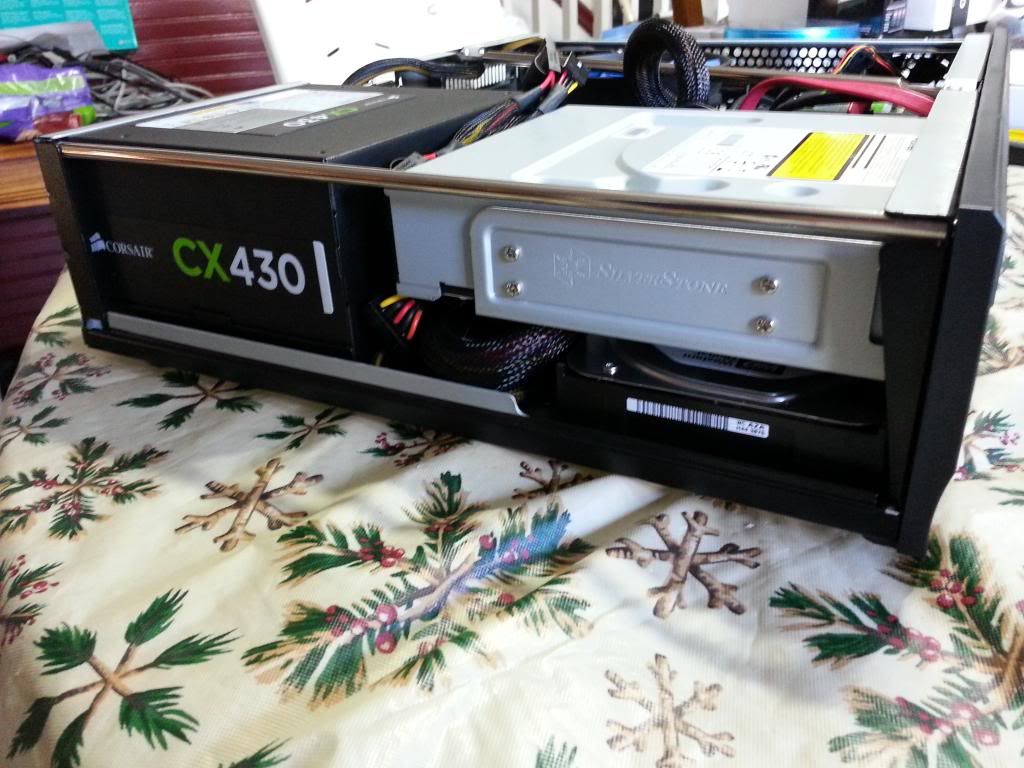 Everything is in. Cleaned up wires best I could. You can just barely see the hdd from the side!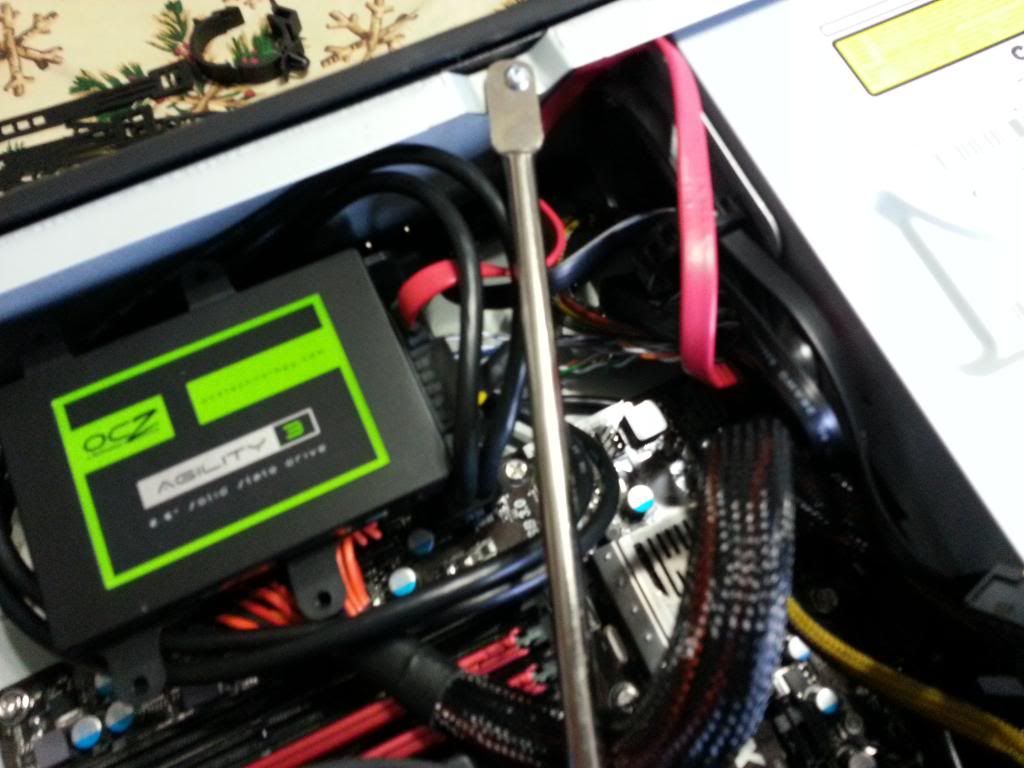 This cross-bar gives the case stability... It also crosses right over my CPU cooler...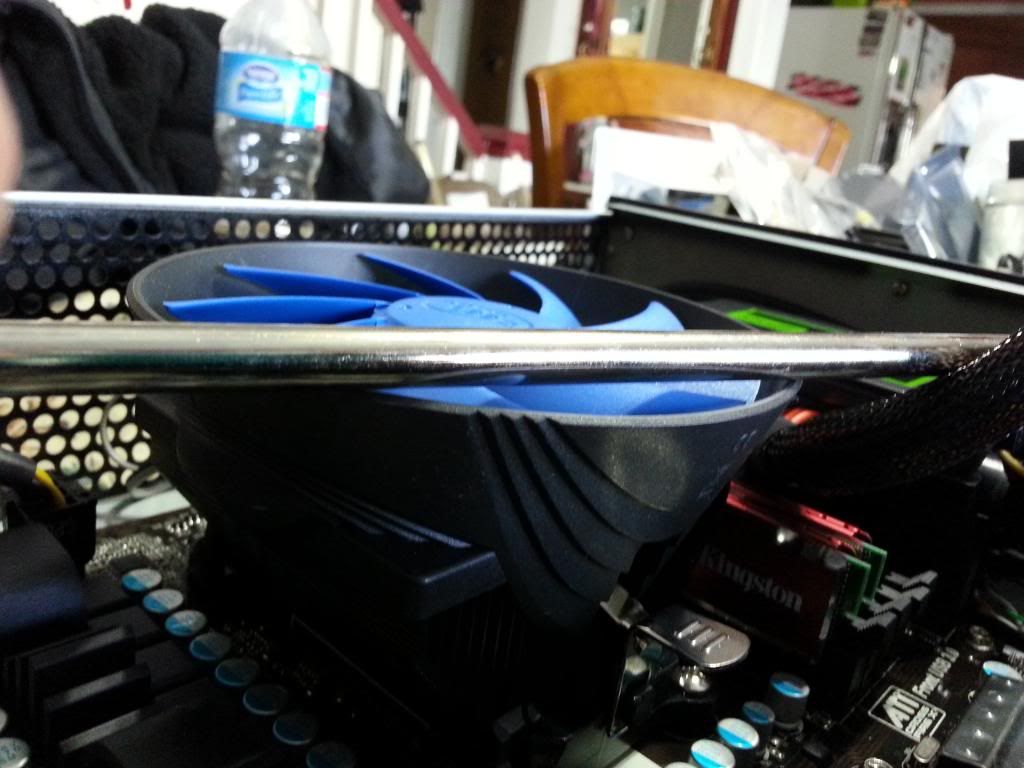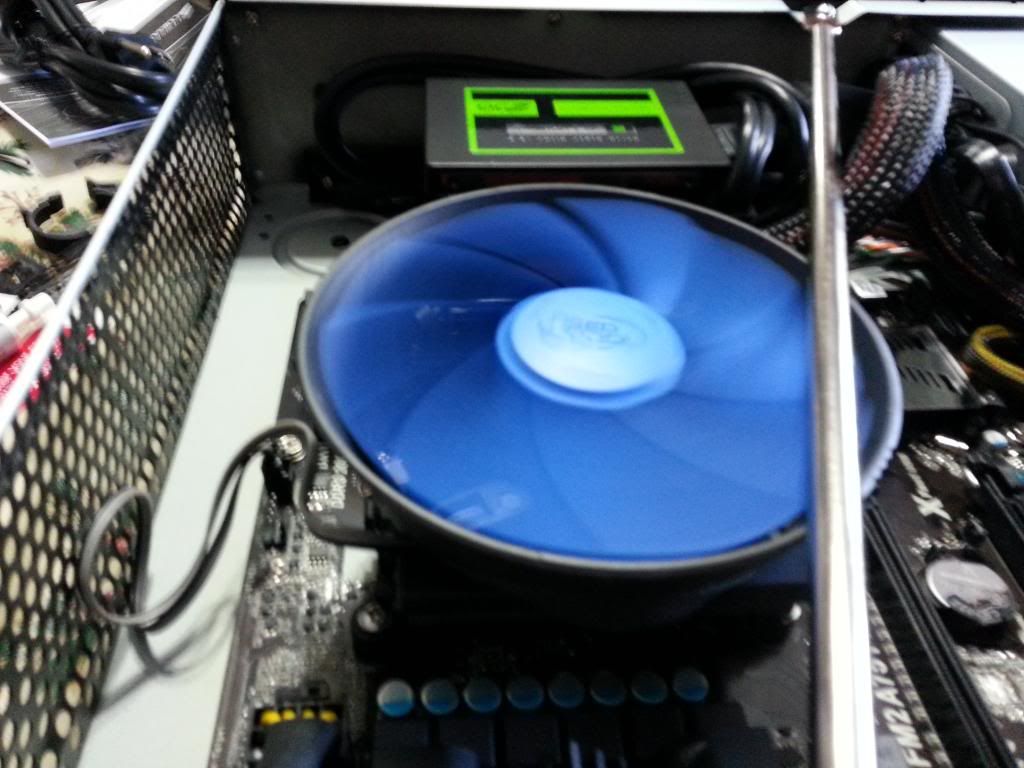 It spins, but had me worried it may vibrate on the bar.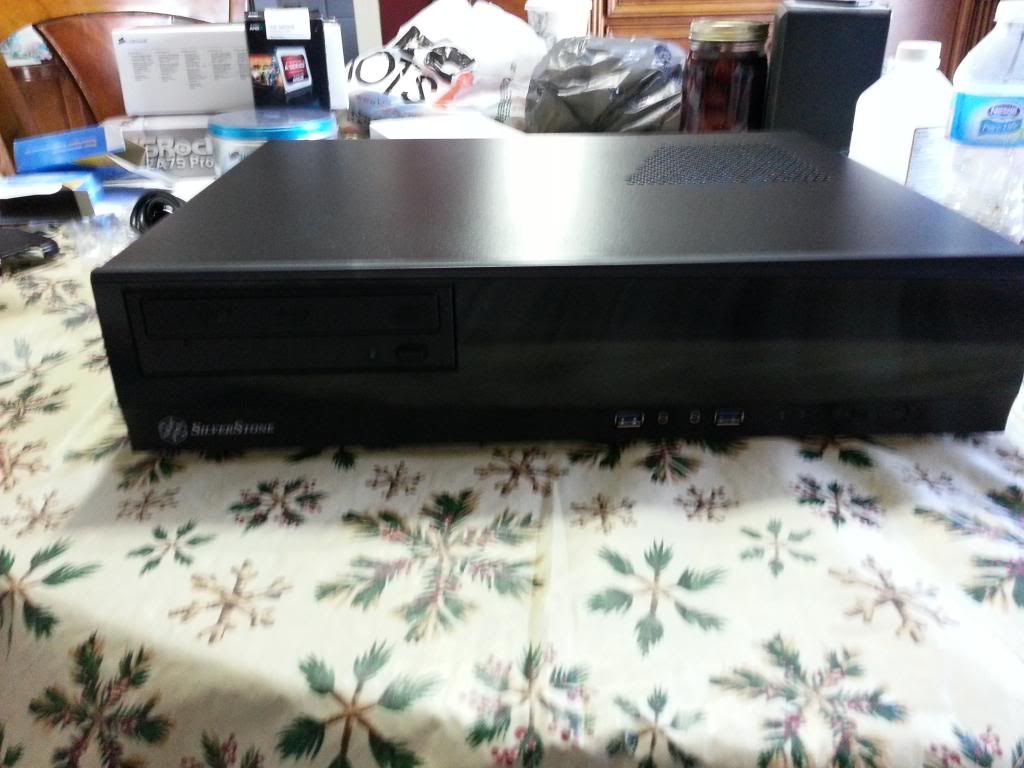 Top on, Front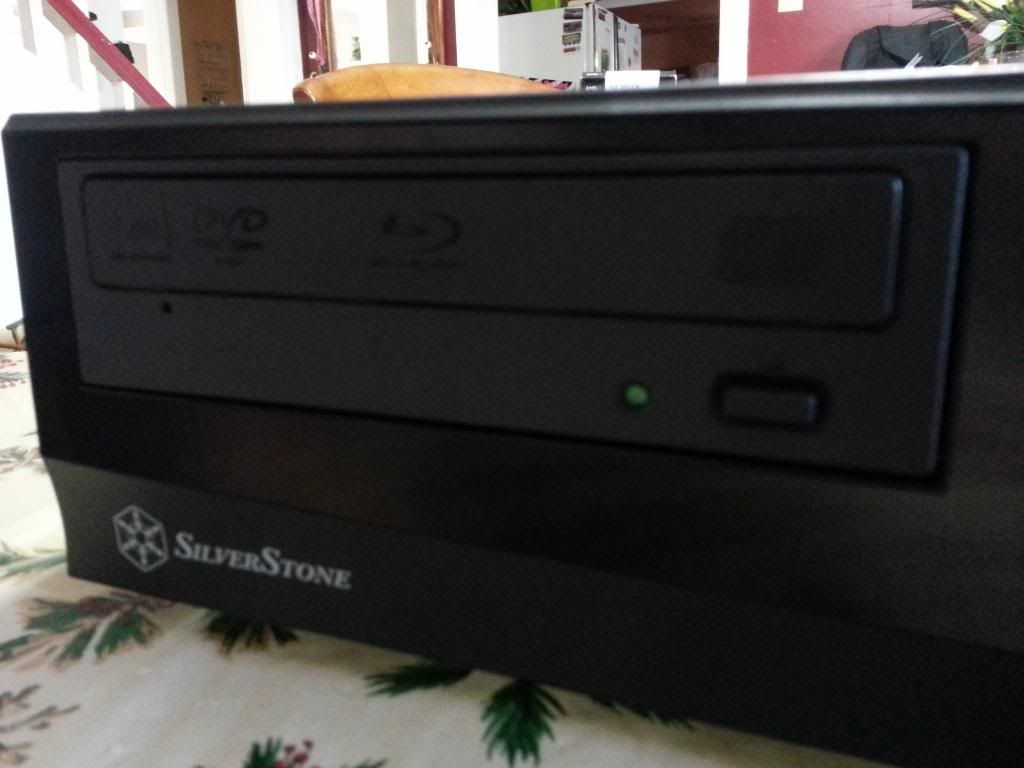 Optical, I like that the Pioneer is fully black matches nicely.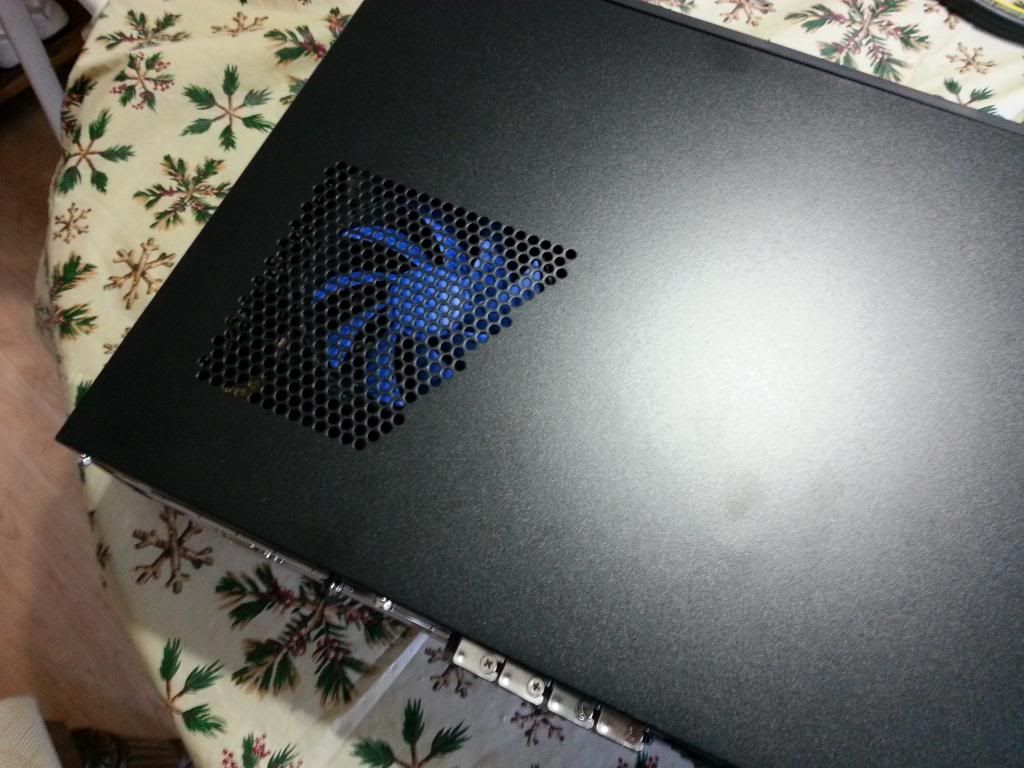 Top, should have plenty of air for the CPU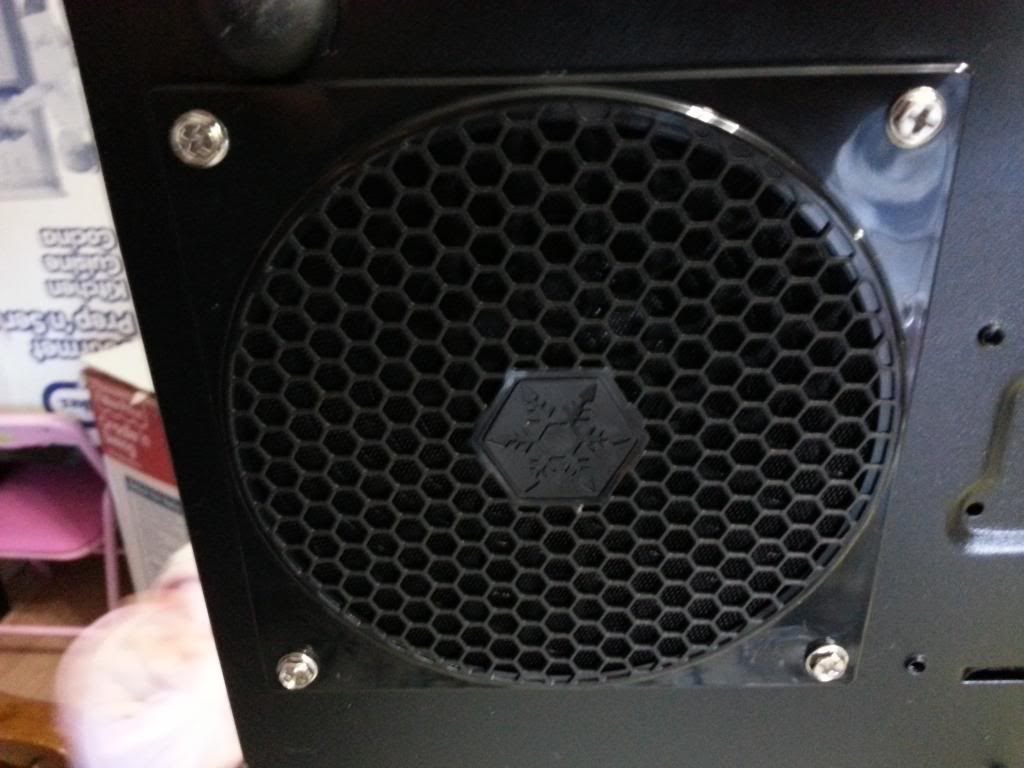 Bottom, PSU fan filter. I believe this will also make noise due to the fan having to work to pull air. There was another larger filter included with the extras that I have yet to figure out where it was meant to go... No bolt holes over CPU.. Oh well.
And last this is where the 3.5 HDD mounts on the bottom. one of the rubber washers were missing but the extra parts bag had 4 more
I had also mounted two very cheap 80mm case fans on the side..
Fired it up installed Windows 7 with minimal problems (wouldn't install from 3.0 usb only 2.0) and hooked it up to the TV... First impressions.... LOUD!
So today I opened it back up removed the two 80mm fans, stuck rubber washers under the cross-bar support, removed the PSU air filter, and got it up off the entertainment stand about 1.5".
I under-clocked under-volted the CPU a bit and according to the BIOS and SpeedFan im running at about 34c on the CPU. I don't know if I will need a case fan or not. The WD Green is supposed to run cool so perhaps I wont.
After making the changes I made its much more silent. Been watching HD on IceFilms in xbmc, ripped a BluRay in MakeMKV in about 8min - couldn't be happier!
Hopefully this post will help someone down the road with a similar combo but for now... I'm going to enjoy my HTPC build!
(edit: I guess I run over some form of a picture limit because some of the pics are just links... sorry)
More about
introducing htpc ml03b case asrock pro4
Read More
Homebuilt
Systems
Product