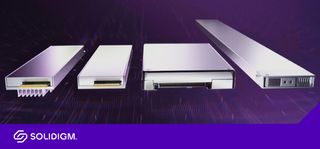 (Image credit: Solidigm)
Tech leaders need every advantage to manage vast data volumes in ways that keep customers, end-users, and CFOs happy. The solid-state drive market continues to attract attention as it is on pace to reach a value of $104.4 billion by 2028, according to a SkyQuest Technology Consulting report. But how do tech leaders decide which drive is best?
In pursuit of better performance, lower space requirements and increased cost-effectiveness, there is an open debate regarding the merits of triple-level cell (TLC) versus quad-level cell (QLC) drives. The problem is, drive technology evolves constantly, so what you think you know about QLC SSDs could be preventing you from achieving operational and financial goals.
"We are now on our 4th generation of PCIe 4.0 QLC SSDs and we've come a long way in terms of some of the challenges early generation QLC drives faced. The newer QLC SSDs on the market are built for mainstream use, providing performance that is just right at a lower cost than TLC SSDs," said Tahmid Rahman, Director of Product Marketing at Solidigm.
Let's bust the myths that persist about QLCs.
QLC Endurance
Myth: Under normal operation, a QLC drive will wear out so fast that cost benefits are eroded by frequent replacement costs.
Truth: Gen-over-gen advancements and proper firmware implementation have eased this concern. Today's fourth-generation QLC drives deliver up to 5 times higher endurance than earlier generations.[1]
Evidence: Compared to an all-TLC SSD implementation, choosing all-QLC produces Total Cost of Ownership (TCO) savings of up to 20%, allowing you to scale capacity more efficiently.[2] In the near future, Solidigm will be releasing QLC SSD products that will deliver even higher capacities and better TCO.
Example: When SSDs were first being deployed in data centers in 2010, the behavior of the drives and needs of the workloads were not understood. With the benefit of hindsight, we now realize that storage architects tended to 'over size' SSDs. We can see this when comparing the average endurance level of SSDs shipped years ago. Today ~85%[3] of SSDs shipped to data centers have an endurance of ≤1 Drive Write Per Day (DWPD). The reason for this 'right sizing' is the workloads and drive behaviors are better understood. In the case of endurance, studies with massive sample sizes have shown that 99%[5] of systems use at most 15%[6] of a drive's usable endurance by the end of life.
Therefore, QLC will not wear out as quickly as it once may have appeared.
QLC Performance
Myth: QLC performance can't come close to TLC drives.
Truth: QLC media was initially paired with older SATA interfaces that restricted speed. Newer PCIe-based QLC drives are within a few hundred MB/s of TLC on many important benchmarks and in real-world workloads.
Evidence: Solidigm QLC SSDs perform better in sequential reads vs entry TLC — based P5316 SSDs. For instance, Solidigm's D5-P5316 offers 7,000 MB/s sequential reads vs. Koxia's CD6-R at 5,500 MB/s. That's roughly a 27% improvement vs TLC Kioxia CD6-R.[4]
Example: Solidigm QLC SSDs efficiently scale with the right performance for mainstream and read-intensive workloads. "QLC SSDs deliver read-equivalent performance and more available Petabytes written than class-leading TLC SSDs. They deliver better performance than read-optimized TLC SSDs and they do this on massive, cost-efficient capacities," said Roger Corell, Data Center Product Marketing Director of Solidigm.
QLC Myths Busted
QLC technology has matured to deliver the reliability and performance you need to meet business objectives. Despite the improvements, the price point for QLCs is still lower than TLCs, yielding more savings and lower TCO. With advances in QLC being delivered by Solidigm, now may be the time to make the switch.
About Solidigm: Headquartered in California, Solidigm is a leading global provider of innovative NAND flash memory solutions. Stemming from the sale of the Intel® NAND and SSD business to SK hynix in 2021, Solidigm is powered by the inventiveness of more than 2,000 employees in 20 locations around the world. For more information, please visit solidigm.com and follow them on Twitter and on LinkedIn.
---
Resources:
[1] Up to 5x higher endurance gen over gen – Comparing endurance (64K random write) between the Solidigm D5-P5316 30.72TB (formerly Intel®) (22,930 TBW) and Solidigm D5-P4326 15.36TB (formerly Intel®) (4,400 TBW).
[2] Baseline server assumptions of 20K active users, minimum capacity of 128 TB, target throughput of 300 Gbps, and 85 percent cache hit ratio. Hybrid array per server configuration of 2 x Intel Xeon Scalable 6330 processors, 512 GB memory, 20 x 7.68 TB Solidigm D7-P5510 with 56 Gbps throughput. Hybrid array cost (CPU + memory + RAID controller + NVMe expander + chassis + power supply) net of storage: $12,930. All-QLC per server configuration of 2 x Intel Xeon Scalable 6338N processors, 512 GB memory, 16 x 30.72 TB Solidigm D5-P5316 with 54.4 Gbps throughput. All- QLC server cost (CPU + memory + RAID controller + NVMe expander + chassis + power supply) net of storage: $12,930. SSD pricing is Solidigm Recommended Customer Price (RCP) as of September 24, 2021. Actual price can vary and may not reflect the pricing used in the TCO model. Operating cost assumptions of 1,100 watts/server, $0.12/kWh power and cooling, and $75.76 annual rack cost per RU.
[3] Source: Forward Insights Datacenter, May 2019. Approximately of projected worldwide Data Center SSDs shipments 2020-2023 rated at ≤1 DWPD endurance.
[4] Source: Data pulled from P5316 and Kioxia CD6-R
[5,6] Source: University of Toronto study of 1.4 million industry SSDs in Enterprise Storage Deployment. A Study of SSD Reliability in Large Scale Enterprise Storage Deployments
Join the experts who read Tom's Hardware for the inside track on enthusiast PC tech news — and have for over 25 years. We'll send breaking news and in-depth reviews of CPUs, GPUs, AI, maker hardware and more straight to your inbox.