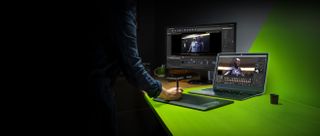 (Image credit: NVIDIA)
As online entertainment has grown and evolved, gamers have become one of the many different types of creators that rely on the power of quality GeForce GPUs. With technologies such as Turing that powers ray tracing, CUDA (Compute Unified Device Architecture) powered processing, versatile AI enhancements, and elite video processing capabilities, these GPUs are capable of giving any digital creator the required power they need, no matter what their craft is.
This growth led to NVIDIA Studio, a platform designed to dramatically improve performance and reliability with creative hardware and applications. NVIDIA Studio combines GeForce-powered systems with the NVIDIA Studio Stack of specialized SDKs and dedicated Studio Drivers. Within this platform lies RTX Studio. These are RTX-powered systems that meet a series of hardware and software requirements that support unique features for creators – such as real-time ray tracing, AI acceleration and ultra-high quality video that help artists create amazing content in record time.
Here are some examples of how GeForce GPUs support all types of different professions:
Video Editing
While having a strong CPU is an important component in video editing, having a quality GPU is crucial as well. In video editing, the power a good GPU provides can make the process of adding special effects to your video faster and smoother. Such is the case with Gavin Strange, a well-known producer and filmmaker, who had this to say about the importance of a GeForce GPU: "With GPU rendering, I easily iterate music visualizations by moving lights in real-time; I get the look I want, without having to guess." This, in turn, makes it possible to edit and render projects more efficiently, which allows you to push through your workload. With NVIDIA's GTX line of GPUs, you can tackle 4K video editing, and with one of its RTX ones, you can edit 8K RED video.
3D Animation
In the field of 3D animation, a strong GPU is very important, as you'll need a lot of graphics power to smoothly and efficiently take on tasks like modelling and mapping. Specifically, the capabilities of NVIDIA's RTX graphics cards are incredibly useful for 3D animating, as real-time ray tracing allows you to look over your photorealistic graphics and make adjustments as you create. And the best part is, the GPU is also useful if you happen to enjoy gaming in your spare time. Such is the case with 3D animation artist Miki Bencz, who says that "NVIDIA gives me the tools to pursue my passion; from gaming to using a GPU to render my art."
Photography
In photography, GeForce GPUs provide horsepower and stability needed to experiment with visual effects without any slowdown at all. This enables photographers like Jordan Reeder to work faster than usual, saving time and money. On the topic of NVIDIA GPUs, he said that "GPUs allow near-instant feedback during a photoshoot. This allows me to adjust and output thousands of high-resolution images from a single day shoot." This shows how graphics hardware can make a huge difference in photography, as it makes the entire process of taking and editing pictures more efficient.
Graphic Design
For graphic designers, NVIDIA GPUs allow you to bring your ideas to life efficiently and without hassle. Powerful graphics hardware accelerates the creation process for textures and materials, and it also boosts the speed at which filters and effects can be added to graphics. Joey Camacho, a well-known graphic designer, loves the RTX line of graphics cards in particular, stating that "From producing high resolution prints to complex animations, NVIDIA'S RTX GPUs allow me to visualize ideas at an incredible speed." The ability to take what you imagine and put it into a visible, viewable format quickly is incredibly valuable for graphic designers, as it gives them the ability to test their ideas and make adjustments without hassle.
Architectural Realization
Another place where the RTX line of GPUs in particular excels in is with architectural realization. With the capabilities of RTX, you can render your designs with real-time ray tracing in Unreal Engine 4 and other similar programs. In addition to that, these cards also make it possible to smoothly bring your designs to life in a VR setting, allowing you to get a new perspective you previously would never have had. Leo Chou, an architect and designer, loves the capability and versatility that RTX provides. He had this to say about his laptop: "With my NVIDIA RTX laptop I can easily present my portfolio to customers anywhere, even editing content in real time." Unquestionably, the fact that you can bring your projects on-the-go wherever you need them with an RTX laptop without having to worry about a loss of speed or efficiency is incredibly useful.
Broadcasting
The power that both GTX and RTX GPUs provide helps streamers broadcast a smooth, high-quality images and video to their viewers. A quality GPU can help offset the CPUs workload for the stream, freeing up cores for use elsewhere in your system (like with the game you're streaming or video you're watching with your viewers) and NVIDIA has optimized their GPUs so that they work perfectly with popular streaming software like OBS or XSplit. Swifty, a popular streamer on Twitch, said that "Using NVIDIA RTX GPUs to power your Livestream frees up the PC cores. A great single PC livestream and gaming solution." This is particularly helpful for when you're streaming modern, taxing titles that have advanced graphics and sound design. Those things often demand a considerable amount of CPU power, so the fact that a GeForce GPU can help offset the CPU cost of streaming is a big deal.
The power of Studio Drivers
While NVIDIA GeForce GPUs are already amazing tools for creators right out of the box, they're even better when boosted by the Studio Drivers that you can get as part of NVIDIA's Studio Driver Program. These drivers are thoroughly tested with creative apps like Photoshop and Unreal Engine 4 to ensure that they will serve you, the creator, as efficiently as they possibly can. On top of that, NVIDIA also prioritizes making sure that they have that peak quality across multiple apps at once due to the fact that multi-app workloads are the norm in the digital space. Additionally, many new driver releases offer the ability to enable features that previously would not have been possible, such as AI denoising in rendering and OptiX for accelerated ray tracing. Lastly, the drivers offer a significant boost to general performance, allowing your system to take on creative tasks at optimal speeds with rock-solid stability.
No matter what you do, GeForce GPUs will be useful to you
Gamers have become one of the many different types of creators that exist in the modern digital space, and the power that you get from one of NVIDIA's GeForce GPUs will be very useful for many different types of projects no matter what your skillset is. Whether you're rendering video, modelling for animation, editing photos, bringing your architectural designs to life, or showing off your gaming prowess to thousands of viewers across the globe, a dedicated GeForce graphics card will give you the capability you need to not only succeed, but thrive.
Join the experts who read Tom's Hardware for the inside track on enthusiast PC tech news — and have for over 25 years. We'll send breaking news and in-depth reviews of CPUs, GPUs, AI, maker hardware and more straight to your inbox.