Sponsored
Check out our AMA with Intel vPro Platform Experts
Get a rundown on what the community wanted to know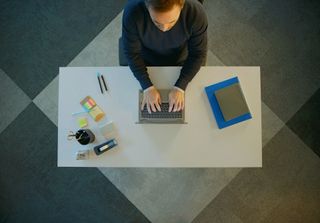 (Image credit: Intel)
Last week, Intel vPro® platform experts joined us on the forums for an Ask Me Anything about tech's effect on the modern workspace. We've collected the best questions and answers in one handy place for you below and you can check out the AMA in full here.
Before you check out the digest, be sure to enter our sweepstakes for a chance to win a Dell Latitude 3270 laptop. Head to our giveaway widget and follow the instructions here. Entries are open through to midnight on November 17th, 2020, so enter now for a chance to win!
We want to give a huge thank you to the Intel vPro® platform team for taking the time out of their day to answer all your questions. We're deeply appreciative of Stuart, Grant, Emily, Jimmy and Dan for their in-depth responses to each question posted by the Community.
AMA Digest
Q. Ransomware is in the news a lot these days, and has become a huge threat to end users across the board. I was wondering if you could elaborate a little on how vPro security features help protect against such attacks and are there different requirements for say business users vs. consumers?
Stuart Dommett: One amazing feature of vPro is Threat Detection Technology and with the latest 11th Gen processors, this uses ML and CPU telemetry to detect Ransomware and Crypto Mining attacks. This feature is already enabled by Microsoft Defender straight out of the box, so it really helps with the three parts of security, which is Secure Below the OS, Secure the OS & Apps, and enable advanced threat detection... and of course other AV vendors are available.
Dan Brunton: Here's a link to a white paper with some additional details:
Q. I'm curious about whether this technology will trickle down into consumer products too?
This seems to be aimed at business laptops but I would much prefer to work from my own machine when working from home. For me, having a device I use purely for work (currently an old laptop with an i5, 8GB RAM and relatively slow SSD) when I have other devices at home (a powerful desktop and laptop which is better than my work laptop) does not make sense. I currently feel that my job will end up creating more e-waste if we move towards requiring all employees to use company devices, especially when they have adequate devices at home which they are willing to use.
DB: I don't know of any plans to add this technology to consumer devices. I think there are some business challenges to enabling this kind of solution to ensure personal and work data is properly compartmentalized and complying with various privacy laws. If that can be figured out, I think there are some interesting opportunities with this use case.
SD: Don't disagree with you, however the challenge for any business is to ensure the business data, infrastructure etc is fully secured. That employees also have productive and stable devices that are suitable to support the apps and data that is required to be productive. The best way of doing that today is by having a known PC, built and secured from the hardware up. It builds that level of trust, predictability and allows IT to manage the environment securely. A couple of other points to consider. Would you be happy to have IT land apps on your devices, secure it and if you decided to leave or it was lost, they could delete everything on the device, as this is part of some organisation's security model. Another point to consider is social equality and diversity, not everyone can afford a better device or would want that level of device / apps management.
And on the point of consumer devices there are a lot of security features built into those devices that underpin the Windows security model and optimise performance. These are a subset of the vPro platform security features.
Q. Product development is an area I've had a lot of involvement over the years and siloed teams were always an issue. Have you found that with remote working becoming a necessity over the past year that we've gotten more efficient at linking teams together and are there any successful ways that your team has handled projects that would not have happened otherwise?
Also, do you think that the acceleration of adopting remote technology and methods would have occurred naturally?
DB: We've made a couple of changes to help insure success here at Intel on the Intel Endpoint Management Assistant team that are good examples. First, we moved to an Agile development process. Part of this change is to address problems right away. If anyone has a problem, you get it out there and address it, no matter how big or little it is. This has helped to remove frustrations that may otherwise go unmentioned when you are working remote. We've also embraced video calls. While being on camera all the time can be exhausting at times, it has helped us to maintain a high quality of communication.
Regarding the adoption of remote technology and methods, I think they would have occurred naturally, but at a much slower pace.
Q. What would you say is the biggest innovation or change you've seen since you started your career?
Jimmy Wai: For me, it's the whole of cloud computing. It breaks the boundary of corporate intranet and allows the elastic provision of resources and services for employees, customers and consumers. It enabled a lot of the other innovations and usage models which we take for granted today. It has also accelerated the development of other key technologies like big data and AI.
Q. In the past I have worked IT with various small businesses. We utilized some hardware that had vpro features and would have liked to use them. However the toolset availability, information regarding integration, and upfront costs always seemed to create a barrier of entry that continued to push us back to software level solutions. What ,if any strides, have been made to be able to make this technology useable to the mom and pop level small business market?
Grant Kelly: We have a number of tools that we've released to help with that. Intel Endpoint Management Assistant (Intel EMA) is the management tool that allows administrators to manage vPro endpoint devices both in-band (OS up and running) and out-of-band. We've also released tools to make the deployment of Intel EMA even easier for customers to start testing. Here are a couple of links that describe the tools and deployment options:
Intel EMA CloudStart tool for Azure:
The CloudStart tool for Azure deploys a VM in Azure and configures the deployment with a basic config so that users can begin managing devices right away.
Q. Are you excited for Alder Lake and do you plan on making an Alder Lake build?
Alder Lake has personally gotten me very enthusiastic about PC building. I pre-ordered an i9-12900K (it came early but I have nothing to do with it) as well as an ASUS ROG STRIX Z690-I motherboard. I won't be building it until late November (as I am waiting for G.Skill to release their flagship DDR5 RAM kits), but I'm going all out on this build! I will be doing my first ever custom loop with triple radiators in a Lian Li O11D Mini (it is a challenge I am looking forward to). Oh, and my storage... My first ever PCIe 4.0 SSD! I got the Corsair MP600 Pro XT with 4TB.
Anyway, I just wanted to let you know that I'm very excited, and I was just wondering if you share the same sentiment.
DB: I am excited about Alder Lake, glad to see you are too! It's been a few years since I've built a new gaming system so it's definitely time. The real question is if I will be patient enough to wait to get it at a discount or buy it as soon as I am ready to. While gaming isn't a direct part of my job, it's been a passion of mine for as long as I've used computers. It's a good time to be a PC gamer.
Q. A big shift in tech has been accessibility, there was a time when IT was considered impenetrable but now people tend to be able to troubleshoot a lot of their own issues as tech has become part of our daily lives. Security is such a massive part of that and the end user bears a burden of responsibility for it - is educating the workforce as much of a challenge as building secure systems and how intertwined are the two?
Emily Ryan: Yes, educating the workforce is definitely a challenge. Cyber/Security Awareness should always be an integral part of a company's security program. End-User security awareness is even more important with the increase in remote workforce as their behaviors can create an unintended breach or allow unauthorized access to corporate data. A security-first culture in a company will provide another layer of protection along with the secure systems.
Q. Has anything unexpected come up when looking at human behaviour that ended up making things more challenging but led to a better outcome?
SD: Nothing springs to mind specifically... but one key area where I think we all in IT can think about is changing from KPI's to KEI's, or Key Experience Indicators, so instead of measuring uptime for example, look at measuring the experience for the individual. So, how long does it take to get things done, what is the impact of connectivity, saving and reading information, what is the overall experience that a user has with a device? This could then be compared across the devices in the fleet and be used to measure how effective devices are over time and the potential drop off.
Q. How has the pandemic shaped the way you develop products – and what are the future threats you are preparing for?
JW: With the Intel vPro platform, we focus on both the experience for IT and the employees (the end users). The pandemic has changed the way and location how employees perform their work, and thus how IT manage systems. It essentially has a large influence on how we prioritize and build different features in the system. For example, we are building new features and technologies into our product to help improve the collaboration experience when people are working remotely using various collaboration and video conferencing software. We are also looking into what new innovations that can help IT to manage those PCs remotely, not only to reduce support cost, but also improve security and end user experience.
Thanks again to everyone who participated! If you haven't yet, now is your final chance to enter the Dell Latitude 7320 sweepstakes.
New to the Tom's Hardware Community? Head to the forums and sign up to become a member of the largest hardware enthusiast community on the planet.
Join the experts who read Tom's Hardware for the inside track on enthusiast PC tech news — and have for over 25 years. We'll send breaking news and in-depth reviews of CPUs, GPUs, AI, maker hardware and more straight to your inbox.