Audiophile mechanical keyboard debuts — the Fiio KB3 HiFi has onboard DACs and op-amps integrated into its new keyboard
Audiophile keyboards are now a thing.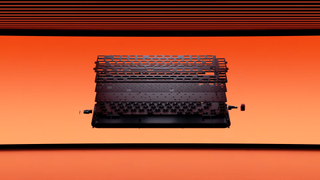 (Image credit: FiiO)
Audiophile keyboards are now a thing: Fiio has integrated a dual DAC+ dual op-amp into a new HiFi variation of its KB3 keyboard. Fiio has one major edge over other keyboard makers- it can integrate one of its own headphone DAC/amps within the keyboard. The KB3 is listed for sale in AliExpress, with the HiFi wired version selling for $149.99 and the wireless version, which does not have the built-in DAC+amp, for $129.99. The KA13 headphone dac+amp costs $79.99. Let's cover the details.
Audio-functionality of the AMP+DAC
Armed with dual Cirrus Logic CS43131 DACs with two low-noise SGMicro SGM8262 op-amps, the FiiO HiFi Wired KB3 is a 75% mechanical keyboard with a fully functional DAC and AMP for headphones, supporting up to PCM384KHz/ 32-bit and DSD256 output via the Savitech SA9312L DAC USB chip. FiiO makes some of the best headphones, IEMs, amps, DACs, and all-in-one units for audiophiles. Of course, they would like both components to be good enough for the price while being able to power their headphones.
This patented design enables the KB3 to provide 500mW high output power through 3.5mm single-ended +4.4 balanced headphone outputs. Fiio doesn't mention if it integrated components from a headphone DAC+amp it sells, but the main features and components match the one on the FiiO KA13 headphone DAC+amp. It also has the desktop power mode enabled by default, a function you can switch on or off on the KA13 as it is meant to be a portable device for smartphones.
The built-in desktop DAC+amp function is exclusive to the HiFi wired version of the KB3. There is a barebone version without the keycaps and switches, enabling users to customize their choices with the KB3.
The Bright Side of this Keyboard
Nothing looks to be compromised on paper with this mechanical keyboard. The KB3 uses all the features you expect on a mechanical keyboard in 2023 - silicone gaskets with sound absorbing and IXPE switch foam with a silicone dampener to give more comfortable actuation and give a more 'thockier' sound profile when typing. Naturally, that would also depend on the switch and keycap paired with this keyboard, and hence, having the barebone HiFi wired option helps users choose preferred switches and keycaps widely available in the market - another two huge rabbit holes.
That isn't the only selling point, as the keyboard also provides dual USB outputs. The fully built FiiO KB3 uses a gasket mount design for a more comfortable typing experience. The fully built KB3 has a Gateron GPro3.0 linear switches rated with 50±15 gf operation force and transparent keycaps. The KB3 uses an aluminium-magnesium allow casing with a textured finish with an integrated step-less volume knob on the right. The keyboard uses VIA firmware and is compatible with both Windows and Mac. The wireless version is integrated with a large 4,000 mAh battery.
The keyboards are pretty chunky, weighing 1060g for the wired and 1115g for the wireless. It should be noted that JadeAudio mentioned Andriod OS support with Windows and macOS, while FiiO only lists dual OS Win/ macOS support. Both FiiO and Jade Audio need to be on the same page, especially since it is usually a typical feature with many desktop mechanical keyboards.
Fiio will sell these keyboards in four versions- a fully built HiFi Single Mode, which is a wired keyboard with the built-in desktop DAC+amp; a wireless three-mode version, which lets you switch between three wireless devices; and a barebone version with no keycap or switches. All three versions use black faceplates. The fourth is simply the same three-mode wireless keyboard with a silver faceplate. There's also a limited Founder's edition, which uses Kailh Deep Sea Whale switches. It is not known if the fully built and barebone HiFi wired version will have a silver faceplate variation at the time of writing.
For now, the KB3 is listed for sale in AliExpress, with the HiFi wired version selling for $149.99 and the wireless version, which does not have the built-in DAC+amp, for $129.99. The KA13 headphone dac+amp costs $79.99. On this keyboard, you get its main functions and full features with power output typically from the KA13's desktop mode, which is enabled by default. This explains why a HiFi wired version costs more than the wireless version since you get the main bits from the KA13.
Potential Userbase
Considering the mechanical keyboard's 75% form factor, one of the few types of users interested in such keyboards will be those who want a better typing and listening experience on a laptop without needing to have multiple devices to add the bulk. Naturally, they would need both the keyboard and the dac+amp to be good enough. This will appeal to both keyboard and audiophile enthusiasts who would like to try the best of both worlds. Sure, PC gamers would consider this keyboard while playing in tournaments, but it largely depends on its performance and overall experience, something that can only be determined in testing.
Of course, it will also appeal to everyday users as it enables them to get a desktop dac+amp-like integration with a dual Type-A USB hub. The combination helps to have a cleaner output. Since the KB3 uses the main function of the KA13 headphone, which has the option to turn on desktop mode for more power, it makes absolute sense to have the same components, functions, and features from it while having the desktop power mode enabled by default.
Not the First HiFi Keyboard
Seeing FiiO stretch its wings over the keyboard market may seem bold, but it is not the first to do so. The Moondrop Dash75 keyboard with the same 75% keyboard layout was released a few months ago. It uses an aluminum housing with Poron dampening and more layers below the PCB just like the KB3. It uses its own Moonriver 2 headphone DAC/amp, as it was identified by the system once plugged in. There are some unique selling points as it has QMK/ VIA support, making the whole keyboard programmable. This looks to be more appealing to many as its design is inspired by the Commodore 64.
Despite the saturation in the keyboard market, we've noticed an influx of companies making new keyboards, such as OnePlus, which is typically known to make Android smartphones. What differentiates between them all is the key features multiple keyboard makers have brought forward- programmable QMK/ VIA keyboards, programmable knobs, additional switches, gasket mounts with foam panels, three-mode wireless with built-in battery, the ability to swap between multiple devices on the fly and various others. Many of these were streamlined and integrated by default based on user feedback and modders who share multiple ideas, such as the duct tape and foam method.
HiFi keyboards are surely a niche and we'll simply have to see if the overall keyboard community is willing to accept these as options. This shouldn't be an issue, as both keyboard and audio enthusiasts love innovation and the space-saving options available on the market. With companies like FiiO and Moondop being the ones to start HiFi keyboards, it is off to a good start.
Join the experts who read Tom's Hardware for the inside track on enthusiast PC tech news — and have for over 25 years. We'll send breaking news and in-depth reviews of CPUs, GPUs, AI, maker hardware and more straight to your inbox.