Fly or Drive: Nvidia Jetson-Powered Morphobot Aims for NASA Mars Mission
The M4 Morphobot is like a Transformers robot cranked to 11, with Nvidia Jetson Nano on board.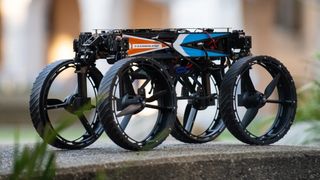 (Image credit: CalTech)
Mars isn't the closest planet to Earth, but it holds the most promise regarding human exploration. NASA has sent numerous orbiters to map the planet from orbit and rovers to navigate the planet's surface and collect samples. The most recent NASA rover, Perseverance, and its robotic helicopter payload, Ingenuity, reached the Mars surface in February 2021 and are still operating.
NASA is fielding candidates for next-generation Mars rovers, and researchers at CalTech have an intriguing robot powered by Nvidia's Jetson Nano embedded computing platform. At first glance, CalTech's Multi-Modal Mobility Morphobot (M4 Morphobot) looks like a smaller version of previously launched Mars rovers, albeit with narrower wheels. However, upon closer inspection, there are propellers inside each of the four wheels, which is vital to its Transformers-style antics.
The M4 Morphobot can drive along a surface using its four wheels in its standard operating mode. This is an energy-efficient way of covering ground, albeit at a slow pace. However, the M4 Morphobot can also rotate one set of wheels 90 degrees and rotate its body upward 90 degrees to position it vertically. In this position, two wheels provide a firm footing on the ground, while the propellers on the first set of articulated wheels provide additional forward momentum.
However, the most exciting form that the M4 Morphobot can take is as an aircraft. In this mode, all four wheels rotate outward 90 degrees, turning into a quadcopter, reaching speeds of up to 40 miles per hour. This mode allows the M4 Morphobot to travel faster and to areas that wouldn't otherwise be accessible by a wheeled vehicle. The robot can transform into eight different permeations to accomplish specific tasks, and its battery can last up to 30 minutes. However, the team is currently working on larger versions of the robot that can travel faster and farther while carrying heavier payloads.
The Caltech team, consisting of Dr. Eric Sihite, Dr. Arash Kalantari, Reza Nemovi, Dr. Alireza Ramezani, and Dr. Morteza Gharib, said that they took inspiration from animals in nature. Evolutionary demands have forced many species to survive by deftly adapting to their surroundings, so it made sense to the team to go down that path.
"The robotic biomimicry of animals' appendage repurposing can yield mobile robots with unparalleled capabilities," wrote the researchers in a paper published in Nature Communications. Taking inspiration from animals, we have designed a robot capable of negotiating unstructured, multi-substrate environments, including land and air, by employing its components in different ways as wheels, thrusters, and legs."
While CalTech funded the initial research of the M4 Morphobot, NASA's Jet Propulsion Lab (JPL) provided funding for the subsequent phases of its development. The robot is currently a candidate for a future NASA Mars Rover mission. It should also be noted that its capabilities aren't just applicable to missions off-planet; the U.S. Department of Transportation has also expressed interest in deploying robots based on this design.
The M4 Morphobot also has a lot of potential in search and fire rescue, where its "fly-in and drive" capabilities make it a versatile tool to help locate victims and perhaps deliver critical aid and/or supplies.
"We're kind of dizzy about how it suddenly got so much attention," said Gharib. "Different organizations want to do different things and are coming to approach us."
You can learn more about the CalTech team's research on the M4 Morphobot in this Nature article. We look forward to seeing what the team can achieve with future versions of the robot and if its design will eventually be selected for a future Mars mission.
Join the experts who read Tom's Hardware for the inside track on enthusiast PC tech news — and have for over 25 years. We'll send breaking news and in-depth reviews of CPUs, GPUs, AI, maker hardware and more straight to your inbox.
Brandon Hill is a senior editor at Tom's Hardware. He has written about PC and Mac tech since the late 1990s with bylines at AnandTech, DailyTech, and Hot Hardware. When he is not consuming copious amounts of tech news, he can be found enjoying the NC mountains or the beach with his wife and two sons.