Acer has confirmed that there has recently been unauthorized access to at least one of its internal servers. The confirmation came in a statement sent to Bleeping Computer, which had enquired about a hacker offering 160GB of "confidential stuff" for sale to the highest bidder.

The screenshot below shows a forum post by the hacker who claims to have purloined Acer's data. Acer says the data came from a document server that served as a repair technician resource. However, the hacker claims that there is a range of confidential data now in their hands that doesn't seem entirely characteristic of the resource Acer describes. For example, repair technicians typically wouldn't need or have access to data such as "confidential slides/presentations." However, other stolen data boasted about by the hacker does seem to gel with Acer's description of the resource, with things like technical manuals, ISO and other software images, product keys, BIOS data, and ROM files in the haul.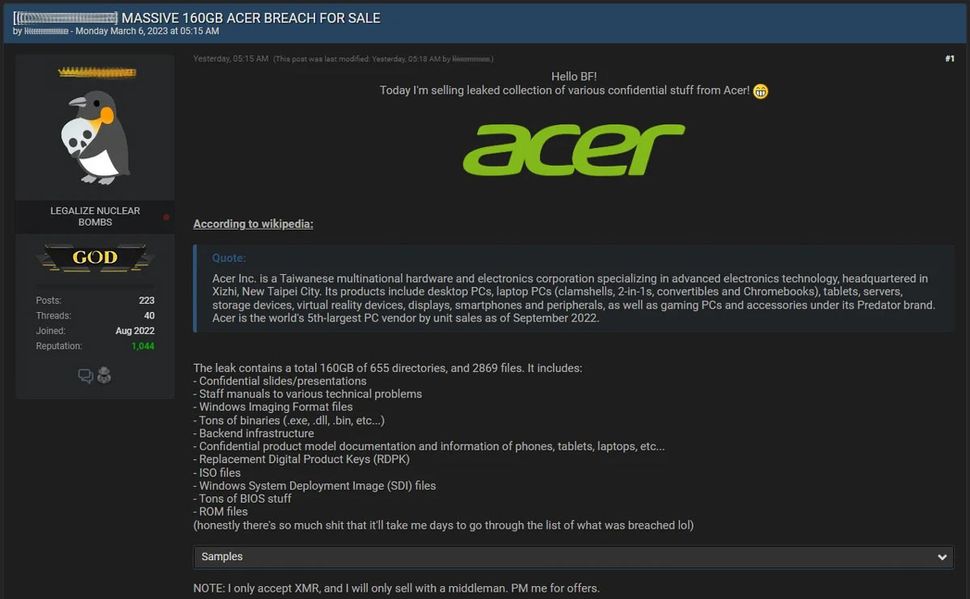 The data was apparently swiped in mid-February of this year. In total, there is said to be 160GB of stolen data up for sale on the web, which consists of 655 directories and 2,869 files. In addition, some data samples were provided to back up the server hack's claims.
There has not been a price set for the looted data. For their trouble, the hacker is touting for bids, looking for PMs via the forum shown in the screenshot. A couple of conditions are attached to the 'auction,' with an intermediary required for the sale to proceed, and a payment that must be made in the Monero cryptocurrency (XMR).
No Indication Customer Data Compromised, Says Acer
Acer's investigation into the admitted breach is still ongoing, but it remains quite sure that there was no customer data stored on the affected server.
As the fifth largest PC maker in the world, Acer is a big target for hackers, and it seems to have been unlucky in recent years; with over 60GB of its data stolen in October 2021, and in March of the same year, it paid up $50 million to a ransomware gang that threatened to leak confidential documents. Some may attribute frequent data breaches to carelessness, and such a perception isn't good for PC and server makers seeking to court and keep enterprise customers.