Framework massively expanded its lineup of repairable laptops at an event in San Francisco today, updating its existing Framework Laptop to 13th Gen Core Intel, adding an AMD Ryzen option with 7040 series chips, and previewed a new 16-inch laptop with modular dedicated graphics.
Framework Laptop 16
The Framework Laptop 16 only got a preview at the event, but it made the biggest splash, with far more customization options and repairable features than the existing 13-inch laptop. Beyond the existing expansion cards, there are two new systems that Framework is playing with: "Input Modules" and the "Expansion Bay" (all these expansion systems are going to get very confusing very quickly!). For me, the Expansion Bay is the most exciting update. This is Framework's attempt to add upgradeable graphics to a laptop. (Framework states that this is delivering on a dream that many have given up on," which feels like a shot at Dell, which was sued over limited upgradeability on the Alienware Area-51m).
Framework hasn't said who it's partnering with on graphics, but we know that the graphics modules will include fans and connect over a PCIe x8 interface (Framework tells me the interface should support PCIe 4.0 "at a minimum") at the back of the laptop that Framework will open source, and that these modules can allow the laptop to expand to accommodate thermal and mechanical needs. You won't have to open the notebook to get the GPU out. Framework says it's working on other non-graphics-focused Expansion Bay cards, like a dual M.2 SSD card that can add 16TB of storage for those who can get by on integrated graphics. Notably, Framework seems to be fairly deliberate in not calling this a gaming laptop or a workstation, but rather pushing it as meeting whatever needs you want to use it for.
The Framework Laptop 16 is also getting a new "input module" system, which lets you hot swap between configurations of touchpads, keyboard and numpads. They come in different sizes (small and medium for numpads, large for keyboards), so you can customize what aspects you want on your keyboard deck. Framework says that it is working on keyboards in many languages and with RGB backlighting, and that "in addition to numpads, secondary displays and macro pads are workable." Many of the input modules use the open source QMK firmware running on a Raspberry Pi RP2040 microcontroller. You can still use the same Expansion Card system from the Framework Laptop 13. With the bigger laptop, you can use three ports on each side, rather than two per side on the smaller notebook.
We don't yet know the price or specs for the Framework Laptop 16 — those will come when pre-orders open later this spring — but the significantly increased number of swappable parts has me cautiously optimistic. The laptops are set to ship in "late 2023," but Framework is open sourcing design documentation to let others get started on making their own modules.
Framework Laptop 13 - Intel and AMD
The regular Framework Laptop is now called the Framework Laptop 13. Intel is updating it to 13th Gen Intel Core P-series processors or, for the first time, AMD Ryzen 7040 series chips. (Existing Framework laptop owners can even buy new mainboards with these chips to install into their existing Framework Laptops).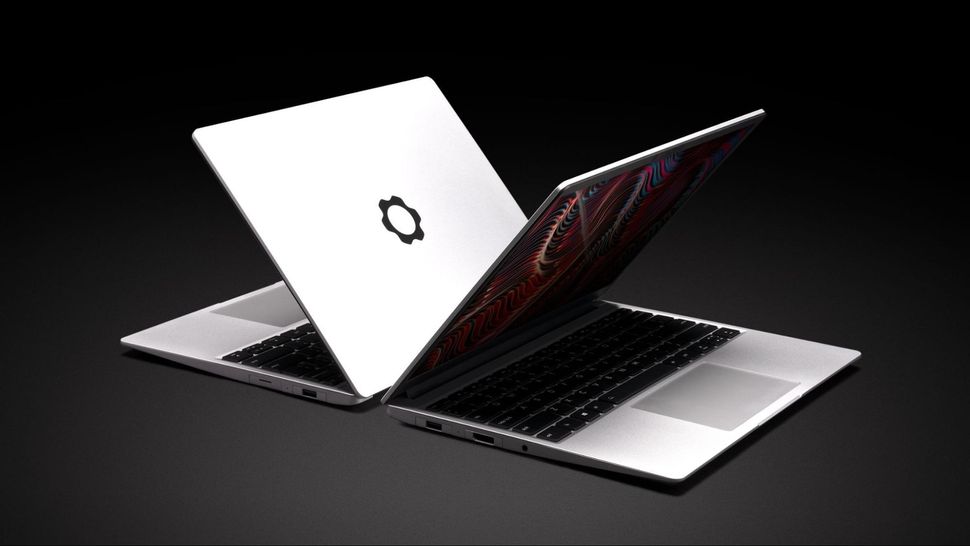 The 13th Gen Core lineup includes the Core i5-1350P, Core i7-1360P and Core i7-1370P with vPro, all using DDR4-3200 RAM and a louder 80 decibel speaker kit that was first seen in last year's Framework Chromebook. The Core i5 will stick to the 55 WHr battery, while the i7 models are set to use a larger 61 WHr cell. Both the AMD Ryzen kits will use the existing speaker kit, but offer faster DDR5-5600 RAM. The Ryzen 7 model will get the bigger battery. All of the new laptops have a new matte display (with the same resolution and performance) and new upgraded hinges designed to be easier to open. (The new batteries and displays will be purchasable on the Framework Marketplace for use with existing laptops.)
There will be port differences between Intel and AMD. While they'll use all the same modules, the Intel version has four Thunderbolt 4 ports, while the Ryzen options will have two USB 4 ports, one USB 3.2 port with DisplayPort, and one single USB 3.2 port, so they're not all functionally the same.
Framework has already had multiple bezel options, but you had to buy them separately. The company now says that it is working on new bezel colors and that you'll be able to pick the bezel and keyboard colors on the DIY edition when you order later this year. These new Framework Laptops are available for pre-order today with a $100 deposit and are set to ship in May. Prebuilt options will start at $1,049 with Windows 11 preinstalled, while a DIY Edition will launch at $849 so you can add your own RAM, storage and OS. That's a slight increase over previous DIY editions, which I'm told is due to the cost of materials. Framework says the Fedora 38 and Ubuntu 22.04 will be fully supported on both the new Intel and AMD options, with further testing for Manjaro and Mint in progress.
Cooler Master Case
We've seen plenty of projects using Framework Laptop mainboards outside of clamshell designs, and Framework already has a case you can 3D print. In the spring, Cooler Master is going to release the Mainboard Case, a $39 chassis designed to turn the laptop mainboards into desktops when you upgrade the PC.