Research outfit IDC has just published its latest quarterly PC tracker data, which charts shipments for the global desktops, laptops, and workstations market. According to the data, PC shipments "continued to slump" in the last quarter of 2022 — shipments were 67.2M, down 28% compared to the same quarter last year.
There were some bright spots raised in IDC's report: full year shipments for 2022 remained higher than in the pre-pandemic period, and a consumer-side rebound is expected, beginning in Q3 2023 or perhaps early 2024.
Interestingly, IDC notes that Q4 2022 PC shipments were comparable to those in 2018, when Intel was suffering from supply challenges and the industry was feeling the impact of the resulting component shortages. The researchers claim that the latest figures show "the pandemic boom is over for the PC market," even though the 292.3M units sold last year were still well above pre-pandemic levels. (That number is definitely below the 350.1M total PC units sold in 2021, however.)
According to a report by Canalys late last year, U.S. PC shipments dropped 12% year-over-year in Q3 2022. That report only looked at PC shipments within the U.S., however, while IDC's data is worldwide.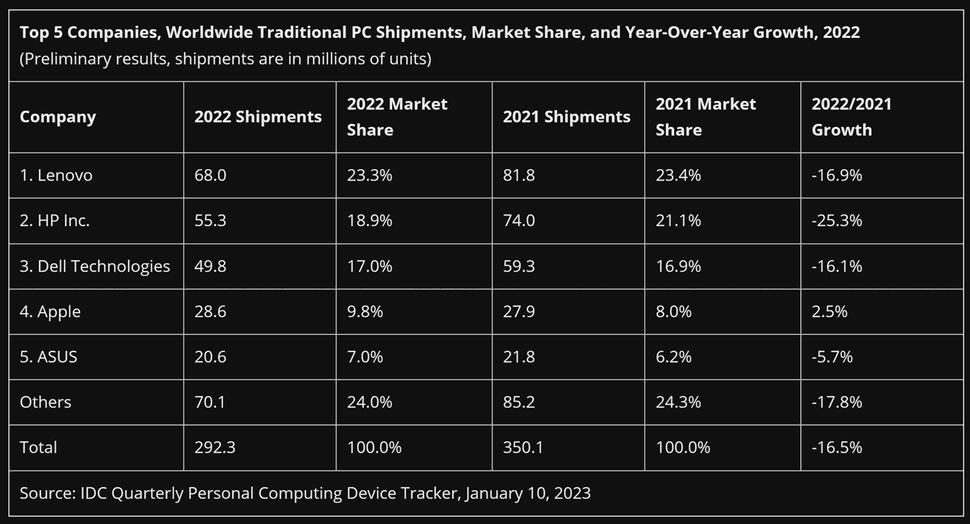 Another problem for the PC industry across the last few months is that average selling prices (ASPs) have been falling. IDC suggests prices have been cut due to excess channel inventory to spur demand. It doesn't mention that pre-built PCs are cheaper than ever due to falling prices for key components such as GPUs, RAM, and storage.
IDC says the consensus among analysts is that the PC market as a whole will return to a growth cycle in late 2023 but it may be more like early 2024 before the consumer segment sees noticeable green shoots of recovery.
Driving forces that could see stronger PC-buying in the commercial segment include both the end of support for Windows 10 and a building refresh cycle.
On the consumer side of the equation we can see enthusiasts and gamers building or buying whole new systems this year with the attractive advances recently launched from AMD, Intel, and Nvidia. Consumers may also decide it's time to hop onto a new platform with DDR5 and PCIe 5.0. There are also new laptops and mini-PCs coming out that are more capable than ever (where pre-builts are the only option).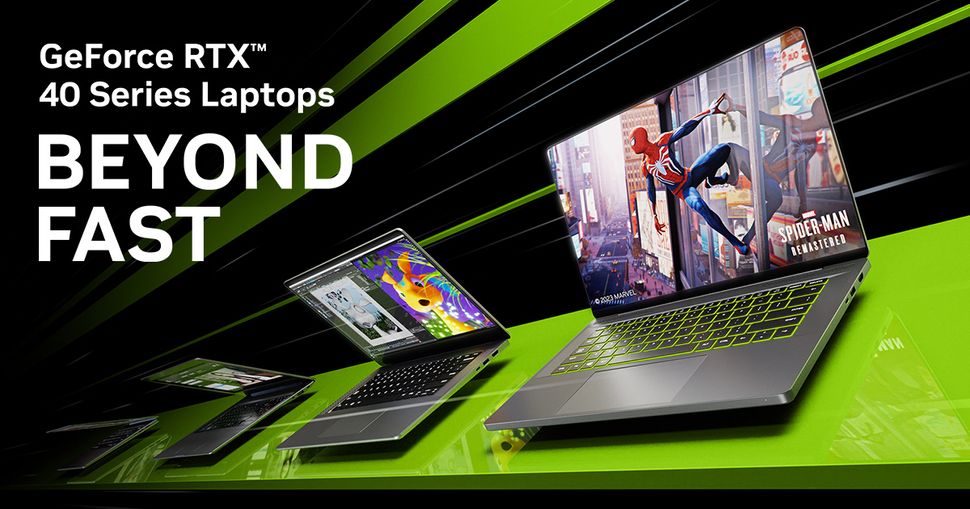 Do readers think this will be more of a buying year or a saving / waiting year? Let us know if any of the recently launched/announced processors or components could inspire you to buy a new system.