Losing essential data to a hard drive failure can be one of the most frustrating experiences of your life. But, there might be a way to identify if a drive will actually fail or if it will last forever. Secure Data Recovery, according to Blocks and Files, discovered the average failed hard drive lasted around two years and ten months before dying.
This number was taken from the average operation time of numerous failed hard drives that the data recovery specialists received from customers. The specialists excluded drives that failed from non-predictable events and only kept drives that failed due to normal read and write operations. The targeted drives were made by six manufacturers, including Western Digital, Hitachi, Seagate, Toshiba, Samsung, and Maxtor.
Secure Data Recovery also found that the average expected lifespan of a failed hard drive highly depended on the drive manufacturer. According to a power-on-hour chart it created, there is almost a 50% difference in power-on time between the best and worst-performing brands.
Toshiba performed the best, with an average of 34,799 power-on hours recorded between 151 bad drives. Conversely, Hitatchi - a WD sub-brand, was far worse, with an average recorded lifespan of 18,632 hours accumulated from 211 bad drives.
Results from the four other drive manufacturers sit in between Toshiba and Hitachi, with Western Digital coming out with 25,676 power on hours on average from 936 disks. Seagate amassed 32,298 hours from 559 drives. Samsung accumulated 19,224 hours based on 123 drives, and Maxtor registered 29,771 hours based on 27 drives.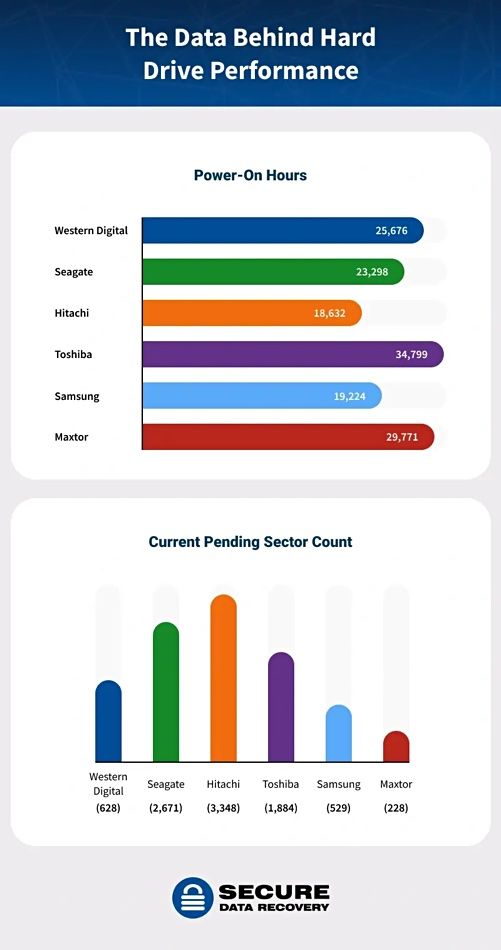 Secure Data Recovery also recorded the number of bad sectors on each drive. Again, Hitachi was by far the worst-performing manufacturer, with 3,348 bad sectors across the same 211 drives. But the best-performing drives in this category come from Maxtor, with just 228 bad sectors found. Thankfully, the rest of the six manufacturers were not as bad as Hitachi, with Toshiba turning up with 1,884 bad sectors in total, Samsung with 529, Seagate with 2,671, and Western Digital with 628.
Despite the significant variance in power-on hours and sector errors between drive manufacturers, we can't take these results at face value. The results would be far more accurate if Secure Data Recover had an even distribution of failed drives from all six manufacturers.
As a result, lower disk counts of Hitachi, Toshiba, Samsung, and especially Maxtor have to be taken with a grain of salt. Seagate and Western Digital, on the other hand, have the most recorded drives, so their numbers will be the most accurate. But overall, it does seem like Hitachi and Seagate are the most unreliable manufacturers of them all.
If you have a hard drive from any of these six manufacturers, the average life expectancy is just under three years if your drive has a propensity for failure. However, if the drive doesn't die during that period, there's a good chance it will remain healthy for years and years to come. If you want to know more about HDD reliability, check out our previous coverage from Backblaze.