Libre Computer's range of open source Raspberry Pi alternatives has gained a new member: the Libre Computer AML-S905X-CC-V2 "Sweet Potato". While this board may not be the best source of carbohydrates and fiber, it does offer 4K media playback and claims GPIO compatibility with the Raspberry Pi.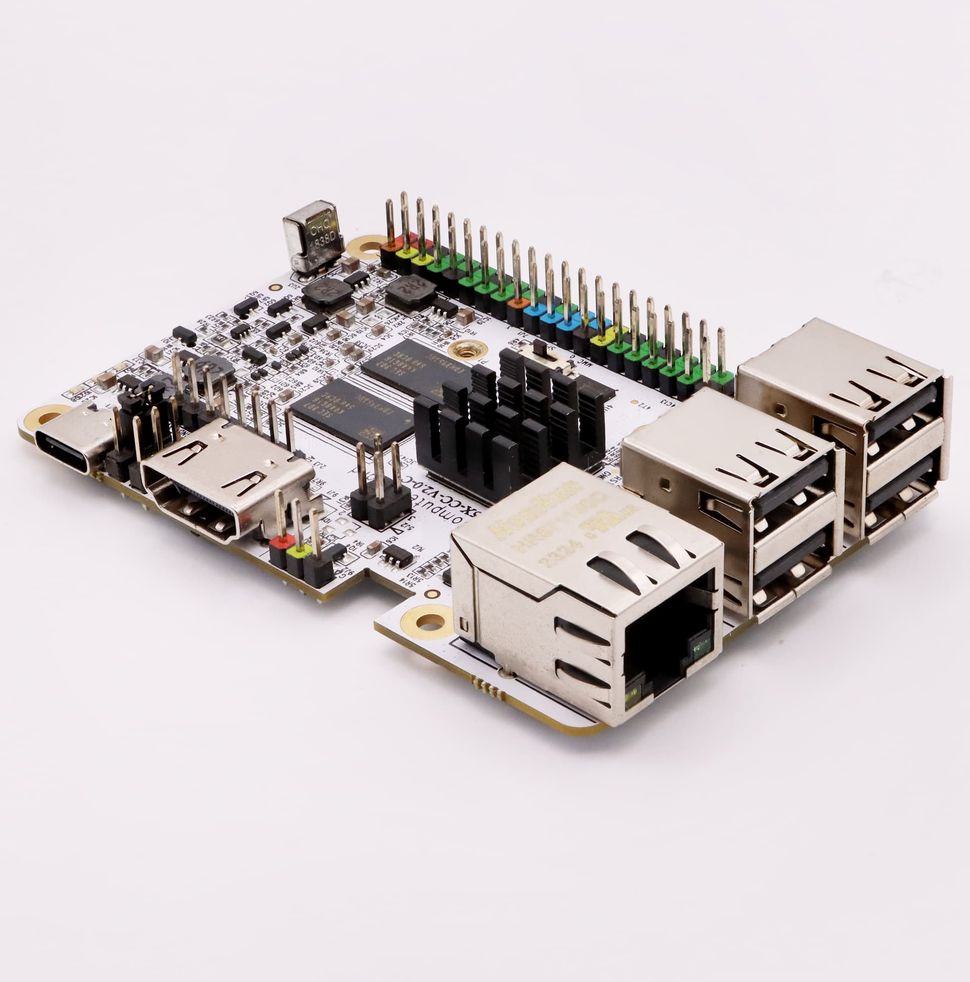 Swipe to scroll horizontally
| | |
| --- | --- |
| SoC | Amlogic S905X |
| CPU | Quad-Core Arm Cortex-A53 1.512GHz |
| GPU | Arm Mali-450 @ 750MHz |
| RAM | 2GB DDR4 |
| Storage | Micro SD, eMMC 5.x module |
| GPIO | 40 pin "Raspberry Pi compatible" |
| Row 6 - Cell 0 | Audio header, USB header, PoE header |
| Row 7 - Cell 0 | UART, IR sensor |
| Ports | Fast Ethernet, 4 x USB 2 |
| Display | HDMI 2.0 |
| Power | USB C 5V 3A |
Featuring a Raspberry Pi 3B+ form factor, the Sweet Potato compliments the older AML-S905X-CC "Le Potato" board, but does not replace it. Rather, the Sweet Potato is targeted at commercial and consumer applications.
The quad-core Arm CPU and 2GB of DDR4 put it between the Raspberry Pi 3B+ and 4, but we have a few extra features on the Sweet Potato. A 5-pin USB header provides a direct interface for UVC cameras. This high-speed bus provides a fast interface for USB webcams from many vendors. If you're more into RF based technologies, the same UVC header can be used with Wi-Fi, Bluetooth, Zigbee, and SDR based products.
Power is typically provided via the USB-C input; an EU mandated requirement for USB-C ports means that Sweet Potato sees a 5V 3A upgrade over Le Potato's 5V 2.5A micro USB port. Power over Ethernet is another option, bringing one-wire networking and power to your projects. Libre Computer claims that Sweet Potato pulls around 1W while idle.
The 40 pin GPIO claims to be Raspberry Pi HAT compatible, and a quick glance at the Le Potato pinout suggests that this is the case. In reality we don't know how the many software libraries will work with the GPIO, but, from past experience, common programming libraries have patchy support for boards other than the Raspberry Pi.
How much will it cost? For now we have to guess at around $57 — the same price as the Le Potato. The two boards are evenly specced, so this isn't too much of a stretch. We also don't know when the Sweet Potato will be available, but we're interested in testing it out for a future review.