MSI today issued a warning to its global fans and followers. In a news bulletin the major PCs and components maker flagged as an "Important Notice," it relayed a tale of fraudsters targeting tech YouTubers with bogus product partnership offers.
MSI reproduced an email from the fraudster to a person who we assume must be an upcoming YouTuber with a focus on tech. "Are you aware of MSI, the top electronic maker?" quizzed the opening line of the suspicious email. Which was followed up quickly with a promise of a partnership which would result in a conveyor belt of pre-release MSI tech "at no charge so you can make a review."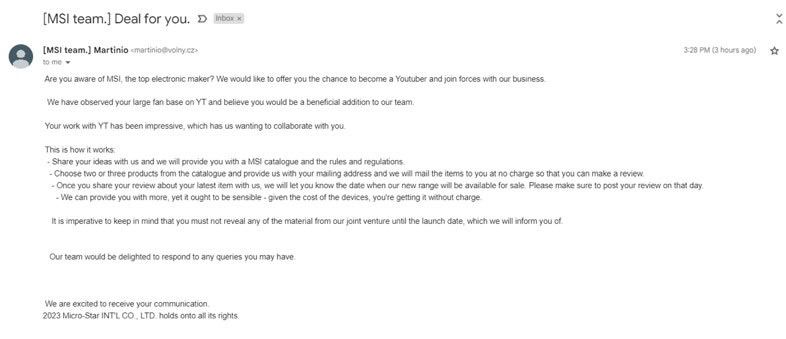 This initially engaging email came from a user calling himself Martinio, using an email address hosted by voiny.cz. Thankfully, the 'prey' probably looked up this Czech web portal, and saw that it was a popular place for fraudsters and scammers to set up an email address. With this in mind, they likely didn't take the bait and contacted MSI, who have now issued this news alert.
MSI says that the above example email is just the tip of the iceberg and "the recent occurrence of unauthorized emails to content creators and valued followers has caught our attention." MSI note in the bulletin, that multiple YouTube creators have contacted MSI to check the veracity of the email offer.
The key thing to watch out for in such emails, according to the PCs and components maker, is that MSI would make any genuine offers via an authentic someone@msi.com email address. It urges anyone who receives emails similar to the above, low res but readable sample, to delete it straight away, and not reply or click any links within.
We don't know if the emails contained any nefarious links, and MSI has scrubbed them from the sample screenshot, or whether the scammer would weave a web of deceit for some time longer before trying to extract some banking details or similar from the targeted YouTubers - in a long con approach. Whatever the case, be careful out there folks, and be sure to apply some cynicism, and closely investigate, unsolicited offers.
In other recent MSI and scammer news, it was found that there were a host of websites with similar sounding / looking domains that were serving up downloads of the MSI Afterburner utility laced with malware. This was a rinse and repeat of a 2021 scam.