Where to Buy a Raspberry Pi 5 in the U.S or UK
The Raspberry Pi 5 is proving to be popular.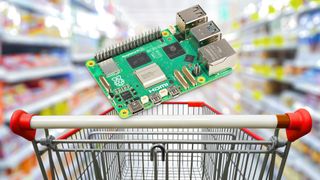 (Image credit: Shutterstock (1688252332))
The Raspberry Pi 5, the most powerful and faster flagship Pi ever is now available for general purchase. But it seems that demand is outstripping supply
Pre-orders for the latest Raspberry Pi have been active for the past few weeks and it seems that everyone is hungry for a fresh slice of Pi. Pre-orders via the many official sellers has swallowed up a huge amount of stock, but you may get lucky.
Though Raspberry Pis as a group are among the most popular computers ever made, you might be surprised to learn that only a few stores carry the boards at or near their MSRPs. Amazon, Newegg and Walmart might list Raspberry Pi boards, but they are coming from third-party sellers who usually overcharge you. Other stores like Best Buy might have a kit that contains a Raspberry Pi, but not just the board.
To help you find a Raspberry Pi 5, we've located all the places in the U.S. and UK currently listing the 4GB and 8GB boards for sale. These are all authorized retailers. Where the seller is taking pre-orders now, we have listed that in the notes column.
Swipe to scroll horizontally
| Store | Raspberry Pi 5 (4GB) | Raspberry Pi 5 (8GB) | Country | Notes |
| --- | --- | --- | --- | --- |
| Micro Center | $59 | $80 | U.S. | In-store only from November 3rd |
| Pimoroni | £59.40 | £78.90 | UK | Pre-order for shipping in November / December |
| The Pi Hut | £49.42 | £65.83 | UK | Pre-order for shipping in early 2024 |
| Adafruit | $60 | $80 | U.S. | Sign up for notifications |
| PiShop.us | $60 | $80 | U.S. | Pre-order, ships in 4 - 5 weeks |
| CanaKit | $60 | $80 | U.S. | Pre-order, ships late November |
| SparkFun Electronics | $60 | $80 | U.S. | Pre-Order, no shipping date |
| Vilros | $60 | $80 | U.S. | Sign up for notifications |
| Chicago Electronic Distributors | $60 | $80 | U.S. | Sign up for notifications, 4 - 5 weeks shipping |
We should note that Micro Center is a great place to buy maker products, but it has only 26 locations so you'll need to check if one is near you. A previous version of this article stated that the price for the 4GB unit at Micro Center was listed at $54, which it was. However, after we inquired with our PR contact about the price, they said that the original listing was an error and it had been changed to $59.99.
It is also worth keeping an eye on rpilocator, a site which became essential during the global chip supply shortage. Using rpilocator's Pi 5 page we can see that as of October 8, UK and US resellers and largely out of stock, and are taking pre-order for the next batch. The only listed site to have stock appears to be Denmark's Jkollerup.dk
Should You Buy a Raspberry Pi From Abroad?
If you're located in the U.S., you might be tempted to order from Pimoroni or the Pi Hut, both UK-based stores. Depending on the shipping costs and what other items you include in your order, the price might actually be in your favor. Plus, both of these stores have some of their own, Raspberry Pi accessories that you might want.
Pimoroni were the first to announce a third-party accessory, a new Pibow case for the Raspberry Pi 5. The Royal Coupe comes in a stunning purple color and has cutouts for the active cooler and for the new power button.
Where Not to Buy a Raspberry Pi 5
We strongly recommend against buying a Raspberry Pi 5 from Amazon, from Newegg, eBay or any other marketplace of third-party sellers. You'll usually pay more than the MSRP, because the seller probably bought their Pi from an authorized reseller and is now hiking up the price to make a profit.
Eventually, but not at launch, we will see Raspberry Pi kits from the likes of CanaKit for sale on Amazon. These will contain other equipment such as a case, power supply, microSD card and fan. If you want more than just the board, these might be worth considering.
Should You Buy a Raspberry Pi 5?
In our review of the Raspberry Pi 5, we noted that the new board is two to three times faster than its predecessor and brings with it a slew of new features, including a real-time clock, a PCIe 2.0 connection and a power button. You get all of that for just $5 more than the equivalent 4GB and 8GB Raspberry Pi 4 SKUs.
If you are a Pi fan, you'll want one. This is the new performance leader.
If you are just getting started with Raspberry Pi, it's great to start with the fastest one. However, if you are doing a low-cost, low-performance project, you could save a little money by purchasing a 1GB or 2GB Raspberry Pi 4 for $35 or $45 (if you can find one in stock). But if you buy just one single board computer, make it the Raspberry Pi 5.
What to Buy With Your Raspberry Pi 5
If you buy a Raspberry Pi 5, you will need a couple of new accessories. You absolutely must get the official cooler, which is around $6 and for sale at all of the same stores that sell the boards themselves.
You also might want to get the 27W Raspberry Pi Power Supply, which delivers 5V and 5A of power and goes for $12. That's two more amps than prior power supplies and most third-party power supplies provide. If you use the Raspberry Pi 5 with a 3-amp charger, it will work but it will also limit the power output on the USB ports to just 600mA, which is enough for a keyboard and mouse but not an external SSD. With the 5-amp power supply, you can get 1.6A out of the ports.
Join the experts who read Tom's Hardware for the inside track on enthusiast PC tech news — and have for over 25 years. We'll send breaking news and in-depth reviews of CPUs, GPUs, AI, maker hardware and more straight to your inbox.
Avram Piltch is Tom's Hardware's editor-in-chief. When he's not playing with the latest gadgets at work or putting on VR helmets at trade shows, you'll find him rooting his phone, taking apart his PC or coding plugins. With his technical knowledge and passion for testing, Avram developed many real-world benchmarks, including our laptop battery test.
I backordered the Pi 5 8G on Digikey a couple hours after it was announced, because nowhere else had preorders up yet - maybe they were caught by surprise or something. Also I had good luck getting Pi 4 from them relatively quickly when they were sold out everywhere.

But I've heard absolutely nothing of the Pi 5 order since, because it definitely hasn't shipped out yet. Their lead time tool is estimating 2/14/2024 for new orders.

Reply