We typically think of HP's Dragonfly laptops in terms of premium business notebooks, but at CES 2023, the company announced a set of 14-inch Dragonfly laptops (one running Windows and AMD Ryzen, the other a Chromebook using Intel). These, HP says, are designed for freelance types — on-the-go workers who need something that just works, without an IT department.

The Windows version is the Dragonfly Pro, a 3.53-pound magnesium-aluminum laptop using AMD's Ryzen 7736U. (Keeping in mind how AMD names things, that's a Zen 3 processor). It goes up to 32GB of LPDDR5-6400 RAM and either 512GB or 1TB of storage. HP said it collaborated with AMD on its Platform Management Framework (PMF) in a way that ramps the system up for performance when you need it, while trying to reduce fan speed and noise when you don't.
The touchscreen is a 14-inch, 1920 x 1200 Gorilla glass panel and HP is tossing in a 5 megapixel camera with a privacy shutter. The laptop has a haptic trackpad (which I personally prefer in many cases to clicky ones, but that's just me), as well as two USB 4 Type-C ports at 40 Gbps and one USB 3.2 Type-C port at 10GBps.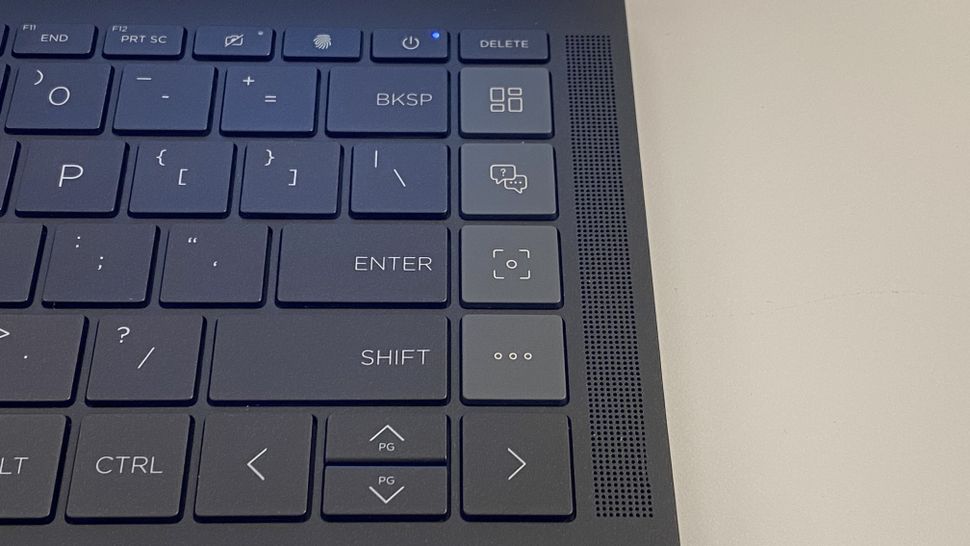 The Windows version has four buttons along the side: one to open HP Control Center, one for camera settings, one for 24/7 customer support trained on the device (it's unclear how long this lasts before it goes subscription) and a button you can customize. Personally, I think an entire customer support button, which you're unlikely to need most of the time, is a bit much. I'd rather have another customizable hotkey.
The Chromebook version is slightly different. It is using a 12th Gen Intel Core i5-1235U (more slightly older silicon), with 16GB of LPDDR5 and a 256GB SSD. But it gets a nicer screen, at 2560 x 1600 resolution, which HP claims can get to 1,200 nits. It also has more ports, with four Thunderbolt 4 ports. It gets an 8MP camera.
The 3.3-pound Chromebook doesn't have the four buttons to the side, but it does have RGB, which is the first time we've seen it on a Chromebook outside gaming. You can't control much - you can get the default four-zone or some solid colors. But I suppose it's at least a hint of personality.

The two systems do have a few things in common. Both have four speakers (two firing up, two firing down), and each comes in both black and white.
Both the Dragonfly Pro and Dragonfly Pro Chromebook are set to ship this spring, with pricing being announced closer to the release date.