Intel is on track to release its codenamed Meteor Lake-S processors for desktops in the coming quarters, but there's a catch. The company will only address entry-level and mainstream systems with these CPUs, whereas performance-demanding PCs will have to use Raptor Lake Refresh or Arrow Lake-S processors.

It looks as though Intel's Meteor Lake-S processors will only exist in Core i3 and Core i5 models rated for 35W and 65W, which is good enough for compact and standard entry-level and mid-range desktops. This information is based on an excerpt from a slide from an alleged Intel presentation published by @SquashBionic, a renowned hardware leaker with frequent access to confidential information.
Meteor Lake-S will share Intel's Socket V1 (for LGA1851 CPUs) and Intel's 800-series chipset platform with Intel's Arrow Lake-S processors. Meanwhile, motherboards aimed at Arrow Lake-S, which will exist in Core i7 and Core i9 variants for gamers and enthusiasts, will feature considerably more advanced voltage regulating modules to offer maximum performance. You can expect it will be priced accordingly.
Intel's Meteor Lake and Arrow Lake processors are set to be the company's initial processors for client applications that rely on disaggregated multi-tile designs. The compute tile for Meteor Lake will be produced on the Intel 4 node that extensively uses extreme ultraviolet (EUV) lithography, while Arrow Lake's compute tile will be made using the company's 2nm-class fabrication process called Intel 20A. Both CPUs will also feature a graphics tile produced by TSMC on its N3E manufacturing technology.

Intel's 20A node is unique as it will incorporate the company's RibbonFET gate-all-around transistors with PowerVia backside power delivery. The RibbonFET and PowerVia technologies promise to offer significant benefits for high-performance client and datacenter CPUs, which explains why Intel wants to use 20A sooner rather than later, given the intense competition against AMD. Meanwhile, it's unclear why Intel does not want to introduce an Intel 4-based part for higher-end desktops.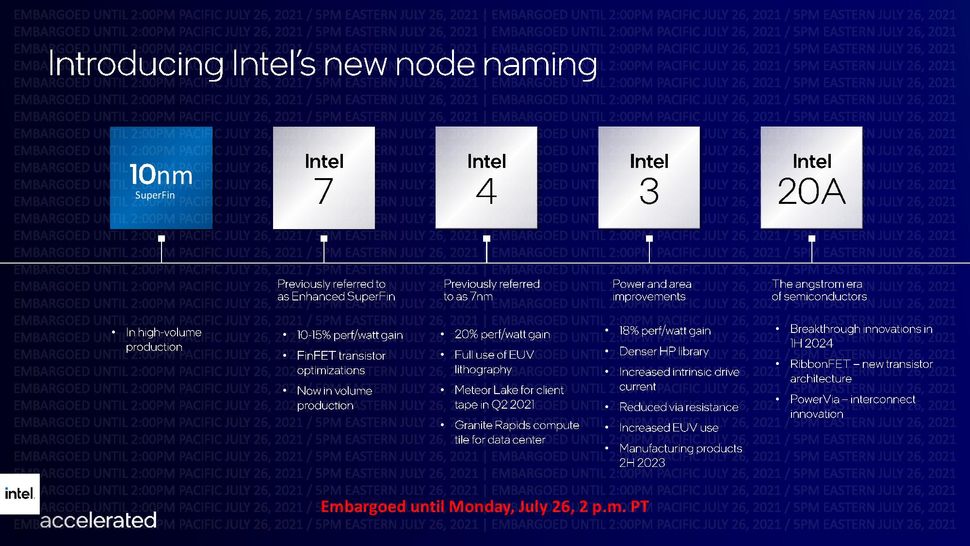 While it is somewhat surprising that Intel does not want to address performance demanding PCs with its first client processors featuring a multi-tile design, this isn't particularly unusual. Intel never offered its 5th Generation Core 'Broadwell-C' processors for the mass desktop market. In fact, the company only released two of such CPUs in socketed LGA1150 form-factor — Core i5-5675C and Core i7-5775C. Those were quickly superseded by the Skylake Core i7-6700K launch just a few months later.

As always with leaks of this nature, bear in mind that the information comes from an unofficial source and not directly from Intel. Plans are also subject to change, so what Intel intends to do now may not be the same what the company actually does in 2024, when Meteor Lake-S for desktops are set to enter the scene.