PCIe 5 NVMe SSDs won't take off until the second half of 2024, predicts Phison CEO K.S. Pua. According to a report published by DigiTimes, Pua admits that the next generation of SSDs will most likely be overshadowed by their predecessors — PCIe 4 SSDs — for the next year or so.
The PCIe 5 standard, introduced for consumers with the launch of Intel's 12th Gen Alder Lake and AMD's Zen 4 platforms, aims to provide a significant boost for bandwidth-hungry components such as graphics cards and storage devices. We've seen the best PCIe 4 SSD drives, which are capable of 7GB/s transfers, totally eclipsed by the first commercial PCIe 5 samples — the Sabrent Rocket X5 is touted to achieve 14GB/s.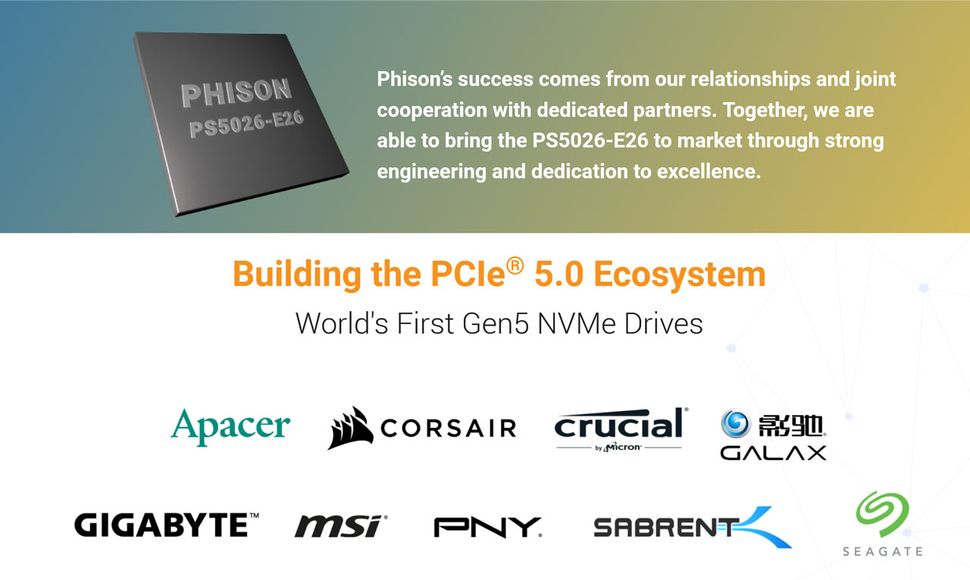 As the newest PCIe generation devices appear to be living up to the promise of doubled bandwidth/transfer speeds (when using a capable controller and NAND Flash combo) you might wonder why modern PC platform upgraders aren't swapping in PCIe 5 SSDs as soon as possible.
There are several possible reasons PCIe 5 SSDs will remain in the shadow of their predecessors until H2 2024. Recent systems buyers and upgraders will probably stick with the SSDs they got with their builds — PCIe 4, if that was available at the time of the build, or PCIe 3 to preserve budget.
It was only earlier this month that we reported that the first PCIe Gen5 SSDs started hitting shelves. Lack of availability as we near Q2 2023 is going to play a big part in people's options and decisions regarding putting PCIe 5 SSDs in their systems. As with many debut tech products, the new PCIe 5 SSDs are being sold at a premium — and are going quickly. We just checked the stocks of the SSDs we saw listed three weeks ago, and they've been eaten up.
According to DigiTimes, Pua indicated that manufacturing partners have been slow to adopt PCIe 5. Device makers appear to be cautious and slow to deliver this particular upgrade, even in their flagship products. Industry sources speaking to DigiTimes suggest the transition to PCIe 5 has been slower than expected. As no potential reasons were put forward apart from increased costs for newer technology, we guess that wider macroeconomic influences (recession, inflation, etc.) might be affecting the slow adoption rate.
Pua did note a couple of bright spots in PCIe 5 SSD adoption rates, in contrast to the wider market. He indicated there have been green shoots spotted by PC makers targeting eSports and content creation. Perhaps one of those PC makers is MSI, which revamped its gaming laptops with PCIe 5 SSDs at CES 2023 in January.
Pua also said that Phison's PCIe 5 controllers, including the E26, are built using 7nm technology. This means there's room for Phison to refine the manufacturing process and perhaps get the controllers running cooler by the time PCIe 5 goes mainstream.
Upcoming processor launches and platform refreshes should also help spur adoption.