Raspberry Pi 5's Wi-Fi Tested: Up to 3x Faster
The new Pi squeezes more throughput out of Wi-Fi 5.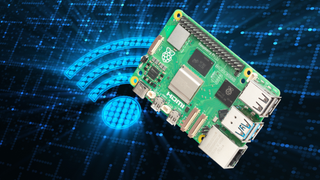 (Image credit: Shutterstock (1420922975))
When we conducted the testing for our Raspberry Pi 5 review, we praised the single-board computer's powerful, 2.4-GHz processor, which we overclocked to 3 GHz, along with its new real-time clock, power button, dual camera ports, faster USB throughput and PCIe 2.0 connector. We didn't expect anything special from the 802.11ac Wi-Fi radio because it's the same Wi-Fi 5 speed as on the Raspberry Pi 4 and it even uses the same Infineon CYW43455 wireless chip.
However, thanks to a new SDIO interface that connects the wireless chip to the SoC and supports DDR50 mode, which enables faster speeds in theory. To find out whether you get more Wi-Fi throughput in practice, I tested both the Raspberry Pi 5 and Raspberry PI 4's upstream and downstream speeds in two different locations in my home, using my router's 5-GHz band. Transfer rates on the Pi 5 were more than three times higher when close to the router, but were actually slower at a distance (at least in my house).
To test throughput, I used iPerf3, a popular network testing benchmark which sends data from the client (the Raspberry Pi) to a server on your LAN. For my server, I used my ThinkPad X1 Carbon laptop, which I connected to my Wi-Fi 6 router via Ethernet. I conducted the tests both right next to the router and in my home office, which is about 25 feet away.
Near the router, the Raspberry PI 5 delivered a sender bitrate of 217.6 Mbps and a receiver bitrate of 216.3 Mbps. That's 341 percent faster than the Pi 4's rates of 63.8 and 63.4 Mbps.
At this distance, the Pi 5 also got a much faster Internet connection as it averaged 165 Mbps down and 212 Mbps up (my home Internet plan is rated for 300 Mbps) on Ookla Speedtest. The Pi 4 got just 79 and 85 Mbps there.
However, in my home office, the Pi 5 had some connectivity issues as it alternated between 4 and 1 bar of connectivity and even dropped off of the 5-GHz band at one point. In this distant location, the Pi 5 averaged 48.7 Mbps as a sender and 47.9 Mbps as a receiver on iPerf3 while the Pi 4 got 76.3 and 75.5 Mbps.
On Speedtest, the two were closer but the Pi 4 was still ahead, getting 80 Mbps down and 85 Mbps up to the Pi 5's 71 and 63 Mbps.
It's really not clear why the Pi 5 would perform worse in my home office. Perhaps it was suffering interference from the other electronics that were near it such as my monitors, but the Raspberry Pi 4 didn't have the same issues.
For what it's worth, Pi Expert Jeff Geerling found that he got close to double the transfer rate on his Pi 5 as his Pi 4 (207 vs 108 Mbps). I don't know how far away he tested from.
Ethernet Connectivity
To find out if there's a difference in wired speeds, I tested both Raspberry Pis connected to my router via Ethernet. There was no appreciable difference as both came very close to their the maximum throughput that their Gigabit Ethernet ports allow. On iPerf3, the Pi 5 returned sender and receiver speeds of 932.7 and 931.7 Mbps while the Pi 4 did 939 and 938.3 Mbps.
On Speed Test, both Raspberry Pis got all of the bandwidth my 300 Mbps Internet connection can give. The Pi 5 had downstream and upstream rates of 300 and 339 Mbps while the Pi 4 offered 293 and 337 Mbps.
Overall, it's clear that the Pi 5 allows for faster wireless networking connections over 802.11ac (aka Wi-Fi 5). However, in my testing – and perhaps it's just my environment – connectivity wasn't as strong on the Pi 5 when it was far from the router and surrounded by other electronics.
Join the experts who read Tom's Hardware for the inside track on enthusiast PC tech news — and have for over 25 years. We'll send breaking news and in-depth reviews of CPUs, GPUs, AI, maker hardware and more straight to your inbox.
Avram Piltch is Tom's Hardware's editor-in-chief. When he's not playing with the latest gadgets at work or putting on VR helmets at trade shows, you'll find him rooting his phone, taking apart his PC or coding plugins. With his technical knowledge and passion for testing, Avram developed many real-world benchmarks, including our laptop battery test.