Samsung 990 Pro Firmware Update Addresses Failing SSD Health
The update fixes the underlying cause of the rapid health declines, but it's not all good news.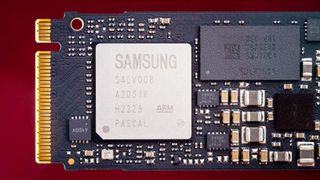 (Image credit: Future)
It looks as though Samsung's SSD nightmare involving its 980 Pro and 990 Pro SSDs may soon be coming to an end -- at least of sorts. Both SSD families have endured reports of rapidly declining health, but the 980 Pro's woes were addressed with the 5B2QGXA7 firmware. Earlier this month, Samsung moderator DavidB acknowledged that engineers were investigating "anomaly inquiries related to the SMART Percentage Used (on Samsung Magician) and/or Health Status (on Crystal Disk Info) of the Samsung SSD 990 Pro."
DavidB added that a new 990 Pro firmware update would arrive later this month to address the SSD health deterioration. Unfortunately, there's good news and bad news with this new update (1B2QJXD7), which was pushed to 990 Pro owners over the weekend via the Samsung Magician utility.
Samsung didn't provide any official documentation with the firmware update, but DavidB explained, "It was found that these anomalies were caused by problems with the firmware of the 990 Pro SSD. Accordingly, a firmware update was released today, February 13, 2023, to address these anomalies."
So, the good news is that the firmware update stops the accelerated decline of 990 Pro health. But the bad news is that it doesn't fix the damage that has already hit 990 Pros. "The S.M.A.R.T. values are not reset to factory defaults after updating the firmware," DavidB added. "The actual S.M.A.R.T. values of each SSD will vary depending on user environment and usage conditions."
Users that applied the 1B2QJXD7 firmware seemingly confirm those comments, with Redditor caixote writing, "The degradation is still the same for me (78%), so I guess this update is a band-aid to not get more degradation than normal." Angry_old_dude hypothesized, "I'm working from the assumption that the accelerated wear is legit. [Assuming] a firmware update can't fix that. All it can do is fix the problem that was causing it. This would also mean that people who have drives with additional wear due to the problem will have to RMA the drive."
If Angry_old_dude is correct, it seems as though 990 Pro owners who have already experienced significant health declines will need to RMA the SSDs to replace them. Since Samsung has officially acknowledged the issue, customers should now have better luck than Neowin editor Robbie Khan had with the RMA process. Khan RMA'd his 990 Pro in January, and it was sent back to him because there was "no defect found."
While it appears that the 1B2QJXD7 firmware is indeed a band-aid at this point, 990 Pro owners who want to apply the update will need to do so using the Samsung Magician utility. However, we caution that while Samsung makes the update process easy for the users, there's still a tiny chance that it could fail, leaving your SSD inoperable.
Join the experts who read Tom's Hardware for the inside track on enthusiast PC tech news — and have for over 25 years. We'll send breaking news and in-depth reviews of CPUs, GPUs, AI, maker hardware and more straight to your inbox.
Brandon Hill is a senior editor at Tom's Hardware. He has written about PC and Mac tech since the late 1990s with bylines at AnandTech, DailyTech, and Hot Hardware. When he is not consuming copious amounts of tech news, he can be found enjoying the NC mountains or the beach with his wife and two sons.