Raspberry Pi 5 4GB Versus 8GB: Pi vs Pi
Do you need a Raspberry Pi 5 8GB?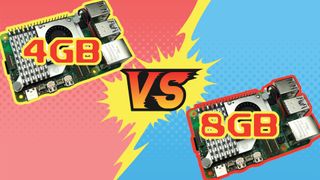 (Image credit: Tom's Hardware)
The recently released Raspberry Pi 5 is the (possibly) final surprise from Raspberry Pi for 2023. Originally Raspberry Pi CEO Eben Upton said that 2023 would be a year to recover the supply chain and build up stocks and that no Raspberry Pi 5 would be released. But in late September the Raspberry Pi 5 was announced and it brought much more power than its predecessor, and for not much more money.
On release there were two models announced. The Raspberry Pi 5 4GB and the flagship 8GB model. There are two more models which will be released in 2024, a 1GB and 2GB which are lower priced, with the 1GB model falling closer to the original $35 price tag.
Of the two current models, do we need the top-tier 8GB model or can we get by with just 4GB? We wanted to know the answer and luckily for us our Raspberry Pi 5 4GB order has just arrived from Pimoroni.
We devised a series of tests to illustrate the pros and cons of both models, before settling on the answer!
To the workbench!
Raspberry Pi 5 Specifications
Swipe to scroll horizontally
| Header Cell - Column 0 | Raspberry Pi 5 |
| --- | --- |
| SoC | BCM2712 SoC Arm Cortex-A76 64-bit CPU running at 2.4 GHz |
| | 800 MHz VideoCore VII GPU, supporting OpenGL ES 3.1, Vulkan 1.2 |
| Display | 2 x 4Kp60 HDMI display output with HDR support |
| RAM | 1,2,4,8GB LPDDR4X-4267 SDRAM |
| Storage | Micro SD (SDR104 compatible) M.2 NVMe SSD via M.2 HAT |
| GPIO | 40 Pin Raspberry Pi HAT Compatible |
| USB | 2 x USB 2 2 x USB 3 (simultaneous 5Gbps) |
| Connectors | 2 × 4-lane MIPI camera/display transceivers PCIe 2.0 x1 interface UART breakout RTC clock power Fan power |
| Networking | Gigabit Ethernet, PoE via PoE+ HAT |
| Wi-Fi / Bluetooth | Dual-band 802.11ac, Bluetooth 5 / BLE |
| Power Button | Soft power button |
| Power | 5V 4A via USB C PoE via Poe+ HAT 5V via GPIO |
| Dimensions | 85 x 56mm |
| MSRP | 1GB TBC 2GB TBC 4GB $55 8GB $75 |
What Applications / Projects Would Benefit From 8GB?
RAM is typically the breathing space for the CPU. The more we have, the better our machine performs. Projects / applications that would benefit from more RAM are of the AI and Machine Learning type. They need plenty of horsepower and temporary storage space in order to make the magic happen.
But the more general projects, such as servers and video benefit from more RAM. Servers can use RAM to cache files and speed up serving content to your users. Video projects can store media files in RAM for fast playback (think digital signage in the subway).
It is always better to have "too much RAM" than not enough. That said, remember to keep your coding neat and tidy and you should get away with it. After all 640KB is enough for anyone, right?
Test 1: Boot Times
Does more RAM make for a faster boot? Absolutely not. Using the same micro SD card between our 4 and 8GB Raspberry Pi 5 we recorded 21.08 seconds for the 4GB and 22.14 seconds for the 8GB.
The margin of error here means that they are effectively the same. The biggest boot-time performance boost would be to use an NVMe SSD. But the M.2 HAT has not yet been released, so the next best option would be a USB 3 to NVMe adapter.
Test 2: OS RAM Use
So how much RAM does the Raspberry Pi 5 and Debian 12 "Bookworm'' use? Well the short answer is not much. Powering up to the desktop we let the Pi settle and then read the memory usage: just 566MB from a clean boot on both boards, spooky!
This means that when a Raspberry Pi 5 1GB is released it can run the OS, but we'd be hesitant to suggest doing any browser based work with a 1GB board. A 2GB Pi 5, yeah that could work. But 4GB is the sweet-spot for cost and RAM.
Test 3: Web Browsers
Web browsers are our window on the world. We use browsers more than any other application so it is important that they are responsive, no matter how many tabs we throw at them.
Raspberry Pi OS "Bookworm" introduces Firefox as an alternative browser and Raspberry Pi Ltd has had a hand in tweaking the browser to run better on its OS. Chromium is still available. We can choose the default browser during setup and we can change this via the Raspberry Pi Configuration tool. Both browsers appear in the Internet menu.
Our first browser based test was simply loading the browser. On the 4GB Raspberry Pi 5 it took 5 seconds to load Chromium and 7.01 seconds to load Firefox. On the Raspberry Pi 5 8GB Chromium came in at 5.09 seconds and Firefox, 7.13 seconds. From a user perception these times are identical and that means that app loading times and browsers are unaffected between 4 and 8GB of RAM. The same would not be true for 1GB models. Anecdotally, we have a Raspberry Pi 4 1GB and in the past we tried to open a browser to look up some code / pinout and yeah it worked, but it was an exercise in patience.
Can we browse the web with Firefox and Chromium on the Raspberry Pi 5 4 and 8GB? Yes we can! If you want to do some browsing, shopping, content creation in the browser then you are good to go. A few tabs open will not hinder the performance of either Pi. But how many tabs can we have open at once? We tried five tabs in both browsers. Each test was performed after a clean boot and the cache for each browser was cleared. The test was automated by using a Bash script that would open all of the tabs at once using a for loop.
The first bulk test was five tabs in each browser and it was a pretty level affair. On the 4GB Pi 5, Chromium consumed 1683MB and Firefox 1667MB. So this time Firefox won, but only by a few Megabytes. Both values are well under the 4GB provided by the board, and of course it includes the RAM used by the OS. The 8GB Pi 5 came in at 1557MB for Chromium and 1830MB for Firefox. Interestingly Chromium won on the Pi 5 8GB.
We ran a few more tests with 10, 40 and 50 tabs. Both boards coped with 10 and 40 tabs, the only exception being Firefox on the 4GB Pi 5 choked on 40 tabs and so we have no data for it.
It seems that if you want more than 40 tabs open, you need more RAM. The 8GB Pi 5 worked in all tests and gave us an indication as to how much RAM was being consumed. For Chromium we used 4394MB of RAM on the Pi 5 8GB, and a whopping 5394MB with Firefox.
The ultimate test came in the form of 50 tabs! Only the 8GB Pi 5 could manage such a feat and with Chromium we saw it devour 4394MB of RAM. Interestingly in the Firefox test it used 5394MB of RAM. Why is this interesting? Well because for 40 tabs it used 5443MB, so more tabs for less RAM? Our best guess is that a page / pages must have failed to load. Needless to say that both of these values are greater than the 4GB present on the Raspberry Pi 5 4GB.
The outcome of these tests is simple. If you really need 50 tabs open in your browser, then buy a Raspberry Pi 5 or just use your desktop. For 99% of users, a Raspberry Pi 5 4GB is plenty for basic tasks and for many maker projects.
Another test is the Browserbench Speedometer which measures the JavaScript performance of a browser in runs per minute. The surprising winner here was the Raspberry Pi 4GB running Chromium. It came in at 66.4 runs per minute. The worst was the Raspberry Pi 4 8GB running Firefox, managing just 54.8 runs per minute. To put this into perspective we ran the same test on our Ryzen 5 5600X system with 32GB of DDR4 3600 MHz RAM and scored 115. Our desktop consumes much more power than a Raspberry Pi 5.
Test 5: File Compression
For this test we used gzip to compress a 1.4GB Gamecube ISO image that was saved to the micro SD card. The test was run from the terminal using the following command.
gzip -k name_of_file.iso 
On the Raspberry Pi 5 4GB the compression took 75 seconds, surprisingly the same compression took 84 seconds on the 8GB. The reason for this difference is unclear but the take-away is that both boards handled the task with little effort.
Test 6: High-End Emulation
Can the Raspberry Pi 5 4GB be used as a retro gaming rig? Yes it can! We tested Nintendo Gamecube emulation via the Dolphin emulator and we found that both the 4 and 8GB models handled The Legend of Zelda: Wind Waker with ease. There were some stutters as new sections loaded in, but on the whole we got a nearly steady 30fps.
RAM usage for emulation is low but not inconsiderable. The Raspberry Pi 5 4GB used 985MB of RAM, and the 8GB 1298MB. A Raspberry Pi 5 with 1GB of RAM would not make a good emulation station. The absolute lowest for Gamecube emulation would be a 2GB model. If your emulation tastes are earlier, say the 8 or 16-bit era, then you can use an older Raspberry Pi. Even the Raspberry Pi 2 / 3 was a decent base for 16-bit emulation.
Conclusion
Unless you are opening multiple tabs in a browser or processing LLMs, generating AI projects or running a departmental server with the Raspberry Pi 5, then the 4GB model is more than enough power. To be frank, we never pushed our Raspberry Pi 4 8GB to use the full 8GB of RAM outside of benchmarking and running an AI model.
For day-to-day tasks, 4GB is plenty for most makers. The extra $20 for the Raspberry Pi 5 8GB is worth your money should this be your only Raspberry Pi. But if not, then you can save some dollars and opt for the 4GB.
We'll repeat this test with the Raspberry Pi 5 1GB and 2GB when they arrive on the market.
Join the experts who read Tom's Hardware for the inside track on enthusiast PC tech news — and have for over 25 years. We'll send breaking news and in-depth reviews of CPUs, GPUs, AI, maker hardware and more straight to your inbox.
Les Pounder is an associate editor at Tom's Hardware. He is a creative technologist and for seven years has created projects to educate and inspire minds both young and old. He has worked with the Raspberry Pi Foundation to write and deliver their teacher training program "Picademy".