Redragon keyboards are some of the best for the budget oriented consumer, often punching far above their price points when it comes to features. Designed to compete with the best budget mechanical keyboards, the tenkeyless Redragon K596 offers a vast feature set, including hot-swappable keys, companion software and both wired and wireless configurations. If you're in the market for a budget TKL gaming keyboard with RGB lighting, this $75 keyboard is a great option.
Redragon Vishnu K596 Specs
Swipe to scroll horizontally
| | |
| --- | --- |
| Switches | Outemu Red RGB mechanical switches |
| Lighting | 18 RGB modes for the main keys, 5 modes of RGB side edge lighting. 16.8 M per-key RGB lighting |
| Wristrest | yes, detachable/magnetic |
| Media Keys | Dedicated volume and media playback controls |
| Connectivity | Wired or 2.4G wireless mode via a type-c cable |
| Cables | 6-foot USB-C to USB-A charging/wired connectivity cable, USB-A dongle |
| Additional Ports | USB-C |
| Battery Life | 10 hours |
| Swappable Keys/Switches | Includes 8 swappable switches (two blue, two red, two brown, and two black) |
| Software | Yes, software-compatible with profiles, programmable RGB, and programmable G keys |
| Dimensions (including wristrest) | 218 (L) x 386 (W) x 42 (H) mm |
| Weight | 1.26 kg / 2.78 lbs. |
Design of Redragon Vishnu K596
The best gaming keyboards provide a design that suits your specific gaming needs. This is an ideal keyboard for FPS, battle royale, and MOBA gaming. It's highly customizable, giving gamers an easy means of programming and swapping keys, plus comes with linear switches for fast activation. It even includes extra switches and swapping tools.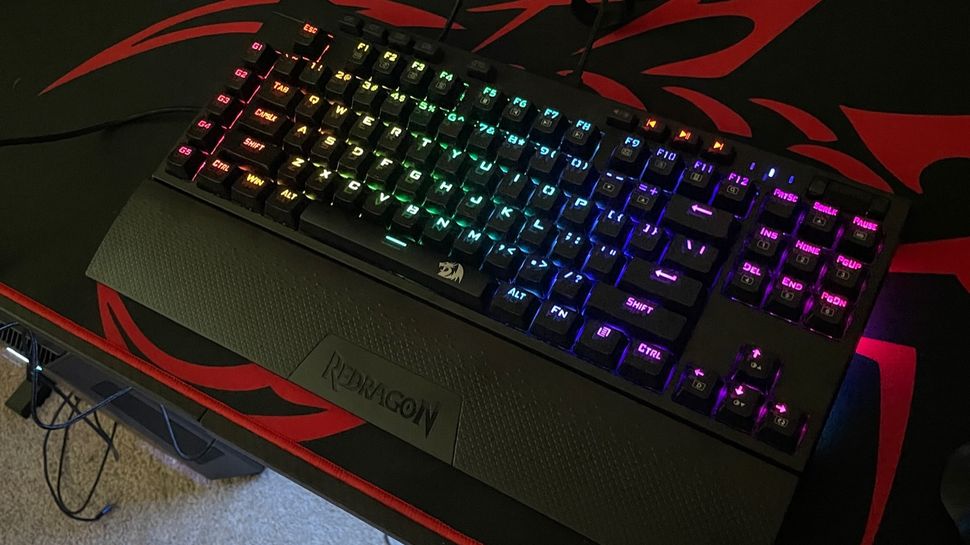 As a TKL (or tenkeyless) mechanical keyboard, the K596 is smaller in size than a full-sized keyboard, and it lacks a numpad on the right-hand side like you'd see on full-sized units. However, Redragon makes up for this with macro keys along the left column of keys and top portion of the case, with the G1 through G5 keys placed directly to the left of the Tab, Caps Lock, Shift, and Ctrl keys and additional macro keys along the top.
Since the G1 through G5 keys are along the side, this ends up moving everything over by one key. If you're accustomed to a full-sized keyboard or any keyboard that doesn't have extra programmable keys along the left side, this layout takes some getting used to if you use your gaming keyboard for typing in addition to gaming. This is a very functional layout for gaming, as you can use a pinky to quickly reach the G keys in the middle of a match, but it doesn't immediately come naturally for typing, especially if you haven't used it before. I typically use a SteelSeries Apex Pro keyboard, and it doesn't have the macro keys along the side, so I find that keyboard a bit easier to transition back and forth between for typing and gaming.
Next to the top row of macro keys, there's also media keys for functions like play, stop, previous and next. This made it easy to navigate YouTube and Twitch content, while also freeing up more of my programmable macro keys for other functions. The keyboard itself is extremely sturdy and well-made, and I could feel its sturdiness when I lifted it from the packaging.
The first thing I noticed when taking the K596 from its packaging was its weight. This is a high-quality unit that weighs more than 2.5 pounds in total. In addition to the keyboard itself and wrist rest, you also get eight replacement switches (two blues, two blacks, two browns and two reds), key removal tools, a USB wireless dongle, and a USB-C charging cable. The K596 provides everything you need to configure it, which is such a nice bonus, especially at this price point. Plus, the additional keys allow you to test out different key types to see if you prefer something more clicky or tactile.
The mechanical K596 comes with a wrist rest that attaches and detaches magnetically, and it feels fulfilling to remove and add the plastic wrist rest given the keyboard sort of grabs the magnets from the wrist rest from a short distance and attaches it from a few millimeters away. The wrist rest is plastic, yet still comfortable. It has texturing to provide a non-slip surface, but it's not sharp or harsh on the skin. I typically don't use keyboard wrist rests, but I did use this one because it greatly improved the keyboard's feel.
The K596 has rubber feet on the bottom, as well as two extenders to allow for an angled position, but the keyboard only allows for a single height adjustment and it doesn't adjust to different heights. The extenders also have rubber on the bottom though, so the keyboard won't slide around your desk at all.
The dongle stores conveniently in a secure spot on the bottom of the keyboard, so you can use it in wired mode and store the wireless dongle without losing it. It also charges via an included USB-C cable, making it possible for you to use the keyboard while it's charging or keep it plugged in at all times if that's what you prefer. The USB-C cable plugs into the back of the keyboard, and doesn't interfere with use.
Typing Experience on Redragon Vishnu K596
You can operate the K596 in wired or wireless mode. It has 2.4 GHz wireless connectivity, as well as a USB-C to USB-A cable. It's instantly responsive in either mode, and it feels natural overall. I could surf the web, write up a document, or send an email without being conscious of my keyboard. However, I did type slower on this keyboard, averaging about 75 WPM compared to my typical 80.
The Redragon Vishnu K596 is equipped with Outemu Red Linear switches, which are exceptional for the most part. These switches are not too loud, so the person on the other end of your headset won't hear the noise of the keys over your speech.
They give off a slight echo sound, but they don't clank. The keys are soft to the press, and I don't feel like I have to press overly hard on a key to get a response. I don't feel any sort of finger strain, but I still feel a satisfying press on each key. Outemu Red linear switches have 40g of operating force, a 2.0mm actuation force, 4.0mm total travel distance and a 50 million-keystroke lifespan.
The font on each PBT key cover is somewhat large, which I appreciated. This makes the lighting come through more vividly, while also making the keys easily visible from a distance. If you don't like the font, however, you can always swap the key caps. You can also swap the switches.
Gaming Experience on Redragon Vishnu K596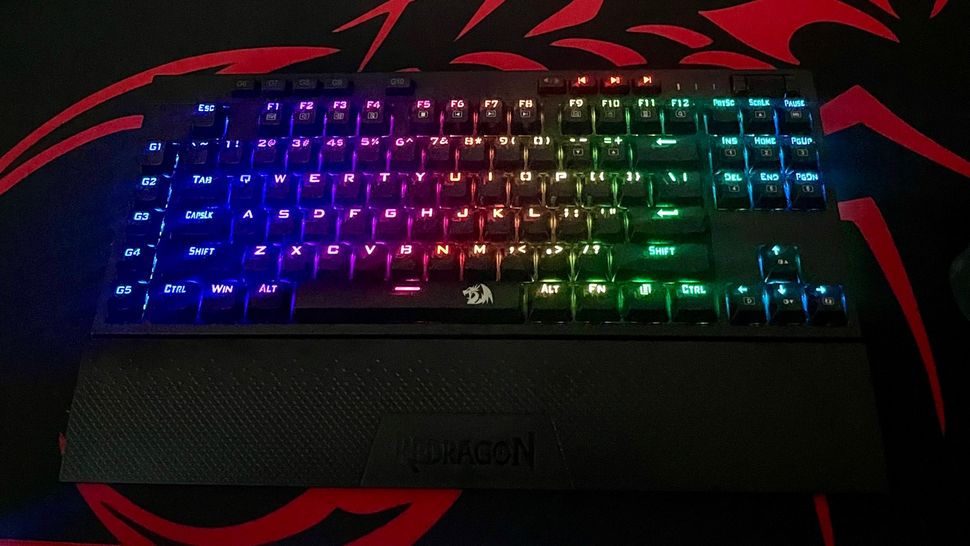 I mainly played League of Legends and Elden Ring on this keyboard, and I didn't experience any sort of lag at all. The 2.4 GHz connection on the K596 is far superior to that of most Bluetooth keyboards, and the advertised range of 10 meters is accurate according to my testing. It shortens to around half of that range if you have obstructions like thick walls in the way, but you can get 10 meters of range with a clear path. When I'm sitting near my rig in wireless mode, my keystrokes instantly show up on the screen.
While playing, I like to go back and forth between gaming and watching Twitch and YouTube videos, and I appreciate how this keyboard has buttons for functions like play, skip and previous track. It also has a volume wheel, as well as programmable keys for basic functions like copy and paste. You can also program other functions on the G keys. I could truly customize each G key to fit my needs.
I found the linear red switches extremely comfortable overall, but I don't feel like they improved my gameplay from an individual match standpoint. I do, however, feel like these switches allowed me to play for longer sessions without strain, allowing me to play at my best for longer time periods.
According to the manufacturer, the 2,400 mAh battery lasts 10 hours. I found a large variance in the battery life depending on the RGB lighting mode. Without RGB lighting, I could get a full 10 hours or longer, but with one of the more colorful lighting modes, the battery life shortened to as little as three hours.
Software for Redragon Vishnu K596
You have to be in wired mode to use the Vishnu's software, but the companion software for the K596 is useful at least to some degree. It has three main sections: performance, lighting and assignment.
However, the software is a bit finicky, and it's not as intuitive as other applications I've used. Fortunately, you can also make customizations on the keyboard itself using the instruction manual, but I prefer to just use the application.
Within the software, you can create different game profiles, program your macro keys, and switch between about 18 different lighting modes (not including the separate side lighting modes). I tried all of the different lighting modes, and I settled on the drip mode. Drip mode keeps the RGB lighting off until you press a key, at which point light ripples out from that key.
You can also take advantage of other lighting modes like meteor, which is a rainbow-type effect that gives each row a different color; or digital age, which is more of a sporadic rainbow effect across the keyboard. You can set solid colors, or make the keyboard lighting look just about any way you want it to look. It has per-key lighting, but you can only set it to a few different color options instead of the entire color spectrum. The K596 has side lighting too, which you can program separately. Some whole-keyboard modes also incorporate the side lighting into the effect.
You can record and assign macros, but only for the 10 G keys. Under performance, you have a few options for things like adjusting the keystroke repeat delay. But, the performance tab is pretty limited. The software isn't comprehensive, it places a heavy focus on lighting and the installation process doesn't really give you much in the way of options, but I was glad to have the software.
My biggest complaint is that I had to download different software for another Redragon mouse I was testing at the same time (the Redragon M991 mouse). It would have been nice to have all of my Redragon devices on the same software application. Other brands like Logitech and SteelSeries use a Hub software application, where you can control most of your peripherals from one application. I would have preferred a hub over individual product apps.
Bottom Line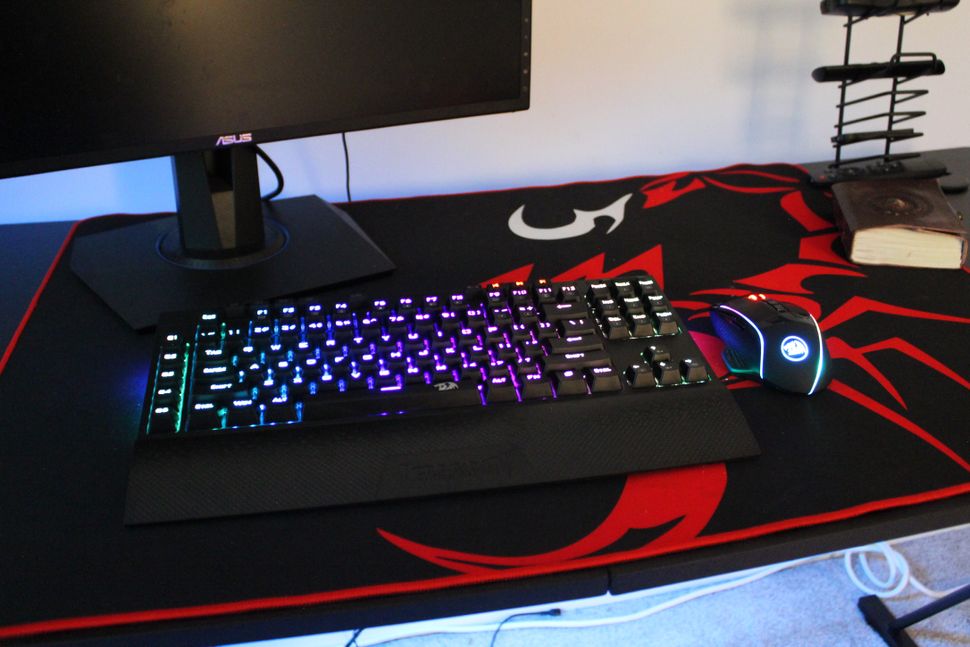 A feature-rich RGB gaming keyboard you can buy for under $75, the Redragon Vishnu K596 is one of the better budget gaming keyboards available for the budget conscious. But this K596 is far better for gaming than it is for productivity. If you want something more versatile and high-end that's great for typing but will also work for gaming, check out the Cooler Master CK552, which tops our list of the best budget mechanical keyboards and comes with a variety of Gateron switches.