When it comes to the best portable monitors, they all share a very similar form-factor. You typically get a 12- to 17-inch display with an integrated stand to keep it propped up on a desk/flat surface. Every portable monitor that we've reviewed up until this point has adhered to that formula.
However, the SideTrak Swivel eschews norms for this category by opting for a semi-permanent attachment to the back of your laptop's display lid. This attachment point has advantages and disadvantages, which I'll discuss in depth later in this review.
If you're looking for a portable monitor to expand your workspace without a desk or flat surface nearby, the SideTrak swivel is an intriguing option in this category. However, if you want exacting control over the display's settings or are expecting excellent image quality, you'll need to look elsewhere.
SideTrak Swivel Portable Monitor Specifications
Swipe to scroll horizontally
| | |
| --- | --- |
| Panel Type / Backlight | IPS / WLED |
| Screen Size / Aspect Ratio | 12.5 inches / 16:9 |
| Max Resolution & Refresh Rate | 1920 x 1080 @ 60Hz |
| Max Brightness | 300 nits |
| Contrast Ratio | 600:01:00 |
| Screen Coating | Matte/Anti-Reflective |
| Ports | 1x Mini-HDMI 2.0, 1x USB-C |
| | (DisplayPort 1.2 Alt Mode) |
| Speakers | No |
| Dimensions | 12 x 7.4 x 0.7 inches |
| Weight | 1.3 pounds |
Design of the SideTrak Swivel Portable Monitor
Our SideTrak Swivel review unit has a 12.5-inch display, but SideTrak also makes versions in 13.3-inch and 14-inch sizes to match your laptop model. The bezels along the side and top measure 0.25 inches thick, while the bottom bezel or "chin" measures just under 1 inch thick. The whole unit is incredibly light, weighing just 1.3 pounds. The lightweight design is imperative given that most people will use the Swivel hanging off the back of their laptop's display, and you don't want to add so much extra weight that your laptop becomes unstable.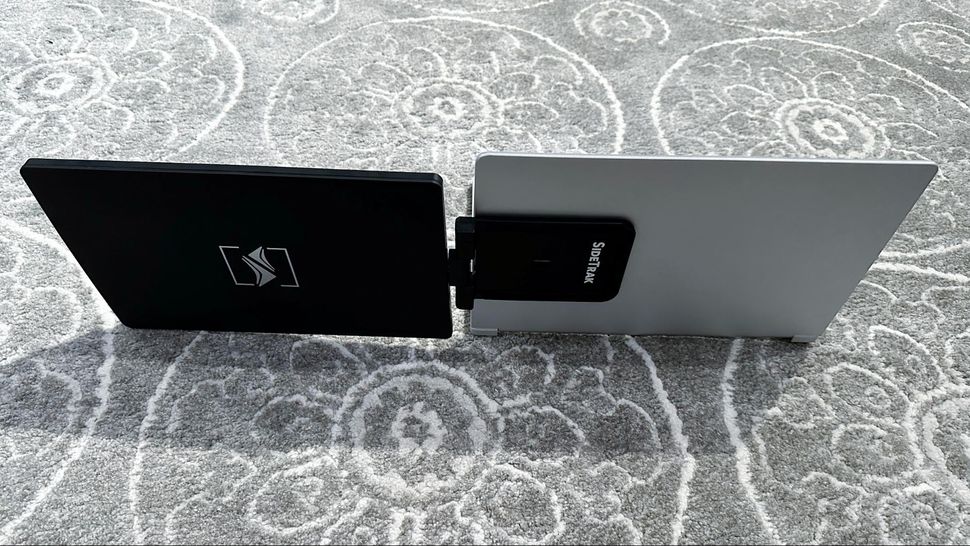 However, the lightweight design also means that the Swivel feels very cheap. The easily-scratched plastics used are low quality, with the top and bottom halves glued together somewhat haphazardly. Not only were the seams between the two halves uneven on my unit, but there were plenty of flashing/mold lines along the plastic, which were very sharp (one edge was sharp enough to slice my finger).
There are only two buttons on the Swivel, and both are unmarked. They adjust the brightness up or down. You'll also find just two ports on the Swivel: a micro HDMI port and a USB-C port with DisplayPort Alt-Mode support. SideTrak includes a USB-C to USB-C cable (with an attached USB-C to USB-A adapter if needed) for supporting a single video/power connection to a supported laptop and a micro HDMI to HDMI cable.
We should also take this time to mention that the Swivel doesn't have a traditional on-screen display (OSD). There is only one setting to adjust: brightness. There is only one display mode and no other configurable options. So good luck getting the colors of the display to the panel on your laptop.
Attaching the SideTrak Swivel to a Laptop
The main appeal of the SideTrak Swivel is its ability to attach directly to your laptop. Securing the Swivel takes a bit of preparation, starting with a screen attachment guide that SideTrak includes in the box. You use the paper guide as a template to attach a metal plate to the back of your laptop's display in either a right- or left-handed configuration. The metal plate is affixed to the back of your display using double-sided tape. Once in place, SideTrak says this is a semi-permanent mount, which you'll have to remove using an included plastic scraper tool. SideTrak includes two metal plates if you wish to use the Swivel with a second laptop.
Once the metal plate is affixed, the Swivel's arm attaches via four magnets. The magnets provide a strong connection that isn't easily broken. It also allows the display to slide in and out from the side of your laptop. As it name implies, the Swivel also swivels 360 degrees and rotates 270 degrees. There's a built-in gyroscope to automatically orient the display, depending on whether it is mounted on your laptop's left or right side.
However, the build quality issues again come into play here with the swivel mechanism. The attachment point where the display meets and rotates around the arm is shoddily-built, with loose tolerances. As a result, the display sags along the rotation point instead of sticking straight out. So instead of your Swivel sitting perfectly square, it leans down at an angle of 2 to 3 degrees, which is off-putting to the eye.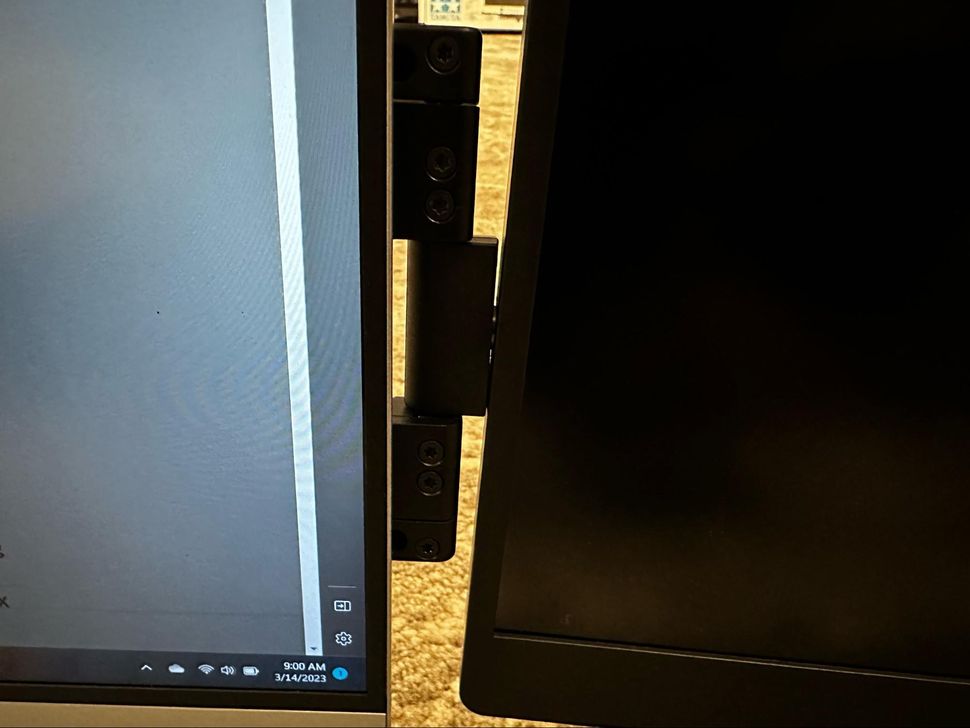 Another issue is that even though the Swivel only weighs a little over one pound, the uneven weight balance caused my Motile laptop to lean to the right in use. My Motile M141 weighs 2.55 pounds, which likely exacerbates the problem, but a heavier laptop would likely not experience the leaning issue. However, there's no getting around the drooping swivel mechanism.
When not in use, the Swivel slides and folds neatly against the back of your laptop's display. The strong magnets ensure that it doesn't detach during transport.
You can also use the Swivel like a traditional portable monitor. The attachment "arm" of the Swivel can serve as a stand, which is adjustable for setting your angle. The arm also serves as a stand to position the Swivel in portrait mode.
Image Quality of the SideTrak Swivel
Compared to other portable monitors geared towards productivity, the SideTrak Swivel ranks near the back of the pack in our display tests, with one exception. Its brightness rating was above average, and ever-so-slightly bested its manufacturer spec at 301.4 nits.
However, coverage of the sRGB color gamut was measured at 72.4 percent, while DCI-P3 came in at just 51.3 percent. Both results are among the lowest we've ever recorded on a portable monitor, and the real-world results were mediocre, as we'd expect given these numbers.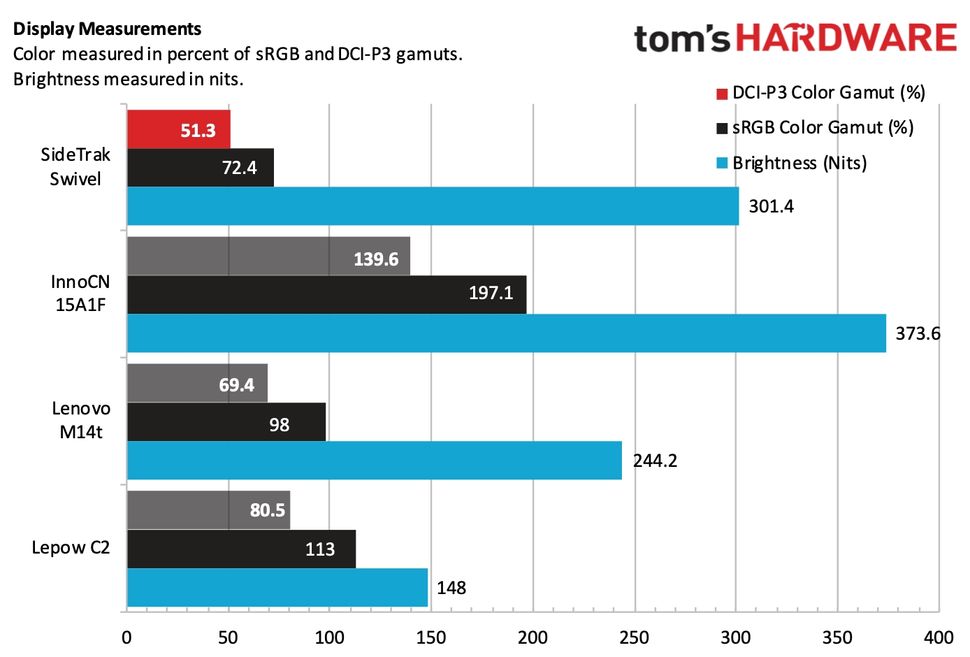 While brightness was a definite high point, the colors were muted. For example, colors that should have been clearly red skewed more toward an orangish red when editing photos in Pixelmator Pro. This also threw off content that I watched on the display, including The Mandalorian (Season 3: Episode 2). Further compounding matters, the lack of an OSD means there's no way to adjust color and picture settings for the Swivel. What you see is what you get, which, unfortunately, in this case, is not ideal.
My review sample also had a hotspot in the lower center portion of the display that shows up as a cluster of brightened pixels about the size of my pinky nail.
Bottom Line
The concept of the Sidetrak Swivel is intriguing, but its implementation, unfortunately, misses the mark on several fronts. First and foremost: The build quality of the Swivel is poor, with some missteps leading to an impact on functionality. It feels so thin, hollow and fragile that I question how long it would last being thrown around in a laptop bag on various excursions before cracking.
The hinge that allows the screen to rotate and swivel is also a weak point, literally. Since the hinge isn't stiff enough, it allows the screen to sag, making for a viewing experience that isn't level.
There's no OSD for adjusting color and picture settings, which limits the ability to dial in the image to your tastes. We often take OSDs for granted when it comes to monitors, so the lack of anything other than brightness control is disappointing.
And then there's the price. $329 is a lot to ask for a portable monitor, especially given that we've seen some impressive OLED panels priced at around $200 in recent months. We applaud SideTrak for trying something different with its approach to portable monitors with the Swivel, but there are just too many compromises (and too many better portable displays that cost less) to give it a recommendation.
MORE: Best Portable Monitors
MORE: Best Budget 4K Monitors
MORE: Best Computer Monitors