Best Computer Monitors 2023
Upgrade your setup, and give your eyes a treat, with one of the best computer monitors.
Best Computer Monitors 2023
The list in brief
1. Best Overall
2. For Gaming
3. Best Ultrawide
4. Best Curved
5. For 4K Gaming
6. Best Budget
7. Best Portable
8. Shopping Tips
Working from home has become the new normal for many people, so finding the best computer monitor is more important than ever. After all, you surely want to see the best visual quality from your coworkers' best webcams. And while many PC components are still enduring depressing shortages, performing a screen upgrade is one of the most accessible and impactful changes you can make to your gaming rig.
Below, we list the best computer monitors across various categories, from gaming to budget 4K and HDR.
But before diving into the deep end in a quest for the best computer monitor for you, we'll cover a few basics first.
The Quick List
The Best Computer Monitors You Can Buy Today
Why you can trust Tom's Hardware Our expert reviewers spend hours testing and comparing products and services so you can choose the best for you. Find out more about how we test.
Best Computer Monitor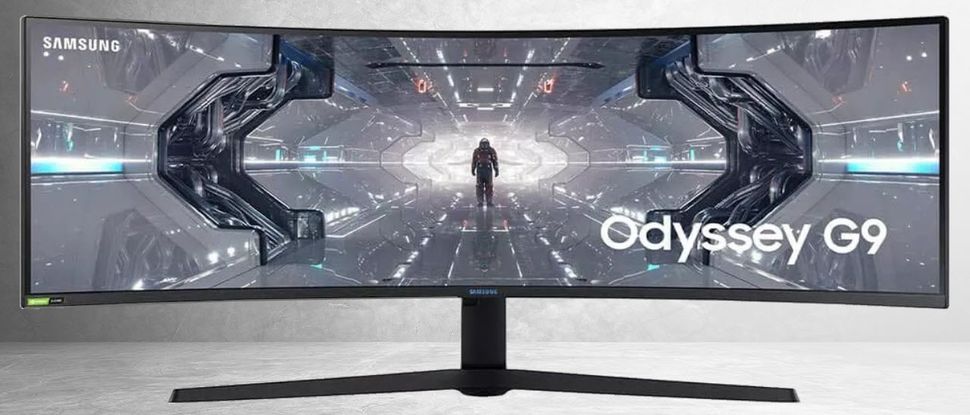 Best Ultrawide Gaming Monitor
Specifications
Screen Size & Aspect Ratio:
49 inches / 32:9
Adaptive-Sync :
G-Sync Compatible, FreeSync
Reasons to buy
+
Accurate color out of the box
+
Tight curve delivers maximum immersion
Reasons to avoid
-
No motion blur reduction
-
No speakers
The Samsung 49-Inch Odyssey G9 is one of the most extreme monitors on this page. Not only is it a massive 49 inches diagonally, but it also carries a 1000R curve, the most dramatic curve offered on a gaming monitor today. From a 2-3-feet distance, this panel will fill your view. It's like having two 27-inch, 1440p monitors in one. You'll need nearly 4 feet of desk width and 17 inches of depth to accommodate it, but if you do, you'll enjoy a wraparound gaming environment without image distortion. Are you looking for a smaller ultrawide? The Acer Predator X38 is also excellent.
Testing of the 49-Inch Odyssey G9 revealed excellent contrast (2,152.9:1 after calibration), which climbed to 58,881.7:1 when it came to HDR testing. This is a bright monitor with a sharp picture and accurate DCI-P3 and sRGB color.
At this price, though, we'd expect a little more. For example, the monitor doesn't offer any blur reduction. However, we typically opt for Adaptive-Sync over motion blur reduction, and motion blur shouldn't be an issue if you have a powerful enough graphics card. You also don't get any speakers or, oddly, a framerate counter. But with solid image quality and a whole lot of speed for an ultrawide, some sacrifices are worth making.
Read: Samsung 49-Inch Odyssey G9 Review
Best Computer Monitor for Gaming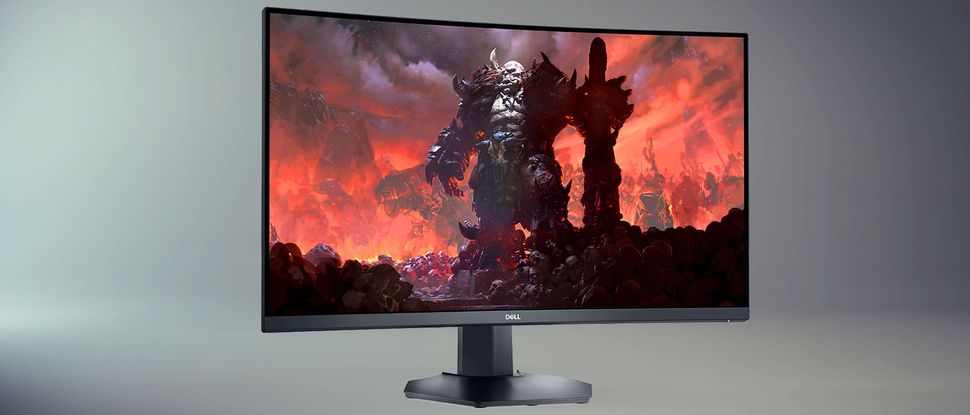 Best Gaming Monitor
Specifications
Screen Size & Aspect Ratio:
32 inches, 16:9
Resolution:
2560 x 1440 @ 165 Hz
Adaptive-Sync:
FreeSync Premium Pro
Reasons to buy
+
Sharp image with vivid and accurate color
+
Premium level contrast
+
Solid video processing
+
Excellent build quality
The Dell S3222DGM is the best gaming monitor for many gamers. This follow-up to the highly-rated S3220DGF boasts a 32-inch VA panel, QHD resolution and 165 Hz refresh rate with Adaptive-Sync support. Other perks in its favor are 85 percent coverage of DCI-P3 and a display curve with an 1800mm radius.
However, Dell really knocks it out of the park with the S3222DGM's contrast ratio. VA panels are known for their excellent contrast, but the S3222DGM is rated at an impressive 3,000:1, easily blowing away IPS competitors. But our sample managed to better that figure by a third, coming in at 4,000:1 in instrumented tests.
This 32-inch monitor offers plenty of vertical screen real estate without the need for scrolling and 1440p resolution, the current sweet spot between image quality and gaming performance. And while the S3222DGM is targeted primarily at gamers, we found that it is also great for general productivity and anything in between.
While the S3222DGM lacks HDR support, its excellent contrast doesn't detract from that missing "bullet point" and its overall performance is hard to beat at this price point. Throw in Dell's usual solid build quality, and this represents a great monitor for enthusiasts looking to build out a mid to high-budget gaming PC.
More: Dell S3222DGM review
Best Ultrawide Computer Monitor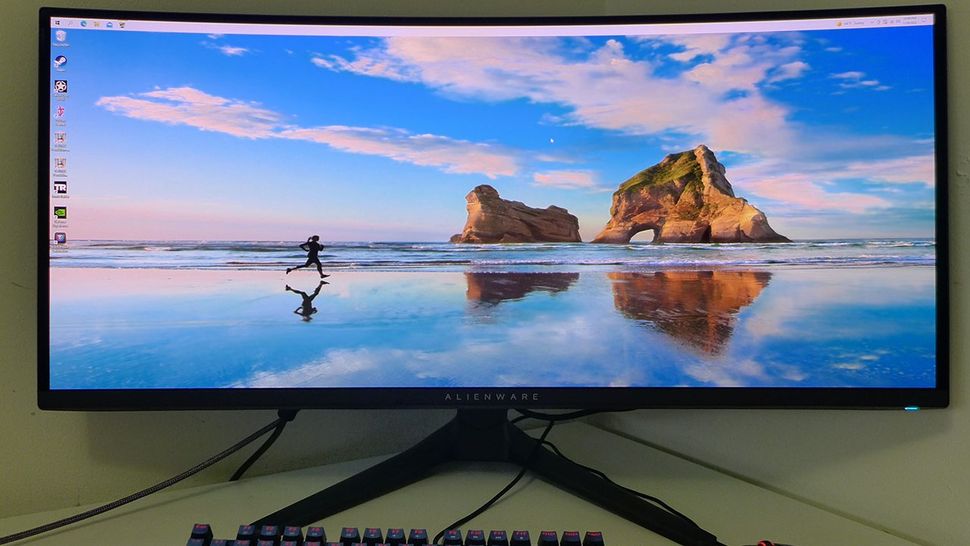 Best Overall Ultrawide Gaming Monitor
Specifications
Screen Size & Aspect Ratio:
34 inches / 21:9
Response Time (GTG):
0.5ms
Adaptive-Sync:
FreeSync & G-Sync Compatible
Reasons to buy
+
Stunning SDR and HDR images
+
Deep contrast and color saturation
+
Large color gamut
+
Super smooth motion processing
+
No need for calibration
+
Premium styling and build quality
Desktop-class OLEDs used to be a rarity in the gaming monitor segment, but over the years, prices have come down, and more entries have entered the fray. The latest comes to us from Alienware, and it's the jaw-dropping AW3423DFW.
This is a 34-inch ultra-wide monitor with a 1800R curve and a resolution of 3440 x 1440. However, the most important spec is its use of a Quantum Dot OLED (QD-OLED) panel, which offers an extremely wide color gamut and the blackest blacks you'll find in a gaming monitor.
The QD-OLED "heart" of the AW3423DFW gives it unmatched contrast and excellent color saturation and we felt no need to calibrate the panel further out of the box. Throw in premium build quality – as we expect from Alienware – and top-notch video processing and the AW3423DFW hit all the high notes without any demerits worth mentioning for enthusiast gamers.
If you can get past the $1,100 price of entry, the AW3423DFW would make a perfect companion for Nvidia's newest graphics cards, like the GeForce RTX 4090 and RTX 4080.
Read: Alienware AW3423DW Gaming Monitor Review
Best Curved Computer Monitor
Best Curved Gaming Monitor
Specifications
Screen Size & Aspect Ratio:
32 inches / 16:9
Adaptive-Sync :
G-Sync Compatible, FreeSync
Reasons to buy
+
Stunning SDR and HDR images
+
Color accurate out of the box
+
Next-level gaming performance
+
Smooth motion processing and low input lag
Reasons to avoid
-
Color gamut volume is just average
It's hard to be all things to all people, but the Samsung Odyssey Neo G8 tries its best. It uses a 32-inch VA panel that combines Mini LED lighting (1,196 dimming zones) and a Quantum Dot film to deliver greater contrast than what's available on traditional VA monitors (25,000:1 in our testing compared to 3,000:1 typically found in VA panels).
Samsung also infused the Odyssey Neo G8 with a tight 1000R curve and a fast 240Hz refresh, which is a rarity at this 4K (3840 x 2160) resolution. Whether looking at SDR or HDR content, the Odyssey Neo G8 impresses with accurate color, and overall gaming performance is excellent.
While we would have liked a bit more color volume from the Odyssey Neo G8, it provides a lot of bang for the buck at its $1,499 MSRP. However, the monitor is often on sale, taking its price below $1,200.
Read: Samsung Odyssey Neo G8 Review
Best Budget Computer Monitor for 4K Gaming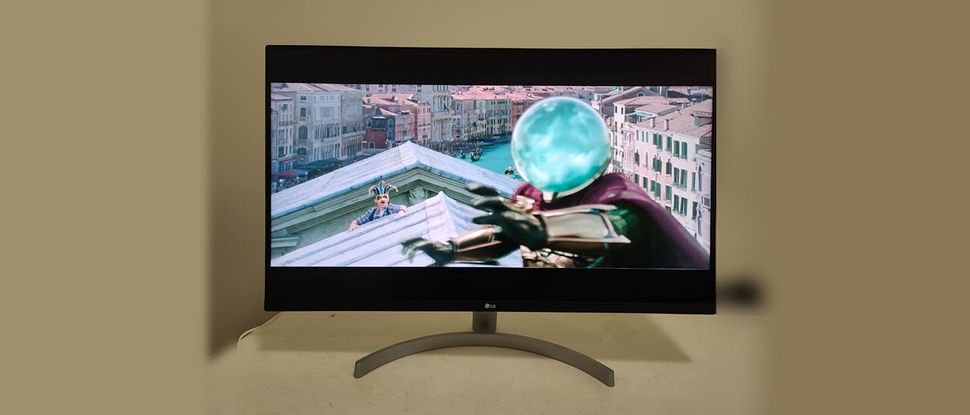 Best Budget Computer Monitor for 4K Gaming
Specifications
Screen Size & Aspect Ratio:
31.5 inches / 16:9
Ports:
2x HDMI 2.0, 1x DisplayPort 1.4, 1x 3.5mm
Adaptive-Sync:
AMD FreeSync
Reasons to buy
+
Decent build quality
+
Good contrast
Reasons to avoid
-
No portrait mode or adjustable height
-
HDR is lacking
If the best budget 4K monitor for you is in the 32-inch range, check out the LG 32UN500-W Contrast is a top consideration for image quality, and the 32UN500-W's VA panel didn't disappoint in our benchmarks, hitting 2,353.9:1 out of the box. In addition, the 32UN500-W's native color gamut is DCI-P3, and it covers that color space accurately without any visible errors.
Again, as a budget 4K monitor, the 32UN500-W isn't winning any HDR prizes. Color lacks the expected pop, and overall the image doesn't provide a noticeable boost over SDR.
But the 32UN500-W also thoughtfully includes two 5W speakers and even AMD FreeSync to fight screen tears during casual gaming. In general, it delivered popping colors with deep blacks, making it a great fit for your favorite 4K movie and the like.
More: LG 32UN500-W review
Best Budget 4K Computer Monitor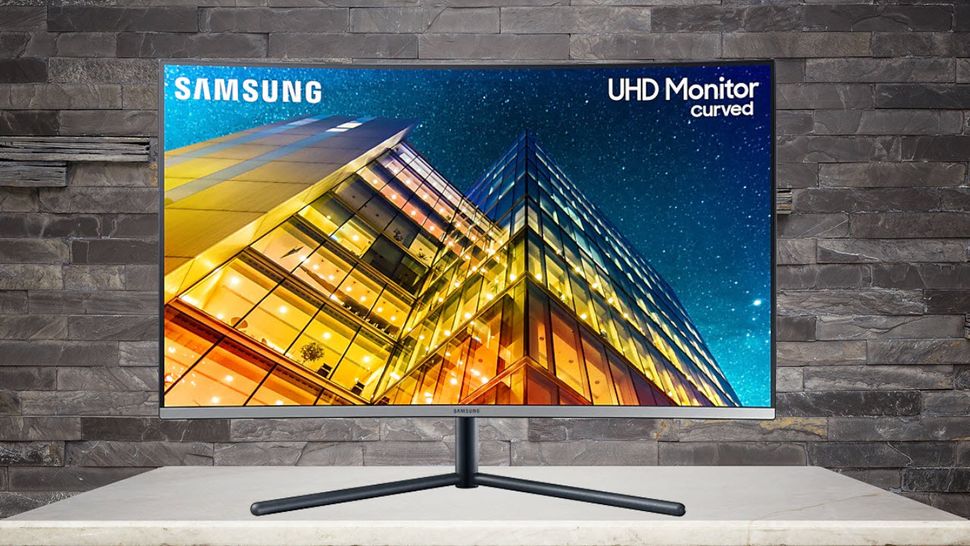 Best Budget 4K Computer Monitor
Specifications
Screen Size / Aspect Ratio:
32 inches / 16:9
Reasons to buy
+
Quality build
+
Effective curvature
Reasons to avoid
-
No USB ports
-
Needs calibration
If you want an affordable screen with many pixels, the Samsung UR59C is the best budget 4K monitor for you. The VA panel delivers contrast (2590.5:1 after calibration), making everything from photos to videos to games look better. This is clearly not a high-end gaming monitor with a 60 Hz refresh rate, 4ms (GTG) response, and no FreeSync or G-Sync. But casual gamers can make do, thanks to the combination of high pixel density and high contrast, keeping games looking realistic.
Curves are generally more effective on ultrawide screens, but the UR59C's 1500R curvature was effective and beneficial for this 32-incher, such as when multitasking with multiple windows. And if you don't mind calibrating, you can get rid of the UR59C pesky color errors, which, unfortunately, were visible out of the box. Our calibration settings reduced the error from 4.3dE to 0.9dE.
Are you interested in more high-res, low-price displays? Check out our Best Budget 4K Monitors round-up.
More: Samsung UR59C review
Best Portable Computer Monitor
Best Portable Gaming Monitor
Specifications
Panel Type / Backlight:
IPS / W-LED, edge array
Screen Size / Aspect Ratio:
17.3 inches / 16:9
Max Resolution & Refresh Rate:
1920x1080 @ 300 Hz
Dimensions:
15.5W x 9.9H inches
Reasons to buy
+
Impressive video processing and game performance
+
Accurate color with calibration
+
Solid build quality
Reasons to avoid
-
No extended color or dynamic contrast for HDR
-
Can be tricky to run at 300 Hz
When you think of displays with a 300Hz refresh rate, you typically picture desktop monitors with a Full HD resolution. However, Nexigo offers something on a smaller scale in the form of the NG17FGQ. This is a 17.3-inch portable monitor that offers a 300Hz refresh rate and connects to a laptop or desktop via HDMI or USB-C (DisplayPort Alt-Mode).
To take advantage of that fast 300Hz refresh rate, you'll need to connect over USB-C with a computer that supports full bandwidth capabilities. If you decide to connect via HDMI, you're limited to 240Hz, which is still heady for a portable monitor.
Gaming performance across the board is excellent with the NG17FGQ, and it can produce some amazing colors once the panel is calibrated. Its overall good build quality also means that it should stand up to the rigors of behind tossed around in a bag while traveling.
Nexigo even includes a handy remote that can be used to navigate the on-screen display (OSD). Toss in stereo speakers to blast some tunes on the go, and the NG17FGQ makes a great travel companion for gamers and productivity-minded folks alike.
More: Nexigo NG17FGQ Review
What to Look for in a Best Monitor
What's your monitor's purpose? If it's gaming, you'll generally want something with a high refresh rate (ideally 100Hz or more), low response time and AMD FreeSync or Nvidia G-Sync for fighting screen tears at low framerates. For general use, look for high contrast, and for creative work prioritize color accuracy.
What resolution do you want? More pixels means a sharper image. No one should be buying anything under 1080p/FHD (1920 x 1080) these days. But if your budget can handle it, 4K is as sharp as it gets at a reasonable price. Many gamers find 1440p/QHD (2560 x 1440) a good compromise between price and high-refresh-rate performance.
Contrast and color. We consider contrast the most important factor in image quality, with 1,000:1 being solid. Color errors are particularly important avoid for content creators, and anything with a Delta E (dE) greater than 3 may show visible errors.
What size do you want? These days, 24-inches is on the small side and 27 inches is mainstream, while 32-inches is a good large size for those on a budget. Anything bigger than 43 inches probably won't fit on a regular desktop. For portable monitors, stay in the 17-inch range or under. Anything bigger isn't really all that portable.
Join the experts who read Tom's Hardware for the inside track on enthusiast PC tech news — and have for over 25 years. We'll send breaking news and in-depth reviews of CPUs, GPUs, AI, maker hardware and more straight to your inbox.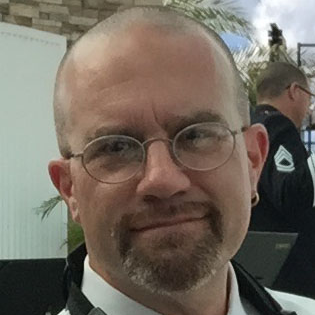 Christian Eberle is a Contributing Editor for Tom's Hardware US. He's a veteran reviewer of A/V equipment, specializing in monitors.