Quick List
. The list in brief
1. Best Overall
2. Best Ultrawide
3. Best Budget
4. Best Bendable
5. Best Mini LED
6. Best Under $500
7. Shopping Tips
Gaming monitors come in various shapes, sizes, resolutions, aspect ratios, and panel types. One category that has seen an explosion in popularity in recent years is the ultrawide category, with the most popular resolution being Wide Quad High-Definition (WQHD). While traditional 16:9 aspect ratio QHD monitors have a 2560 x 1440 resolution, WQHD stretches the resolution horizontally all the way to 3440 x 1440 (21:9 aspect ratio). There are even some superwide monitors available, taking the Double Quad High-Definition (DQHD) moniker, delivering a 5120 x 1440 resolution (32:9 aspect ratio).
Most of these monitors are curved, giving you a more immersive viewing experience for such wide panels, and they use varying technologies ranging from VA to QLED to OLED. You'll find many monitors in the 34-inch size class, although some behemoths can measure up to 49 inches across for those with a lot of desk real estate.
Below is a list of the best ultrawide gaming monitors currently available based on our in-depth testing and reviews. If you're looking for a more traditional aspect ratio, check out our lists of the best gaming monitors and best 4K gaming monitors.
Swipe to scroll horizontally
Popular Ultrawide Monitor Resolutions

| Acronym | Resolution | Aspect Ratio |
| --- | --- | --- |
| WQHD | 3440 x 1440 | 21:9 |
| WQHD+ | 3840 x 1600 | 21:9 |
| DQHD | 5120 x 1440 | 32:9 |
| WUHD | 5120 x 2160 | 21:9 |
| Row 4 - Cell 0 | Row 4 - Cell 1 | Row 4 - Cell 2 |
Quick List
Best Ultrawide Gaming Monitors in 2023
Why you can trust Tom's Hardware Our expert reviewers spend hours testing and comparing products and services so you can choose the best for you. Find out more about how we test.
Best Overall Ultrawide Gaming Monitor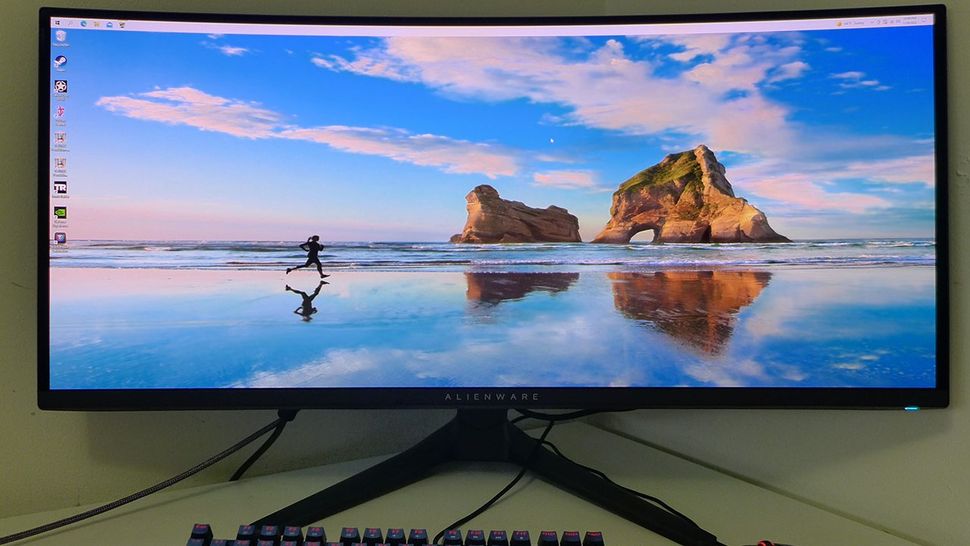 Desktop-class OLEDs used to be a rarity in the gaming monitor segment, but over the years, prices have come down, and more entries have entered the fray. The latest comes to us from Alienware, and it's the jaw-dropping AW3423DFW.
This is a 34-inch ultra-wide monitor with a 1800R curve and a resolution of 3440 x 1440. However, the most important spec is its use of a Quantum Dot OLED (QD-OLED) panel, which offers an extremely wide color gamut and the blackest blacks you'll find in a gaming monitor.
The QD-OLED "heart" of the AW3423DFW gives it unmatched contrast and excellent color saturation and we felt no need to calibrate the panel further out of the box. Throw in premium build quality – as we expect from Alienware – and top-notch video processing and the AW3423DFW hit all the high notes without any demerits worth mentioning for enthusiast gamers.
If you can get past the $1,100 price of entry, the AW3423DFW would make a perfect companion for Nvidia's newest graphics cards, like the GeForce RTX 4090 and RTX 4080.
Read: Alienware AW3423DW Gaming Monitor Review
Best Ultrawide Gaming Monitor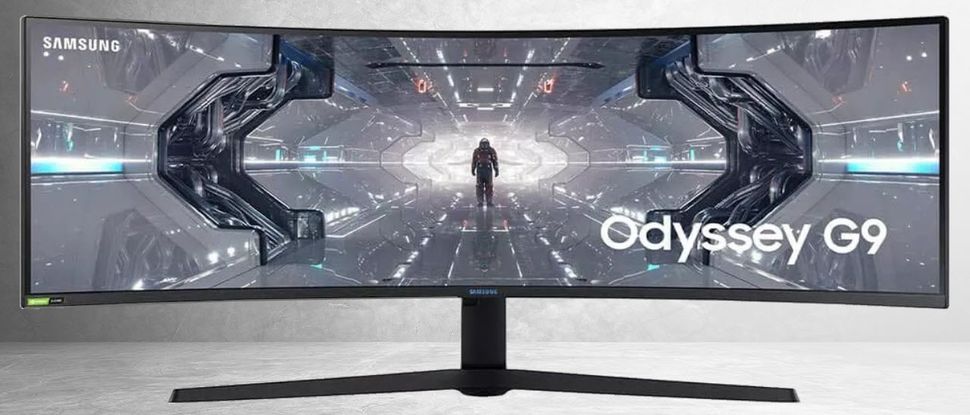 The Samsung 49-Inch Odyssey G9 is one of the most extreme monitors on this page. Not only is it a massive 49 inches diagonally, but it also carries a 1000R curve, the most dramatic curve offered on a gaming monitor today. From a 2-3-feet distance, this panel will fill your view. It's like having two 27-inch, 1440p monitors in one.
You'll need nearly 4 feet of desk width and 17 inches of depth to accommodate it, but if you do, you'll enjoy a wraparound gaming environment without image distortion.
Testing of the 49-Inch Odyssey G9 revealed excellent contrast (2,152.9:1 after calibration), which climbed to 58,881.7:1 when it came to HDR testing. This is a bright monitor with a sharp picture and accurate DCI-P3 and sRGB color.
Unfortunately, the monitor doesn't offer any blur reduction. However, we typically opt for Adaptive-Sync over motion blur reduction, and motion blur shouldn't be an issue if you have a powerful enough graphics card. You also don't get any speakers or, oddly, a framerate counter. But with solid image quality and a whole lot of speed for an ultrawide, some sacrifices are worth making.
Read: Samsung 49-Inch Odyssey G9 Review
Best Budget Ultrawide Gaming Monitor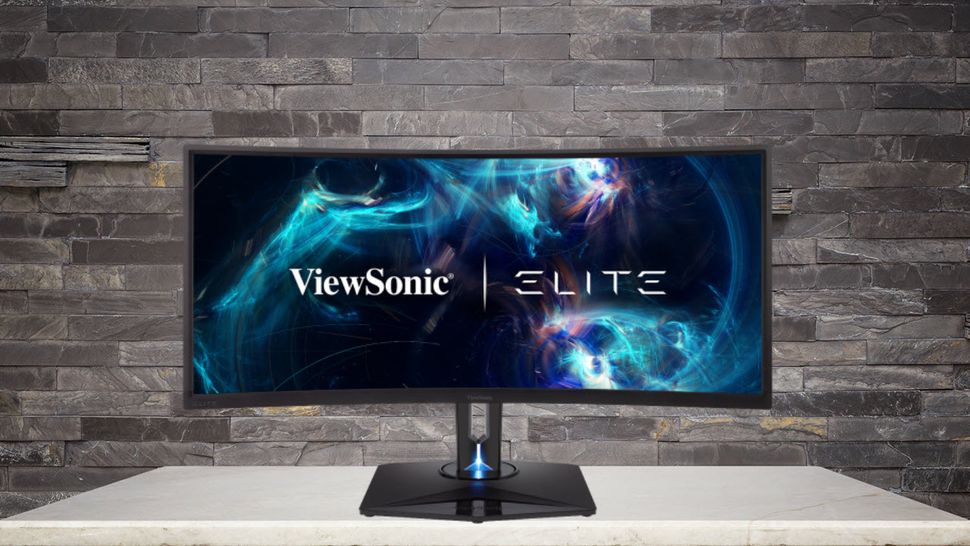 Currently going for $660, the ViewSonic Elite XG350R-C is cheaper than many other 35-inch ultrawides and those with fewer features (there's even RGB lighting on the back of the XG350R-C). But what you'll really love about the XG350R-C is its vivid and accurate color that makes textures pop, skin tones look natural, and everything looks more realistic.
If you want life-changing HDR or to use HDR with Adaptive-Sync, look elsewhere. But in addition to a 21:9 aspect ratio, the Elite XG350R-C employs an 1800mm curve radius that engulfed us with solid image quality, making for an immersive ultrawide experience.
Read: ViewSonic Elite XG350R-C Review
Best Bendable Ultrawide Gaming Monitor
Corsair's 45-inch Xeneon Flex is a premium monitor at a premium price. But its price tag is justified by its unique, bendable OLED panel that allows you to choose between a flat panel or an 800R (maximum) curve. You manually bend the screen using two handles extending from the chassis sides.
The Xeneon Flex exhibits good contrast and color accuracy. You also get a fast, 240 Hz refresh rate and low input lag. Adaptive Sync is standard, with support for AMD FreeSync Premium and Nvidia G-Sync. The wide-screen format with a 3440 x 1440 resolution should appeal to gamers and productivity workers alike.
There's no such thing as a perfect product, and the Xeneon Flex has a couple of dings due to its relatively low pixel density courtesy of the 45-inch panel and slight misses with
HDR color. However, the $1,999 MSRP will likely be the biggest hurdle for many gamers (although we've seen its street price dip below $1,700 recently).
Read: Corsair Xeneon Flex 45WQHD240 Bendable OLED Review
Best Ultrawide Mini LED Gaming Monitor
The ViewSonic Elite XG341C-2K ticks a lot of the right boxes when it comes to gaming monitors. Not only does it have a 3440 x 1440 resolution with a native 165 Hz refresh rate, but it can also be overclocked to 200 Hz. It is both AMD FreeSync (to 165 Hz) and Nvidia G-Sync compliant and has good build quality.
However, the Elite XG341C-2K stands out with its VA panel with Mini LED backlighting. This gives the monitor rich colors out of the box, incredible contrast (which we would expect from a VA panel), and an eye-searing maximum HDR brightness of 1,400 nits. And thanks to Mini LED backlighting, the Elite XG341C-2K has 1,152 dimming zones versus the fewer than 400 that we typically see with a FALD panel.
There are a couple of gotchas, though, regarding the Elite XG341C-2K. For example, brightness controls are locked on when using Active-Sync, and Active-Sync can't be enabled at all when taking advantage of the overclocked 200 Hz refresh rate. However, if those are manageable for your gaming priorities, the Acer Elite XG341C-2K is an excellent choice for ultrawide gaming monitors in the under $1,500 price segment.
Read: ViewSonic Elite XG341C-2K Review
Best Budget Ultrawide Gaming Monitor Under $500
The ASRock PG34WQ15R2B is an ultrawide gaming monitor with excellent fundamentals and a price tag that won't break the bank. Its specs are about what you'd expect for this class, with a 3440 x 1440 resolution, 165 Hz native refresh rate, DisplayHDR 400 support, and a 1500R curve. As expected, you'll find a VA panel that's good for a contrast ratio of 3,000:1.
Regarding color, accuracy is top-notch, and it offers best-in-class HDR image quality. There's also low input lag along with an easy-to-use OSD and control scheme. The monitor even includes a built-in Wi-Fi antenna to extend the range of a PCIe wireless networking card (if your desktop PC is so-equipped).
However, with a street price under $350, ASRock had to make some compromises. For example, there's only one setting for overdrive in the OSD, which didn't result in a difference in the on-screen action. There's also a hint of gamma issues (value of 2.00), resulting in a somewhat hazy image.
But overall, the ASRock PG34WQ15R2B offers a solid package and deserves a spot on our list.
Read: ASRock PG34WQ15R2B Review
Shopping Tips for Gaming Monitors
When trying to buy the best gaming monitor for your PC, consider the following:
G-Sync or FreeSync? G-Sync only works with PCs with Nvidia graphics cards, while FreeSync only works with systems using AMD ones. You can technically run G-Sync on a FreeSync-only monitor, but performance isn't guaranteed. Even though not every gaming monitor is officially G-Sync certified by Nvidia, most of the units that we've tested support it just fine. For a detailed comparison of the two technologies' performance, see our Nvidia G-Sync vs. AMD FreeSync comparison article.


Which resolutions? Some popular resolutions include WQHD (3440 x 1440), DQHD (5120 x 1440), 5K Ultrawide (5120 x 2160), and Super Ultrawide (3840 x 1200). Whereas a traditional 4K (3840 x 2160) monitor would allow you to fit two documents side by side comfortably, a 5120 x 1440 monitor would up that count to three.


What panel tech? For image quality, IPS < VA < OLED. IPS displays have slightly slower response times but better color than VA monitors. The best gaming monitors for contrast are VA, but VA also has slower response times. Displays with OLED panels are expensive but are much more colorful.


Refresh rate? Higher numbers mean smoother images and the ability to see fast-moving targets better in games. Gamers should look for 100 Hz at the bare minimum, along with the lowest available response time. However, some monitors on our list offer even higher refresh rates at up to 240 Hz.
MORE: Best Gaming Monitors
MORE: How We Test PC Monitors
MORE: How to Buy a PC Monitor