Alienware has brought the best display technology to the desktop with its AW3423DW. With infinite contrast and a huge color gamut, it boasts a stunning image with accurate color and no need for calibration. Gaming performance is superb with smooth motion processing and quick response. This monitor truly raises the bar.
Pros
+

+ Stunning SDR and HDR images

+

+ Deep contrast and color saturation

+

+ Large color gamut

+

+ Super smooth motion processing

+

+ No need for calibration

+

+ Premium styling and build quality
Cons
-

Gamma anomaly in SDR mode
Why you can trust Tom's Hardware Our expert reviewers spend hours testing and comparing products and services so you can choose the best for you. Find out more about how we test.
Delve deeply enough into the subject of desktop monitor contrast, and you'll eventually talk about OLED. Organic Light Emitting Diode is the technology that currently holds the black level and contrast crown. It is self-emissive, which means each pixel produces its own light and each one can be individually addressed for both color and brightness. And any pixel can be completely turned off to produce a theoretically infinite black level.
Desktop OLEDs are available, but they are rare and most commonly take the form of small televisions like Aorus' FO48U, a 48-inch gaming monitor that delivered impressive performance and image quality.
Alienware has come up with a true gaming desktop monitor in its AW3423DW, rather than a TV (or a monitor as big as a TV). It's a 34-inch Ultra-Wide panel with 1800R curvature, 3440x1440 pixels, 175 Hz, G-Sync Ultimate, HDR and extended color.
Alienware AW3423DW Specs
Swipe to scroll horizontally
| | |
| --- | --- |
| Panel Type / Backlight | Quantum Dot |
| Row 1 - Cell 0 | Organic Light Emitting Diode |
| Screen Size / Aspect Ratio | 34 inches / 21:9 |
| Row 3 - Cell 0 | Curve Radius: 1800mm |
| Max Resolution & Refresh Rate | 3440x1440 @ 175 Hz |
| Row 5 - Cell 0 | G-Sync Ultimate |
| Row 6 - Cell 0 | FreeSync: 48-175 Hz |
| Native Color Depth & Gamut | 10-bit / DCI-P3 |
| Response Time (GTG) | 0.1ms |
| Brightness (mfr) | 250 nits SDR |
| Row 10 - Cell 0 | 1,000 nits HDR |
| Contrast | Infinite |
| Speakers | None |
| Video Inputs | 1x DisplayPort 1.4 |
| Row 14 - Cell 0 | 2x HDMI 2.0 |
| Audio | 2x 3.5mm output |
| USB 3.2 | 1x up, 4x down |
| Power Consumption | 51w, brightness @ 200 nits |
| Panel Dimensions WxHxD w/base | 32.1 x 16.4-20.7 x 12 inches (815 x 417-526 x 305mm) |
| Panel Thickness | 5.4 inches (137mm) |
| Bezel Width | Top/sides: 0.3 inch (8mm) |
| Row 21 - Cell 0 | Bottom: 0.7 inch (17mm) |
| Weight | 15.3 pounds (6.9kg) |
| Warranty | 3 years |
The AW3423DW is not like a typical OLED television. It is a Quantum Dot OLED which claims a few advantages. Quantum Dots are not new to flat panels. They are a group of coatings that emit particular wavelengths (colors) when excited by white or blue light. While it is possible to have an OLED with red, green and blue subpixels like an LCD, it makes the panel very expensive to produce. So far, RGB OLEDs have only been found in the high-end professional category, where five-figure price tags are common.
By coating white and blue OLED cells with Quantum Dots, it is possible to emit red, green and blue primary colors at high luminance with relatively low energy consumption. And in theory, the panel will be brighter with a long lifespan since it is not being driven hard.
In practice, the AW3423DW meets those criteria. It uses no more wattage than an LCD panel of the same size and spec. It is rated for 1,000 nits peak in HDR mode and that comes with a caveat. I had to measure a tiny window to achieve that number. As the area of white on the screen expands, the peak brightness drops. I'll explain further on page five.
With infinite contrast, the AW3423DW produces a stunning image rich with color. The gamut covers almost 108% of DCI-P3, according to my measurements. Accuracy is assured with a factory calibration detailed in an enclosed data sheet that ships with each monitor. I verified this in my tests as well. This monitor does not require calibration.
The AW3423DW also focuses on gaming performance with Nvidia G-Sync Ultimate certification which means operation from 1-175 Hz with HDR and 10-bit color. AMD FreeSync is supported from 48 to 175 Hz with an exceptionally low 0.1ms claimed panel response time. I measured 5ms in my black-to-white test, which is on par with a 240 Hz LCD monitor. And there is no need for overdrive or blur-reduction features; motion processing is super-smooth and fluid. You also get LED lighting, timers, a frame counter and display alignment marks. It's a premium package with slick styling and impressive build quality for around $1,300. Let's take a look.
Assembly and Accessories
Alienware uses parent company Dell's eco-friendly packaging with its molded cardboard forms rather than crumbly foam to protect the contents. Some flexible foam is used to cushion the panel but almost all the material is recyclable. The panel, base and upright assemble without tools. Bundled cables include two DisplayPort and one each of HDMI and USB. The power supply is internal, so an IEC cord is also in the clamshell-style carton.
Product 360
Image 1 of 4
You'll know the AW3423DW is different from other monitors right away when you see its shiny screen. Though a few LCDs have glossy front layers, most are matte. But all the OLEDs I've seen are very glossy. This improves clarity if you can keep harsh reflections off the screen. You'll want to avoid sunny windows or bright room lighting to obtain the best image.
The beefy white stand makes that easy with its full set of ergonomic adjustments. You get 4.3 inches of height plus 20 degrees swivel and 5/21 degrees tilt. Movements are firm and smooth, befitting a premium display. Build quality is as good as it gets.
Styling is uniquely Alienware with its mix of white and black plastic highlighted by blue trim and LED lighting. The Alienware name is proudly shown front and center above an LED bar that changes color and effect with the power LED at the lower right. An oval surrounds the upright attachment point and an alien head glows ominously in the back. The number 34 is molded into the white plastic to denote the panel size. The bezel is thin at 8mm around the top and sides and 17mm across the bottom.
The side view is chunky, like all curved monitors. Underneath, you'll find a well-stocked input panel with two HDMI 2.0 ports (limited to 100 Hz) and a DisplayPort 1.4, which operates up to 175 Hz with 10-bit color and HDR. USB 3.2 ports are found on the main input panel and under the bezel, two in each location with a single upstream port. You also get two 3.5mm audio jacks for headphones or powered speakers. There are no internal speakers.
OSD Features
Under the center of the AW3423DW is a small joystick that operates all monitor functions except power. That toggle is a glowing button at the lower right, just visible from the front.
Image 1 of 6
Pressing the joystick brings up a quick menu with an info screen that denotes the current picture mode, HDR and G-Sync status, and the Dark Stabilizer setting. The latter is used to increase black levels to make shadow detail more visible. Here's a tip: if you want to remain impressed by the AW3423DW's black levels and image depth, don't use the Dark Stabilizer.
In the Game menu there are 12 picture modes. Standard is the default and works well for gaming and general use. If you're looking for sRGB, it's hidden in the Creator mode. There, you can choose either sRGB or DCI-P3 color and set gamma between 1.8 and 2.6. Other modes use the monitor's full gamut, which is very saturated. Calibration is possible in the Custom Color mode with RGB sliders. You can also operate a six-axis color adjustment in the three Game modes.
Game Enhance Mode includes timers, a frame counter and display alignment marks. There are no aiming points available. You also won't find overdrive or blur-reduction, but you won't miss them either. The AW3423DW has nearly perfect video processing with smoothness normally only found in monitors running above 240 Hz.
When an HDR signal is detected, you get a choice between HDR 400 (400 nits peak) or HDR 1000 with 1000 nits peak output. Both look amazing with deep blacks and tremendous contrast. HDR 1000 drives the panel a bit harder but only the smallest highlights actually hit 1000 nits. After comparing the two modes during gameplay, I picked HDR 1000.
The AlienFX Lighting has many options for effects and colors. You can control the four elements independently or have them work in unison.
The AW3423DW includes panel and pixel refresh functions to prevent OLED burn-in. These operate when the monitor is in standby, or you can start the processes manually.
Alienware AW3423DW Calibration Settings
Initial measurements of the AW3423DW showed no need for calibration, but I found a subtle improvement in quality by using the Custom Color mode and its RGB sliders. This brought the grayscale error to a very low level. Gamma tracks reasonably well except for the darkest steps which are a tad too bright. This helps shadow detail become clearer at the expense of the deepest blacks. Contrast is still infinite, though, as the black level is too low to be measured by any instruments in existence.
If you'd rather use sRGB for SDR content, that gamut is available in the Creator mode. There, you can also set the gamma between 1.8 and 2.6 in 0.2 increments. I ultimately chose this mode as my favorite because of the gamma settings. Use the RGB values below for Custom Color mode. Or use Creator mode, choose your preferred gamut, and set gamma to 2.4 for the best image.
When an HDR10 signal is input, you can choose between 400 and 1000 nits peak output. There are no other image options in HDR mode.
Swipe to scroll horizontally
| | |
| --- | --- |
| Picture Mode | Custom Color |
| Brightness 200 nits | 84 |
| Brightness 120 nits | 48 |
| Brightness 100 nits | 38 |
| Brightness 80 nits | 28 |
| Brightness 50 nits | 14 (min. 23 nits) |
| Contrast | 75 |
| Color Temp User | Red 100, Green 99, Blue 95 |
Gaming & Hands-on
Right away, I had to adjust my internal rating system when using the AW3423DW. I've played and worked on OLED monitors before, but it's been a few months since I had the Aorus FO48U in my studio. A 34-inch ultra-wide is more like a traditional monitor in its size and form factor. Its curve isn't extreme which makes it perfectly suited for any kind of work. 109ppi pixel density ensures sharp detail with no visible jaggies or structure, even in the smallest type or graphic.
It is one of the few monitors that look good running HDR on the Windows desktop. Most HDR screens look a bit flat until you view HDR-specific content, but the AW3423DW does not have this problem. It doesn't go super bright, which is a good thing. Interestingly, the HDR 400 mode looked brighter than the HDR 1000 setting when using Office or Photoshop. When viewing HDR video, I observed the opposite effect. More on that in a minute.
Loading up my go-to copy of Doom Eternal, I was immediately mesmerized. I used its HDR Calibration screen, which shows a good mix of highlight, shadow and color, to help set luminance thresholds and saturation levels. Looking at this test screen, which is static, the HDR 1000 mode offered much better highlight detail and more saturated color without increasing overall brightness. This is a good thing because many 1000-nit monitors become harsh when set to their full output.
The moving picture was simply on another level from any LCD I've seen short of a 240 or 360 Hz monitor. The AW3423DW has no need for overdrive or blur reduction. Motion is perfectly rendered with no blur or ghosting. You can see fine detail in everything, including the fastest moving objects and during quick side-to-side transitions. It was also nice to have a perfect setup without tweaking video processing options, which don't exist on this monitor. It just works out of the box with no fuss.
Exploring the alien worlds showed stunning depth and dimension, with every nook and cranny filled with detail and texture. The Dark Stabilizer function is available in HDR, and it brightens shadow areas without spoiling the overall picture. Color is dripping with vivid and saturated hues. Primary shades are especially prominent with deep reds, lush greens and cool blues.
For SDR content, I turned to Tomb Raider and made an interesting discovery. The gamma anomaly I noted during testing showed itself by making the picture somewhat flat. Areas of moderate darkness were a bit too bright and the contrast I was expecting wasn't there. The fix was to engage Creator mode with its selectable gamut and gamma presets. I could choose between sRGB and DCI-P3 and set gamma between 1.8 and 2.6. 2.4 restored the contrast I was expecting. I recommend using this mode for SDR games. The choice of gamut will be a personal one. Some games benefit from the wide gamut and others will look overblown. Tomb Raider is in the former category, so I left the DCI-P3 option engaged for that one.
After quite a few hours of gameplay, I can say that the AW3423DW performs on par with any 240 Hz monitor I've reviewed and has one of the most beautiful and colorful images I've seen.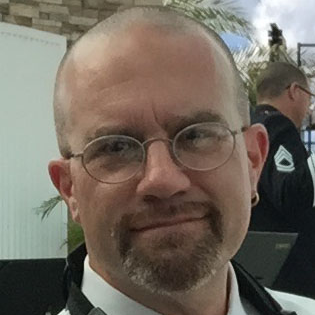 Christian Eberle is a Contributing Editor for Tom's Hardware US. He's a veteran reviewer of A/V equipment, specializing in monitors.