There are mini keyboards, and then there are mini-er keyboards. We usually call these macro pads, because they're usually designed as a cluster of programmable macro keys/buttons.
Nordic Game Supply's mini-keyboard The Shrimp is a little different: it's a 25-key macro pad arranged to look like the left side of a standard keyboard. The company calls it a 20 percent gaming keyboard, and it's designed for gamers who want that mechanical keyboard feel in the keys that really matter — the W, A, S, D keys and the 21 keys that surround them.
The Shrimp's diminutive footprint makes it ultra-portable, so it's perfect for laptop users who don't want to haul an entire mechanical keyboard around with them (though the 60 percent keyboards these days are pretty small — you can find a couple on our list of best gaming keyboards). It comes with a detachable magnetic wrist pad and a detachable USB-C cable, as well as a velvet carrying bag for easy travel. It's available now on Nordic Game Supply's official site for €79.95 (approx. $87), but shipping is limited to a handful of countries at the moment — the company is working with local retailers to make it available elsewhere.
Design of The Shrimp
The Shrimp is a 25-key macro pad with two tactile push dials and one media button, designed to look like the left side of a keyboard. It has ABS keycaps with shine-through primary and secondary legends. It has a USB-C port at the center of its back edge, and four rubberized feet on its underside. It looks and feels extremely well-built and durable — well worth the price if we're going by build quality alone.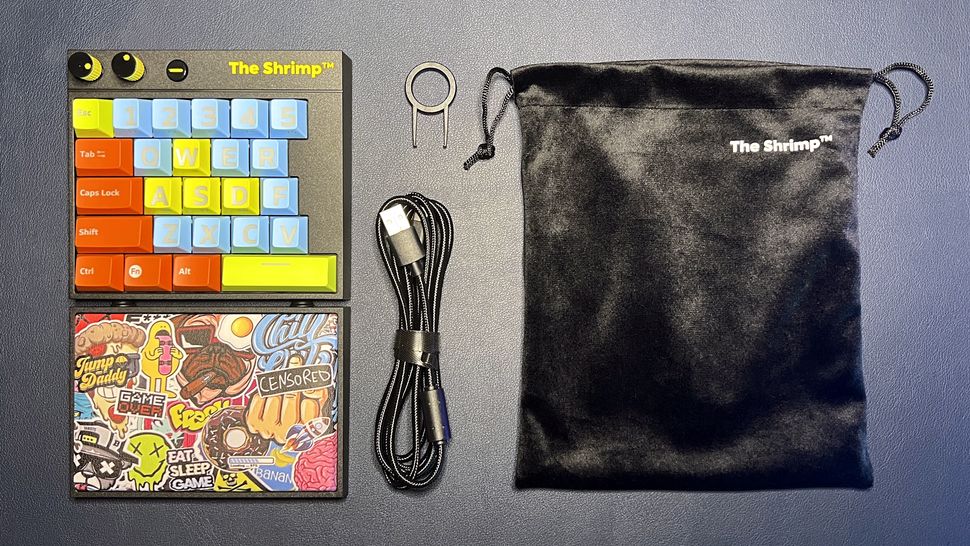 The Shrimp comes with a padded magnetic wrist rest, a 6-foot braided USB-C to USB-A cable, a plastic keycap puller, and a drawstring velour carrying bag that fits all of this. The carrying bag has a cloth divider to separate the keyboard from the wrist rest, but considering The Shrimp is at least somewhat marketed as a travel accessory so it would be nice to see something a little more robust.
The Shrimp comes in four colorways: "Vitello" features a white case with white keycaps and blue and gray accents, and comes with a white and gray wrist rest. "Pinkey" has a light pink case with matching light pink keycaps and tangerine orange and marigold yellow accents. It comes with a pink-on-pink wrist rest. "Monochrome" has a black case with black and gray keycaps, white accents, and a black-on-black wrist rest. "Bomber" has a black case with light blue and burnt orange keycaps and neon yellow accents. It comes with a gamer-inspired graffiti wrist rest.
The wrist rest has a lightly-padded surface covered in textured leather and four rubberized feet on the bottom for grip. It sits flush with the macro pad once attached, adding an extra 3.52 inches (100mm) of depth to the overall size of The Shrimp. It's a very premium-looking (and feeling) accessory, and it certainly adds ergonomic comfort that fits with the keyboard's lower-profile keycaps.
Specs
Swipe to scroll horizontally
| | |
| --- | --- |
| Buttons (Tactile) | 25 |
| Buttons (Touch) | N/A |
| Dials | 2 |
| Keycaps | ABS |
| Software | N/A |
| Interface | USB-C |
| Cable | USB-A to USB-C |
| Dimensions (W x D x H) | 5.31 x 4.92 x 1.06 inches / 135 x 125 x 27mm |
| Weight | 11.39oz / 323g (15.59oz/442g with wrist rest) |
| MSRP | €79.95 / ~$87 |
Keys and Typing on The Shrimp
The Shrimp has 25 keys arranged to emulate the left half of a standard keyboard. It doesn't have a function row, but it does feature second-layer functionality (accessed using the Fn key) with secondary side legends on several of the keys. The keyboard ships with Gateron G Pro Yellow switches, which are linear switches with an actuation force of 50g. This is the only switch option available at the moment, but the company says it will "probably" build a model with a hot-swap PCB in the future.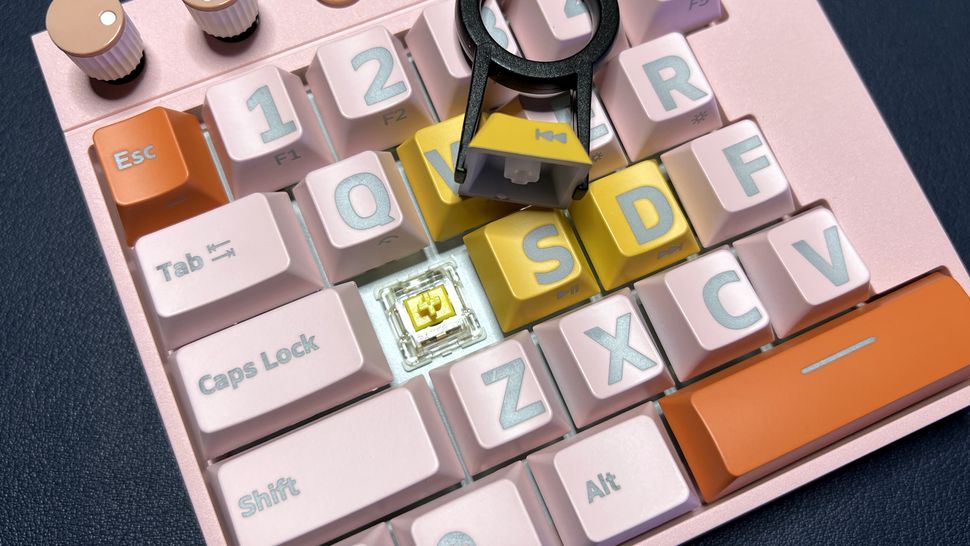 The keyboard looks and feels awesome — honestly, it feels so good I kind of wish it were full-size. The keycaps are made of ABS but look and feel more premium than standard ABS keycaps, with a matte finish and oversized legends that really add to the overall aesthetic. They feature a Cherry profile, which means they're slightly shorter than OEM keycaps and have sculpted tops that make it easy for you to type without moving your fingers quite as far.
The Gateron G Pro Yellow switches were slightly heavier than I'm used to, but that wasn't as big of a deal because I wasn't really typing on the keyboard — just using it for gaming and shortcuts.
Dials on The Shrimp
The Shrimp has two tactile, notched dials with push functionality. The dials are made of plastic but feel very durable and well-built. They do jut out a bit past the keycaps, though, so this might pose a durability issue for travel.
The left dial controls The Shrimp's built-in per-key RGB lighting: turning it adjusts brightness, while pressing it cycles through 16 pre-loaded lighting effects. There are only three levels of brightness (high, medium, and off), so this seems like somewhat of a waste of dial functionality.
The 16 lighting presets are done pretty well — it's not just a bunch of uninspired variations on standard spectrum cycling. There's a nice variety of effects, including a couple that are activated on keypress.
The right dial controls system volume, and pressing it opens your default media center. The media key next to the right dial toggles mute/unmute.
Software for The Shrimp
The Shrimp doesn't currently ship with dedicated software, but Nordic Game Supply is looking into making software (with a macro recorder) for the device in the future. For now, however, you can remap The Shrimp in games using in-game menus, and use free software such as autohotkey to record macros and remap keys outside of games.
The Bottom Line
The Shrimp is an interesting gaming accessory — it's not quite a macro pad (if you want one of those, consider something like the Elgato Stream Deck+ or Adafruit MacroPad RP2040) , but it's also not quite a keyboard. While it can be remapped using third-party software, it would take a little effort to turn it into a dedicated macro pad (it's set up as a keyboard, so basic remapping would also remap the same keys on your main keyboard). The Shrimp could definitely be a great little macro pad if Nordic Game Supply ends up making dedicated software.
Because it's not exactly a macro pad, it doesn't really make sense as an accessory for a desktop PC setup where you'd also have a full (not necessarily full-size) keyboard. But it does make sense for gamers with laptops who are looking to travel as light as possible without sacrificing too much of the gaming experience. It's not perfect, but The Shrimp combined with one of the best gaming mice would offer a decent mobile gaming setup that's slightly more space-efficient than an ultra-compact 60 percent keyboard such as the SteelSeries Apex Pro Mini.