'Atomic Heart' Arrives on PC Without Ray Tracing After Years of Nvidia Promotion
Taking "RTX Off" literally.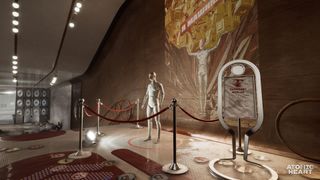 (Image credit: Mundfish)
Mundfish's Atomic Heart is releasing today, but without a feature that the developer and Nvidia have been pushing for years: ray tracing. What was seemingly once the next flagship gaming for Nvidia RTX has delayed the feature on PC at the last minute, according to reviewers.

"I noticed the lack of ray tracing options in the review build we received last week, and got in touch with the game's press relations team to check if I was missing something, or if they were due to be added via update," wrote James Archer at Rock Paper Shotgun. "The response confirmed that their absence was not an error, and that 'the devs will be looking into implementing this post-launch.' Well then!"

It's quite a shock: Nvidia has included Atomic Heart in its keynotes at major press events since 2018, when it launched the RTX 20-series. Here's Nvidia and Mundfish showing off the game's reflections and lighting at Gamescom almost four and a half years ago:
Nvidia showed a similar demo at CES 2019 and continued promoting the game, including posting an "exclusive" look at the game running at 4K with both RT and DLSS 3 just last month.

In an interview with WCCFTech published on Feb. 9, Mundfish founder and Atomic Heart director Robert Bagratuni said the game, which takes place in a alternate universe Soviet utopia, that "consoles will not support RT for now, but we strive to give our players the best and most optimized visual experience possible." Bagratuni didn't, however, say anything about the PC version.

We can only speculate about why the game launched without ray tracing. Perhaps Mundfish was worried about potential performance, though it's also possible that some late-breaking bug would have caused issues.

"Atomic Heart is a fantastic looking game and we are very pleased with what Mundfish was able to accomplish," Nvidia's director of global PR, Bryan Del Rizzo, told Tom's Hardware. He said that all ray tracing questions would need to be pointed back to Mundfish.

Atomic Heart did launch with some of Nvidia's other technologies. Digging through the settings in our own copy, GPU editor Jarred Walton found settings for DLSS, Reflex and Frame Generation. That technically keeps the game as part of Nvidia's "RTX On" category, as DLSS is also part of the RTX feature set... but we were looking forward to lots of shiny reflections, shadows, etc.

The game has five presets: Atomic, Ultra, High, Medium and Low. The differences include options for motion blur, anti-aliasing, animation quality, shadows, ambient occlusion, number of objects, volumetric fog, textures, model quality and vegetation density.
Image 1 of 6
This isn't the only issue Atomic Heart has faced leading up to its launch. Mundfish — which has a Russian office, Russian staff, and funding from organizations connected to the country — has seen controversy, as the game's imagery has taken on new meaning after the Russian invasion of Ukraine (though clearly development started long before). PC Gamer has a solid breakdown of that.

What we can say is that, even sans ray tracing effects, the game looks quite nice. It also runs quite well on even midrange hardware. We did a quick test of the game running on and AMD Radeon RX 6650 XT — one of the best graphics cards for gaming, and priced attractively starting at $250 (after rebates). We saw performance at 1080p and maxed out settings range from 60 to 144 fps (the game's default max, though that can be increased to 300 fps), depending on the area. Even 1440p remained playable, with the indoor areas in the early part of the game staying well above 60 fps — 4K dropped to about 40 fps, though.

Naturally, running on an RTX card with DLSS enabled will deliver substantially higher framerates. Even on an RTX 3060, performance with DLSS Quality mode and the Atomic preset averaged over 100 fps at 1440p Atomic — though not in the opening sequence, where it was in the 50–80 fps range. Set your expectations appropriately.
Join the experts who read Tom's Hardware for the inside track on enthusiast PC tech news — and have for over 25 years. We'll send breaking news and in-depth reviews of CPUs, GPUs, AI, maker hardware and more straight to your inbox.
Andrew E. Freedman is a senior editor at Tom's Hardware focusing on laptops, desktops and gaming. He also keeps up with the latest news. A lover of all things gaming and tech, his previous work has shown up in Tom's Guide, Laptop Mag, Kotaku, PCMag and Complex, among others. Follow him on Twitter: @FreedmanAE