The Chinese Powerstar P3-01105 CPU has popped up in the Geekbench v5 online result browser. Importantly, the benchmark's system information section appears to confirm that this 4C / 8T chip is quite certainly Intel-produced, as this Socket 1200 LGA part has an A0653 (GenuineIntel) CPUID, and purportedly uses the Intel Comet Lake architecture.
Earlier this month we reported on the newly launched first generation Powerstar P3-01105 CPU. China's PowerLeader framed the chip as a home-grown product using the "storm core" architecture, while remaining x86 compatible. However, there was quite a weight of evidence already pointing to the 'Chinese' chip being a rebranded Intel Core i3-10105(F) Comet Lake CPU with 4C / 8T.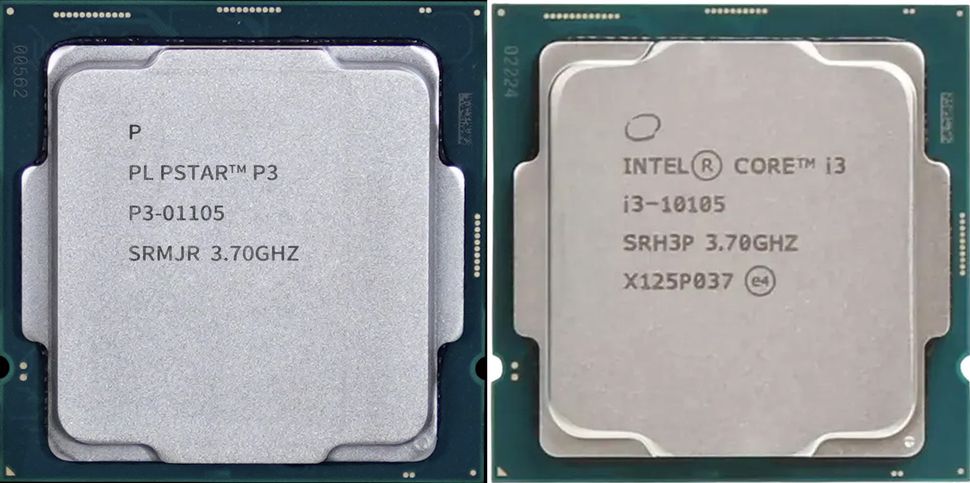 Earlier evidence of the Powerstar / Intel Comet Lake similarities included the following:
Physical lugged heatspreader design, and other physical characteristics
Physical substrate design is identical, as far as we can see
Silk screen print format on the IHS is the same
The PowerLeader processor name slightly jumbles Intel's: compare "10105" and "01105"
They are both marked as capable of a "3.70GHZ" base clock
The QR code on the upper right of the Powerstar P3-01105 PCB is said to match Intel's.
The new evidence from Geekbench is probably more than enough for most people to be certain about the provenance of the Powerstar P3-01105 CPU. However, we still must retain some doubt, as pranksters fiddle with things like Geekbench system info reports just for fun.
PowerLeader has the ambitious target of selling 1.5 million units of its Powerstar P3-01105 CPU. We think that the CPU being a 'Genuine Intel' part can only help in this goal, as the "storm cores" touted at launch had no history, and even optimists would expect some glitches in an actual 'first gen' product.
PC enthusiasts and DIYers in the west might now be thinking about sourcing Powerstar P3-01105 CPUs for budget builds. However, PowerLeader's launch suggests the chips will only be supplied within full systems. We shall have to see about that over the coming weeks / months.
As we have now seen the Powerstar surface in Geekbench, we can probably just wait a few weeks before some enterprising Chinese YouTuber (or Bilibili-er, or Weibo-er) shares some more in-depth information, tests, and benchmarks of the P3-01105 CPU.
In some ways PowerLeader's rebadging of something as complex and American as an Intel CPU, contrasts with the recent announcement that Micron memory products have been banned from organizations connected to China's critical information infrastructure.