Raspberry Pi and Lego have a long history together. Not only have various makers built Raspberry Pi projects that utilize Lego bricks, but there's also the Raspberry Pi Build HAT which allows you to control motors and sensors from everyone's favorite single-board computer. The upcoming FigPi microcontroller takes this union to the next level using Raspberry Pi silicon (an RP2040 processor) on a circuit board that looks just like a Lego minifig astronaut.
The FigPi is the brainchild of Ben Shockley, an engineer who has already created a similar microcontroller board called the Mini SAM M4 that's powered by an Atmel SAMD51G19A CPU. He sells the Mini SAM M4 for $25 to $30 on his site, minifigboards.com in a choice of black, red, green, purple or blue colors. Shockley has yet to announce pricing or availability of the FigPi, having teased the new board via his Mastodon account.
Looking a lot like a classic Lego Space astronaut (or Benny in the Lego movies), the FigPi has a number of fun features, including a 9-light RGB LED array, a reset button and two Stemma ports on the back. The board is powered by a microUSB port that's also located on the back. The boot button on the front is programmable so it can serve both its native function and whatever you choose for it.
We don't know whether there will be any GPIO pins, but the picture of the front (we have not seen a pic of the back) does not show pin holes. The original Mini SAM M4 minifig board has 26 GPIO pins as you can see in the picture below, comparing the two boards (the Mini SAM M4 is on the left and the FigPi is on the right).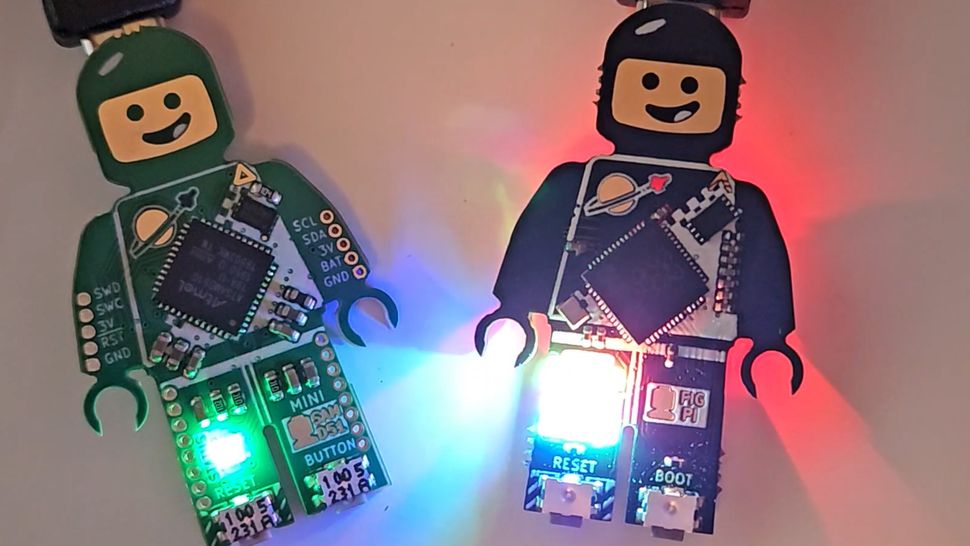 Like its sibling, the FigPi will be programmable in CircuitPython. In his post, Shockley called out Adafruit and its programming language, saying that he couldn't have built this without them. CircuitPython allows you to do everything from controlling lights, motors and sensors to turning your board into an HID device such as a keyboard, mouse or game controller.
The rear Stemma ports should allow users to connect a ton of different boards, including a wide variety of sensors.
In addition to the lack of a price or release date, we don't have final specs for the FigPi. However, we expect that it will be available via Shockley's site and, if it's like the Mini SAM M4, will come in a variety of colors.