Intel Innovation 2023 Liveblog: Meteor Lake, AI, and a Whole Lotta Wafers
Intel dishes the deets on its latest chips.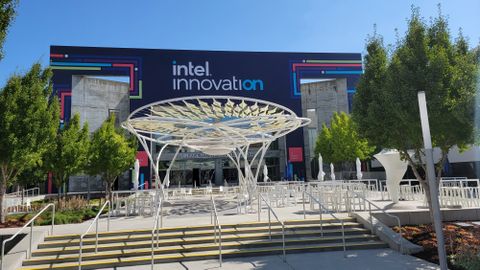 (Image: © Tom's Hardware)
We're here at Intel's Innovation 2023 event in San Jose, California, to cover the company's yearly two-day conference live. Intel CEO Pat Gelsinger, along with several other leaders in the company, will take to the stage at 8:30 a.m. PT to outline their latest advances. You'll see those updates below as the event begins.
Given that we're fresh off the plane from our tour of Intel's Malaysia factories where it assembles its soon-to-be-released Meteor Lake processors, we expect to learn much more about those chips during the event. These chips employ a bevy of groundbreaking new technologies, like the EUV-enabled Intel 4 process and 3D Foveros interconnect, and mark Intel's first chiplet-based consumer processor. Intel also has its Arrow Lake processors in the hopper for next year, so we expect to hear about its future generations, too.
Intel is also in the middle of its plan to deliver five nodes in four years, so we expect to hear more about its progress with the upcoming Intel 4, 3, 20A, and 18A nodes. Intel says it remains on track to meet its audacious goals, and if proven true, the company could re-take the lead in process technology late next year. If Gelsinger stays true to his past keynotes, we can expect to see plenty of wafers during the presentation.
Of course, no event in these times of AI disruption would be complete without...AI. We expect to hear plenty of news from Intel about its AI initiatives; from the in-built AI engine in its new Meteor Lake to the powerful Xeon data center CPUs and the Gaudi accelerators, Intel has a wide range of AI-focused products to cover.
Pull up a seat and follow along. Here are links to our coverage that just went live, too. Keep scrolling to see the blog.
Refresh
Attendees are already filing into the auditorium for the blue-soaked keynote.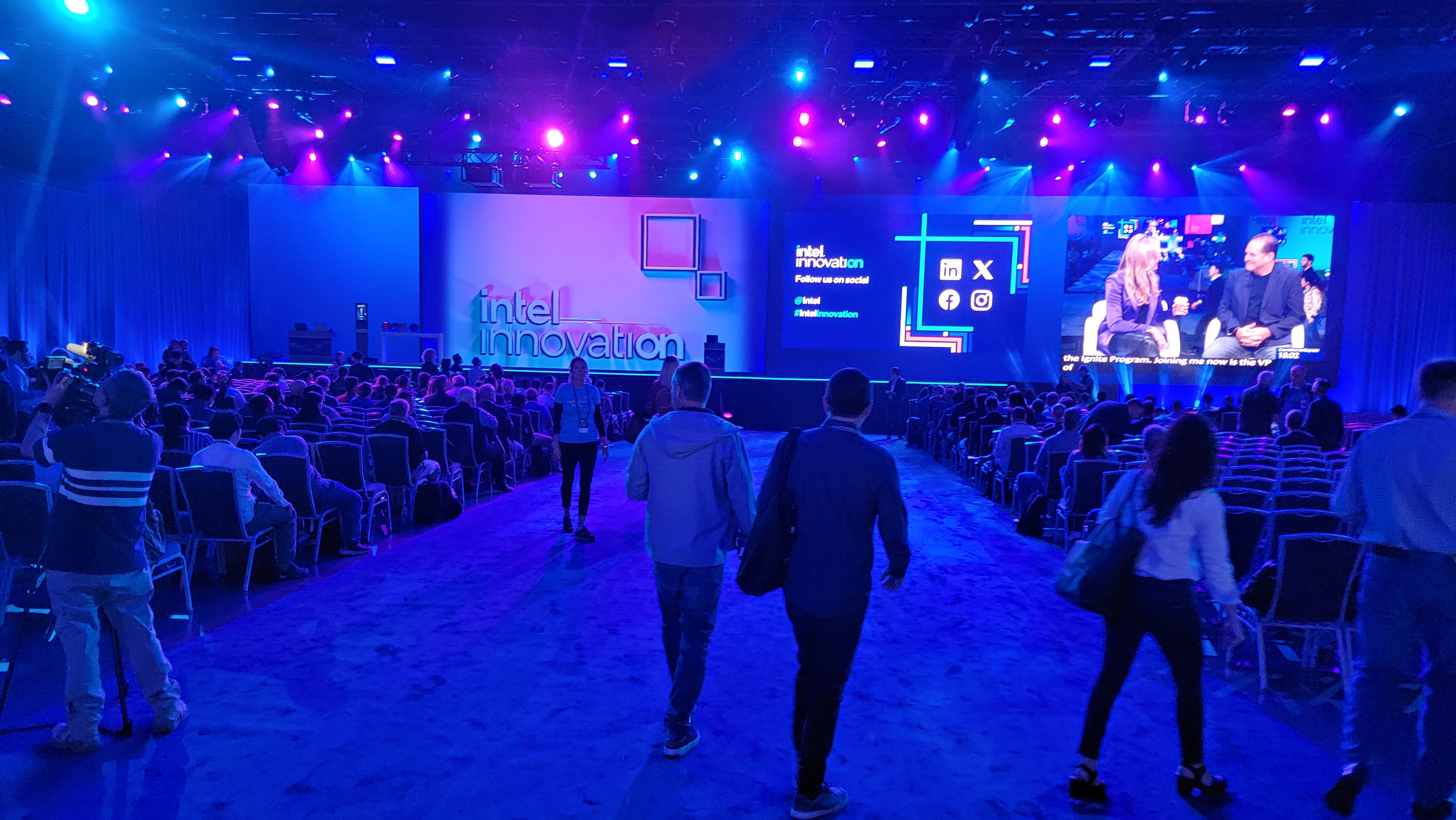 We can see four wafers on a table on the stage, but their hidden in the shadows. We'll learn more about these soon.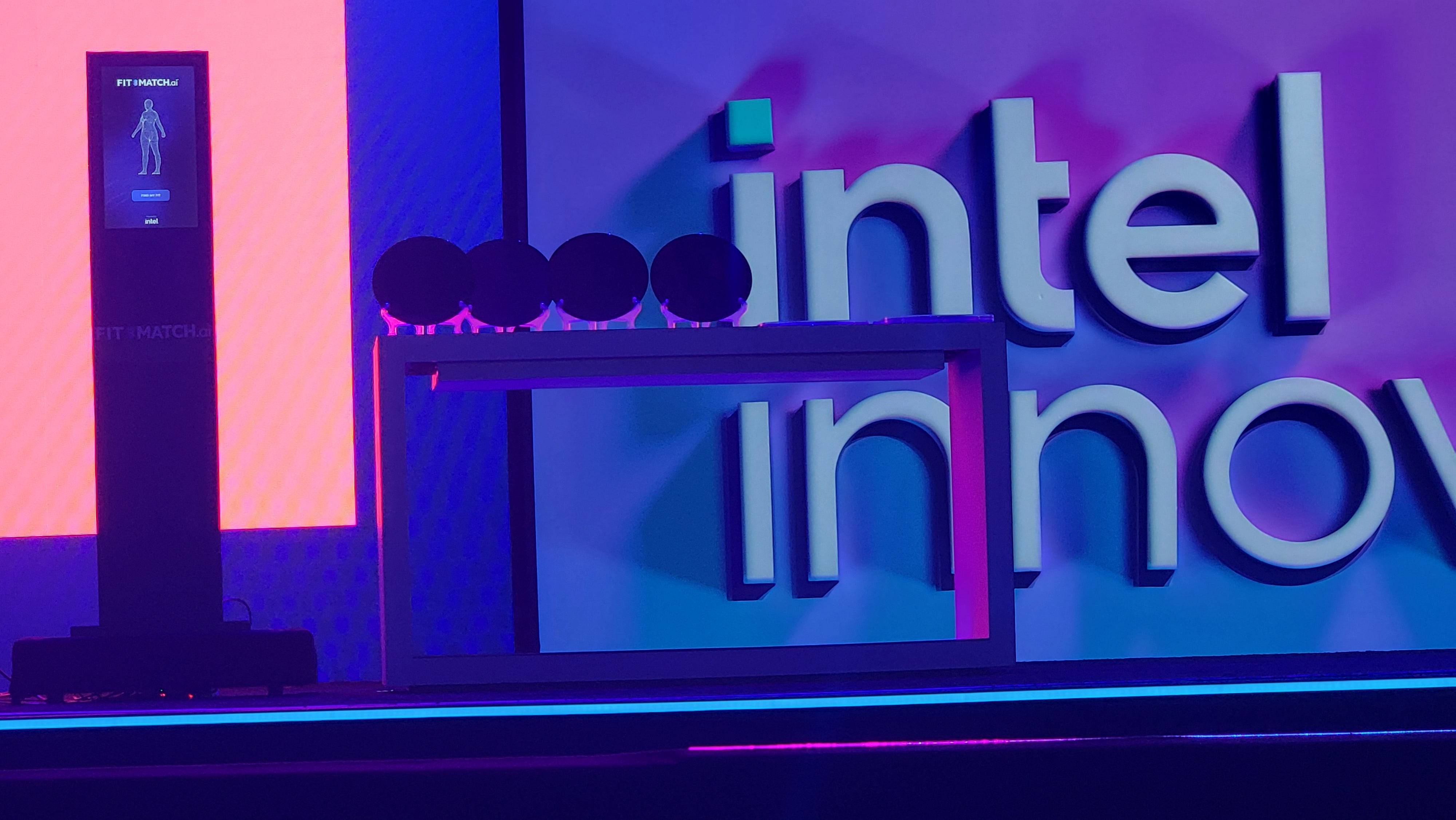 The keynote is taking place at the end of the massive show floor that's lined with a tremendous number of booths that you can see lining the walls. After the keynote, we'll be adding pics of some of the hardware in these booths.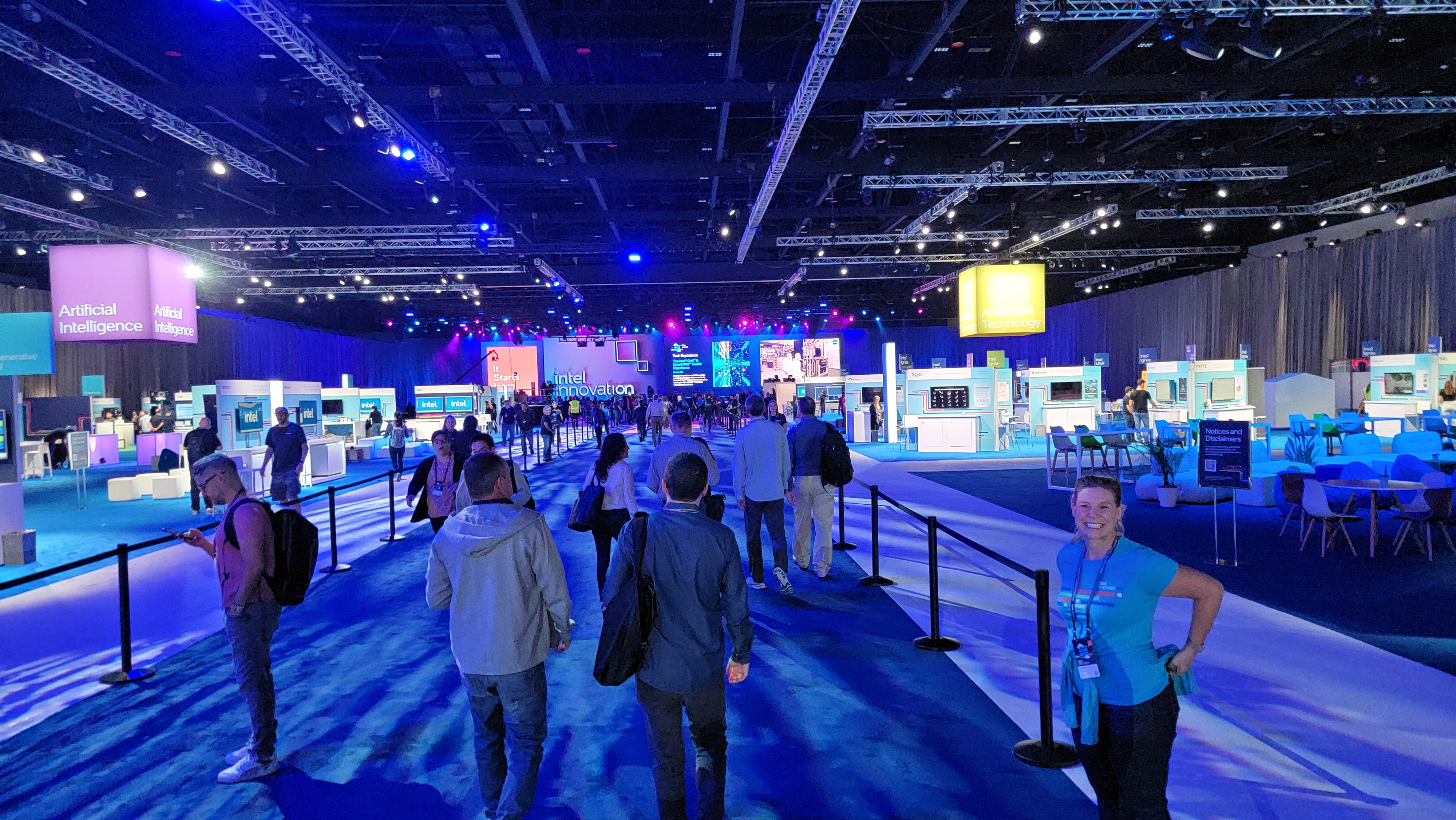 Intel CEO Pat Gelsinger has taken to the stage, starting the show with his signature pushups.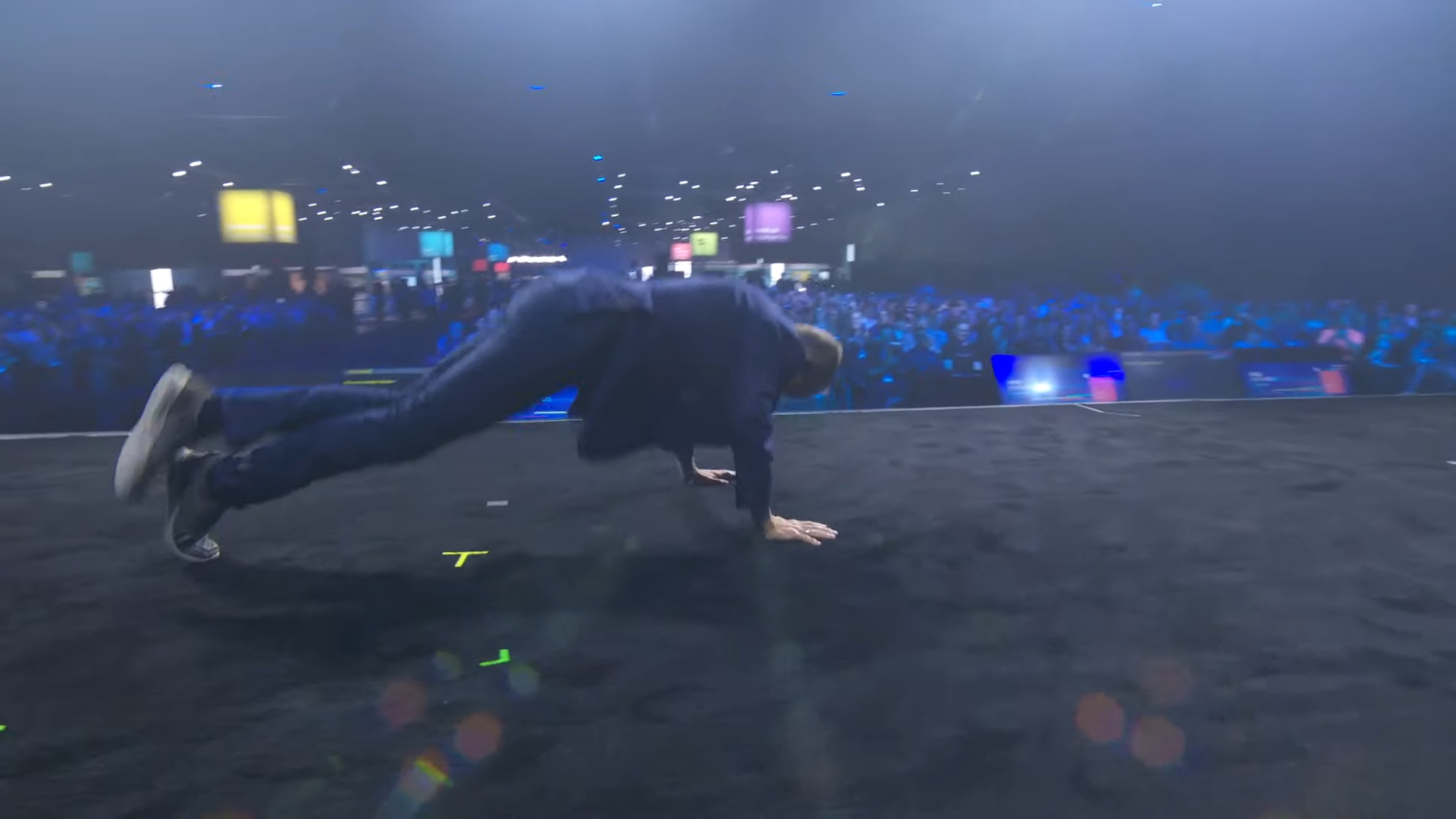 Gelsinger invited the CEO of ai.io to the stage to talk about the company's AI technology that helps provide telemetry data to athletes and sports teams for deeper analysis.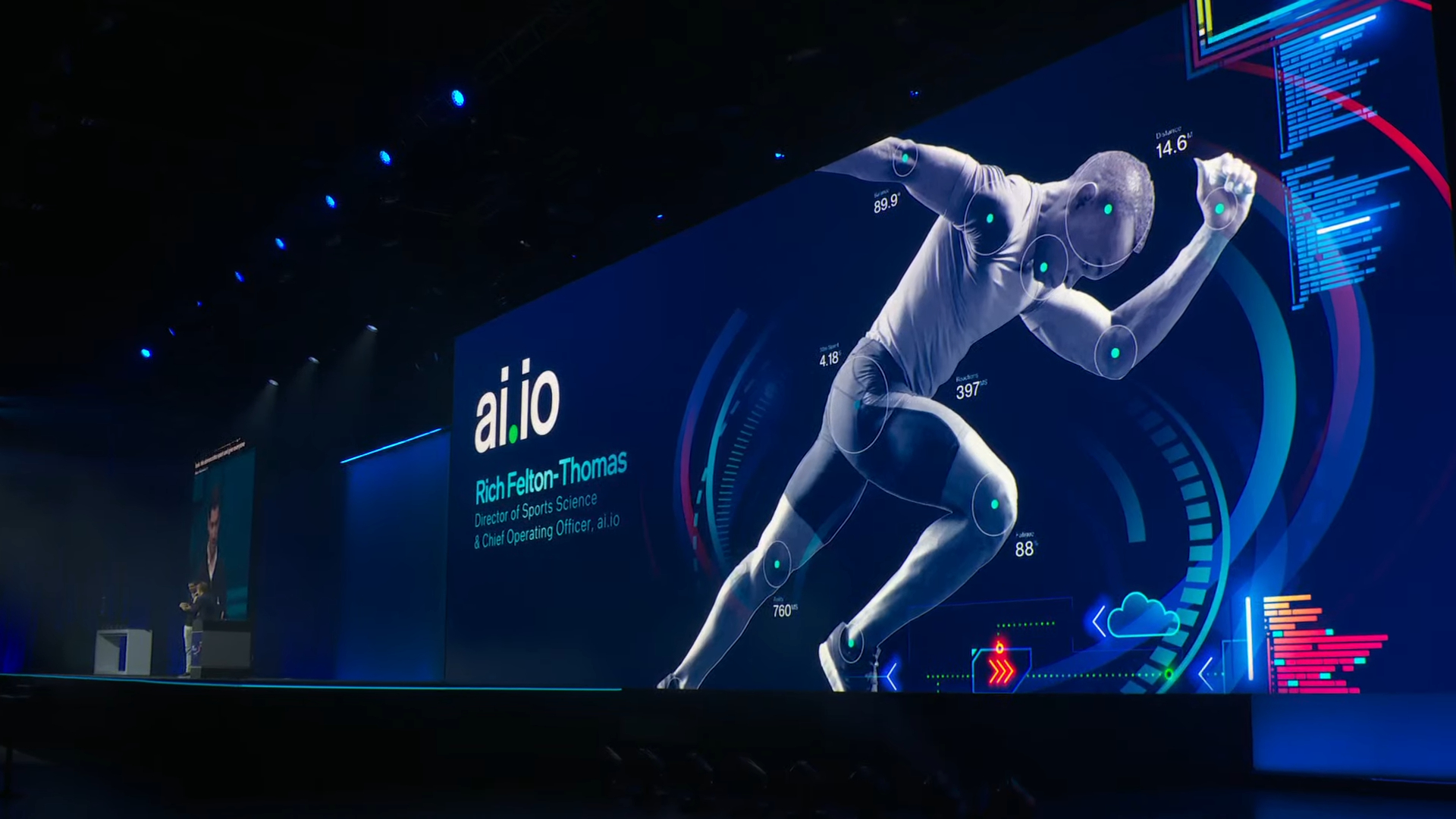 Gelsinger moved on to talk about money, outlining that there is an $8 trillion global tech economy, with $574 billion dedicated to the silicon industry.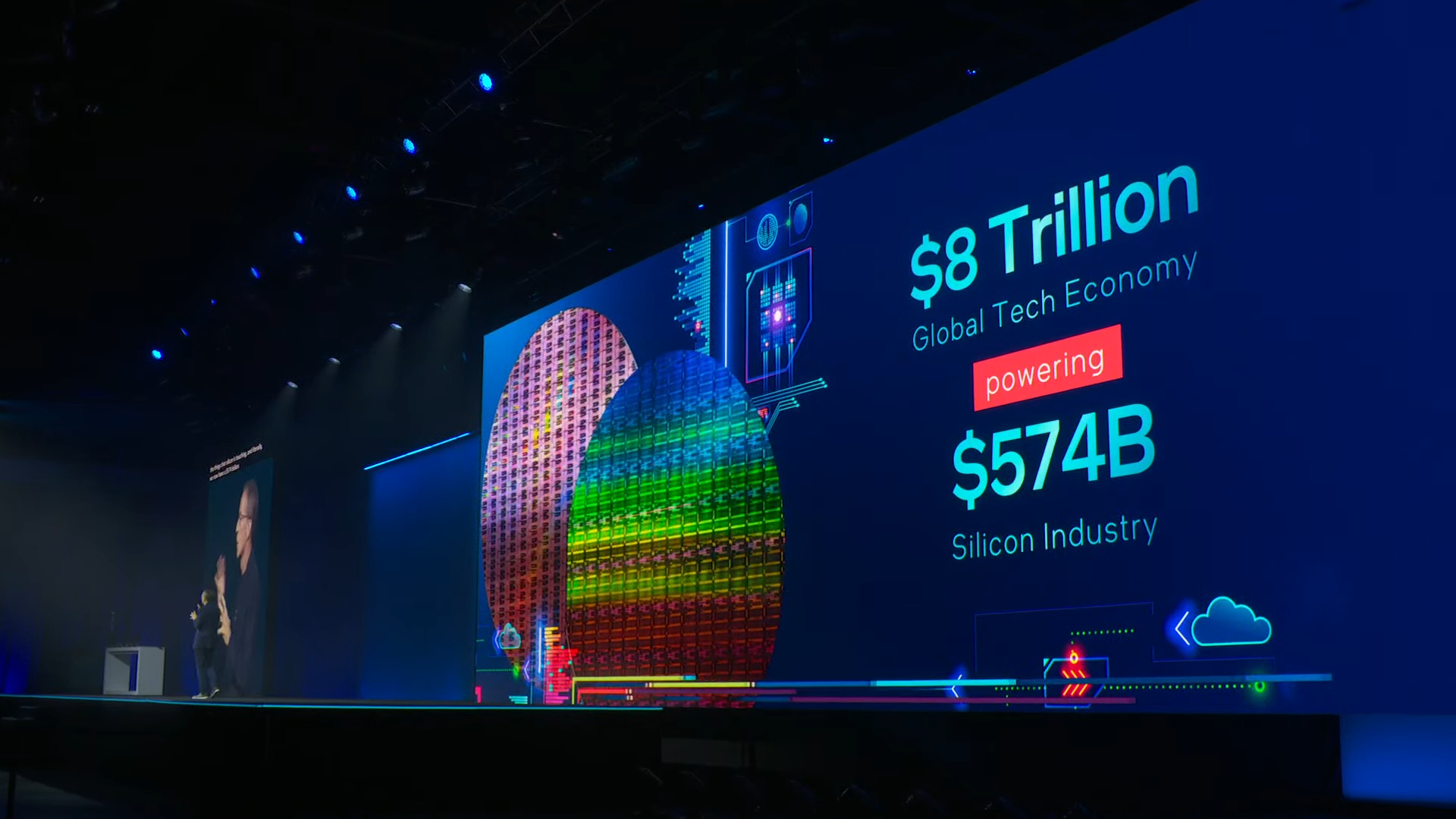 Gelsinger coined the term "Siliconomy" to characterize this silicon-driven economy. There will be a 4X increase in connected devices in the next 5 years, and a 15X increase in the next ten years.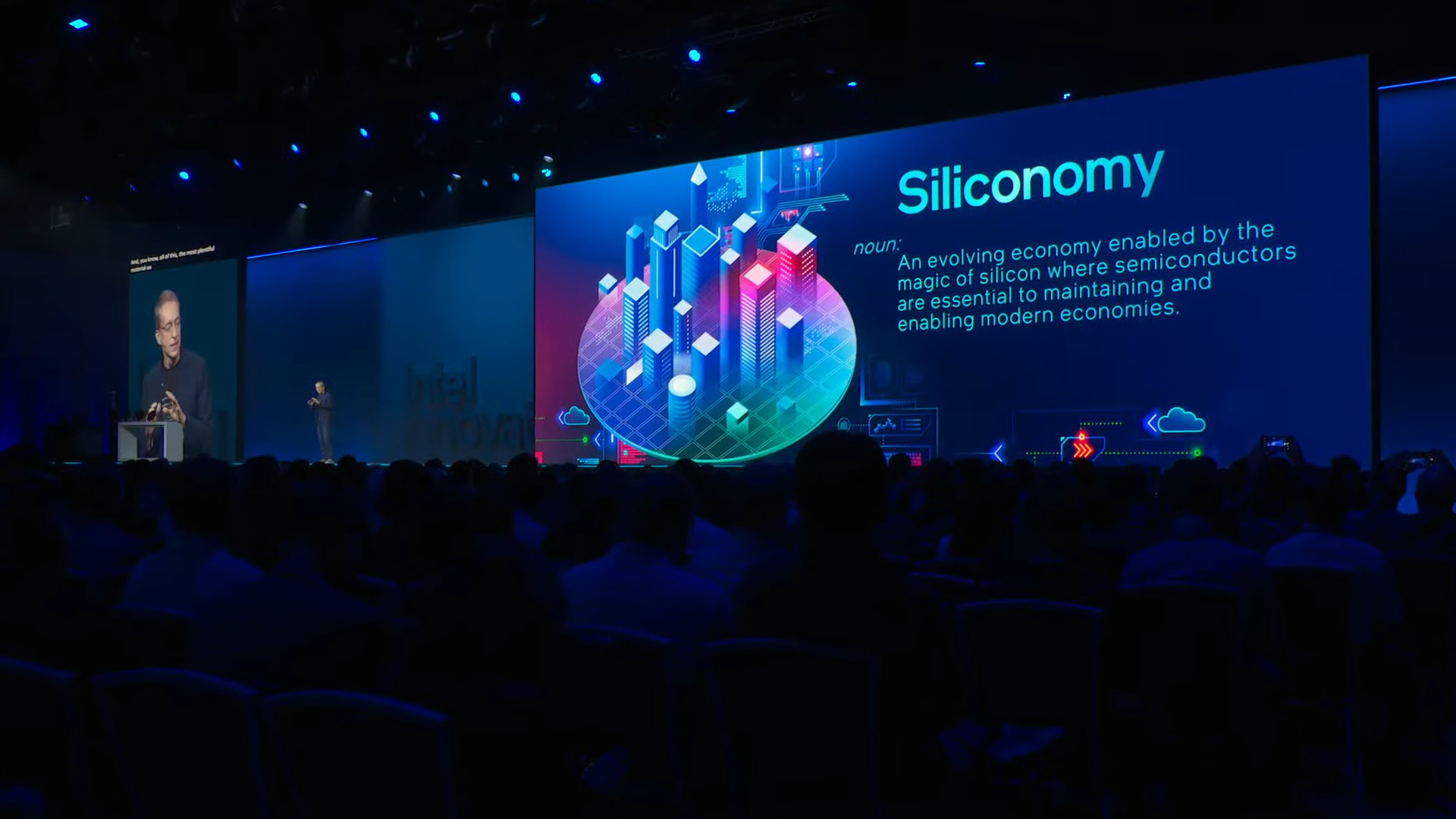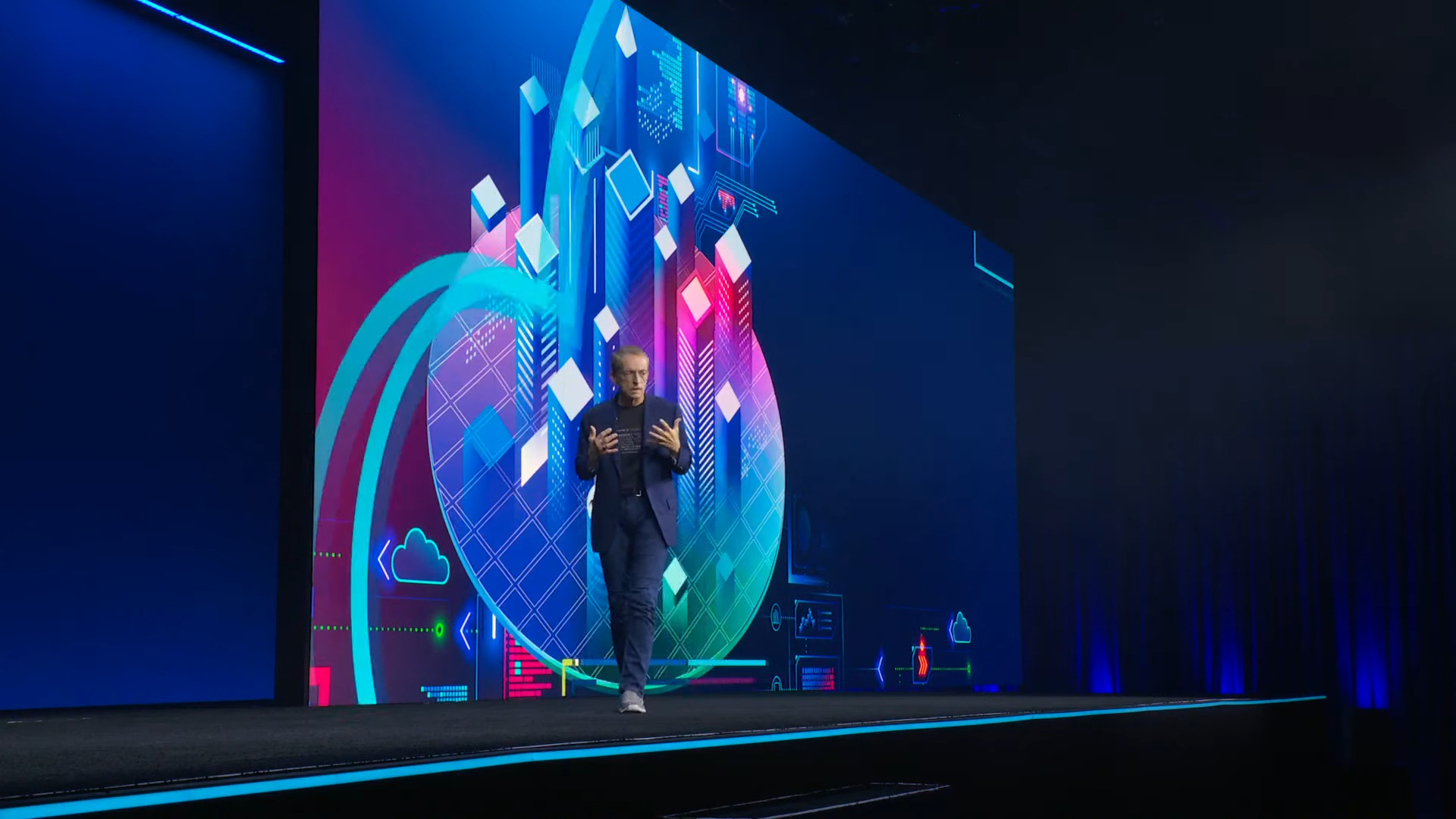 Gelsinger showed off his shirt, which is emblazoned with his Python "Code of the day" as he talked up the Intel Developer Cloud, which serves as Intel's cloud-based services. Gelsinger says that he has a simple rule, and that is that 'developers rule.'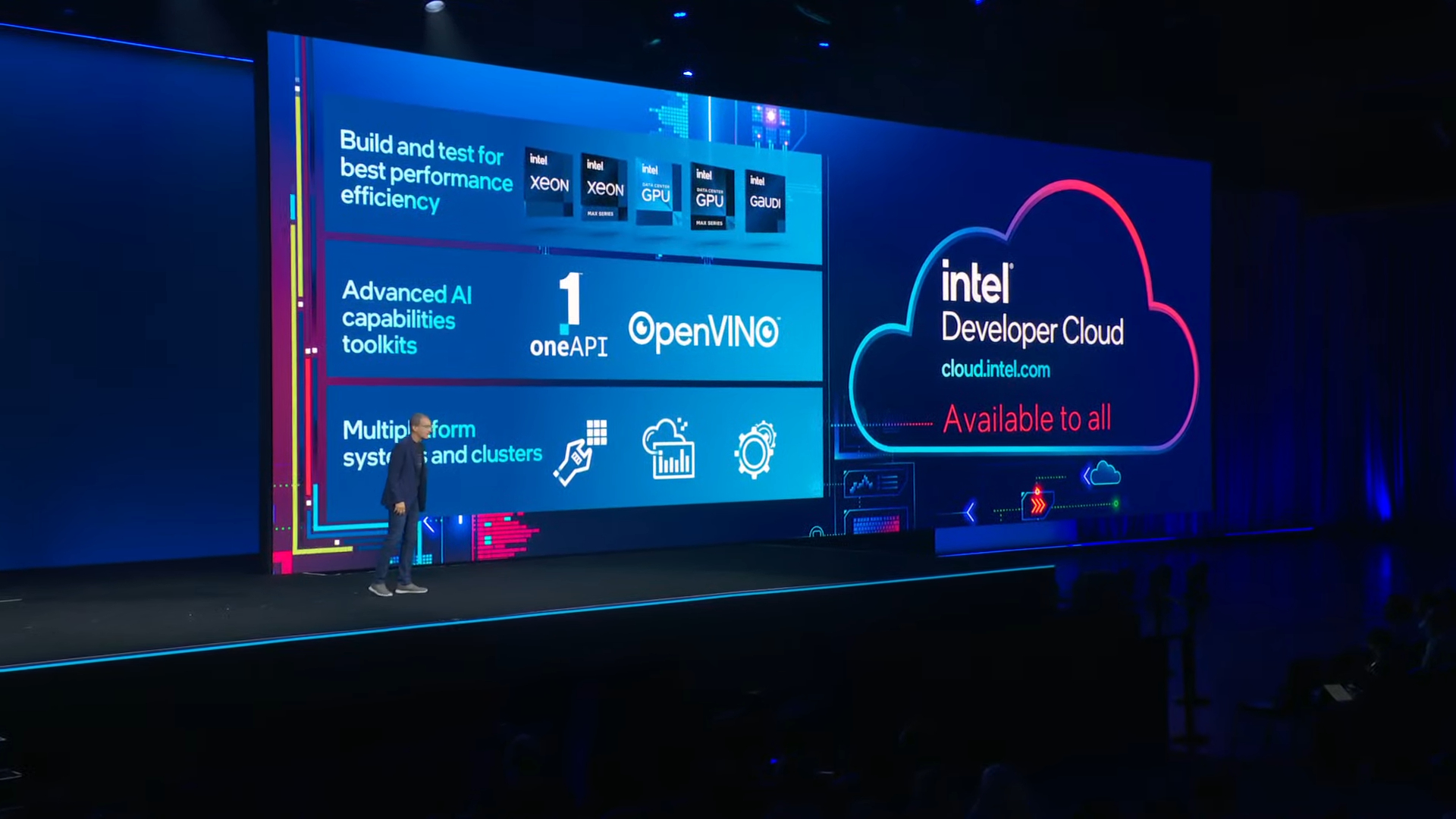 Here's a picture of Gelsinger's code-emblazoned shirt.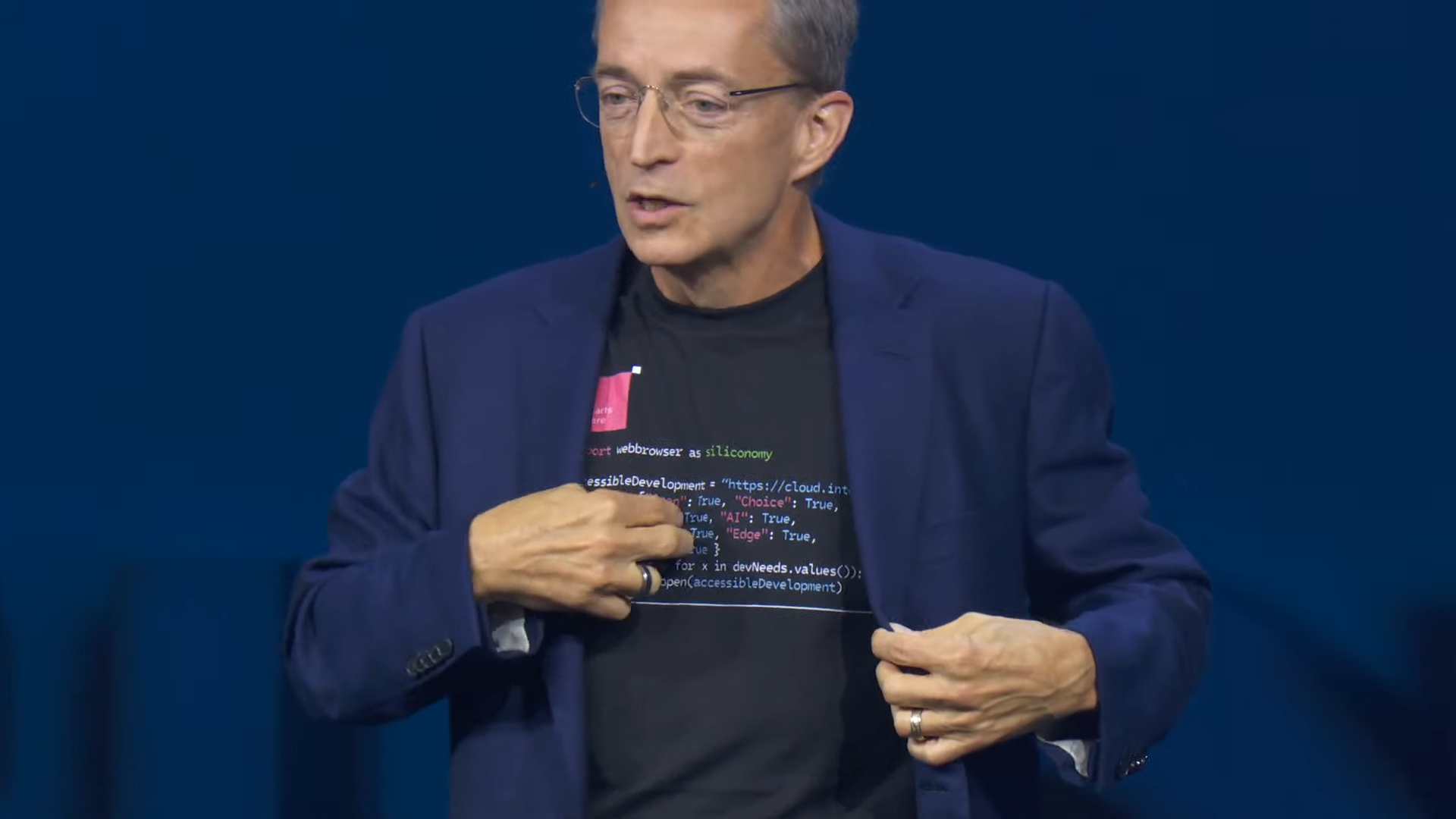 Gelsinger announced that everyone at the event will receive one free week of access to the Intel Developer Cloud.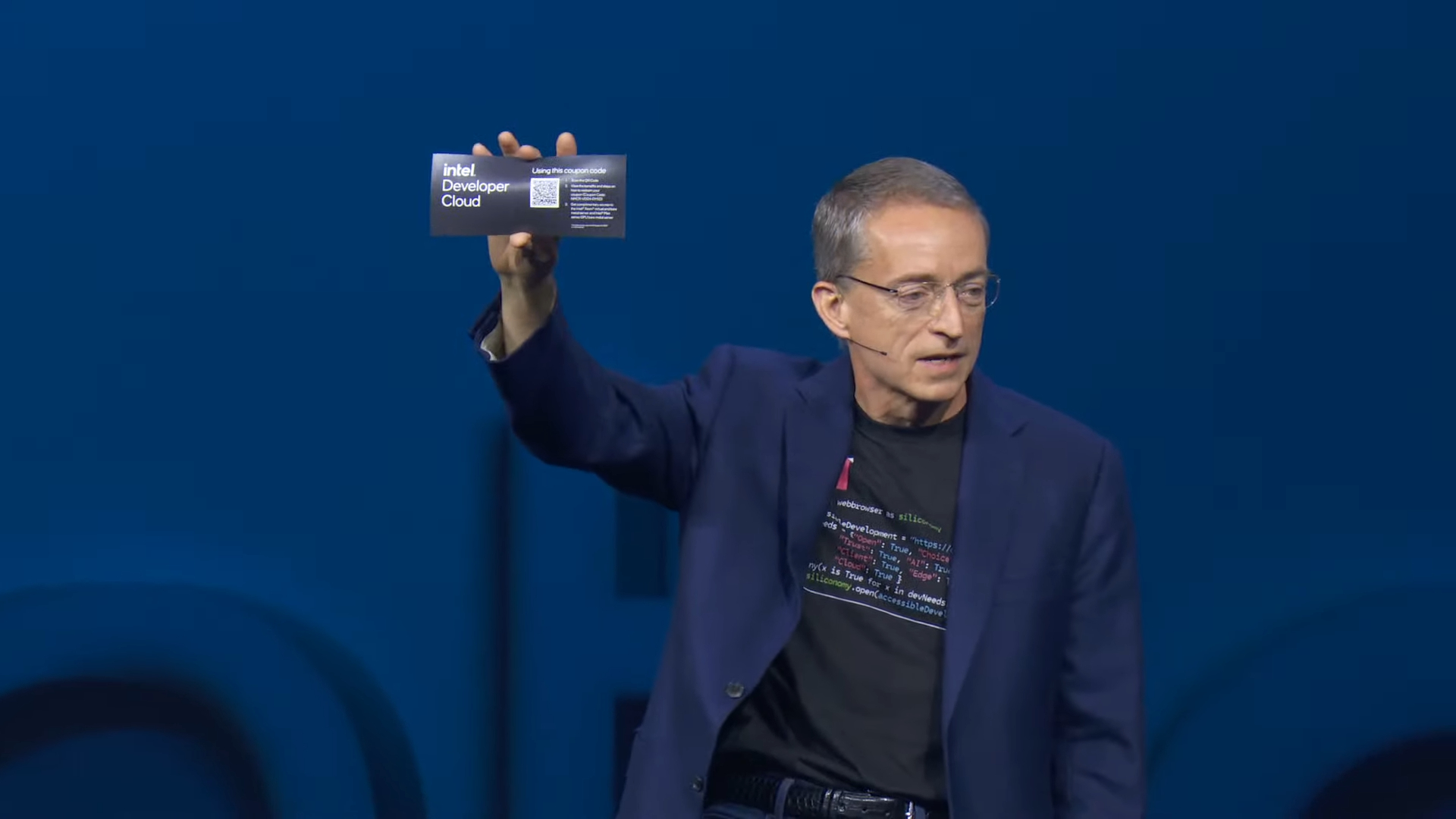 Gelsinger discussed how far back AI development stretches, talking about how it was even a focus when he designed the iconic 8086 processor.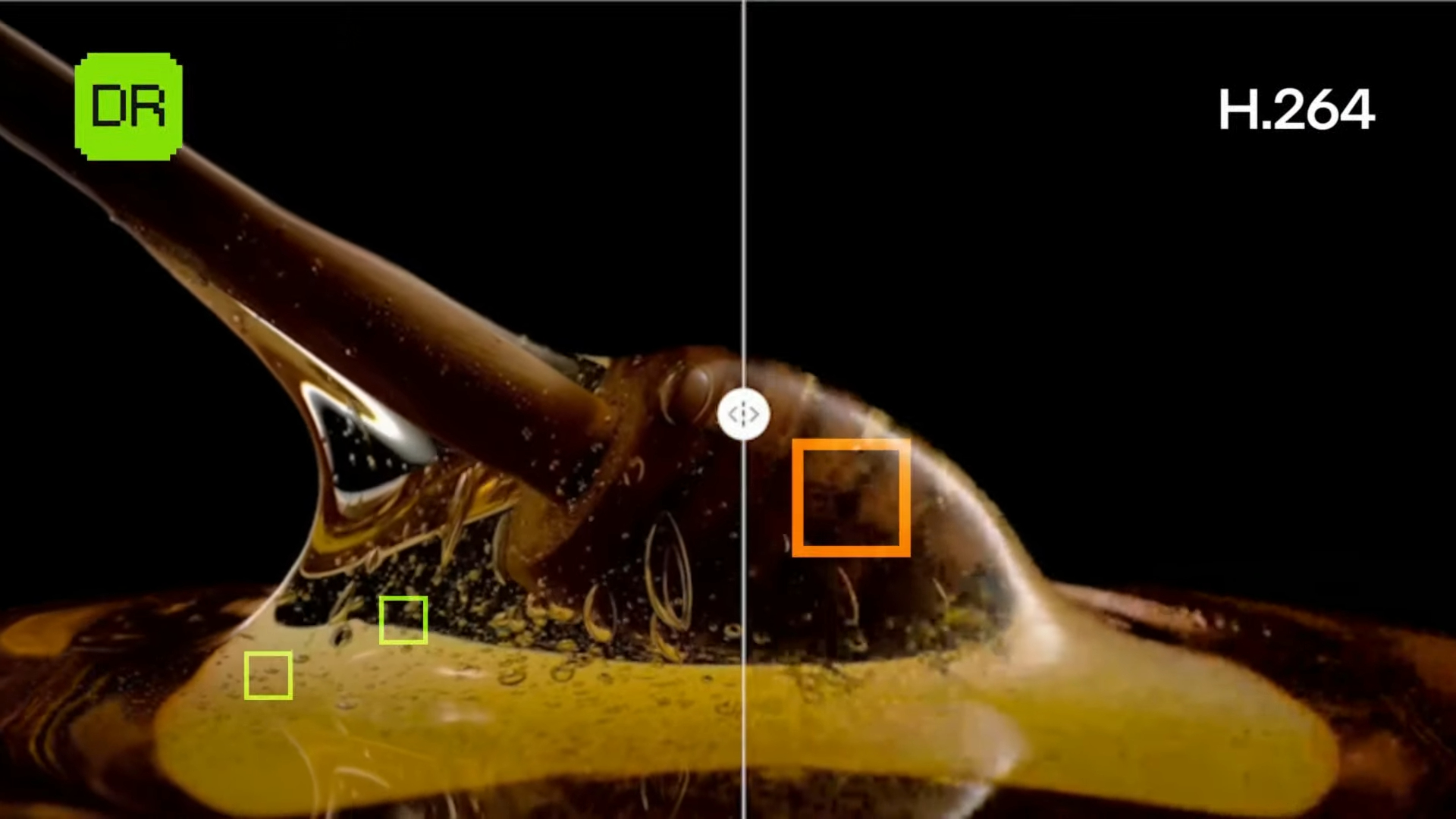 Gelsinfer said Intel and Stability.ai are building an AI supercomputer that will rank in the top 15th in the world. The supercomputer will be powered by the intel Gaudi accelerators.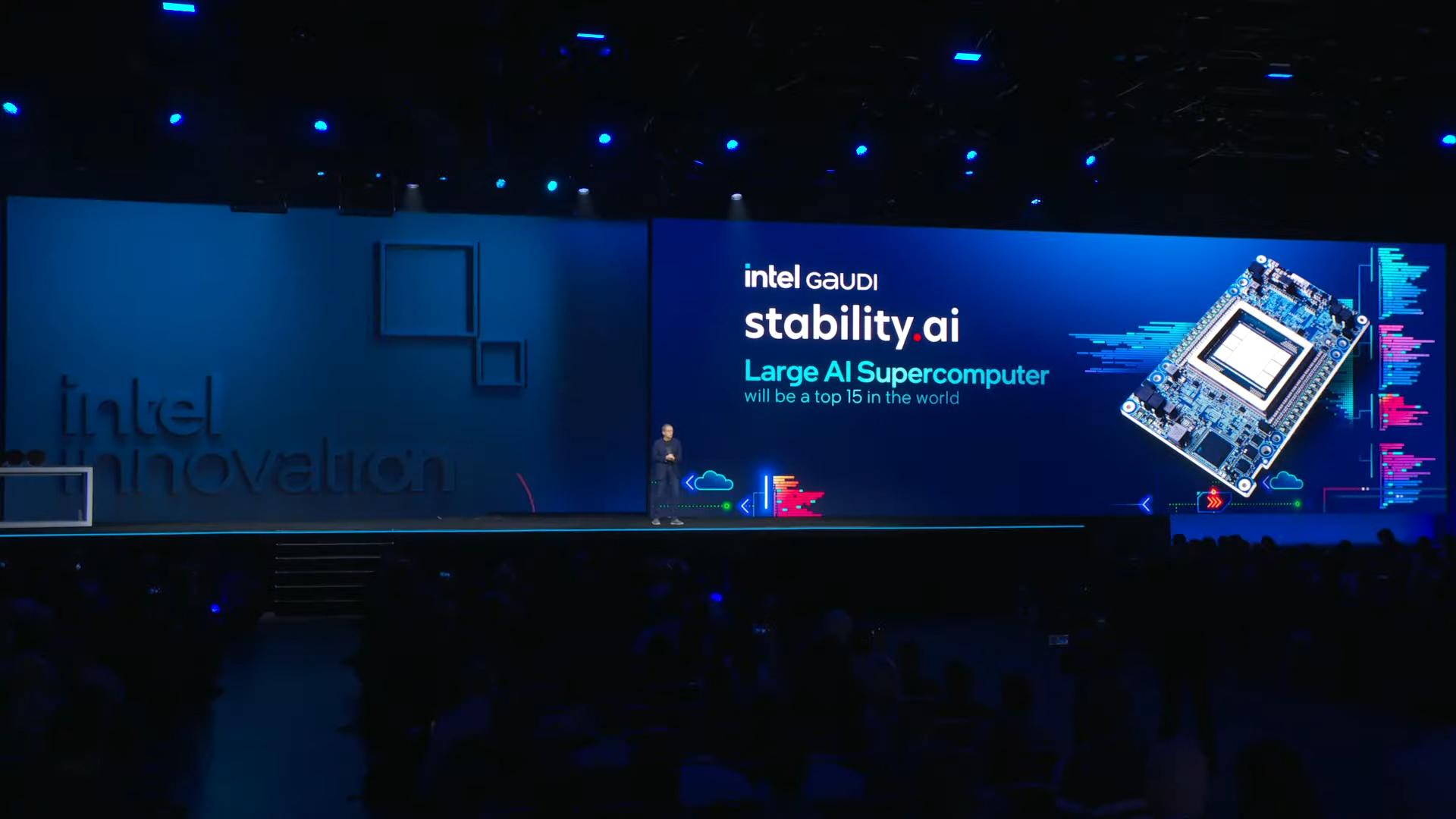 Gelsinger talked about Intel Xeon's impressive performance with AI workloads powered by AMX instructions. Intel recently posted those results to the industry-standard MLPerf benchmark.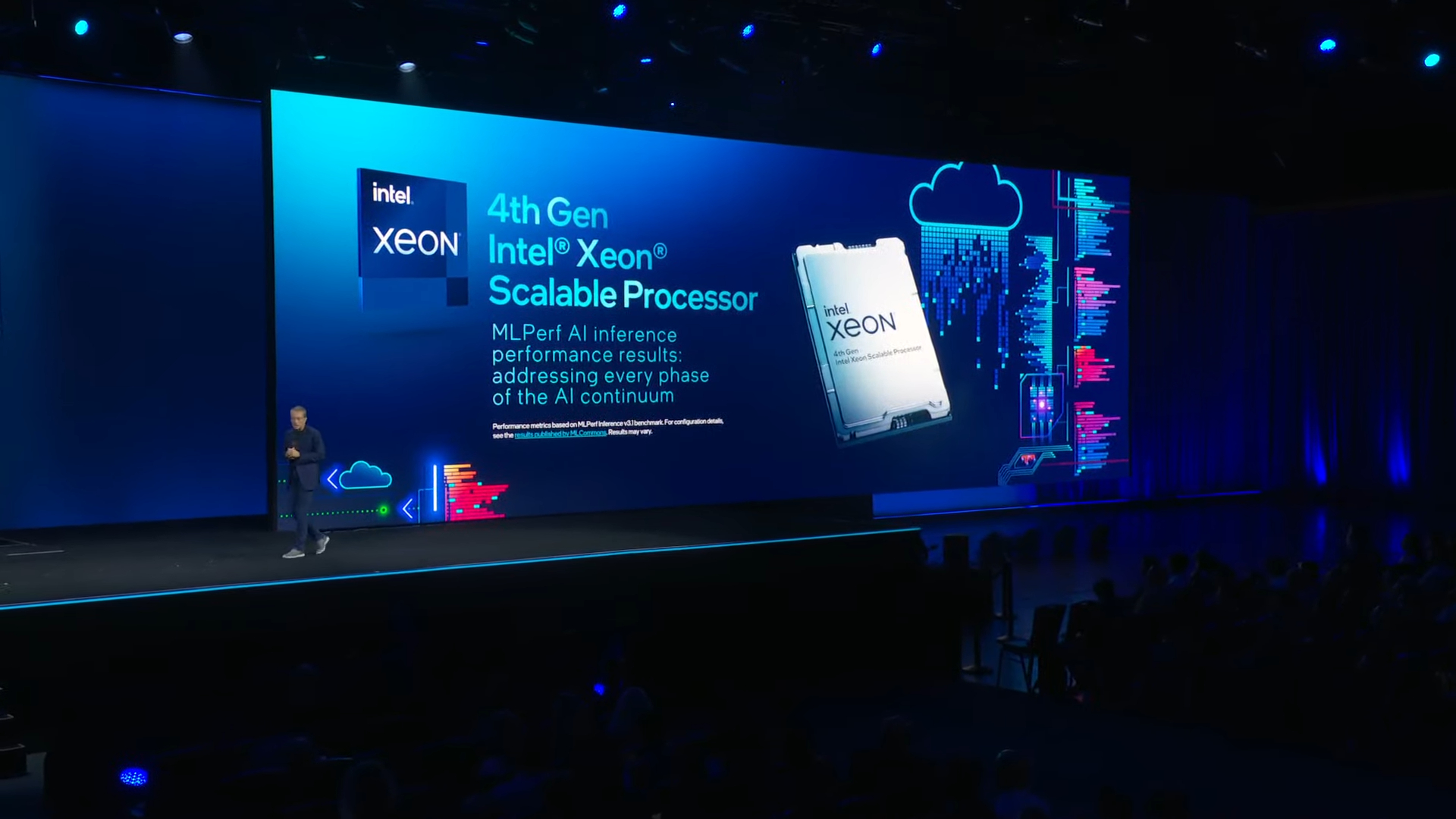 Alibaba's CEO talked about how his company uses Intel's 4th-gen Xeon with AMX optimizations to run its AI models, including the company's own Tongfei, a ChatGPT-like model.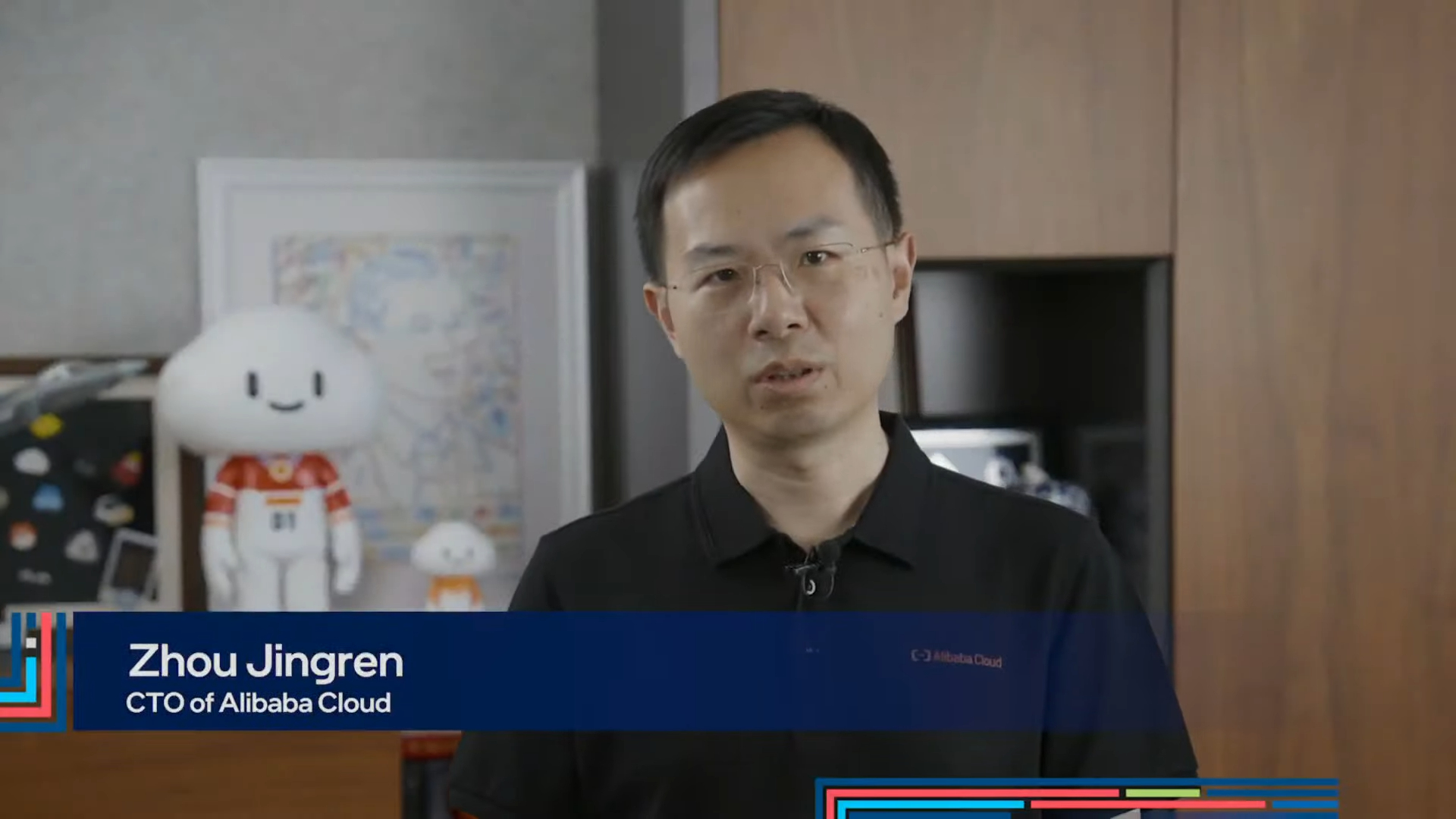 Gelsinger said that Intel already has its Gaudi 3 silicon back from the fab, and showed the company's Gaudi/Falcon Shores roadmap.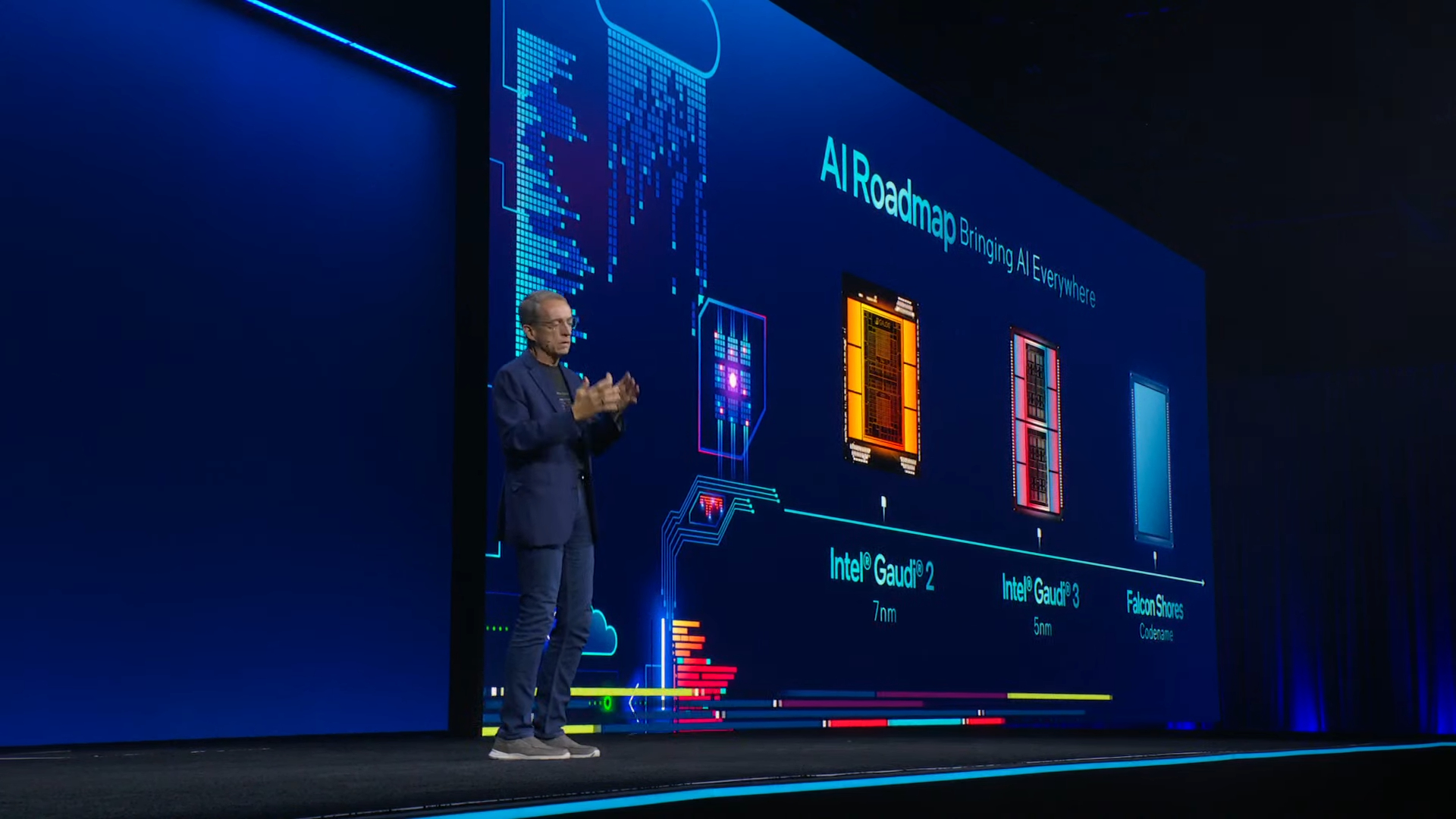 Gelsinger discussed Intel's commitment to Moore's Law, saying it is still alive and well.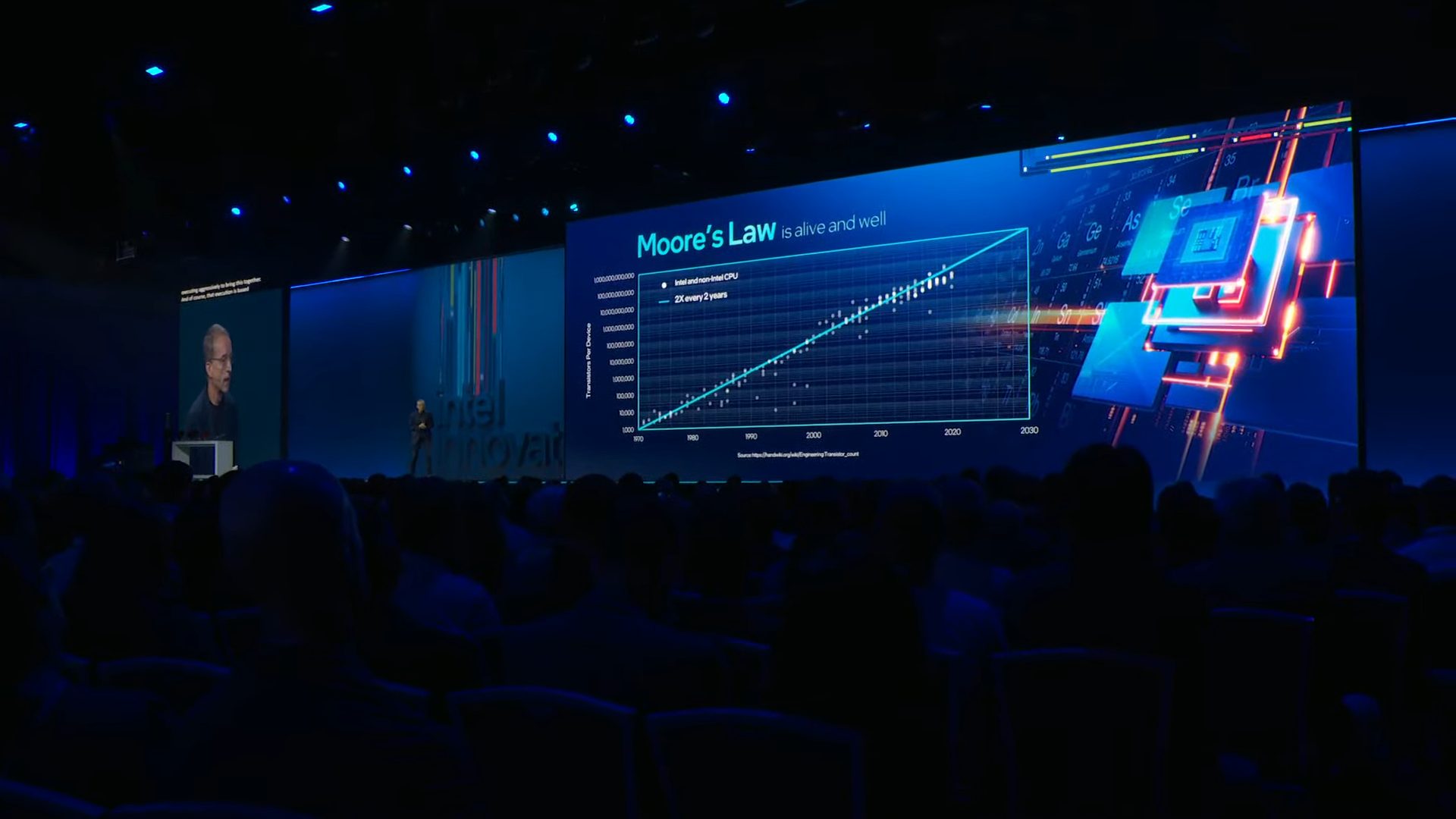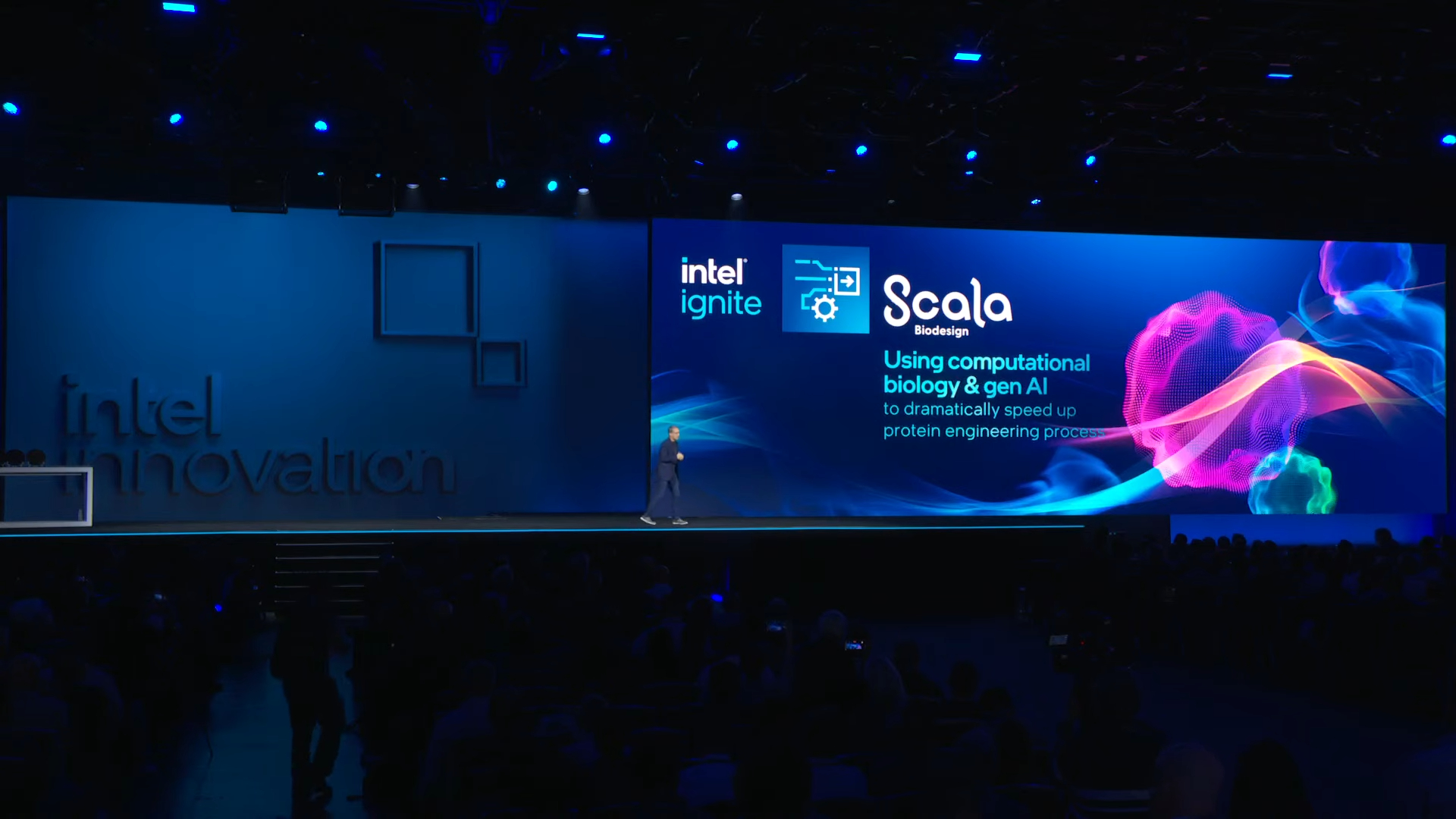 AI is unleashing new opportunities, and Gelsinger says it will usher in the AI PC revolution. Gelsinger says Intel's goal is to put the power of AI models into the hands of every human on the earth, likening it to the adoption of Wi-Fi after the Centrino products debuted.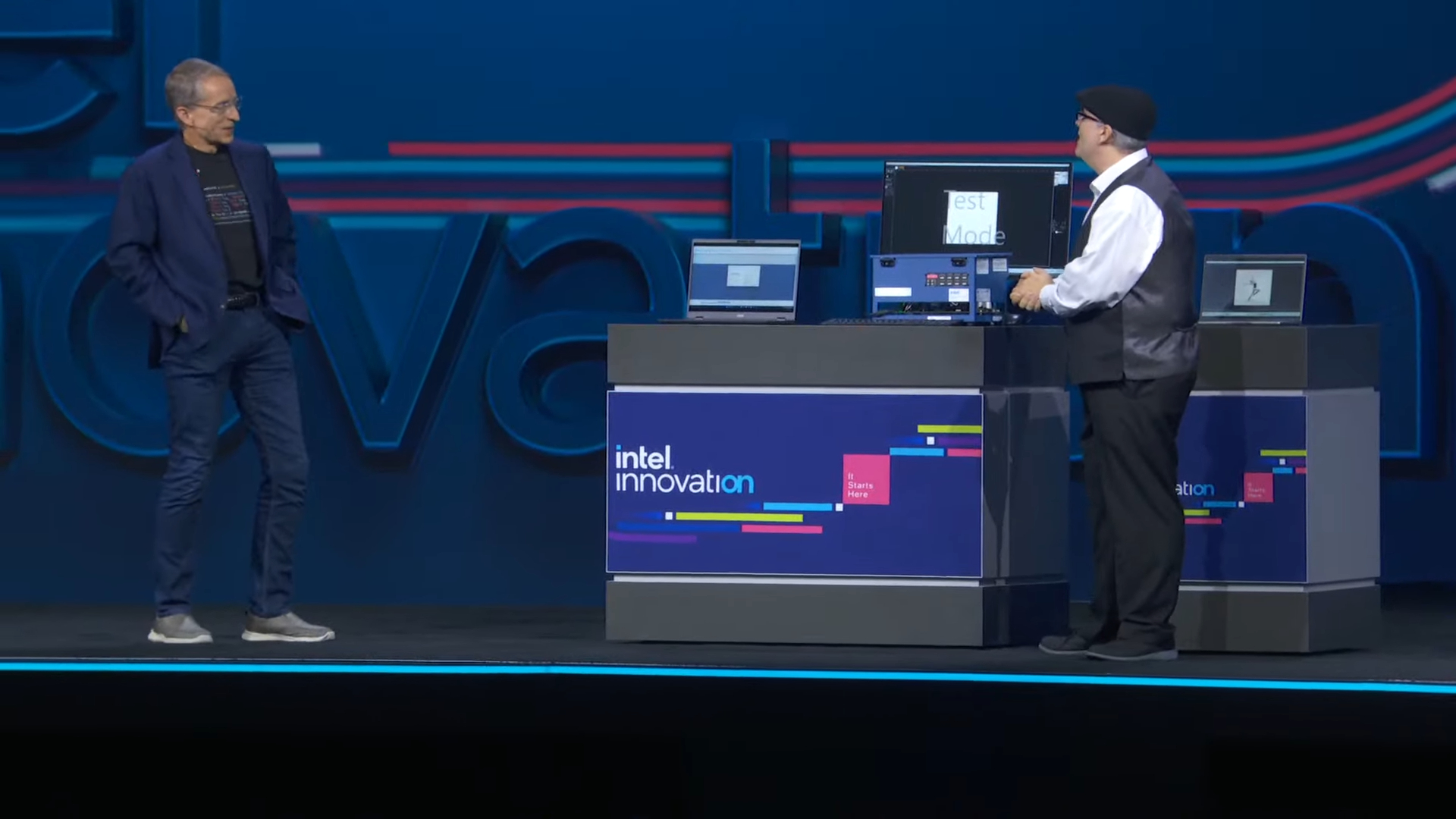 We saw a demo where AI turned text into a Taylor Swift-esque song. The workload ran on a standard PC.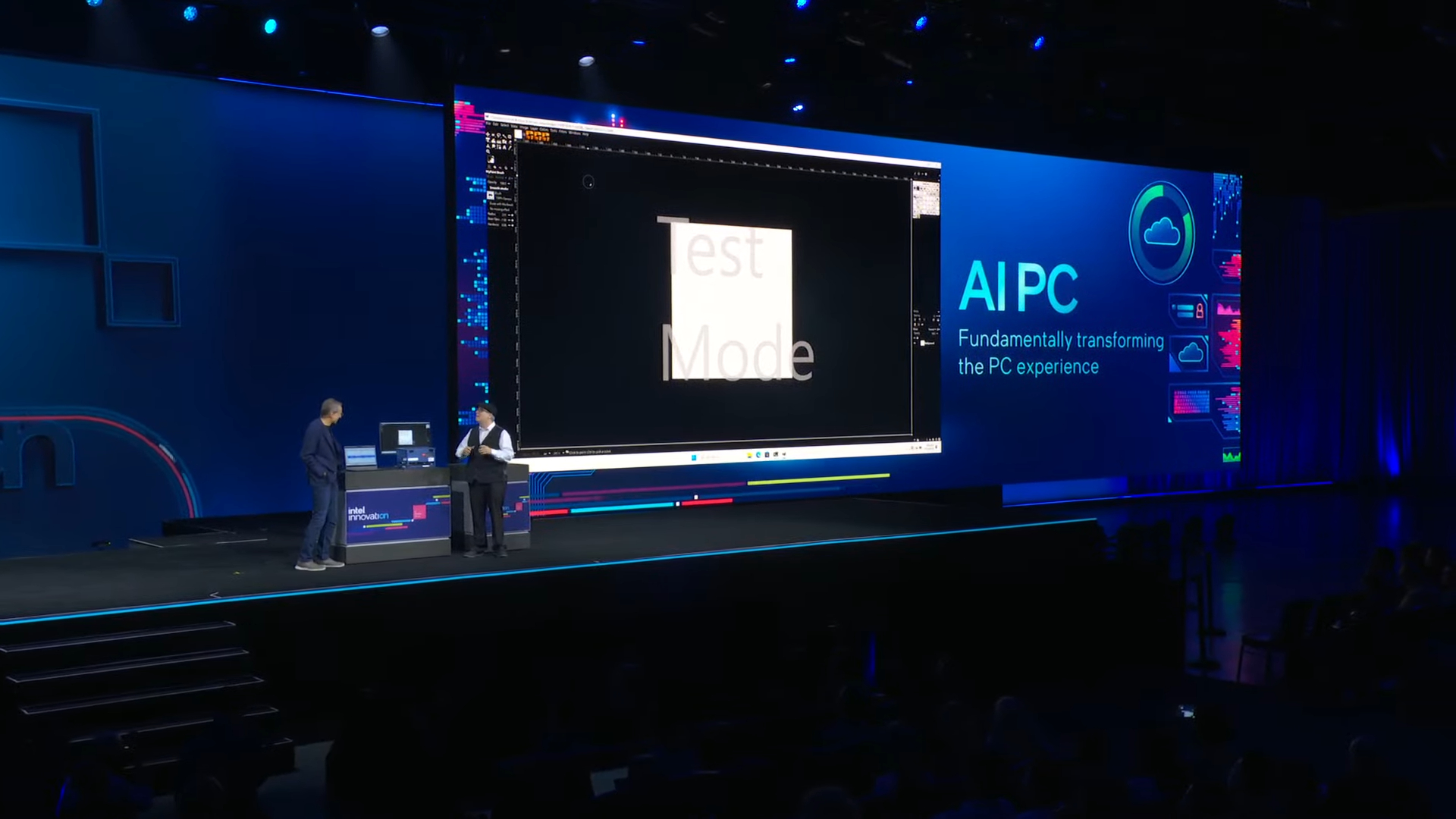 Intel demoed its first Lunar Lake system for the first time, showing it running Stable Diffusion.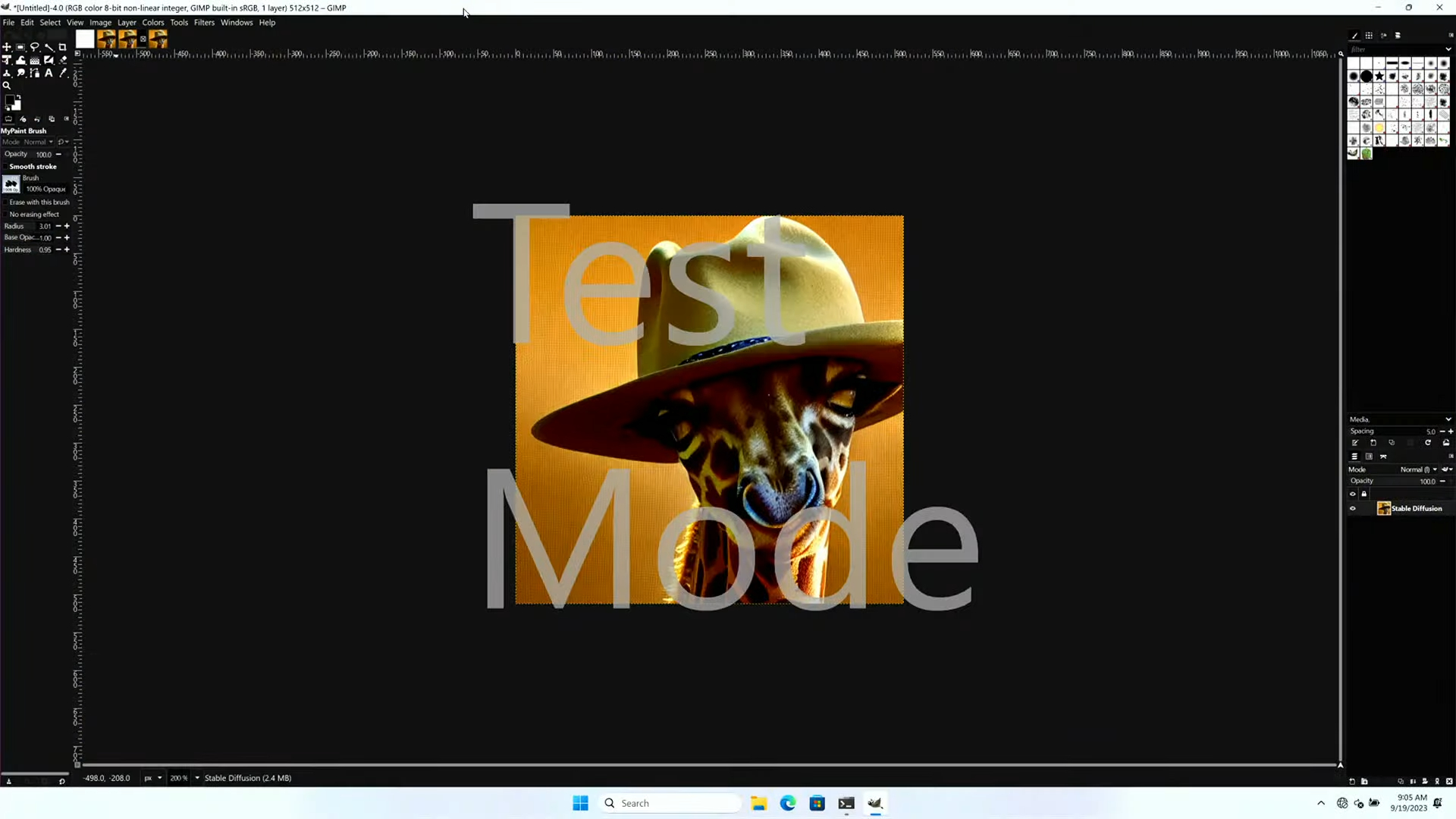 Now, Intel introduced its Core Ultra processors, otherwise known as Meteor Lake. These chips launch on December 14th. You can see coverage of the chips on our site.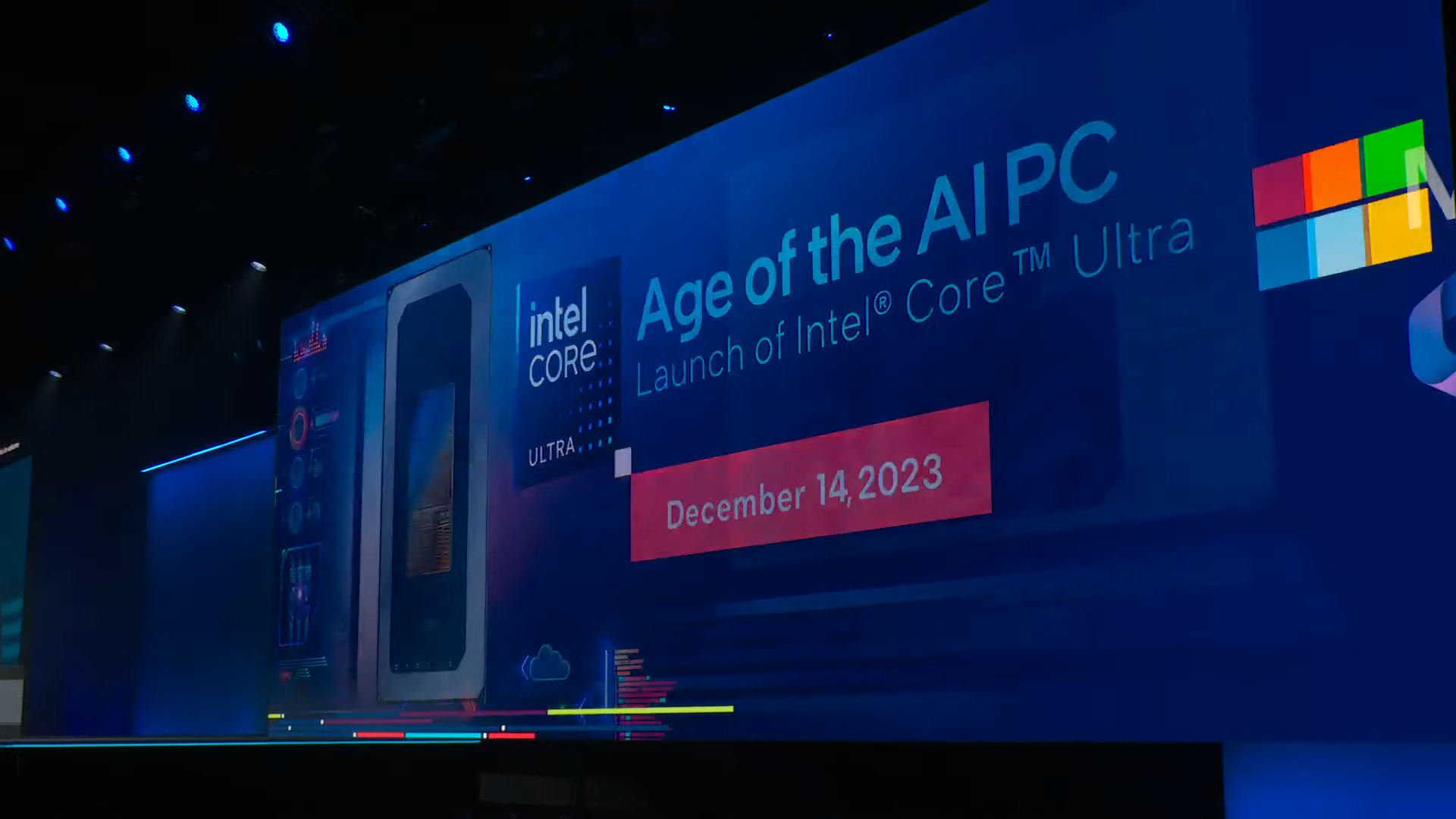 Meteor Lake is the first EUV-enabled process node. Intel 4 powers the CPU cores, and Intel's Foveros 3D tech ties the chiplets together.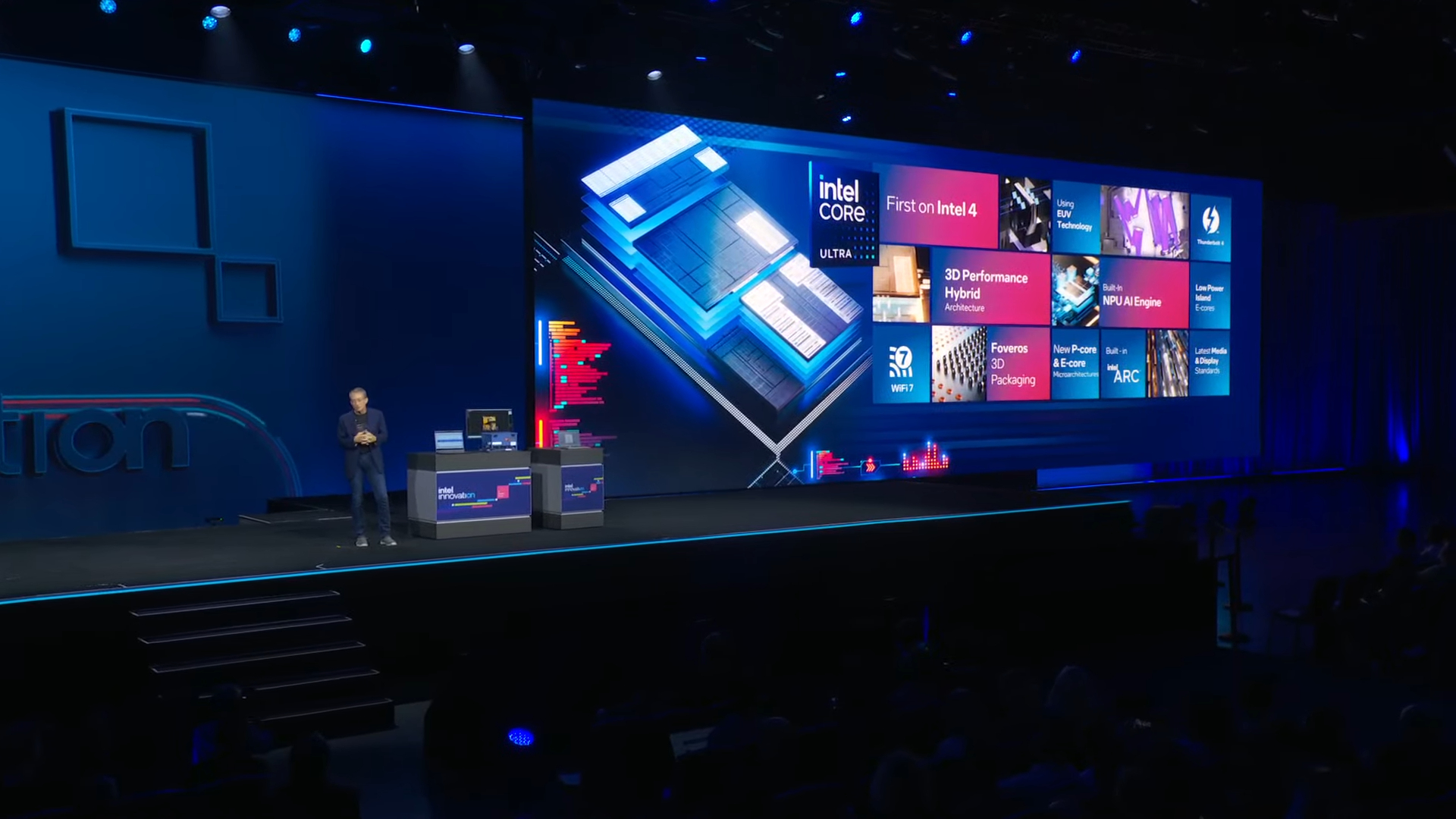 Gelsinger brought Acer's COO to the stage to talk about the company's collaboration with Intel in the fast, and in the future as AI comes to Acer's laptops via Intel's chips.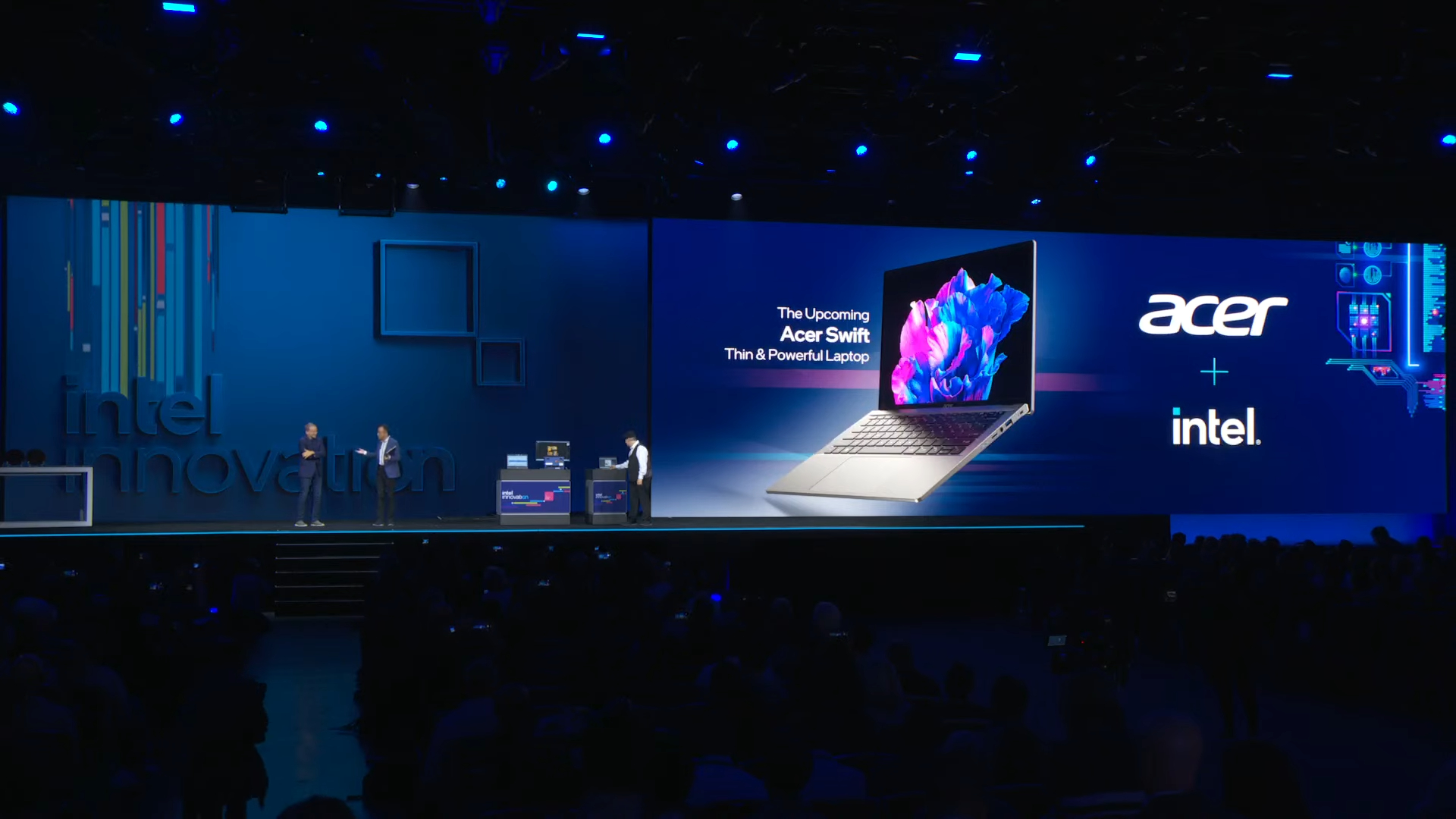 Acer demoed its Meteor Lake-powered laptop running Stable Diffusion locally.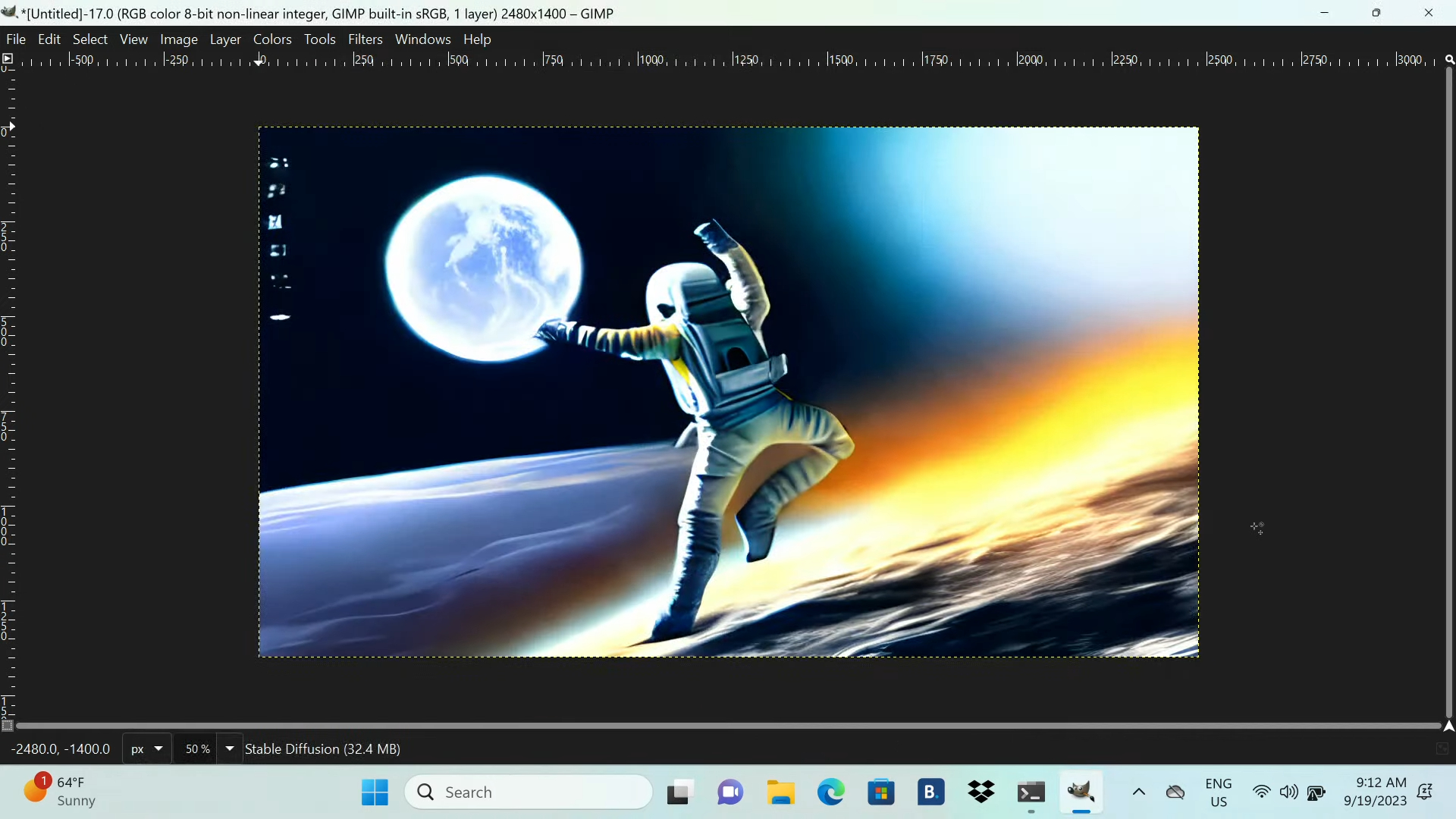 Intel is also working on Arrow Lake, Lunar Lake and Panther Lake. Intel is sending the first Panther Lake chips to its fab next in Q1 2024. These chips use the Intel 18A process.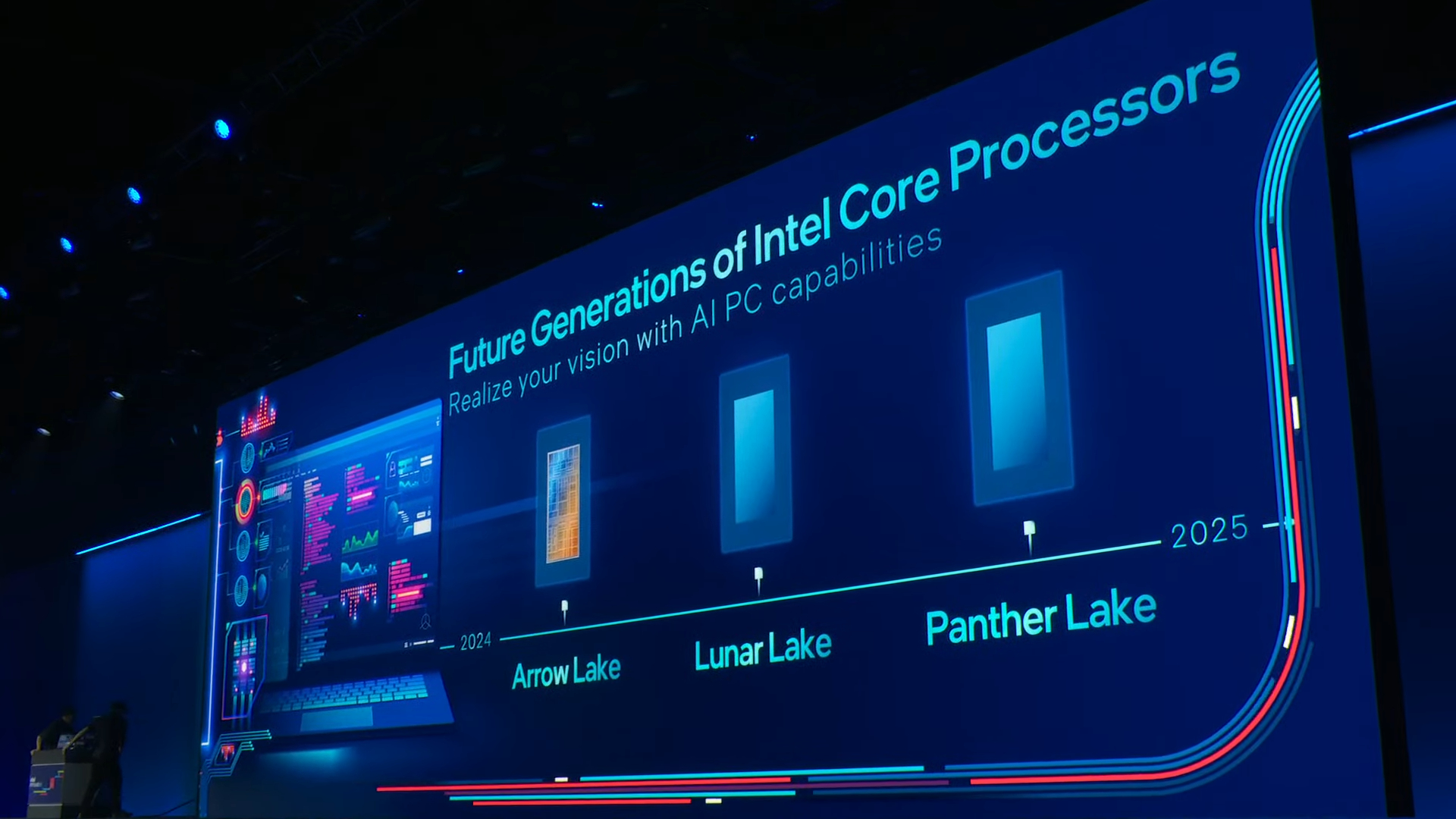 Gelsinger showed an Arrow Lake wafer with the Intel 20A process.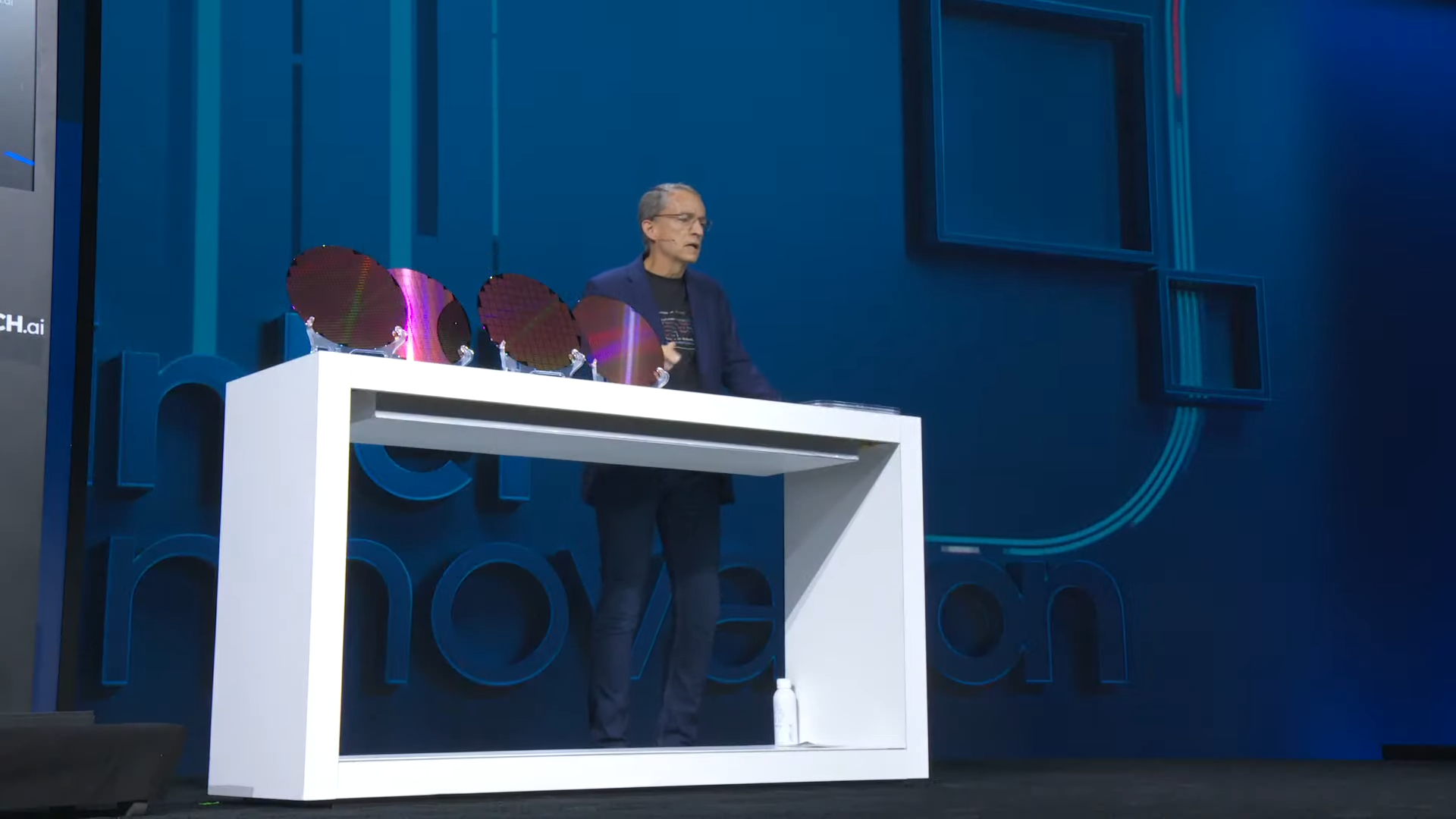 Intel has its Sierra Forest, Granite Rapids, and Clearwater forest coming to market.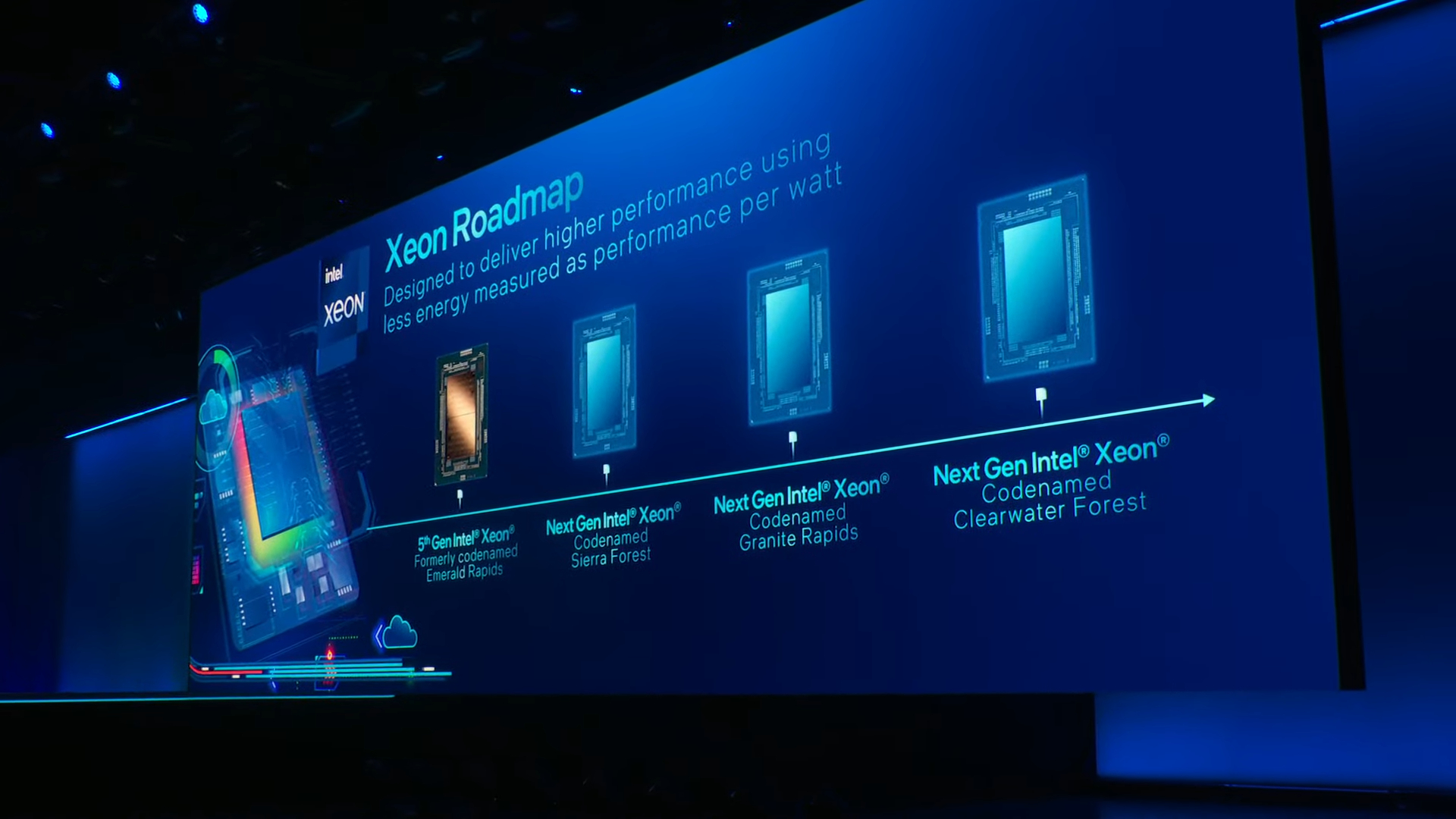 Gelsinger showed a 288-core Sierra Forest model. It has two compute dies packed with E-Cores.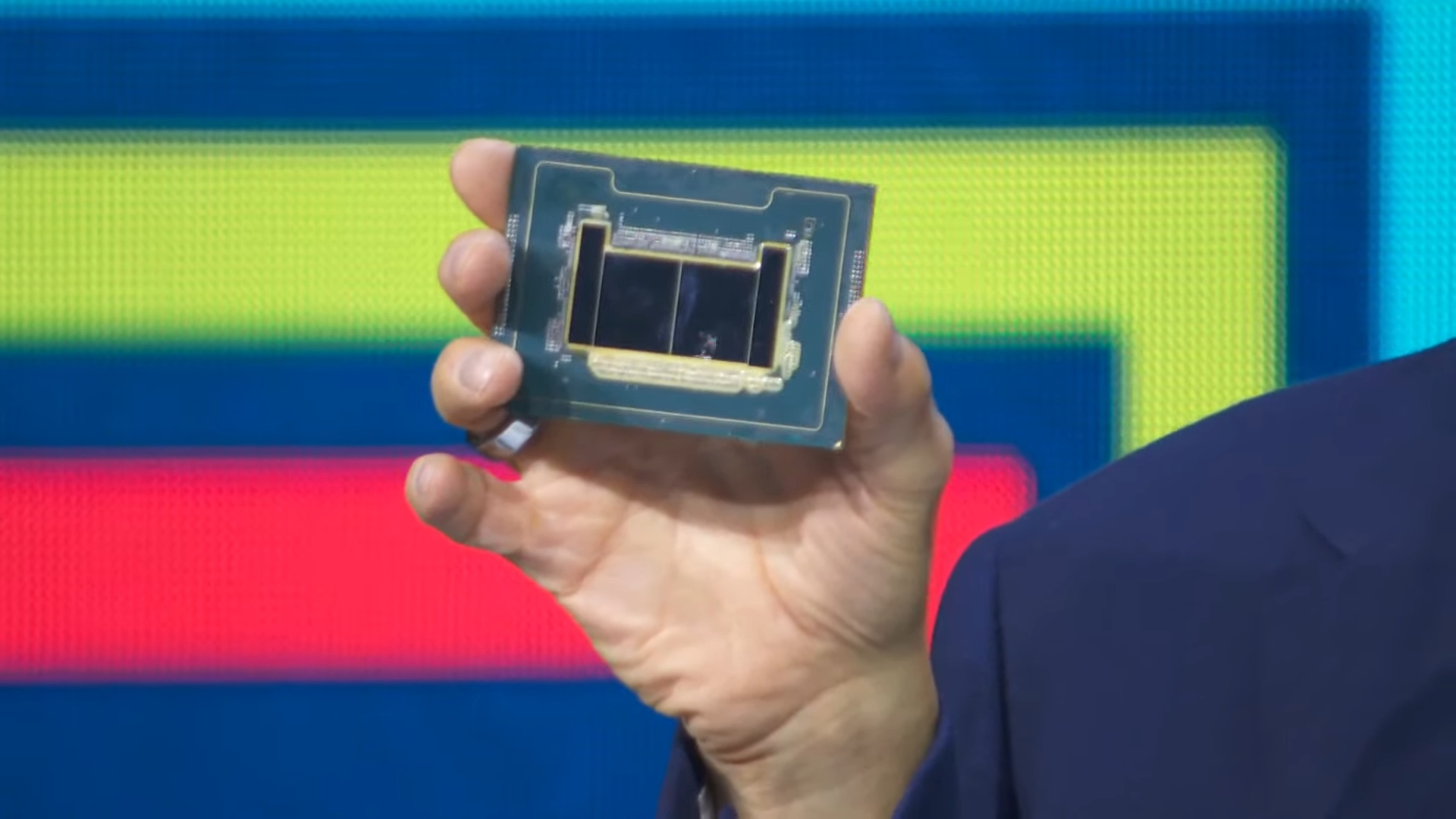 Sierra Forest will launch in 2024.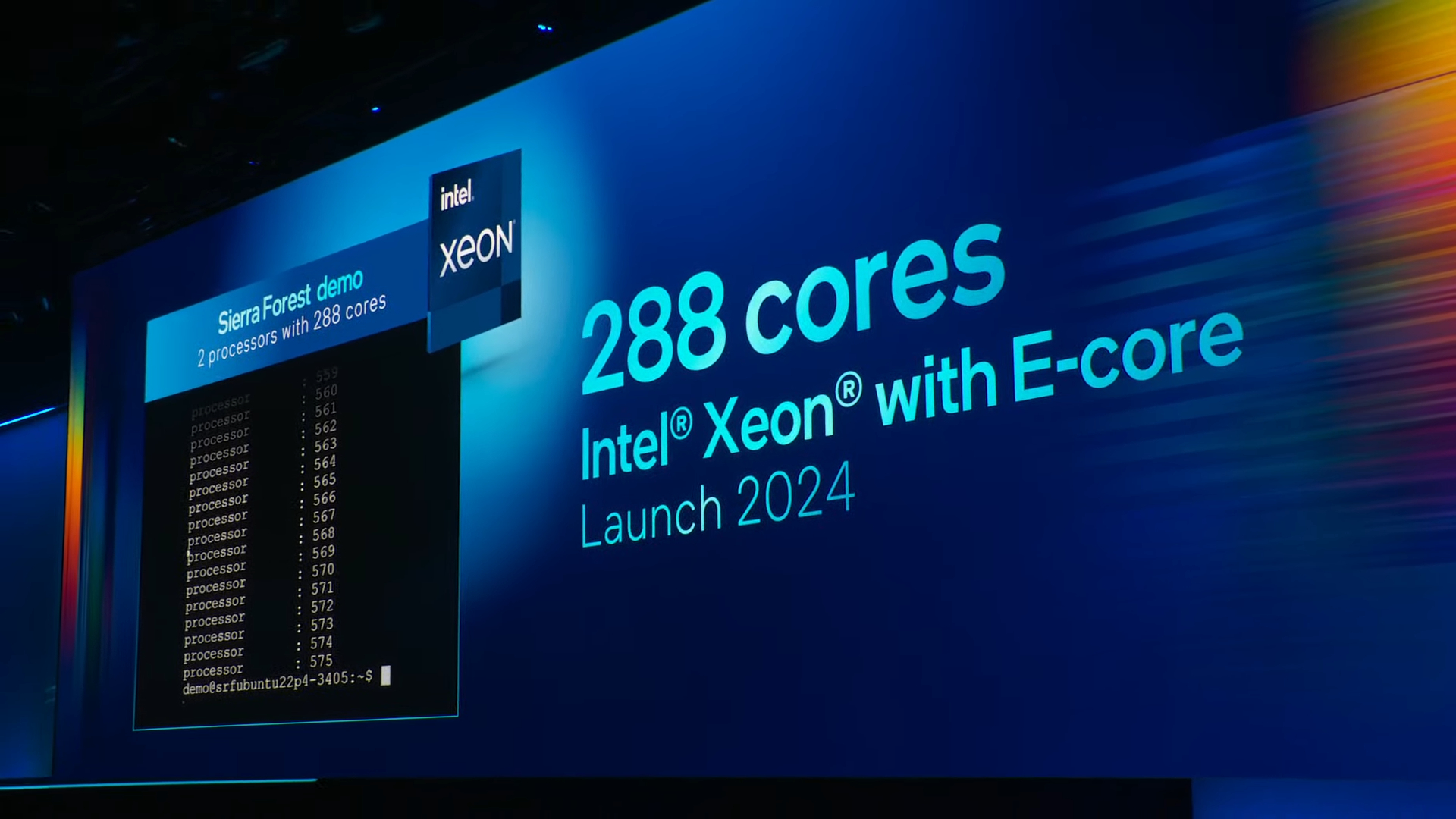 Here's the wafer.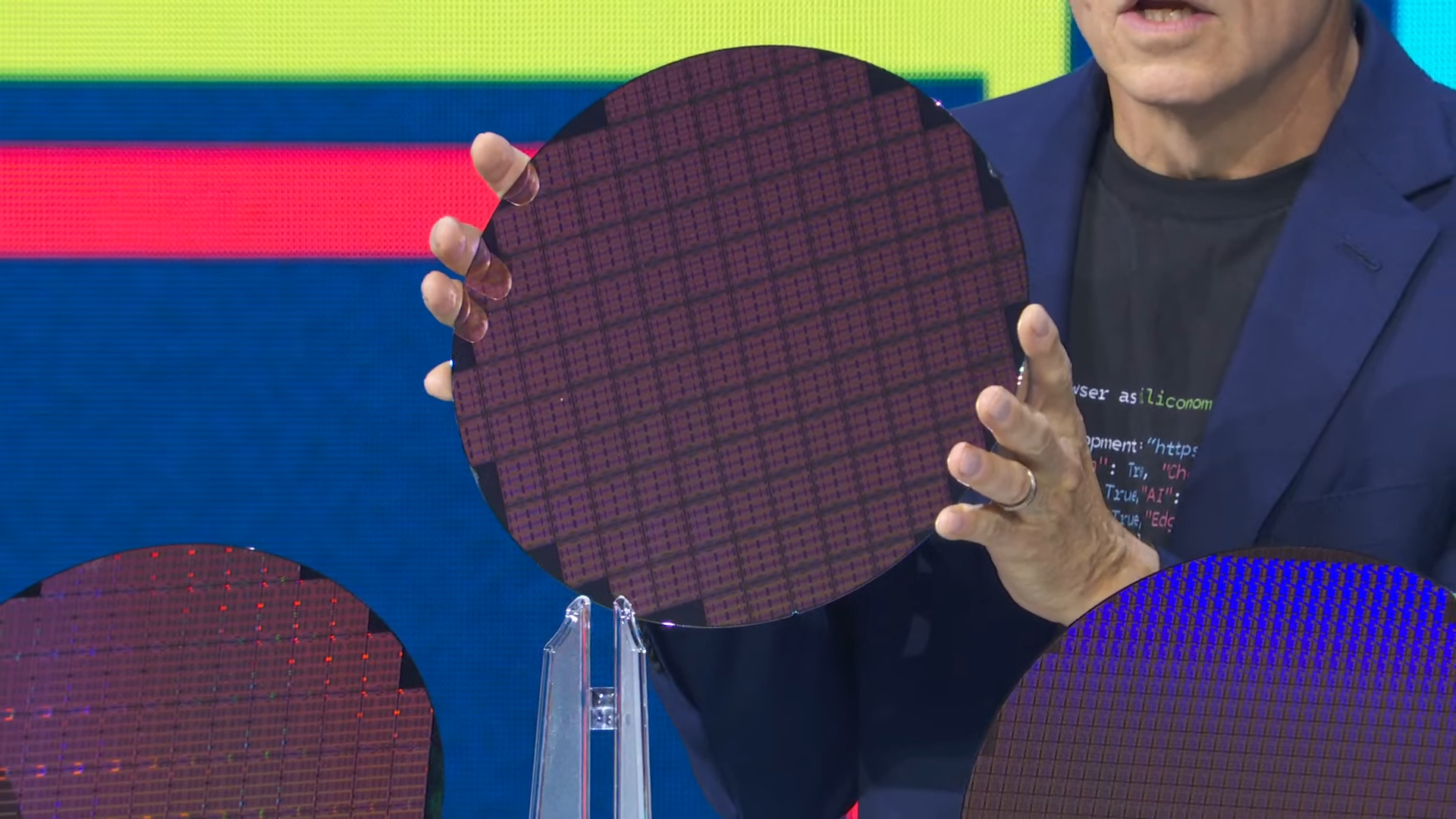 Here are a few more wafer glamor shots, Intel 3 and Intel 20A.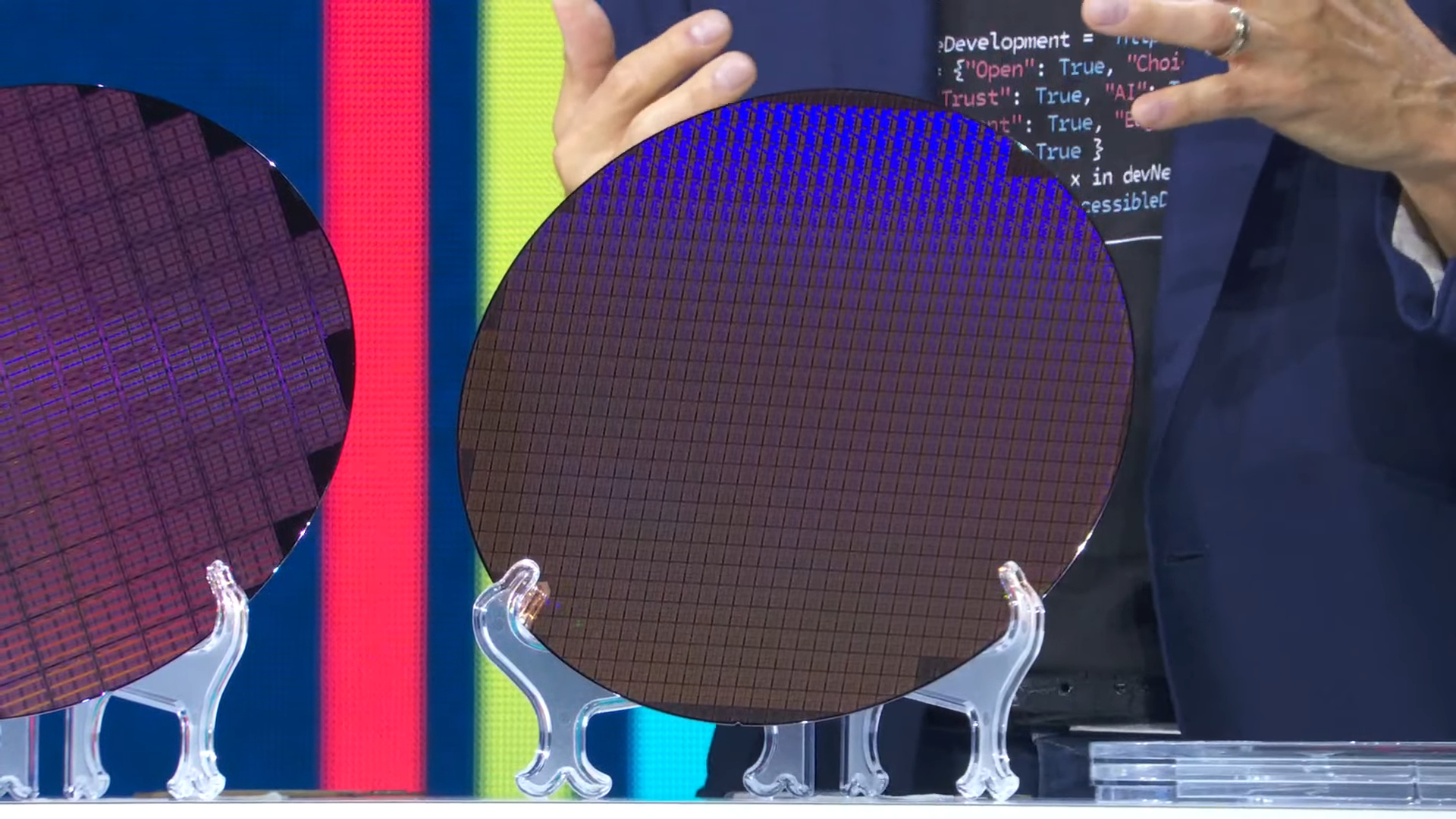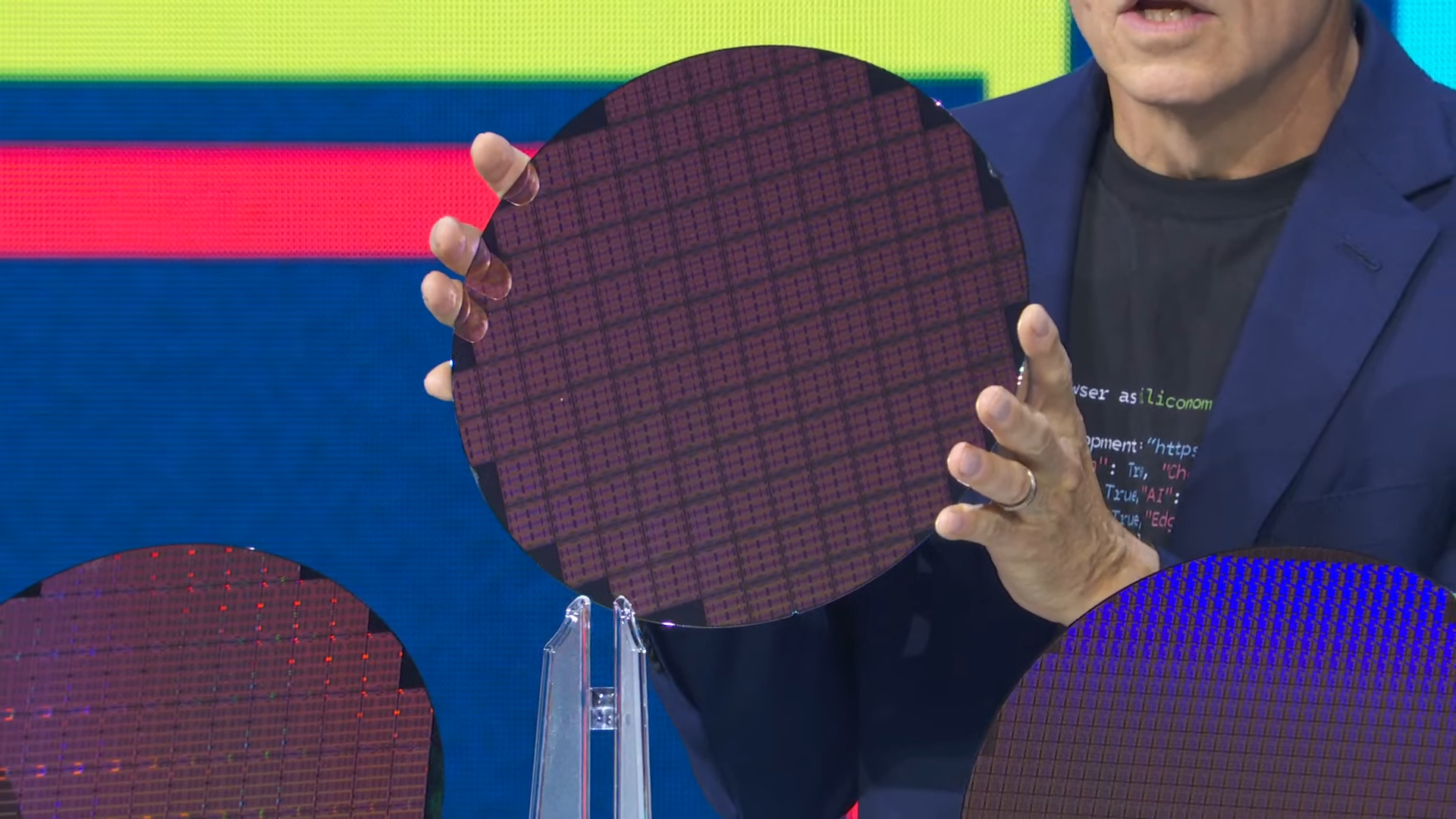 Gelsinger demoed real-time transcription and transcritption running locally on a laptop.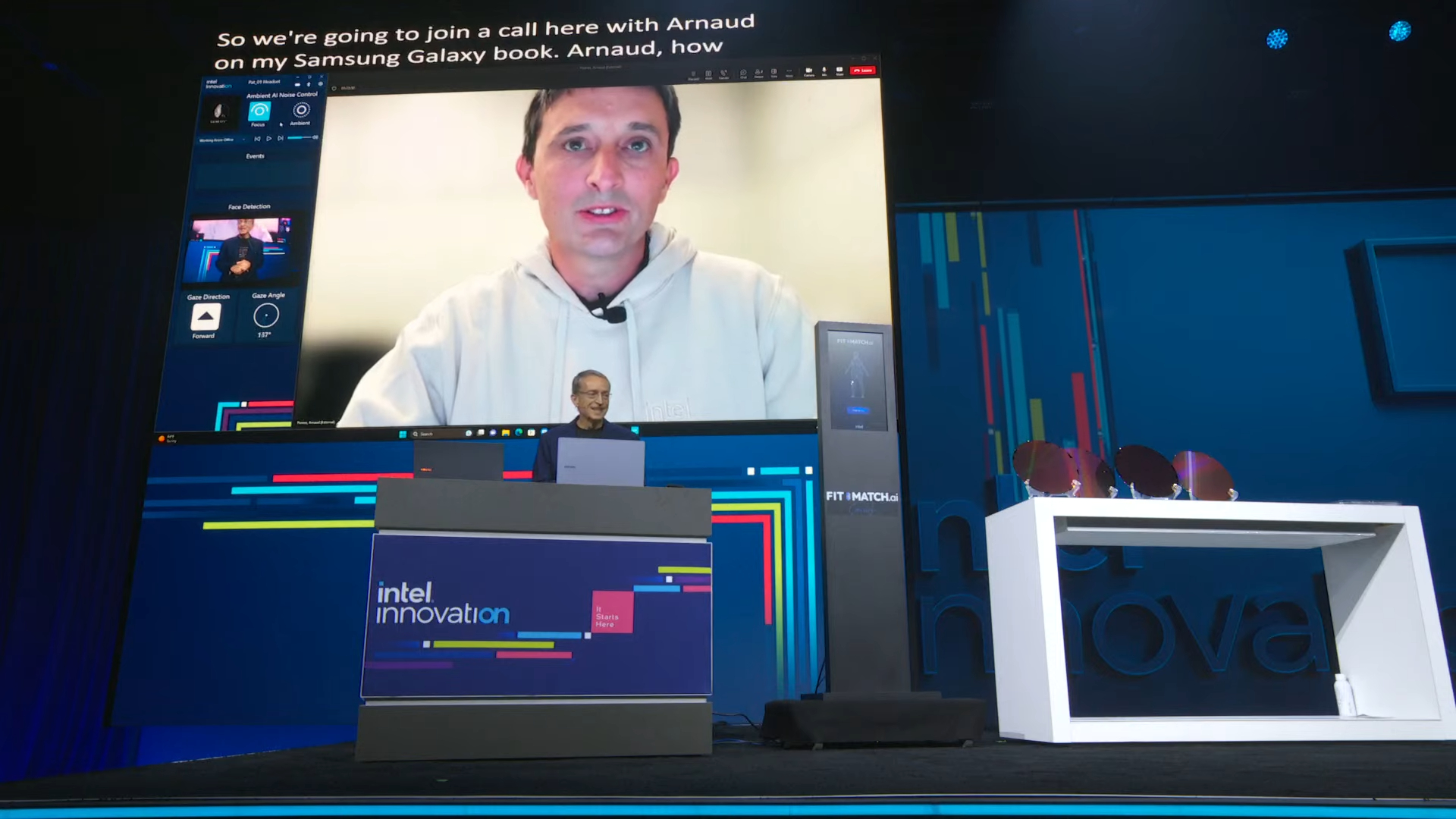 Intel covered the OpenVINO advances with 2023.1.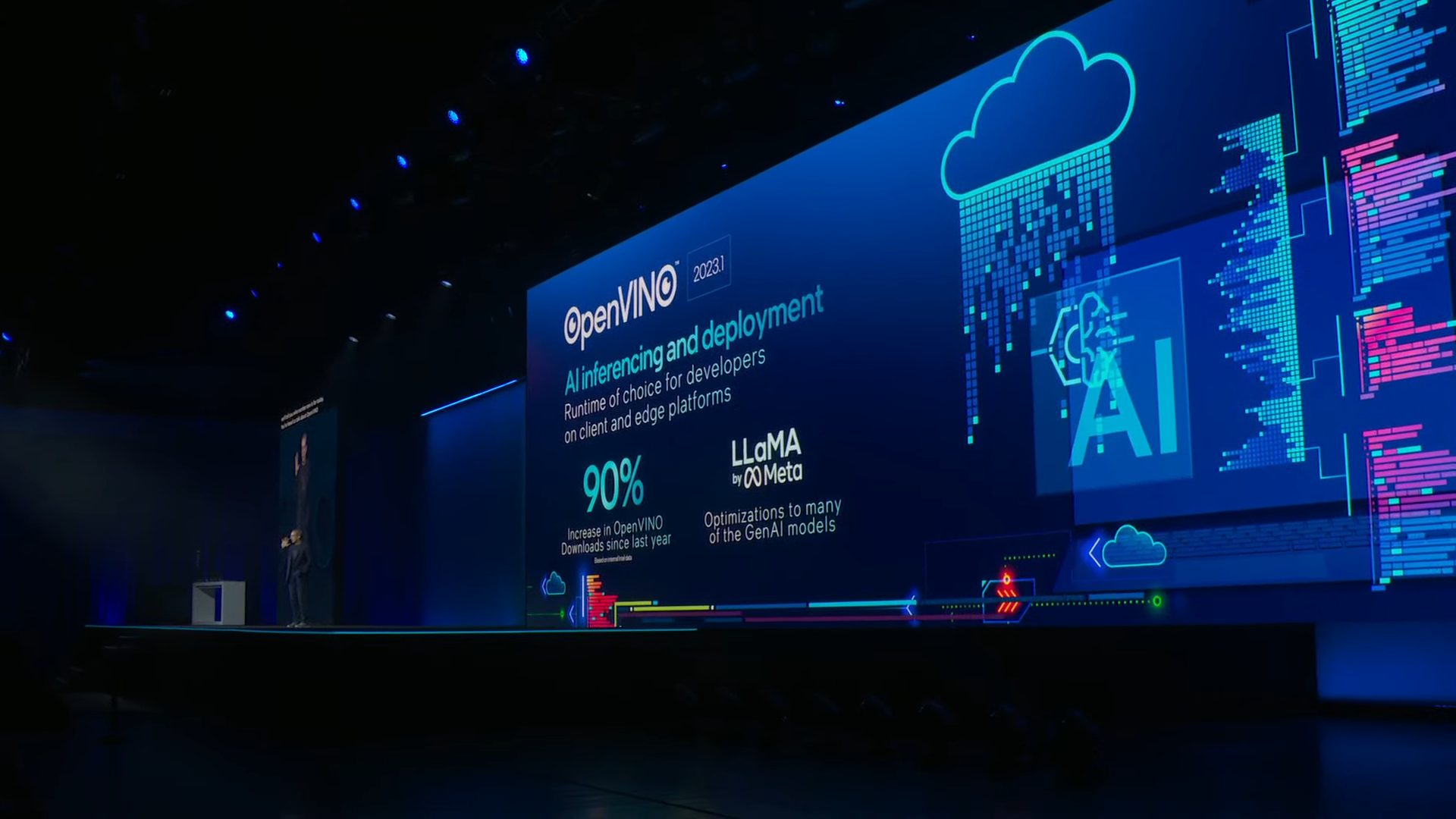 Intel is expanding its partnership with Arm, and now Arm will work with Intel on OpenVINO.

OpenVINO on Arm and x86.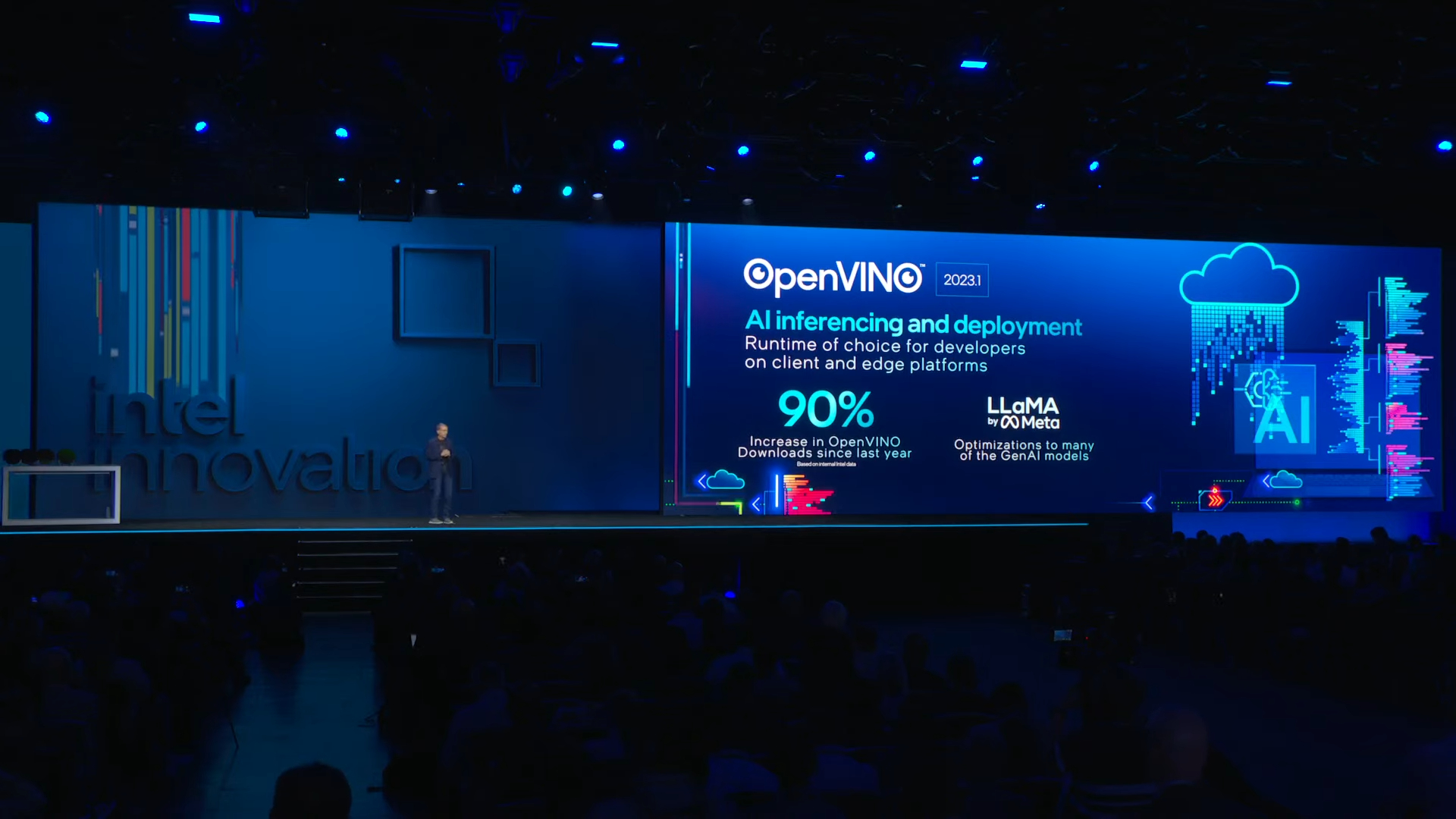 Gelsinger outlined how Hyrbid AI will play out from the datacenter to the edge. Intel will release a Hybrid AI SDK next year for low-code and no-code applications.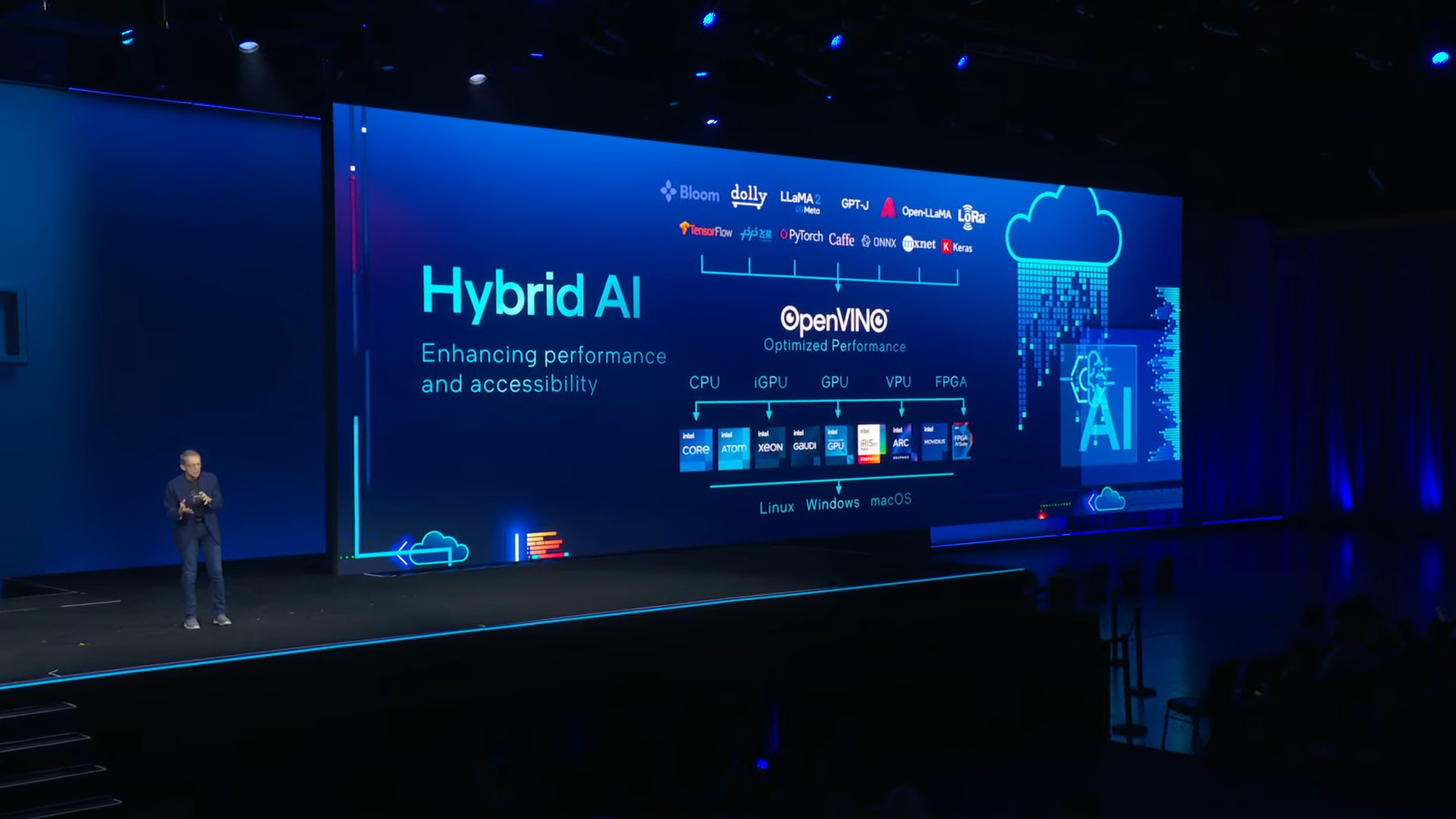 Deep Render came to the stage to demonstrate AI-based compression algorithms running on Meteor Lake's built-in AI NPU engine. It can compress video five times better than any other solution.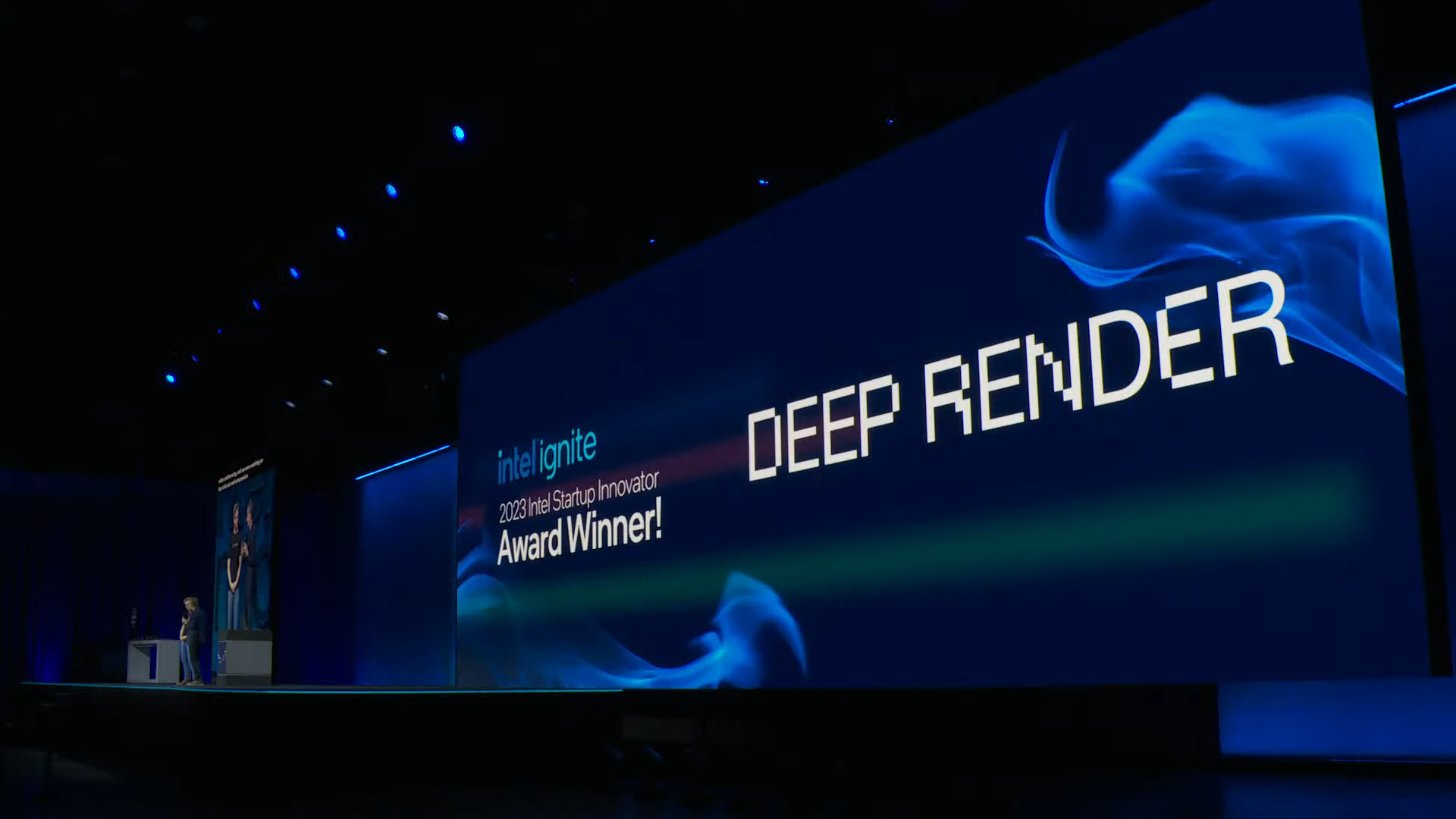 Gelsinger is now talking about the "magic of Moore's Law" and discussing how the company remains on track for all of its future process nodes, a schedule that could catapult it back into the process technology lead.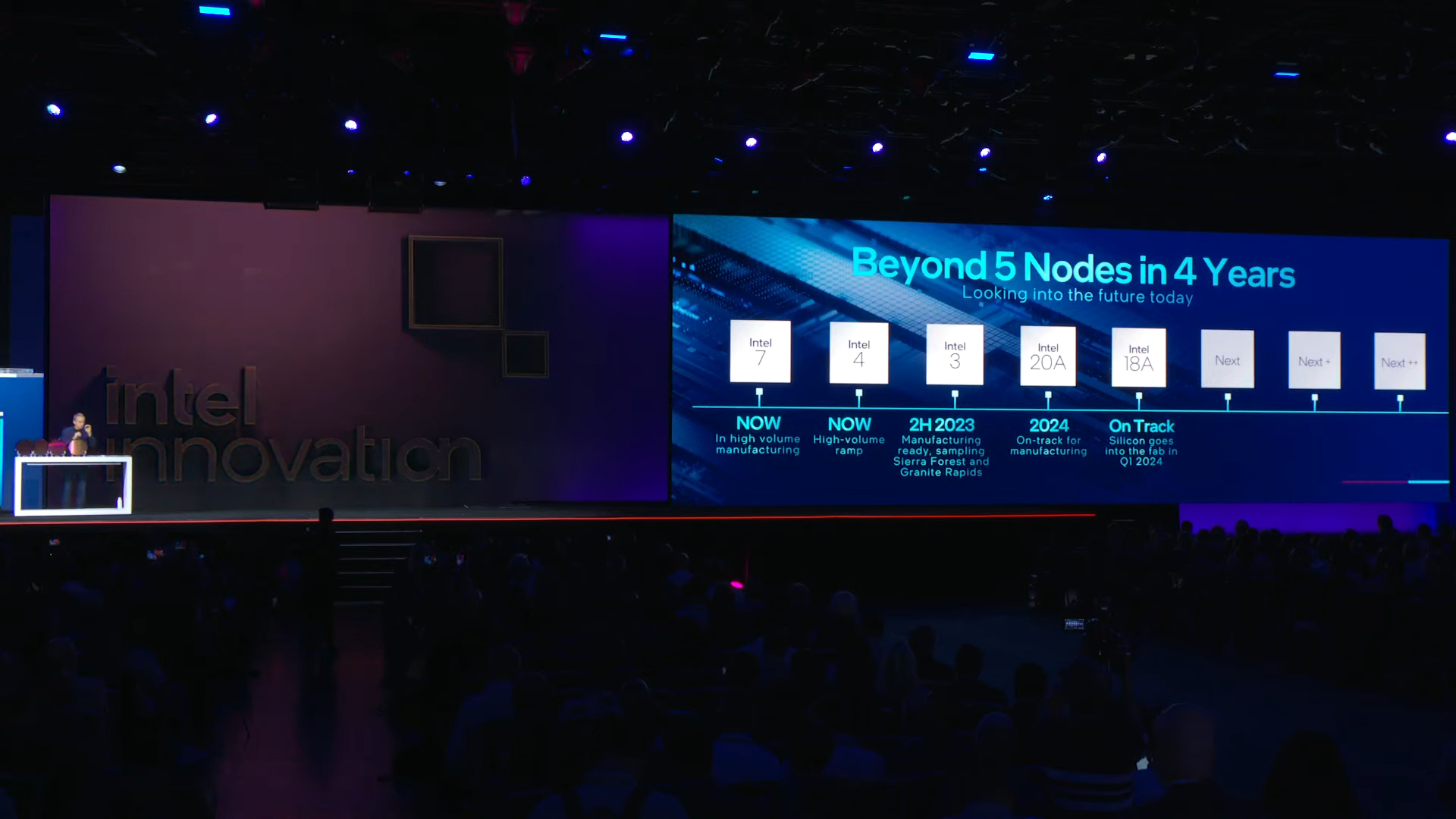 Gelsinger also showed a wafer of the 18A node that is the last of the five nodes he promised to deliver in four years.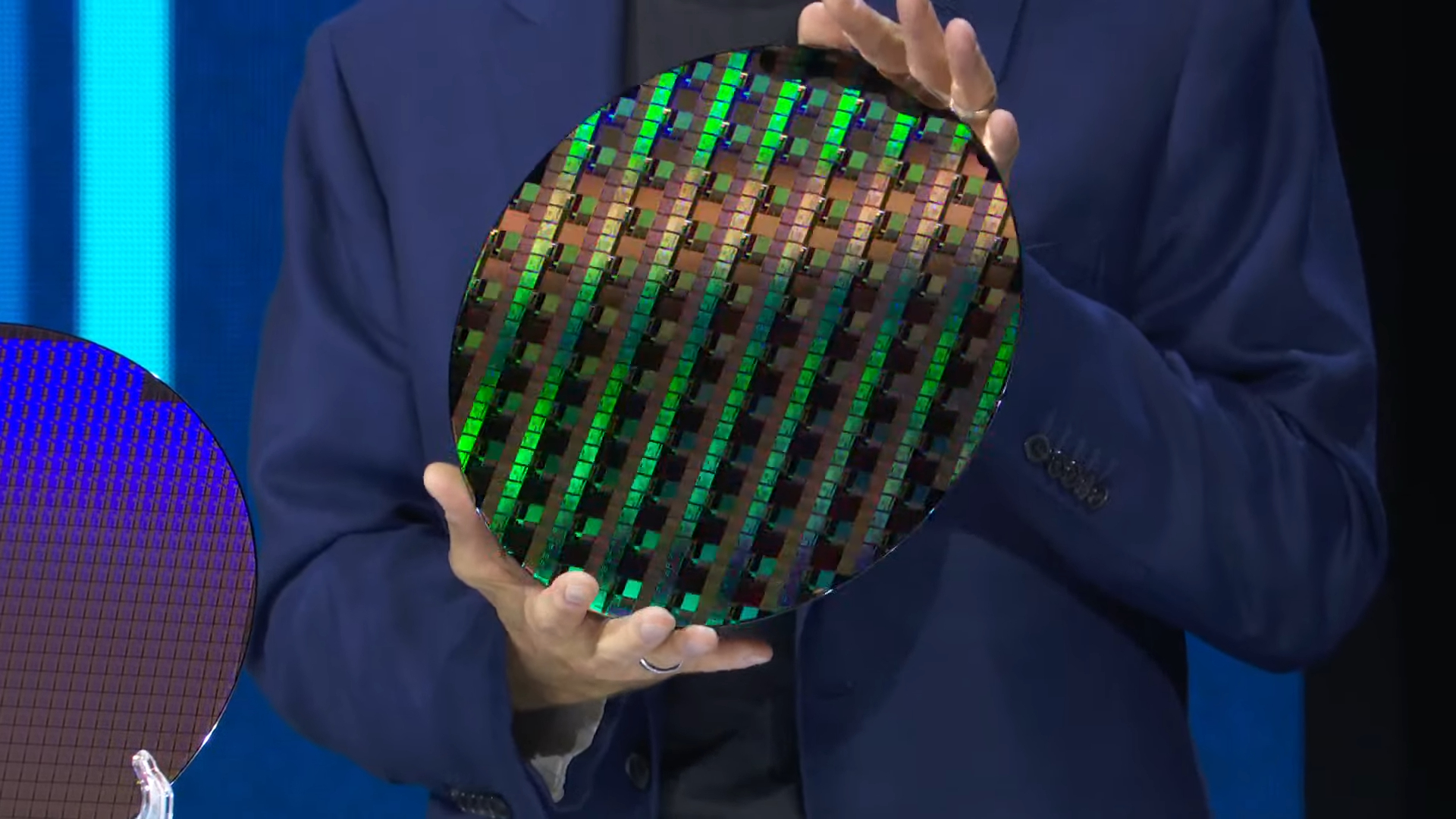 Intel will have its first High-NA EUV machine, the next-gen of EUV, in its Oregon fab by the end of the year.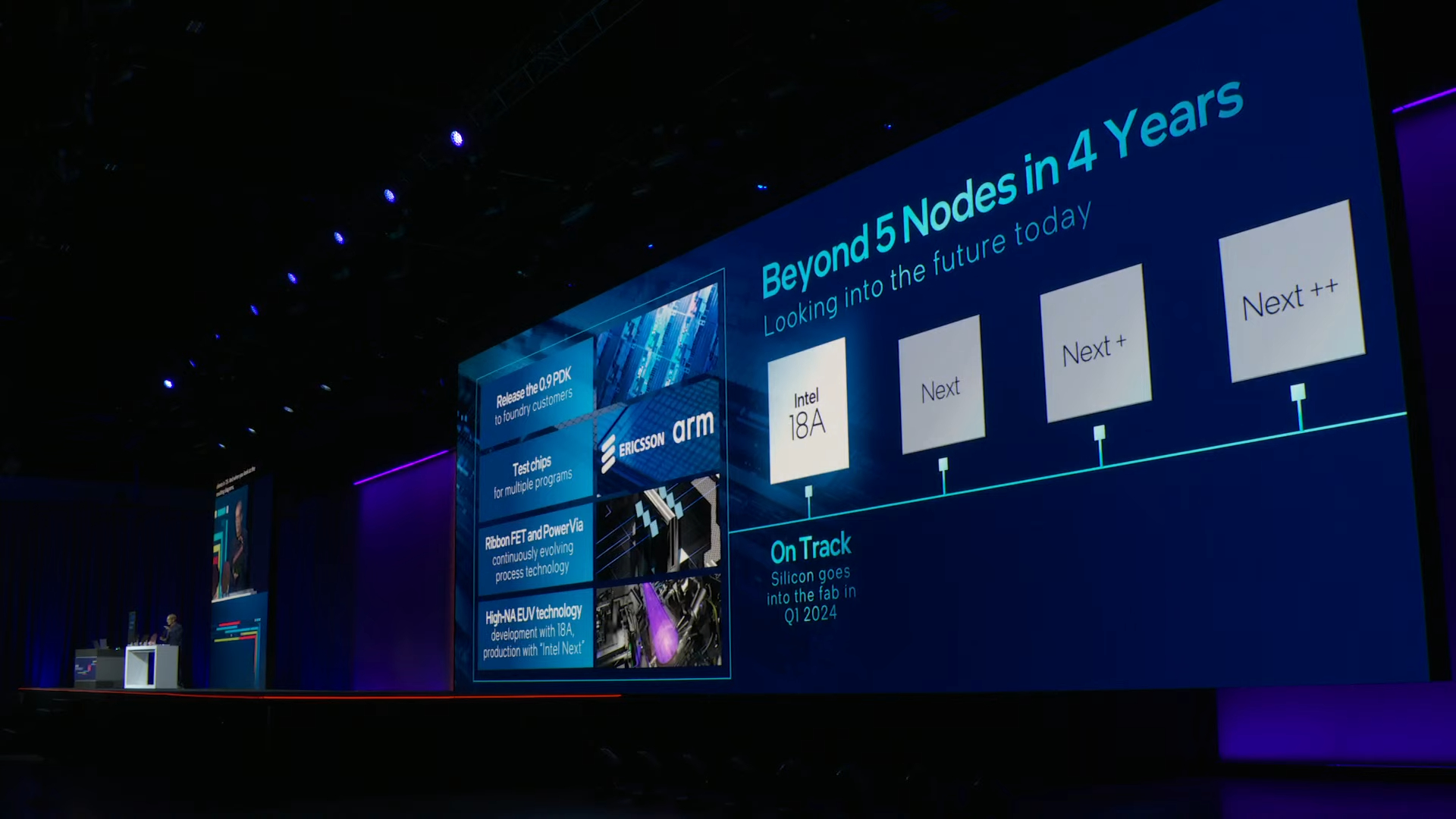 Intel brought its new glass substrate tech onto the stage, with a massive sheet being held by two stagehands while Gelsinger showed a single glass wafer.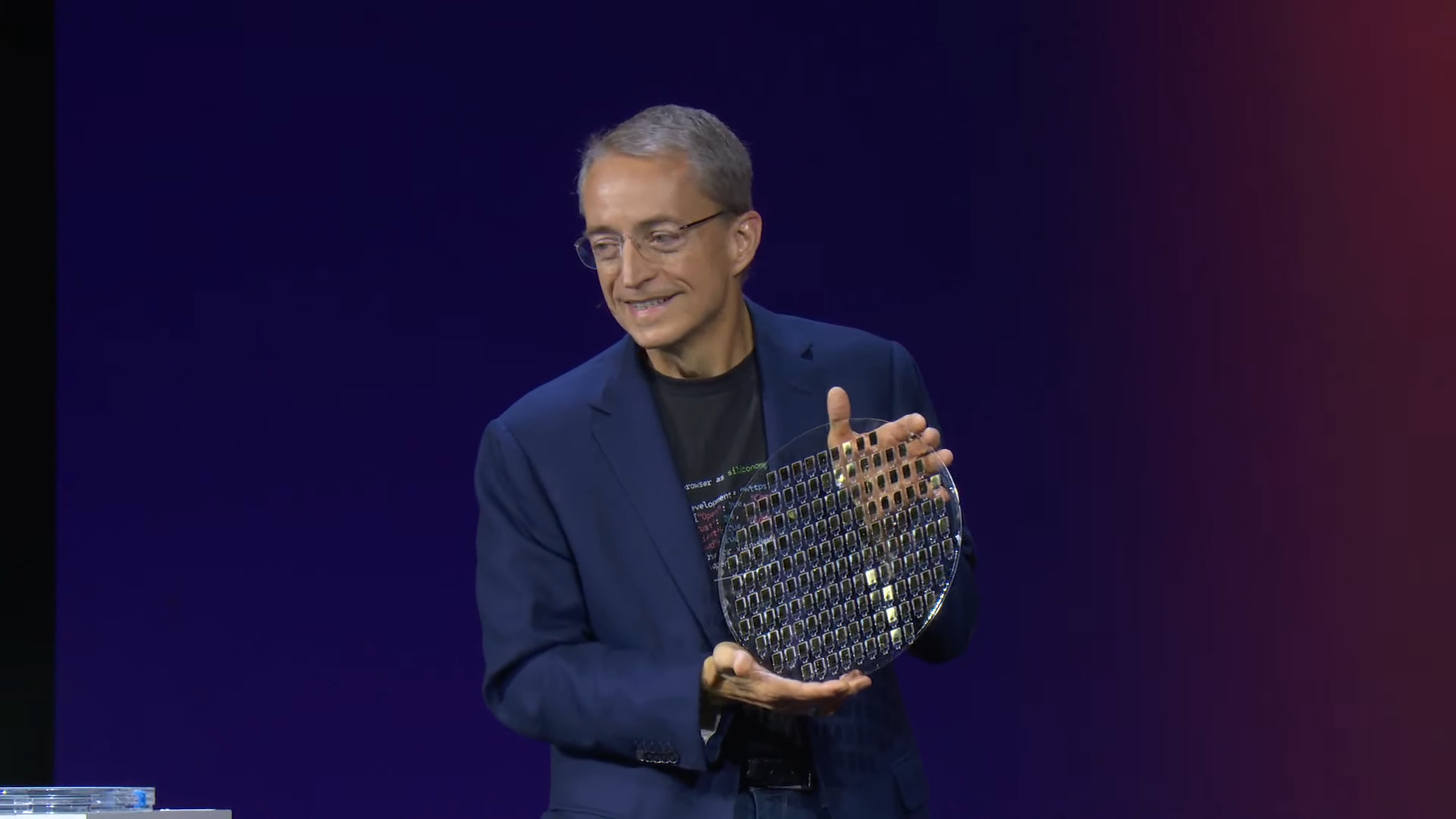 Gelsinger showed the the world's first UCIe-enabled processor, which is tied together with a standardized interconnect that will power next-gen chiplet designs.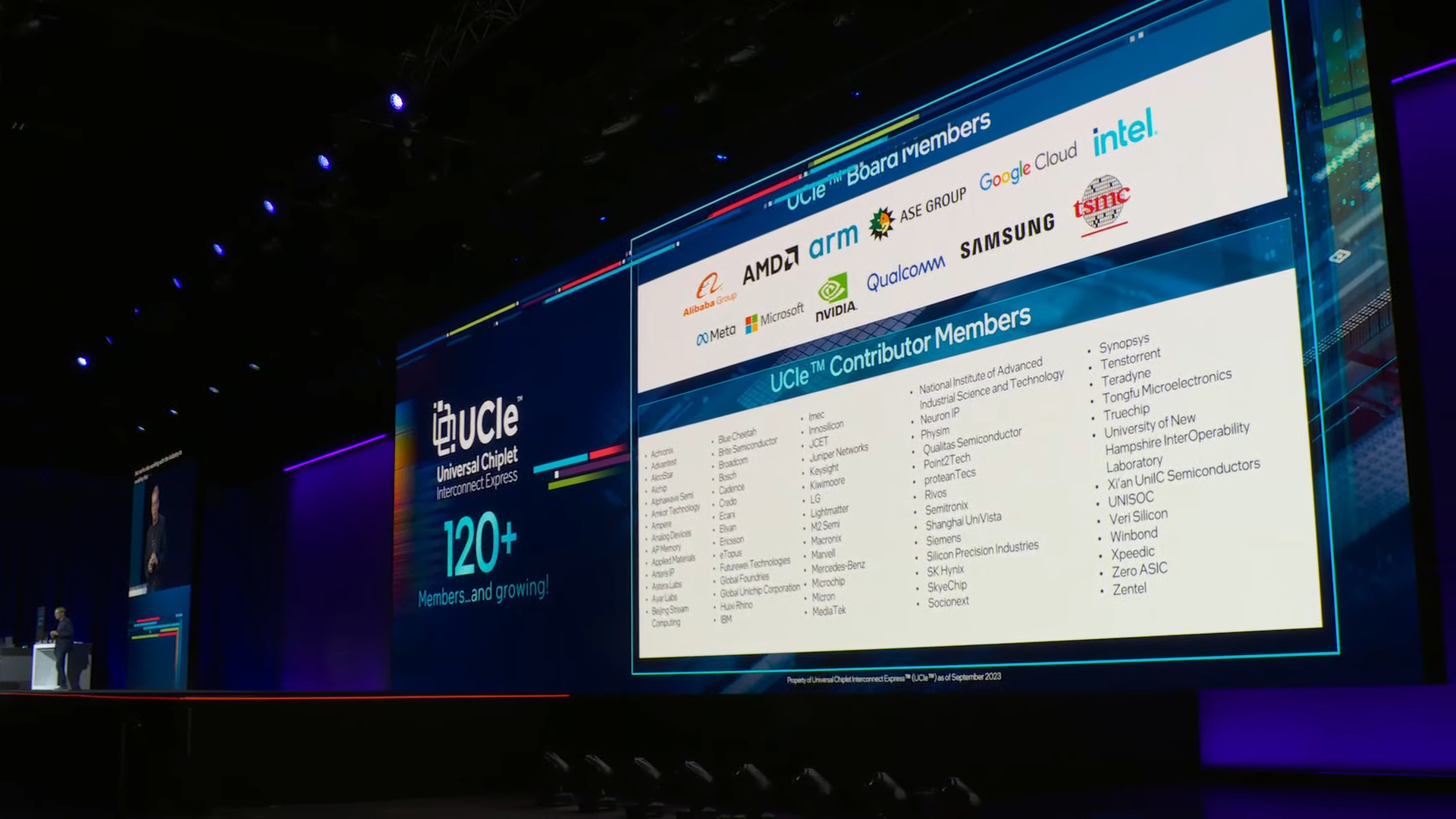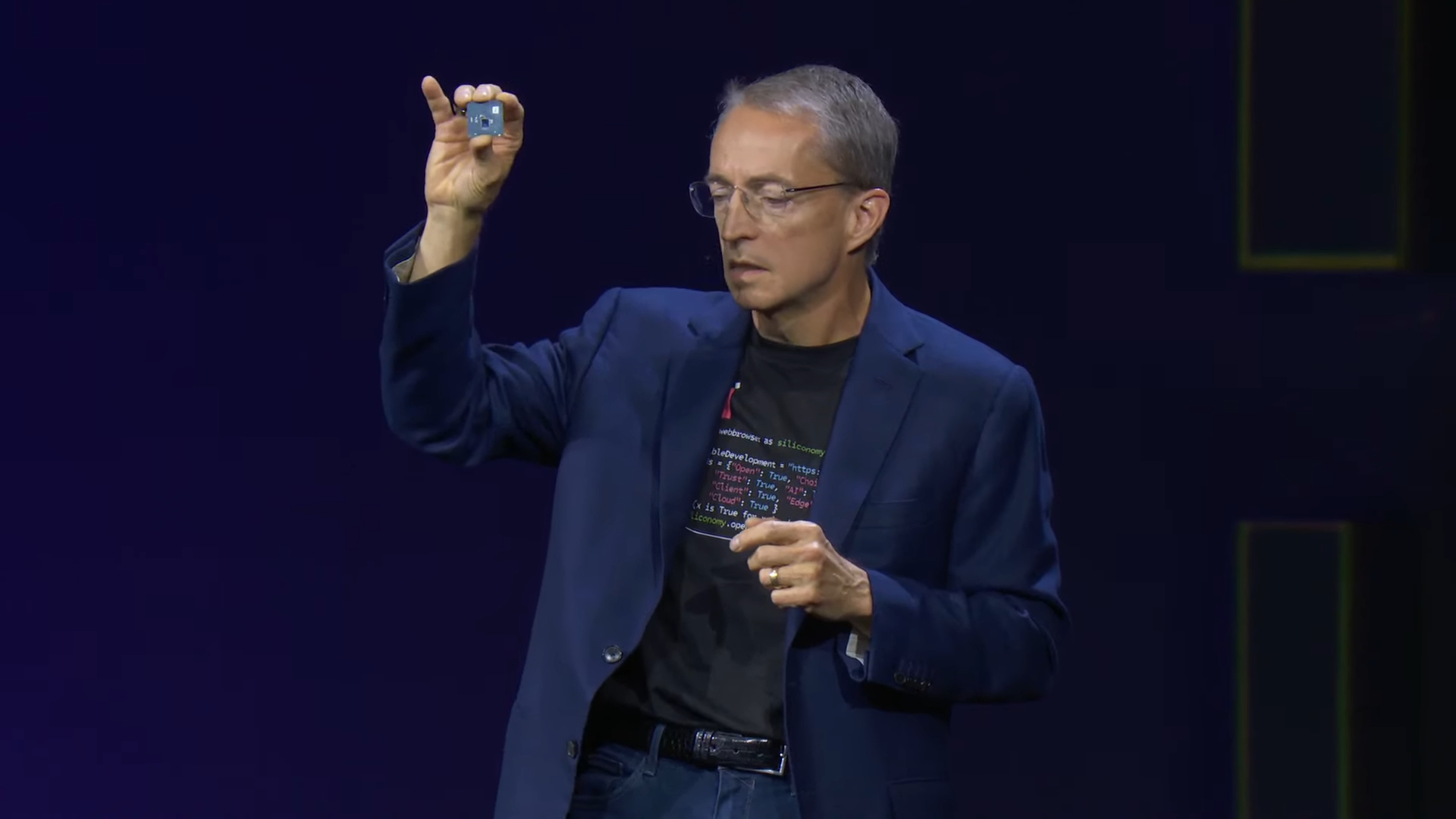 Here's a closer shot of the UCIe processor.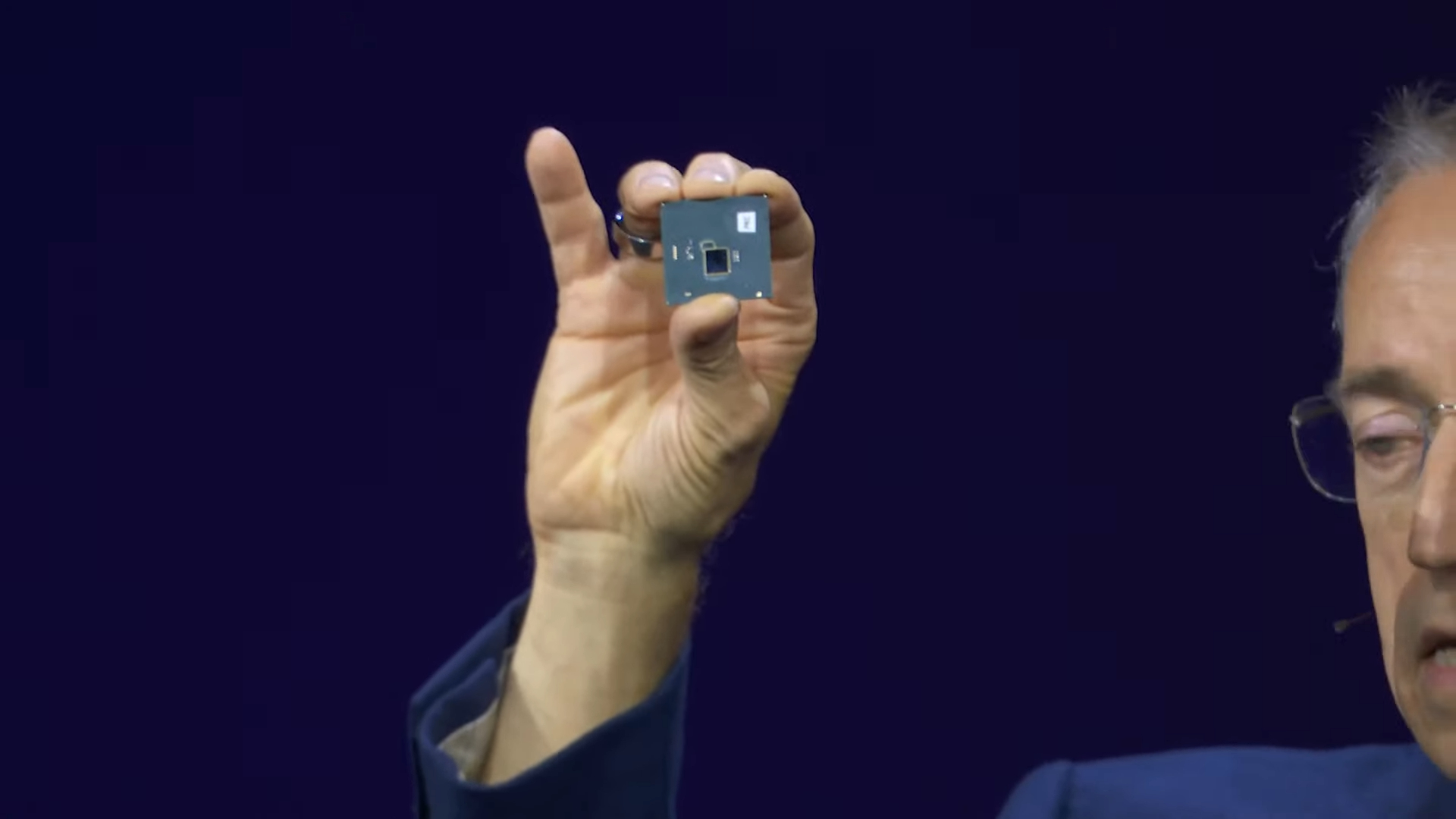 Gelsinger talked about Intel's efforts in the Quantum realm with silicon-based Qubits. That includes Tunnel Falls, which Gelsinger showed a wafer of.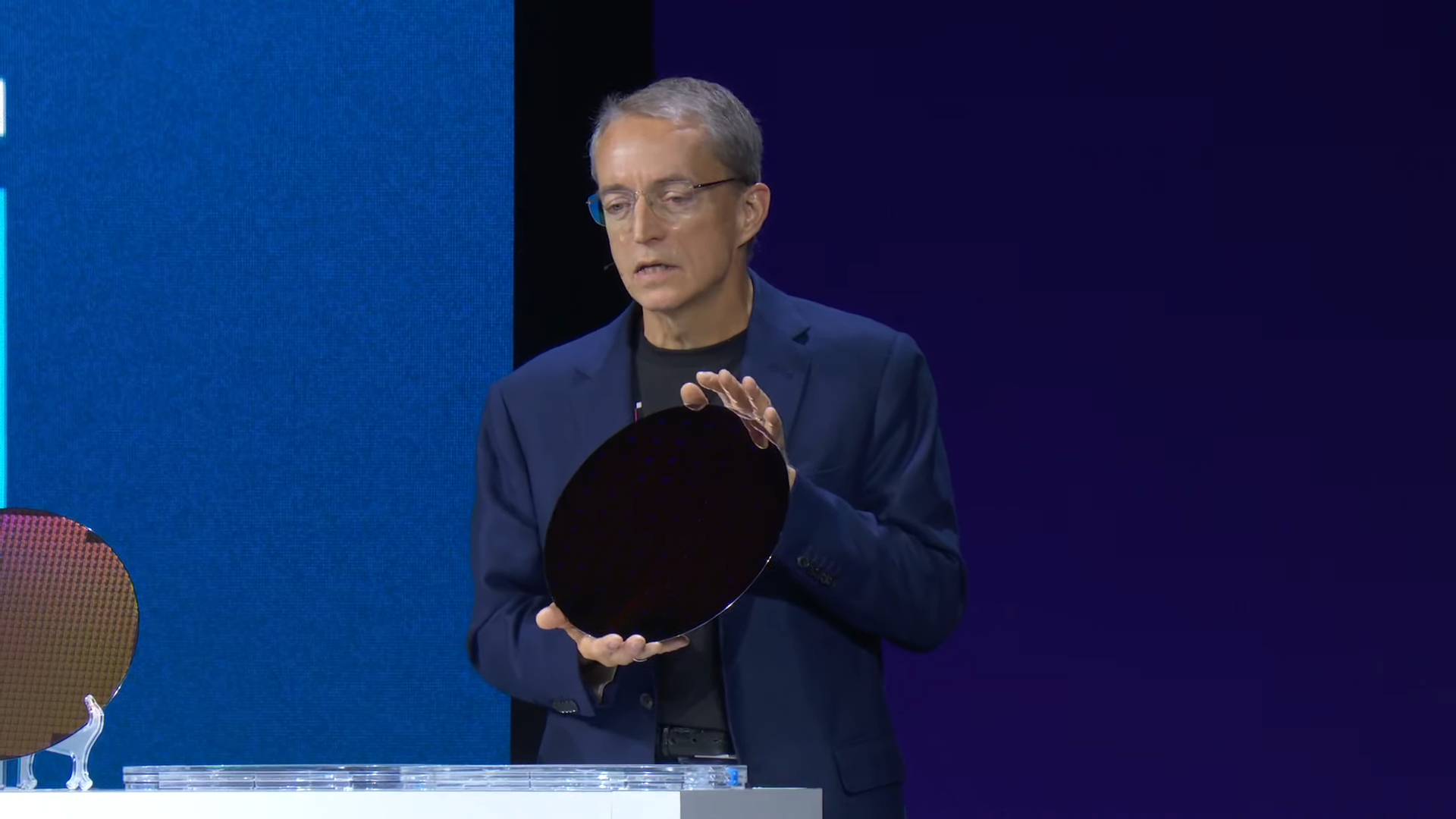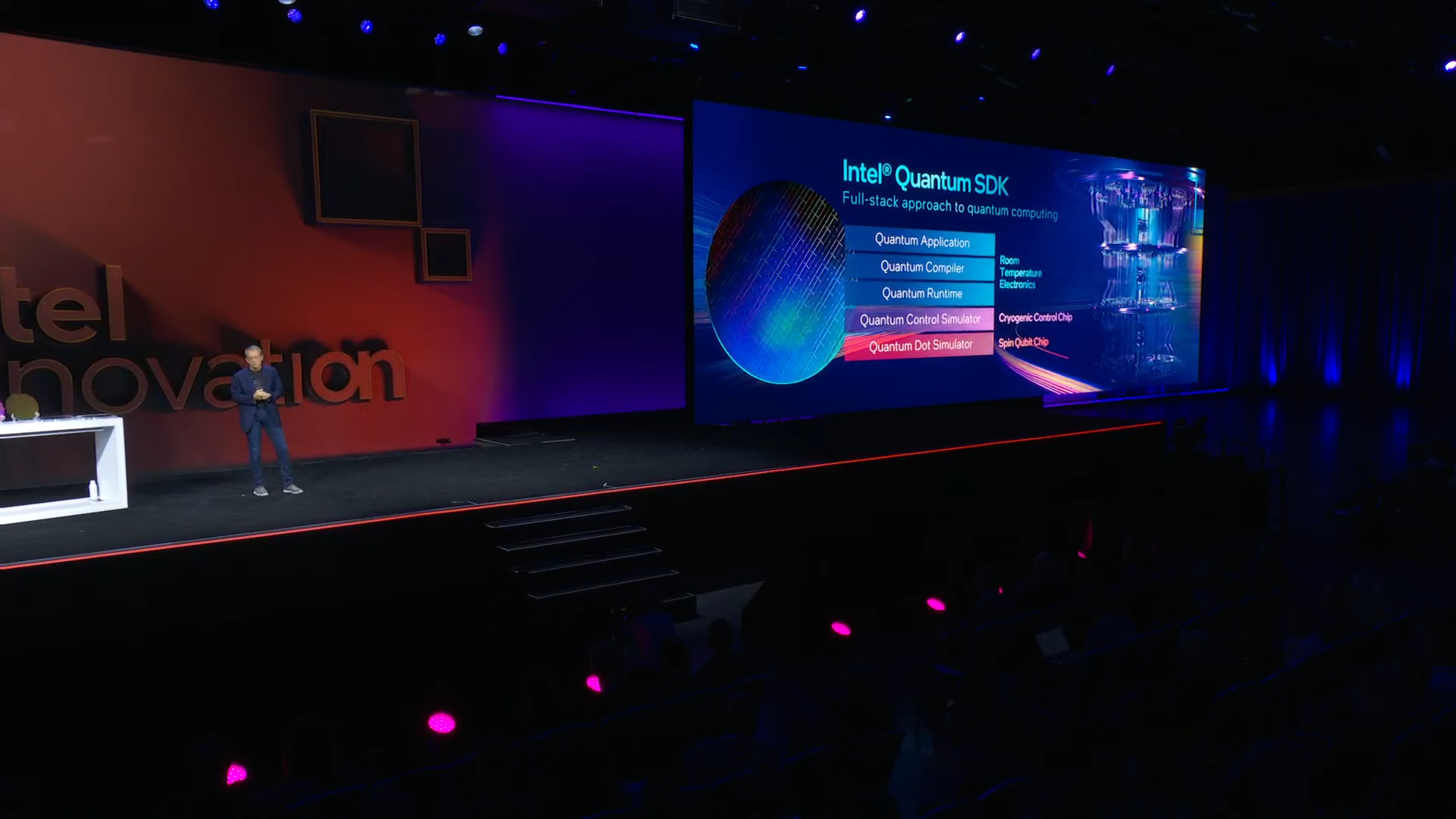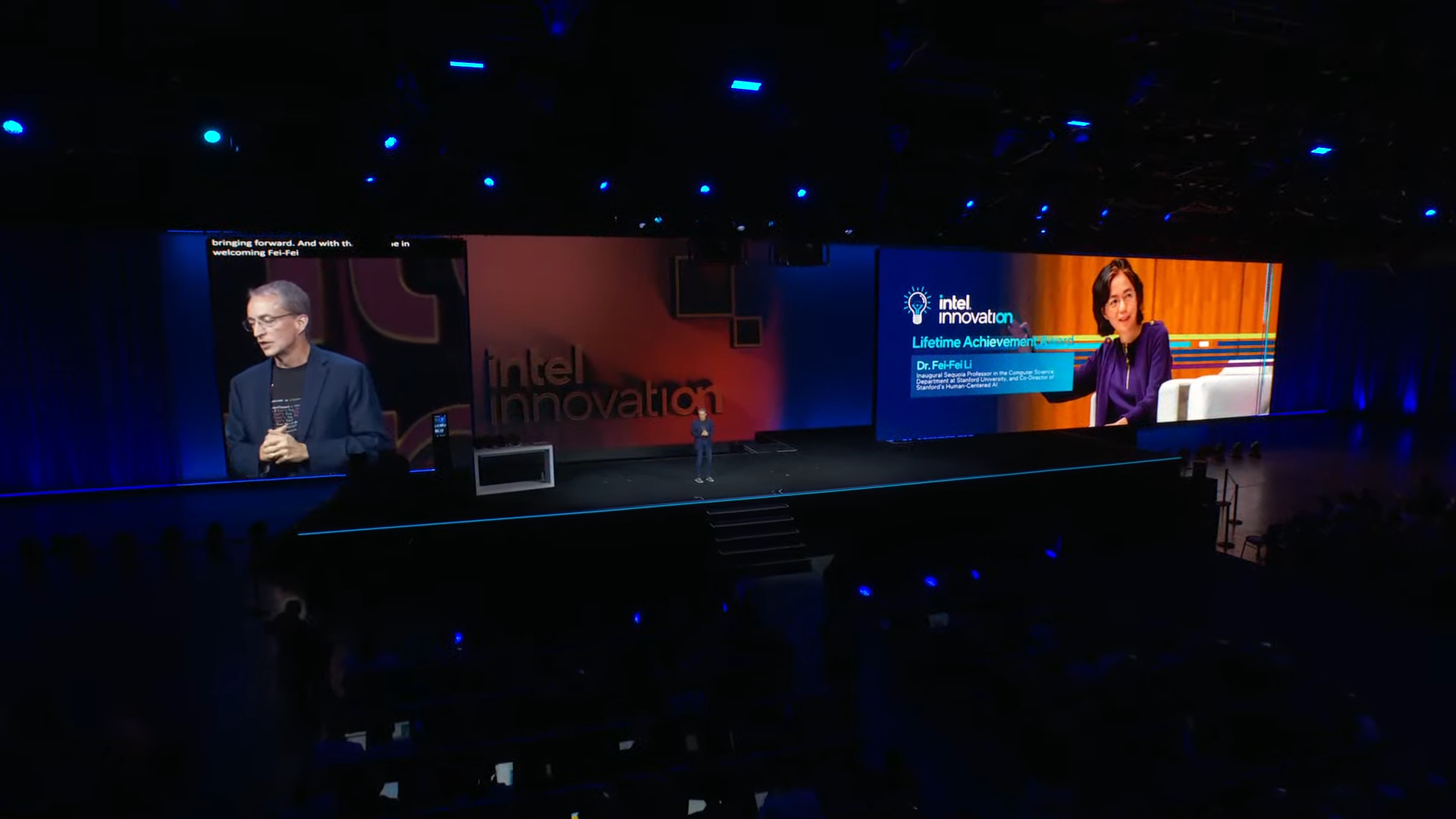 The 2023 recipient of the Intel Lifetime Achievement is Dr. Fei-Dei Li, an Inaugural Sequoia Professor at Stanford University.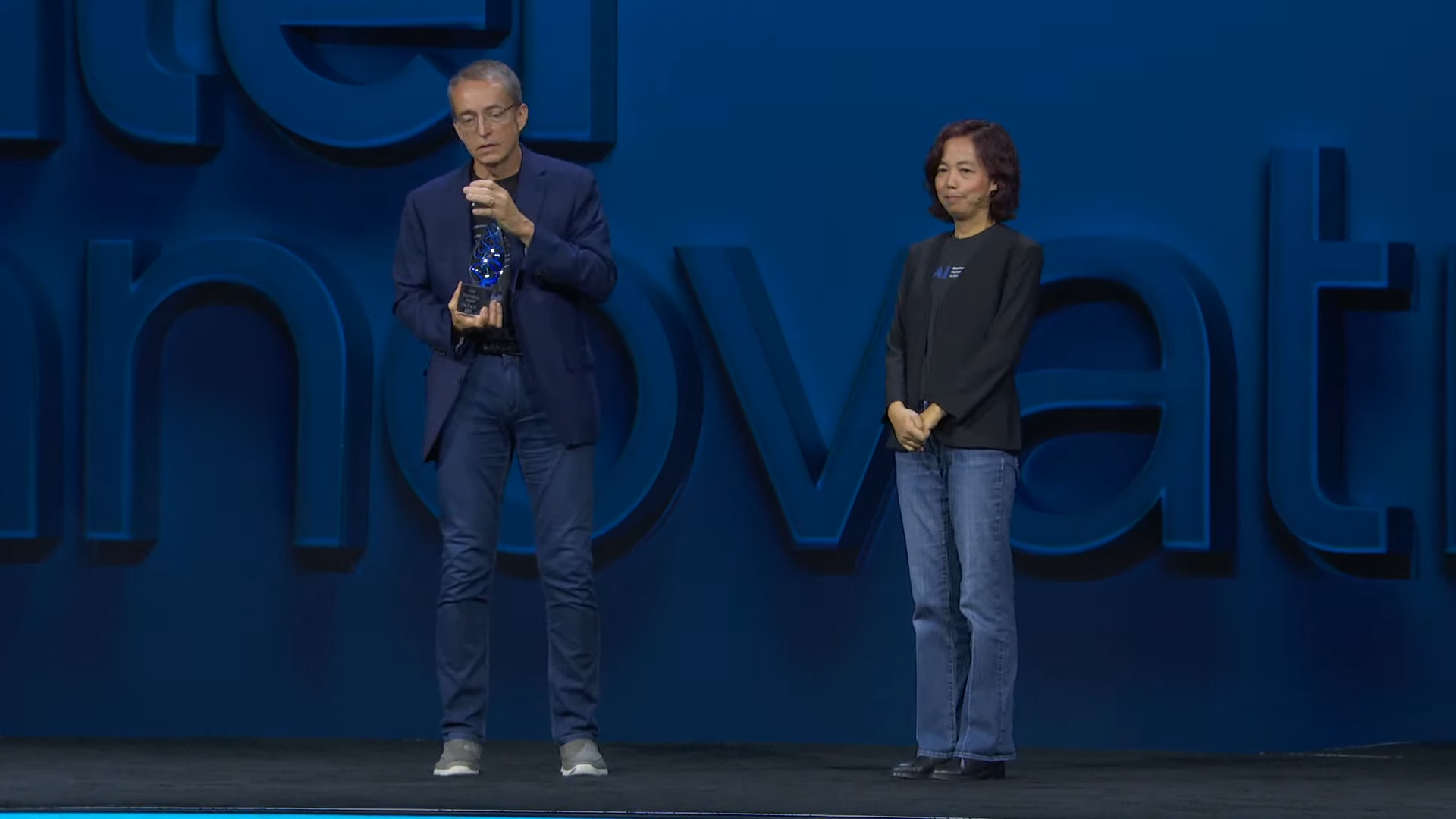 Gelsinger wrapped up the keynote by thanking the audience. Stay tuned for pics from the display booths.
Join the experts who read Tom's Hardware for the inside track on enthusiast PC tech news — and have for over 25 years. We'll send breaking news and in-depth reviews of CPUs, GPUs, AI, maker hardware and more straight to your inbox.
Thank you for signing up to Tom's Hardware. You will receive a verification email shortly.
There was a problem. Please refresh the page and try again.