Qualcomm Is Taking Another Shot at Gaming Chips for Android Handhelds (Update)
Three tiers of chips, anchored by the new G3x Gen 2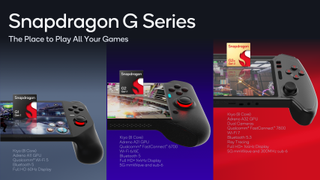 (Image credit: Qualcomm)
Qualcomm is updating its lineup of processors designed for dedicated gaming handhelds, diversifying into a line of three chips for a wider variety of devices. The flagship, the Snapdragon G3x, is getting a bump to a second generation, while the company is also introducing G1 and G2 chips for cheaper devices focused primarily on streaming games from the cloud and other devices. All of them are aimed toward handhelds running Android.

The announcement (timed with the Gamescom trade show in Cologne, Germany) is limited to chip specs. Qualcomm told me that its partners will announce devices using the chips (and their prices) in due course. In a release, Qualcomm specifically said it's working with Aya Neo, Chinese device manufacturer Huaqin, Taiwan-based Inventec, and Thundercomm (which is typically known as an IoT provider and is partially owned by Qualcomm).
Update, 12:09 p.m. ET: Aya Neo has announced its handheld, the Aya Neo Pocket S, which will use the Qualcomm Snapdragon G3x Gen 2, with "X86-level heat dissipation performance," though no further specs were mentioned, nor a price or release date.
Swipe to scroll horizontally
| Header Cell - Column 0 | Snapdragon G1 Gen 1 | Snapdragon G2 Gen 1 | Snapdragon G3x Gen 2 |
| --- | --- | --- | --- |
| CPU | 8-core Kryo CPU | 8-core Kryo CPU | 8-core Kryo CPU |
| Graphics | Adreno A11 | Adreno A21 | Adreno A32 |
| Connectivity | Wi-Fi 5, Bluetooth 5.0 | Wi-Fi 6/6E, Bluetooth 5.0, mmWave and Sub-6 5G, FastConnect 6700 | Wi-Fi 7, Bluetooth 5.3, mmWave and Sub-6 5G, Fast Connect 7800 |
| Cellular | N/A | 5G mm Wave and sub-6 | 5G mmWave and sub-6 (300 MHz) |
| Cameras | N/A | N/A | Dual camera support |
| Display | 1080p, 60 Hz | FHD+ up to 144 Hz | FHD+ up to 144 Hz |
| Ray Tracing | No | No | Yes |
The new flagship is the Qualcomm Snapdragon G3x Gen 2. It will utilize Qualcom's 8-core Kryo CPU with an Adreno A32 GPU. (Each of the chips use similar CPU cores). But it gets top-notch connectivity options, including Wi-Fi 7, both mmWave and 300 MHz sub-6 5G, and Bluetooth 5.3. It's also the only chip in the stack that supports ray tracing and camera support.

Qualcomm claims that the G3x Gen 2 has a GPU that's over two times as fast as the last generation, with a CPU that's "over 30%" faster. The numbers here are somewhat obscured, but Qualcomm's charts show higher performance per-watt, CPU and GPU performance compared to last gen on Genshin Impact, Geekbench and select graphics benchmarks. To measure sustained performance, however, it tested against the Snapdragon 8 Gen 2, which is a flagship found in mobile phones, not gaming devices.
Image 1 of 3
The new introductions are the G1 and G2, which are more basic. The G1 is for entry level devices (perhaps around $200, a Qualcomm rep speculated to me), designed to stream while you're in the home. It uses an 8-core Kryo CPU, Adreno A11, and older Wi-Fi 5, while supporting up to 1080p and 60 fps. It's meant for systems with long battery life, perhaps streaming from your own PC over Steam Link, a console over PlayStation Remote Play, or from a cloud service like Xbox Game Pass or GeForce Now. That would make systems with the G1 meant to be primarily a screen for other devices around the home.
Image 1 of 2
The Snapdragon G2, which is designed for a mix of streaming and local Android gaming, bumps up to an Adreno A21 GPU, faster Wi-Fi 6 and 5G options, and a display that goes up to 144 Hz and above FHD. Here, Qualcomm suggested you might want to add in content from the Google Play Store (if vendors support it) or other stores like the Amazon App Store.

All three of the chips are designed for Android-based systems. When asked about the possibility of Linux or Windows-based handhelds in the future, I was told that it was possible, but it's not likely to happen this generation. Local play using Qualcomm's Snapdragon G2 and G3x Gen 2 is largely meant for Android games, including cross-platform titles like Fortnite, PUBG, and Minecraft.

In theory, these systems are meant for personal screens. The G1, on Wi-Fi, might power systems you use in the home (say, if your TV is taken up by family members), while the G2 and G3x are designed to power devices you use both in your home and on the go, with more wireless options and more power, including the possibility of active cooling for the most intense Android games.
The New Reference Design
When Qualcomm announced the original G3x back in 2021, it was in a dev kit made by Razer (which eventually led to the Razer Edge gaming tablet, sold through Verizon and Razer itself). For its G3x Gen 2 reference design, Qualcomm has struck out on its own. (Qualcomm reps suggested to me there are no reference designs based around the G1 and G2).

The new design, which I got to try at Qualcomm's New York office ahead of the announcement, utilizes 12GB of LPDDR5X RAM and 256GB of UFS 4.0 storage, with an option for NVMe expansion. The CPU cooler offers 15W active cooling to the G3X, which is powered by a pair of 3,000 mAh batteries (6,000 mAh total).
Image 1 of 4
Additionally, it features front and rear cameras (one for streaming, the other for AR games), has a USB Type-C port and a SIM card slot, as well as stereo speakers and a 3.5 mm headphone jack.

Qualcomm suggested that this device, which felt a little clunky in my hands for a premium handheld, is effectively a white label system that other companies could customize to their liking.
The company also showcased the device with a Lenovo ThinkReality headset plugged in. This let me use the G3x Gen 2 reference design like a controller while playing games like they were on a TV. Personally, I preferred playing on the system's screen, but perhaps a purpose-built headset would work better.

I got to try the reference design in controlled scenarios, playing selected games locally on Android, streaming over Steam Link from a nearby gaming laptop (which did see some hiccups over Qualcomm's office Wi-Fi) and streaming Cyberpunk 2077 from GeForce Now, which largely worked as expected.
A second reference design, made by Carbon Mobile, wasn't available to see, but is being showcased to Qualcomm's partners to show what a system made of more premium materials could look and feel like. (This one is made of Carbon Fiber).
Will it Succeed?
There was only one chip the last time Qualcomm tried making chips for this type of device, and it was enthusiast level. The G3x Gen 1 landed in just one mainstream system, the Razer Edge. At the moment, it doesn't appear that Razer is on board for a sequel, though it's possible the company will announce something later. Logitech's attempt at a cloud gaming handheld, the Logitech G Cloud, based on Qualcomm's Snapdragon 720G, received mixed reviews. We'll have to see what kinds of handhelds these new chips land in, at what price points, and with what features. Systems like the Steam Deck and Asus ROG Ally are taking a different approach, focusing on desktop operating systems and the raw horsepower from AMD APUs to play games locally (as well as the option to stream through web browsers).
It's possible that the first G3x was ahead of its time. We'll see soon what the demand for Android-based, streaming-first devices is. But at least with this new lineup from Qualcomm, device makers will have more options.
Join the experts who read Tom's Hardware for the inside track on enthusiast PC tech news — and have for over 25 years. We'll send breaking news and in-depth reviews of CPUs, GPUs, AI, maker hardware and more straight to your inbox.
Andrew E. Freedman is a senior editor at Tom's Hardware focusing on laptops, desktops and gaming. He also keeps up with the latest news. A lover of all things gaming and tech, his previous work has shown up in Tom's Guide, Laptop Mag, Kotaku, PCMag and Complex, among others. Follow him on Twitter: @FreedmanAE