Editor's Note: When we first published our review of the Asus ROG Ally on May 11, 2023, we gave it a provisional score of 3.5 stars, which remains unchanged. In our battery section, we noted that after benchmarking, we had intermittent issues charging the machine while it was powered on, but that it worked normally while sleeping or off. Asus sent a second unit, which has mitigated this issue, and claims that a new firmware update should prevent it from happening in the future. This new unit, however, has buttons that occasionally stick and squeak. Asus says it knows about this issue and that it will not occur on units shipping to customers.
Ever since Valve's Steam Deck showed what a handheld gaming PC was truly capable of, we've been wondering when a high-end Windows-based competitor would show up. (Aya Neo and similar companies have made plenty, but they're not exactly household names). The first major player to arrive is Asus, partnering with Microsoft and AMD for the ROG Ally ($699.99 as tested) with Windows 11 and new Ryzen Z1 chips — including the top-end Z1 Extreme in our review unit.

Windows 11 brings many benefits — basically every game you'd want to play is compatible without emulation, and game streaming works great. But Asus had to build on top of Microsoft's OS with its Armoury Crate SE software. And while Asus' is largely very good, it's not perfect. SteamOS is still king when it comes to useability on a PC gaming handheld.

That said, the Ally shows up the Steam Deck tremendously with its bright 1920 x 1080 screen, which is also faster at 120 Hz, though those specs raise questions about battery life.

It's good to see Asus knocking at Valve's door, even if Windows 11 isn't exactly meant to be stuffed into a design like this.
Design and Comfort of the Asus ROG Ally
Perhaps the most important aspect of the ROG Ally's design is that it's smaller than the Steam Deck. Valve's handheld gaming PC is a behemoth that makes the Ally look small in comparison. But in some cases, bigger might be better.
Asus' handheld is a thin white machine, measuring 11.04 inches wide, 4.38 inches tall and 0.84 inches thick. That's significantly smaller in every dimension than the black plastic Steam Deck, which is 11.73 x 4.6 x 1.93 inches, though the Ally is still bigger than the standard Nintendo Switch (9.4 x 4 x 0.5 inches). At 1.34 pounds, Asus' handheld is also lighter than the Steam Deck's 1.47 pounds.
I don't love Asus' aesthetic here. While the Steam Deck is black, subtle (outside of its size) rounded and comfortable, the Ally is angular and loudly broadcasts that it's a gaming device. There are RGB light rings around each of the joysticks, which Asus says can react to in-game effects, though I didn't see this occur. You can turn them off or change effects in Command Center or Armoury Crate SE, though its separate from other peripheral lighting.
There's a large holographic stripe down the back of the Ally, and some of the vents are shaped in the ROG logo. Asus really wants you to know that this is an ROG-branded device, to the point where it looks a bit like the ROG Zephyrus G14. There's no kickstand on the Ally (similar to the Steam Deck, but unlike the Switch). Asus makes up for this by including a separate stand in the box, which is made of molded cardboard. It works, but eventually it will bend, break, or get lost.

To me, the build quality on the Ally is not as nice as that ofthe Steam Deck. The plastic feels cheaper in my hands, though I don't think this is going to break apart, either. The bezel around the 7-inch touchscreen isn't as intrusive as the one on the Steam Deck, however.
Asus has designed the Ally in the style of an Xbox controller. The two thumbsticks are offset, with one on the left side above the directional pad and the other on the right side below A/B/X/Y buttons. There are four buttons surrounding the screen: on the left side, there's the Xbox View button and one dedicated to opening the Asus Armoury Crate Command Center overlay. On the right are the Xbox Menu button and a hotkey to bring you to your Armoury Crate game library. Those four buttons around the screen are more easily reachable than the option buttons on the Steam Deck.

There are bumpers and triggers, just like on an Xbox, but they are extremely close together, and they feel cheap. I wish they had a bit more separation and differentiation, though I eventually did get used to their spacing. There are two configurable back buttons, which are far easier to press than the ones on the Steam Deck. Valve's handheld, however, has four back buttons, not just two.
The Ally's face buttons are slightly flatter than the ones on an Xbox controller, and they're clickier and a bit larger than the ones on the Steam Deck, but they worked and I found them comfortable enough. On our second review unit, the face buttons intermittently stick and the right bumper occasionally squeaks, though Asus says it knows about this and that it won't be an issue on Ally handhelds that ship to customers. The menu buttons require a harder press, but they're better than the flat buttons on the Steam Deck. The thumbsticks leave something to be desired. The sticks on the Steam Deck feel sturdy, while the ones on the Ally feel looser and less rugged. They're a bit easier to flick around in comparison, but I quickly grew used to them. There's software to adjust sensitivity and dead zones, but you can't do much about the physical feel.

The D-Pad is squishy and disk-shaped. In fact, it reminds me of the Xbox 360's directional pad, which isn't a compliment. I played my favorite fighting game, SoulCalibur VI with it, and while I got some licks in as Xianguha dodging around Voldo and then getting in close with her sword, the pad needs more click and better separation. A standard plus shape would be more ideal, and the one on the Steam Deck is superior in every way.

I don't love the way the Asus ROG Ally sits in my hands. The Steam Deck may be big, but it has grips that fill my palms. The Ally, instead, has corners that jut out, pressing into them. In fact, I found myself using the macro buttons as grips, and while the Ally is the lighter system, it was less comfortable to hold for hours at a time.

While I preferred the larger Steam Deck's ergonomics, not everyone I showed the Ally to agreed. Two people with smaller hands, however, had very different opinions on the Ally's size and shape. For my wife, who has very small hands, the lighter size and smaller profile instantly made it easier for her to reach the stick and buttons. But a lab tester in our office found that the Ally was a bit flat for her liking. Even though her hands are smaller than mine, she wanted that grip. My editor-in-chief, Avram Piltch, preferred the Ally specifically because it was smaller than the Steam Deck, which felt less unwieldy to him.
The Ally has built-in rumble, which is satisfactory. It's not as strong as what you'd get on a modern console controller, but for a whole system, I found it to be good enough. For instance, it would vibrate just my right hand as I shot at cultists with a pistol as Layla in Redfall. It's enough to notice, but not intense.

The port situation on the Ally is similar to the Steam Deck, though placement is a bit different; all of the ports are along the top. There's a 3.5 mm headphone jack, a microSD card reader, and then a large port for Asus's XG Mobile graphics docking station (this additional external GPU accessory can go up to $2,000 with an Nvidia GeForce RTX 4090, if you can find it. Last year's model with an AMD Radeon 6850XT is currently $1,399.99).
Part of that XG Mobile connection is a standard USB Type-C port, which is what the included 65-watt charger uses. The top is also where you'll find the volume rocker and a power button, which doubles as a fingerprint reader for Windows Hello. I had trouble setting this up, as the reader is very small, and it often suggested the reader was dirty. Once I got it set up successfully, though, it was fine.
Of course, the ROG Ally is still a computer. I connected a powered USB hub often, to use a keyboard and mouse, especially when first setting up the machine. You could also do this for external storage or other accessories. Asus doesn't have an official docking station outside of the expensive XG Mobile, but anything using USB Type-C should work.
Asus ROG Ally Specifications and Components
The ROG Ally can be purchased with one of two chips, the AMD Ryzen Z1 or Z1 Extreme. The model we received for testing has the latter, more powerful chip. It's a Zen 4 CPU on a 4-nanometer with 8 cores and 16 threads with a boost clock of up to 5.1 GHz. Monitoring software confirms that the chip falls under AMD's "Phoenix" codename. In fact, the Ryzen 7 7840U has the same boost clock, core count, and thread count. AMD lists the Ryzen 7 7840 U with a 15 - 30W TDP, while the Z1 and Z1 Extreme go can sip just 9 watts and go up to 30W.

The Z1 Extreme has AMD Radeon graphics. Specifically, these utilize RDNA 3 with 4GB of VRAM, 12 compute units and a 2.7 GHz clock. (For what it's worth, the Ryzen 7 7840U uses Radeon 780M with 12 CUs up to 2.8 GHz)
Swipe to scroll horizontally
| | |
| --- | --- |
| CPU | AMD Ryzen Z1 Extreme (Zen 4, 8 cores / 16 threads, up to 5.1 GHz, 4 nm) |
| Graphics | AMD Radeon graphics (integrated), RDNA 3, 4GB VRAM, 12 compute units, 2.7 GHz clock |
| Memory | 16GB LPDDR5-6400 (8GB x 2) |
| Storage | 512GB M.2 SSD, SD card slot (UHS-II) |
| Display | 1920 x 1080, 120 Hz, IPS touchscreen with Gorilla Glass Victus and Gorilla Glass DXC |
| Networking | MediaTek Wi-Fi 6E MT7922 (RZ616), Bluetooth 5.2 |
| Ports | USB 3.2 Gen 2 Type-C, ROG XG Mobile interface, 3.5 mm audio jack, micro SD card slot |
| Battery | 40 WHr |
| Power Adapter | 65W |
| Operating System | Windows 11 Home |
| Dimensions (WxDxH) | 11.04 x 4.38 x 0.84 inches / 280.44 x 111.18 x 21.22 mm |
| Weight | 1.34 pounds / 608 grams |
| Price (as configured) | $699.99 |
When asked about the similarities, AMD's client PR manager Matthew Hurwitz told Tom's Hardware that "The Ryzen Z1 series are purpose-built with handheld gaming in mind. To accomplish this, AMD engineers had to validate entirely new power ranges and optimize the voltage curves specifically for this use case – this optimization and validation work should not be trivialized. So while the technology building blocks (like 'Zen4' and RDNA 3) are similar between the 7040 and Z1 series, the resulting models have very distinct characteristics customized for their use cases. In addition, the AMD Ryzen AI engine is not available on AMD Ryzen Z1 series processors." When we followed up, Hurwitz explained the AI engine is disabled, suggesting this is a version of the same chip.
The Z1 Extreme is paired with 16GB of LPDDR5 RAM and a 512GB SSD (though of course Windows 11 takes up some of that).

Check the configurations section below to learn more about the base-level Ryzen Z1.
If you're wondering about the Z1 Extreme as a CPU, it's fairly potent. On Geekbench 6, it earned a single-core score of 2,468 and a multi-core score of 11,041. Both are way higher than the numbers put up by the Steam Deck's SoC, which is based on AMD's older Zen 2 cores.
Gaming and Graphics Performance on the Asus ROG Ally
You might think that with that with more and newer GPU cores (12 RDNA 3 compute units on the Ally compared to 8 RDNA 2 compute units on the Steam Deck) and a Zen 4 CPU compared to a Zen 2 CPU, it would be easy to say that the the Asus ROG Ally outperforms the Steam Deck to significant degrees all the time. But once you get into the handheld space, you have to do a lot of complex dancing between performance and battery life.

The Steam Deck's "Aerith" SoC was designed to work the same way on battery or when plugged into the charger; there's one experience that you always get (the older SoC has a lower TDP of 4-15W). That's not the case with the Z1 Extreme on the Ally, which benefits greatly from the more power.

So we tested the Z1 Extreme two ways: on battery, using the out of the box "performance" mode, as well as plugged in, which defaults to a more power-hungry "turbo" mode. Because the Ally is a handheld, we consider power on battery to be the default score. You could change to turbo mode while away from the charger, but that's going to eat at your battery faster.

Meanwhile, the Steam Deck has seen massive stability improvements since launch, so we retested it to get numbers with all of the latest fixes on the Stable channel. When unplugged, the Ally was often slightly ahead of the Steam Deck, but not by much. Plugged in, it was a different story. But if you play unplugged, performance doesn't really offer up a reason to replace your Steam Deck with an Ally.

We retested the Steam Deck at its native 1200 x 800, but the games we tested on the Ally didn't allow for that, so we've tested it at both 720p and its native 1080p. You'll see that while the screen allows 1080p, going for 720p is a smarter choice if you care about frame rates.
We weren't provided an XG Mobile for testing, but we can only imagine that the external GPU, going up to an RTX 4090, will be a massive improvement over the integrated GPU here. Although gaming on a handheld while having a large connector and a thick cable protruding from the top of the device is not likely to be a pleasant experience, either. Asus expects if you're using the XG Mobile, you're going to be plugged into a monitor and peripherals, rather than using the device like a handheld. Keep in mind, all of this testing is in handheld mode.

Every game is different. When I tried Redfall on the Ally in Performance mode, I found that I needed to keep it at low settings at 720p to fall between 30 and 45 frames per second without using any upscaling technology. Using AMD's FSR brought that to between 45 and 60 fps, with minimal loss of fidelity. Our testing below tells a fuller performance story.
On Shadow of the Tomb Raider (medium preset, DX12), the Asus ROG Ally ran the game at 47 fps at 720p and 32 fps at 1080p. That 720p number is just four frames higher than the Steam Deck at 1280 x 800. Plugged in, those Ally numbers bumped to 64 fps and 40 fps, respectively.
Cyberpunk 2077 has a Steam Deck preset, which we used for testing. It hit 37 fps on the Steam Deck, but at 720p, the Ally hit 40 fps. (It was unplayable at 1080p, at 26 fps). The Ally hit 55 fps at 720p and 35 fps at 1080p when plugged in on Turbo.

Civilization VI: Gathering Storm's DX11 graphics test at ultra settings refused to run below 1080p on the Ally. The test ran at 32 fps, but bumped up to 43 fps when plugged in with Turbo mode. The Steam Deck ran the game at 33 fps at 800p.

Red Dead Redemption 2 (on the lowest possible "Favor Performance" settings) was our chance to test a Vulkan game on the Ally. At 720p, the Ally ran it at 45 fps, a frame behind the Steam Deck, while at 1080p it ran at an average of 30 fps flat, suggesting it's occasionally below that. Plugged in, it fared better, hitting 40 fps at 1080p.
We ran Borderlands 3 on DX11 at medium settings. At 50 fps at 720p, the Ally beat the Steam Deck by five frames. Plugged in, it jumped to 59 fps at 720p and 44 fps at 1080p.

Our last benchmark was Forza Horizon 5 at high settings, where the Ally showed a nice improvement over the Steam Deck. While Valve's handheld hit 41 fps, the Ally reached 54 fps at 720p and 43 fps at 1080p. Plugged in on Turbo, it went way higher.

To stress test the Ally, we ran the same test we do on gaming laptops: Metro Exodus for 15 runs. We changed it up to fit the handheld, however, running the benchmark at 720p with DirectX 12 on the low settings preset. It ran at an average framerate of 77.7 fps, though the minimums and maximums varied wildly (the average minimum was 37.23 fps while the average maximum was 123.21 fps). Scores were consistent across runs.

During the stress test, HWInfo reported that the CPU ran at an average of 1.98 GHz while the integrated graphics ran at 1.17 GHz. The CPU die ran at an average temperature of 58.65 degrees Celsius, while the iGPU reached 55.88 degrees Celsius. Monitoring suggests the iGPU occasionally thermally throttled, while the CPU cores did not.
Windows 11 on the Asus ROG Ally
The Asus ROG Ally isn't the first Windows gaming handheld, but it's clearly the highest-profile entrant to date. While you can install Windows on the Steam Deck, SteamOS is the default there.

So Windows 11 really has to shine on the ROG Ally, and so does Armoury Crate SE, the application Asus built to supplement Windows with some gaming-focused features.

While Windows 11 has the benefit of running almost every game you can imagine, it's not totally up to running this kind of machine without quirks and issues. Windows recognizes the Ally as a tablet, which means that you have separation between touch targets, and the taskbar minimizes when you're not using it. But Windows 11 is still tough to touch on the 7-inch screen, and using it with joysticks and buttons isn't exactly easy. At best, using the "desktop" control scheme means the right joystick moves the mouse around, which I found difficult, while the right trigger is right click and the right bumper serves as left click by default.

There are other oddities. The Windows keyboard doesn't always pop up when I want it to, like when logging into Steam or Epic Games. I had to use Asus' software to force it open, which is one extra step too many.

Some launchers don't work great with the controller. In fact, the best is Steam in its Big Picture mode, which works just like the UI on the Steam Deck. Even on a Windows PC, Valve makes the best way to navigate with a controller. Some other launchers don't work great with a controller. The extra launcher for Cyberpunk 2077 required that I use the touchscreen. And in Windows, dealing with User Account Control meant I had to use the touch screen, as it often didn't work with the controller.
Unlike SteamOS though, Windows doesn't have to emulate games. While Proton has gotten very, very good,native Windows means that there aren't issues with anti-cheat, and can lead to performance improvements.
Windows does double duty as a gaming OS and, well, a regular OS. On Steam Deck, going full screen as opposed to windowed borderless in a game doesn't mean much, as it will fill the screen either way. On the Ally, it means a lot in terms of functionality and moving in and out of games.

In a surprising turn of events, Asus' Armoury Crate SE actually helps a ton in filling Windows 11's gaps. I've complained about Armoury Crate in many forms over the years, but I have to say, here, it helps. It launches automatically when you turn the Ally on, and I could see some gamers almost never leaving it and touching actual Windows.

If you connect the Ally to a monitor, you still get a normal Windows PC experience. Here, many of the pitfalls are gone. It's a reminder of what Windows normally is for PC gamers. It also is a reminder that the Ally is a full-fledged PC. You could also do work, listen to music, and pay your bills on this thing.
Armoury Crate SE on the ROG Ally
When Armoury Crate SE opens, it serves as a library for all of the games and launchers on your Ally. Lots of gaming companies have tried this before, but it feels far more crucial on a handheld than on one of the best gaming laptops.
By default, it works with Xbox, Steam, Epic Games, EA, GOG Galaxy and Ubisoft Connect. That means there are apps it's missing, like the Rockstar Games launcher. You can still add any program or game you want manually, which I had to do for Red Dead Redemption 2. Launching any game still takes a minute, as it has to open the actual launcher before starting it. That assumes you're even logged in, or there aren't first-time updates or redistributables the launcher has to add.
Still, going to install launchers through Armoury Crate just throws you to a website in the Edge browser. You still have to use Windows. There are some hiccups. You can delete a game from your library, but it won't delete the game from a launcher like Steam.
The Settings tab in Armoury Crate lets you change up performance modes, networks, and adjust the RGB lighting around the thumbsticks. It also lets you choose what goes in the Command Center, which is the feature to make quick adjustments on the fly. You can also go in-depth here with controls, including adjusting the dead zones and sensitivity on control sticks and remapping buttons.
This entire section of the app reminded me a lot of Aya Neo's AyaSpace, just in a more functional fashion. There are some bugs to iron out here. Sometimes, when I shut the RGB lights off to save battery, it just turned back on. I also used this section to change the refresh rate and sometimes saw it swap back.
The Content section is a bit barebones. You can see your screenshots and video recordings (you can use a macro button and A for a screenshot or Y for a screen recording), check for updates, see Asus game deals and check your device's specs here.
In game, Command Center is activated by pressing the dedicated button in game. That lets you make some changes on the fly, including operating mode, whether you're controlling with a controller or using the thumbsticks to move the mouse, and turning on the touch keyboard for text input. There's also an FPS limiter and a refresh rate changer, as well as a slider to quickly adjust the brightness. There's a resolution changer, too, but that actually only changes the Windows 11 desktop resolution. Since some games operate independently of that, it may not change your games, and Asus told press it's considering removing that last aspect in an update.
Command Center and Armoury Crate aren't perfect. Rocket League and Red Dead Redemption, for instance, didn't launch in the preferred gamepad control scheme, so I had to adjust them to use Xbox controls. For Red Dead, that meant I couldn't move around until the change was made, and all of the prompts showed mouse and keyboard. At least it's easy to switch. On the other hand, Civilization VI needed to be moved to desktop mode, as you navigate that game primarily with a mouse. This works, but the lack of a touchpad like on the Steam deck really hampers that kind of control.
There's a lot to fix here, but I'm surprised at the amount Asus got right. It's all more rough around the edges than the SteamOS experience, which you find immediately when you enter Steam's Big Picture mode on the Ally and everything just works. But when dealing with multiple launchers, it's always going to be a patchwork. Here's hoping Asus keeps improving it.

Ideally, Windows would have a sort of controller gaming mode that does all this itself. But until then, other software has to be a Band-Aid.
Display on the Asus ROG Ally
If there is one spot where the Ally indisputably beats the Steam Deck, it's the quality of the screen. Asus is pushing handheld gaming to 1080p. The ROG Ally's 7-inch screen has a 16:9 aspect ratio with Full HD resolution and 120 Hz speeds. In almost every way, those specs are an improvement over Valve's Steam Deck. The Deck also has a 7-inch screen, but with a taller 16:10 aspect ratio, which tops out at 1280 x 800 and 60 Hz.

But what's really important is the brightness and the colors. I'm fine with 720p at this 7-inch size, but better colors will always be an improvement. Every game looks better on the Ally than the Deck.
In my own playtime, I found myself comfortably playing with the display as low as 25% brightness. Even then, I could make out the ships in the harbor in the dark Indian Port: Impending Storm arena in SoulCalibur VI. Colors popped, and the blue and orange cars in Rocket League popped against green grass in various stadiums.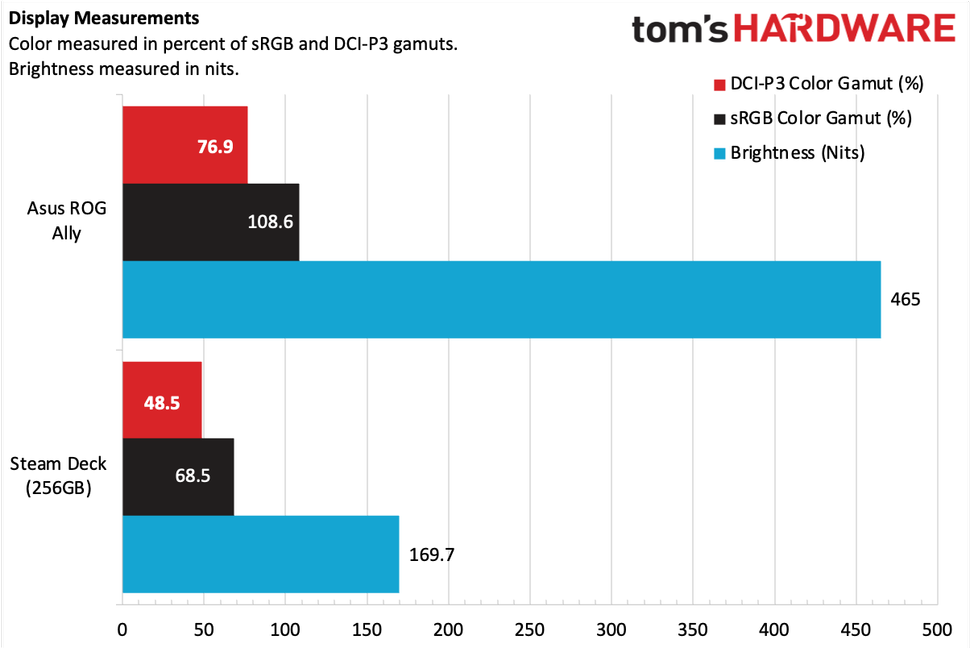 The Ally's display covers 108.6% of the sRGB color gamut and 76.9% of the wider DCI-P3 gamut. That's way better than the Steam Deck — the standard screen on a 64GB or 256GB model hits 68.5% of the sRGB gamut.

At 465 nits of brightness, the Ally is also intensely brighter than the Steam Deck, which measured 169.7 nits when we tested it. You probably won't want to game on battery at the Ally's full brightness, as it will drain the battery faster. But you have far more options with how luminous the screen gets, and it looks better in every way. I do recommend lowering brightness (I often played at about 50%) for more time away from the charger.
Game Streaming on the Asus ROG Ally
When the Steam Deck launched, using a browser to stream games was an issue. With Windows, that isn't the case. The Ally comes with the Xbox app preinstalled to use PC Game Pass, and I had no issues running Nvidia GeForce Now to get Cyberpunk 2077 and other games running at their highest frame rates on high settings, which you can't do for many games using the Z1 Extreme's APU.
As with other games and launchers, ensuring that the system was running in controller mode and not desktop mode was key to getting prompts to work correctly. And of course, streaming can add some latency. But it's an option here, as streaming works with Windows with no problem.
Battery Life on the Asus ROG Ally
Keep that 65W charger handy. The ROG Ally is a handheld device, but one that doesn't last terribly long on a charge. Battery life will change dramatically from person to person, based on what they play and the settings they use. But in general, I've seen this thing last around two hours on a charge.

In a few cases, I tried games like Shadow of the Tomb Raider and Red Dead Redemption 2 with the screen at 50% brightness and the games set at 720p resolution, making sure they didn't go over 60 frames per second. In those cases, I was on track for the machine to lose power, again, around the two hour mark.

To see how the 120 Hz refresh rate affects battery life, I played Rocket League at 720p on the quality settings preset, locking myself to the most frames the display could offer. Because the screen is so bright, I turned it down below 50%. At an hour and twenty minutes, Windows interrupted my game to warn me to plug in. By an hour and a half, the system shut down as a comeback match was about to enter overtime.

If you want more time, I do have some tips. Back when the Steam Deck came out, Valve was open about its battery testing being at a locked 30 fps. That's a smart move. I would also recommend turning down the screen as low as you can tolerate it, and also turning off the RGB around the thumbsticks, which can be pretty but sucks unnecessary power.
On the PCMark 10 Gaming battery test, we saw the Ally run for 1:43, just beating the Steam Deck (which hit 1:40 on Windows — that test won't run on SteamOS). On our standard laptop battery test, which browses the web, streams videos and runs OpenGL tests with the screen set at 150 nits of brightness, the Ally lasted for 5:51. But clearly most people will be doing more demanding things with their gaming handheld than browsing the web and streaming. So expect real-world results to stick much closer to the shorter PCMark number.

Also of note: We experienced some bugs around charging; while not an issue initially, after a few days of using and testing the Ally, we noticed a problem. While the system was on, plugging in the charger wouldn't charge the device. Shutting off the machine and plugging it in would work, as did plugging it in and turning it on afterwards.
The reverse was also true — unplugging the machine didn't tell the device it wasn't charging. It would still lose power while gaming, but it would also stay in Turbo mode unless explicitly told otherwise, which means battery life would drain faster than normal. Asus sent a second unit that so far hasn't had this issue. Additionally, it says that a new firmware update should prevent it from happening.
Audio on the Asus ROG Ally
Asus equipped the ROG Ally with a pair of 1W speakers that support Dolby Atmos, and in gaming they do a decent job. They're in no way going to replace the best gaming headsets, but to me, they're comparable enough to whatever I'd get out of a monitor or TV.

In Rocket League, the roaring of my car's engine was balanced with the crowd chanting for defense. I also got the clear sounds of swords clanging and orchestral music of SoulCalibur VI.

Look, the speakers aren't as good as on a decent laptop. I used the Ally to listen to Death Cab for Cutie's "Pepper", and while it was decent, with good vocals, snappy drums and clear guitars and synths, there wasn't much bass. It's fine for holding in front of you, but the volume won't fill a room the same way as a bigger machine.

The Ally comes preinstalled with Dolby Access. It defaults to game performance mode, which "prioritizes positional accuracy for competitive gaming." Switching to music was slightly better for some tunes, but not enough that I'd constantly be switching. There's a dynamic mode if you're interested in auto-switching. I think most people will be fine leaving it as it is, especially as this is a gaming machine first and foremost.
Heat on the Asus ROG Ally
The ROG Ally is designed like the Steam Deck, in which hot air comes in through vents in the back and is ejected through exhaust ports on the top. It's a solid design, and I never found the Ally to get uncomfortably warm while playing games on it.
I took skin temperature measurements while running our Metro Exodus benchmark. As you can see from the Flir images below, all of the heat is in the center of the device, away from the controllers (including the M1 and M2 buttons on the back), so that you don't feel it.

The controllers fell around 26 degrees Celsius (78.8 degrees Fahrenheit), which is cooler than most trackpads on laptops. The hottest points, unsurprisingly, were the vents on the top, measuring 47.2 C (116.96 F).
When gaming on battery in performance mode, I barely heard the fans. That's a big difference over the Steam Deck, which had very whiny fans that would spin up on a whim (though I hear the iFixit replacements are better). This changes a bit when playing on Turbo mode when plugged in, when the fans become audible, though not terribly whiny.
Upgradeability of the Asus ROG Ally
It's pretty easy to get into the ROG Ally. The rear has six Phillips head screws (five are quite long, the middle screw on the bottom is shorter and captive). With the screws out, I inserted a pry tool between the bumpers and triggers and the back plate (including the triggers and rear macro button) immediately separated.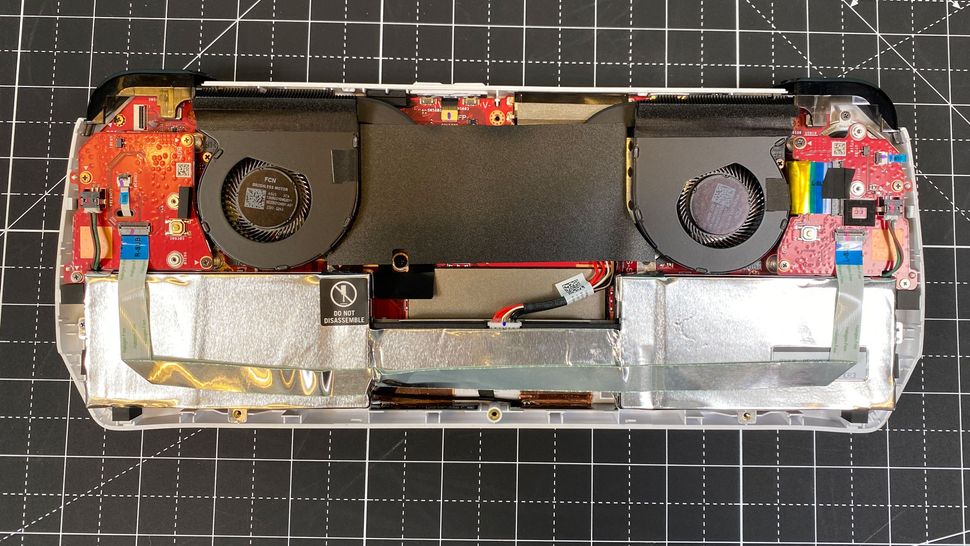 The inside of the Ally is tightly packed, including an odd barbell-shaped battery. The real prize is underneath some heat shielding — an m.2 2230 SSD. If you want to replace it and add more storage later, you can. There are more 2230-sized SSDs on the market than there used to be, but they're often expensive and don't come in the highest capacities. Unlike the Steam Deck, you can at least replace the drive in the Ally without lifting up the CPU cooler. The heatpipes come close, but aren't in the way.
On the back plate, you'll see that there are dust filters where the CPUs take in cool air.
Valve sells replacement parts for the Steam Deck through iFixit. I hope that Asus eventually decides to publish repair guides and provide instructions, as parts like joysticks can eventually fail and succumb to drift. For the moment, Asus just has a sticker inside the unit that reads "DO NOT DISASSEMBLE".
What the Steam Deck Does Better Than the Asus ROG Ally
Outside of fit and finish, there are some lessons I wish that Asus took from the Steam Deck. First off, I had to throw the Ally in my backpack unprotected. The Steam Deck comes with a carrying case. Asus will sell one, eventually, but it feels like you're getting less when Valve packs one in.

Microsoft, AMD, and Asus could also consider working on something akin to the Steam Deck Verified program. It would be a massive, cross-launcher undertaking, but having an idea of which games run well on the Ally could improve the experience, especially when it comes to keyboard inputs, whether Xbox-style controls work and if the game runs decently. Obviously, Microsoft could skip the anti-cheat aspects that Valve has to deal with because of Proton and Linux.
Of course, the Steam Deck offers the same performance plugged and unplugged. I wish AMD, Asus, and Microsoft considered that here. This is a handheld device first and foremost, and it would be easier to manage expectations if it didn't, like gaming laptops do, work significantly better plugged in.

The ROG Ally also doesn't have my favorite function from the Steam Deck: suspending games. On the Steam Deck, when you press the power button, the system goes to sleep, but when you press it again, the game starts where you left off. On the Ally, it just handles things like any Windows PC, and that means not every game behaves similarly. This is a big feature Microsoft needs to work into Windows, stat.

In fact, Windows desperately needs some kind of control mode for gaming handhelds (heck, it would benefit desktop users who use controllers). Using Asus's software to switch between desktop and controller modes all the time isn't a great solution when, most of the time, the Steam Deck just works.
Lastly, Steam sells replacement parts for the Steam Deck in a partnership with iFixit. Asus hasn't said anything about what's going to happen if you start experiencing stick drift on the Ally, but I hope the Armoury Crate SE software can accommodate this. (Asus sells the ROG Ally with a one-year warranty.)
Perhaps the ideal for these types of machines would be dual-booting, but an official dual-boot wizard isn't ready yet from Valve.
Configurations and Availability of the Asus ROG Ally
We tested the more powerful — and more expensive — version of the Asus ROG Ally. That ships with an AMD Ryzen Z1 Extreme (8 cores / 16 threads) with Radeon RDNA 3 graphics (12 compute units), 16GB of RAM and a 512GB SSD. It will go on sale on June 13 for $699.99, with pre-orders going live the day of this review's publication, May 11. That's just $50 more than the most expensive Steam Deck, which is $649 with 512GB of storage, an anti-glare screen, and a carrying case. Considering that Steam makes money off of game sales, I'm pleasantly surprised to see Asus getting this close to Valve in terms of pricing.

In materials for reviewers, Asus lists a cheaper model of the Asus ROG Ally, but unlike the Steam Deck, paying less means getting less CPU and GPU performance. The regular Ryzen Z1 (not Extreme) has half the cores and threads and a lower CPU clock (up to 4.9 GHz). With four RDNA 3 compute units running at 2.5 GHz, it's also far less graphically capable. It also has half the storage, at 256GB, which is pitifully cramped for a gaming system. Asus did not confirm pricing or availability for this model ahead of publication.

But at Best Buy, there is a secondary, cheaper configuration. It uses the Z1 with a 512GB SSD, and will cost $599.99. It's unclear if we'll see the 256GB version, but honestly that's quite small for PC gaming.

On the Steam Deck, Valve included the same CPU and graphics across all three of its models. The only difference was the storage.

The Ally still has to compete, however with Valve's $399 entry model with 64GB of eMMC storage and 256GB mid-tier option for $529. Perhaps that's what the regular Z1 is for.
Bottom Line
If you're looking for a Windows alternative to the Steam Deck (and don't want to install Windows on the Steam Deck), the Asus ROG Ally is a strong competitor. I don't think it feels as nice in the hands, but its display is decisively an improvement over Valve's, even if using the full brightness or refresh rate will drain your battery quickly.

If you primarily play unplugged, as I do, the Z1 Extreme will provide an improvement in performance over the Steam Deck's SoC, but not enough to inherently consider it over the Steam Deck (or to replace the Steam Deck if you have one). To be clear, Asus didn't loan us a model with the regular Z1, so we can't compare that iteration just yet.

If you are plugging your handheld into a monitor and gaming plugged in, you will get a significant boost over the Steam Deck, and the Ally is for you. I'm not sure I expect many people to buy an external GPU that costs multiple times the amount of the actual handheld, but for those who bought fully into Asus' proprietary ecosystem, it's a plus.

Asus' software, Armoury Crate SE, works better than I thought it would, but I did see some bugs, with settings changing when I didn't want them to. These bugs aren't huge, but they're there. It works natively with some launchers and not others. Compared to Valve's SteamOS, it's messy and complicated, especially with Windows 11's own intricacies on top. But SteamOS doesn't run games from your Epic Games Store collection, and Windows 11 doesn't require emulation. For many, the openness may be worth the tradeoff.

The Ally is largely priced right. At $699, it's competitive with the top-end $649 Steam Deck with the same amount of storage and an older Zen 2 chip (and a dimmer, slower, lower-res screen).

It's great to see competition in the handheld PC space. If the Steam Deck blew the doors open, it also ensured reasonable pricing. Now that Asus is challenging Valve, every PC maker considering getting in on this game has a new benchmark to compare to when it comes to the display and game compatibility.