Steam Deck OLED Teardown Reveals a Complete Overhaul
There's more to the Steam Deck OLED than meets the eye.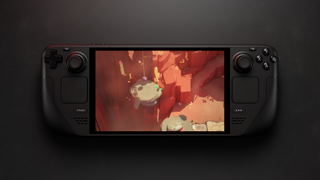 (Image credit: Valve)
All gamers and enthusiasts welcomed Steam Deck's announcement of the OLED version. During the press launch, Greg Coomer, the product designer at Valve, said most of the changes in the Steam Deck OLED were implemented based on user feedback. This shouldn't be surprising as Steam largely influences PC gamers, whose overwhelmingly large segment are hardware enthusiasts at the least and modders or professional repair technicians at best. Any good hardware company should listen to different types of users with different technical levels. This applies more to Valve as the first Steam Deck is its first portable device.
Hence, one will be curious about what's done with the Steam Deck OLED apart from the display and battery changes with better-integrated storage options. This doesn't always apply to specs on paper, as one can see below:
Swipe to scroll horizontally
| Header Cell - Column 0 | Steam Deck OLED | Steam Deck LCD |
| --- | --- | --- |
| APU | AMD Sephiroth | AMD Aerith |
| Node | 6nm | 7nm |
| CPU Architechture | Zen 2 | Zen 2 |
| CPU Core Count | 4C/8T | 4C/8T |
| CPU Frequency | 2.4 GHz - 3.5 GHz, 448 GFLOPS FPS32 | 2.4 - 3.5 GHz, 448 GFLOPS FP32 |
| Compute Units | 8 | 8 |
| GPU Frequency | 1.0 - 1.6 GHz, 1.6T FLOPS FP32 | 1.0 - 1.6 GHz, 1.6 TFLOPS FP32 |
| APU Power | 4-15W | 4-15W |
| Memory | 16GB LPDDR5 6400 MT/s 2x 32-Bit | 16GB LPDDR5 5500 MT/s 2x 32-Bit |
| Storage | 512 NVMe SSD/ 1TB SSD, MicroSD Slot | 64GB eMMC/ 256GB NVMe SSD/ 512GB NVMe SSD, MicroSD Slot |
| Battery | 50 WHr Battery | 40 WHr Battery |
This also means that we would like to see if power and cooling enhancements are done to it. Not everyone can disassemble a Steam Deck, nor does everybody need to. That's where very productive and educational videos from Gamers Nexus come to light, which helps us understand and appreciate the changes made since its previous iterations. It provides much more detail, but here we broke down a few design changes Valve has made, from components to PCB layout.
PCB First Impression
A significant number of components is reduced significantly on the PCB's surface. Valve did important optimizations on the PCB design, resulting in the new layout for the Steam Deck OLED. This starts with something as simple as the orientation of the APU, as indicated by the arrow. The placement is changed from the bottom left on the original LED version to the bottom right on the new OLED version. This is what begins to introduce a series of changes across the board.
While some end users would see a reduction of components on the board as a cost-cutting measure, Valve confirmed that the LED version was overbuilt and needed much-needed optimization. Valve explained that the reasoning behind this is that they weren't sure of the direction of the Steam Deck when it launched the portable device for the first time or how it would grow since its release. A good deal of data and understanding prompted that optimization.
It also should be emphasized that even though the top and bottom layers of the PCB may seem empty, the inner layer has traces and pathways. This also applies to modern motherboards. This was a painstaking process, as Valve explained since traces between the CPU and the memory modules must be the same length to be memory efficient, which applies to notebook and desktop motherboards.
Core Changes
Image 1 of 2
The newer 6nm die on the APU is hand-measured to be 12.26mm x 10.82mm, while the older Steam Deck LED uses a 7nm process chip officially measuring 13.5 mm x 12.3mm. It maintains the exact specifications as its predecessor.
The second significant change is the memory module. The original Steam Deck LED uses the four chips of 4GB Micron D8BCW LPDDR5 5,500 MT/s memory chips, each measuring 15mm x 12.4mm. The OLED version uses 8GB Micron D8CZV LPDDR5 modules measuring 12.4mm x 7mm and running at 6,400 MT/s. These faster, higher-speed modules have higher density and use more tracing than the previous memory. This alone took three months to finalize a re-design. The change in the layout also enabled Valve to have a clear area for its SSD connector, as the older LED Steam Deck had a WiFI chip underneath the SSD module placement.
The VRAM placement changed according to the direction of the APU. The new one shifted some of its power stages toward the right side of the PCB. Furthermore, the newer OLED Steam Deck's PCB has inductors and MOSFETs placed efficiently away from the core components, whose heat output can influence the thermal performance of the power delivery components. The new placement of the inductors and the MOSFETs resulted in better cooling and energy efficiency near the Steam Deck OLED fan. The re-design also enables the PCB to distribute heat as evenly as possible, more efficiently than the previous version.
Other Improvements
This influences a series of efficient placement of ports, connectors, and other components while maintaining the same control layout. Valve did change the WiFi/ BT module from a shielded WiFi 5-based Azureware AW-CM42INF to a Quectel FC66E-B, upgrading to WiFi 6E standard.
The other change is the direction of the fan as these are flipped. Previously, it was in its original position to shift more air through the shield can with thermal pads to match the component placement on the PCB. Valve changed the shield can design on the OLED, which doesn't need thermal pads—fan orientation, especially for something as densely packed as a Steam Deck. The fan has more fins and a thicker fin stack to help reduce the dB level while increasing the airflow as there's more surface area.
Gamers Nexus provides the pros and cons of the design changes from here onwards. Still, overall, it has enhanced the repairability, better-charging components, larger magnesium body, the D-Pads support, trackpad support, larger 50Whr battery, cleaner wiring management, and many others.
Based on the detailed and very appreciated teardown by Gamers Nexus, the Steam Deck OLED is not a simple change from LCD to OLED with a different storage configuration and a larger built-in battery. Seeing the original Steam Deck LED was impressive when it was new. But this is a complete overhaul, not just another refresh with minor changes. It also reflects Steam Deck's commitment to hardware-level design. There is an emphasis on the Right to Repair in a few countries, so devices like this help. Overall, calling this just Steam Deck "OLED" feels like a gross oversimplification of what the engineers did with it.
However, it is a necessary evil because it appeals to a mass market while keeping it simple. Unlike the newer iterations of the PSP, it could call itself slim.
Steam Deck LED and OLED Pricing
The only way to purchase a Steam Deck brand new with a warranty is from Steam.
Valve is reducing prices on the original Steam Deck LCD with 256GB, so you can purchase this for $399 while stocks last. But you should know that the new changes, including the efficient APU and RAM, are exclusively for the Steam Deck OLED. The Steam Deck OLED in 512GB and 1TB cost $549 and $649, respectively. The Limited Edition Steam Deck OLED with 1TB storage is also available exclusively in the United States and Canada.
Personal Perspective
While Valve's effort to take feedback from its users is well appreciated, there is a good amount of input from my neck of the woods that, unfortunately, does not get to Steam Deck. However, there are unofficial retailers, which are a harder pill to swallow.
There's also a criticism that Steam Deck OLED will not be officially available in India, contrary to clickbait articles, which later add these are unofficial imports with no warranty. As a result, warnings had to be put in the public's interest by a more responsible person in the industry. This applies to many nations that have a decent-sized Steam user base.
Comparatively, the Indian console market is doing exceptionally well enough that Sony PlayStation did two major promotions with its God of War Ragnarok and Spider-Man 2 edition PlayStation 5. A certain revisit to potential markets and a system to officially sell and honor warranty opens many options for gamers, enthusiasts, and even Valve.
Join the experts who read Tom's Hardware for the inside track on enthusiast PC tech news — and have for over 25 years. We'll send breaking news and in-depth reviews of CPUs, GPUs, AI, maker hardware and more straight to your inbox.