Update 2/23: The file "LHRUnlocker Install.msi" appears to infect powershell.exe, a Windows service. We recommend you do not install or search for this utility and have removed the links. We have more details in a separate story. The original reporting follows below, minus the aforementioned links.

When Nvidia introduced light hash rate (LHR) graphics cards with reduced Ethereum hash rate, it wanted to ensure that its GeForce offerings would not be used for mining. But shortly after LHR boards became available, various tools to increase their mining performance emerged. None of them could restore the full mining performance of Nvidia's GPUs, but a new tool called Nvidia LHR Unlocker purports to do just that.

The Nvidia RTX LHR v2 Unlocker by Sergey (hat tip to MyDrivers and Videocardz) is a tool that supposedly modifies the BIOS of Nvidia GeForce RTX 30-series graphics cards based on the Ampere architecture, as well as workstation-grade RTX A-series boards, to remove mining performance limiters added by Nvidia. We say "supposedly" because the tool is not yet available, and perhaps even worse, firmware modification alone is not enough to bring back full mining performance of GPUs: Miners also have to use drivers modified by Sergey.
Swipe to scroll horizontally
| | |
| --- | --- |
| RTX 3080 Ti | up to 115 MH/s |
| RTX 3080 LHR | up to 100 MH/s |
| RTX 3070 Ti | up to 69 MH/s |
| RTX 3070 LHR | up to 57 MH/s |
| RTX 3060 Ti LHR | up to 61 MH/s |
| RTX 3060 LHR V2 | up to 49 MH/s |
| RTX A5000 | up to 110 MH/s |
| RTX A4500 | not measured |
| RTX A4000 | up to 67 MH/s |
| RTX A2000 | up to 46 MH/s |
"Modifying the BIOS is not enough to fully hashrate your graphics card," the developer explained. "You also need graphics drivers modified by me. They are downloaded and installed automatically in Windows when the program is installed. If you are using another OS such as HiveOs etc. then you need to install the drivers manually according to the instructions found in the DRIVER_INSTALATION.txt file in the application installation folder."

If that seems a bit much, you're not alone in that thinking. Nvidia supposedly implemented the LHR locks via firmware and drivers, both of which are theoretically protected via encryption. It goes without saying that downloading and installing unknown files from the Internet can lead to Very Bad Things™ for your PC and data. That old saying of "If it's too good to me true..." definitely comes into play.
Sergey plans to release his Nvidia RTX LHR v2 Unlocker on February 26, which will be the first public beta version of the tool. Again, it's a bit odd to pre-announce a tool like this rather than just putting it up on GitHub. To date, the utility has supposedly been tested on various GeForce RTX 30-series and RTX A-series graphics cards and the developer claims that his tool restores the full mining performance of these boards.

Assuming it does end up being a legit way to remove the LHR locks, people running the latest Nvidia drivers could see up to a 50% boost in hashrates. We've noticed that despite the earlier "fix" in NBminer that brought performance up to ~70% of normal, more recent driver releases appear to address that and cards like the 3080 Ti are back to around 60MH/s in Ethereum.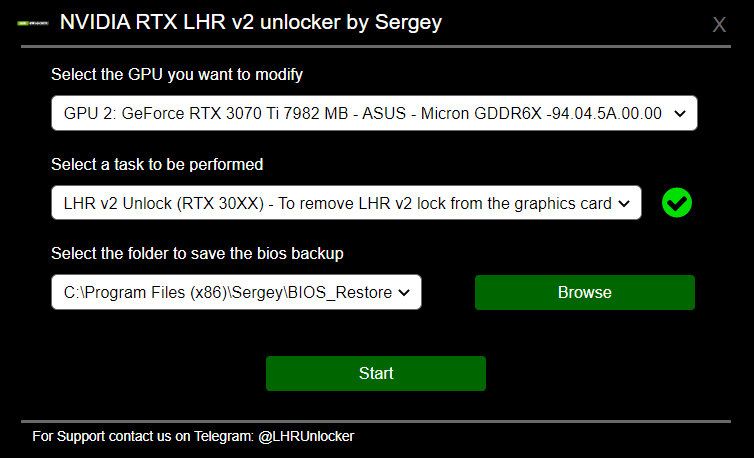 Assuming that the Nvidia RTX LHR v2 Unlocker tool works on all LHR graphics cards, it could have a major impact on the market of graphics cards. All of Nvidia's Ampere boards will again be capable of full speed mining, which would increase demand for such boards by miners. Nvidia's GeForce RTX 30-series graphics cards are already priced higher than their AMD counterparts, however, possibly because large mining groups have already created workarounds.

But improved Ethereum mining performance may not matter much in the long run. In the coming months, Ethereum will move to Proof of Stake instead of Proof of Work, which means all the GPU miners will need a different coin (coins) to accrue cryptocurrency. Other cryptocurrencies remain friendly to GPUs, but since their value is correlated with ETH, it remains to be seen whether their mining will make financial sense.

It's also worth noting that cryptocurrency mining profitability has been trending downward for a while now, and even a full speed RTX 3080 Ti will only net around $3.50 per day at current rates. With current GPU prices on such cards still sitting at $1,700, it would take nearly 500 days to break even.

Regardless of mining performance improvements and increased profitability, we'd let this one sit for a few weeks before giving it a try. Or at least, don't put it on a PC with any important data — including cryptocurrency wallets, email access, etc.